Most people (anglers and boat crew alike) often over-estimate the weight of sailfish they catch. This is partly due to the reason no one has ever put one on a scale to be weighed, at least not here in Kuala Rompin.
It is not difficult to see why anyone will exaggerate the size of their catch (other than the fact we're anglers) – sailfish look big but have very slim profile making them look heavier than they actually are.
The average sailfish caught in Kuala Rompin are found to be in the 20kg – 30kg (40-60 pounds) region.
Fish that size are perfect medium/medium-light tackle game.
Some larger specimens are also caught every now and then – those in the 30kg to 40kg (66lb to 88lb) range.
Claims of catch in the 50kg (110lb) range (often turning out as fishermen's tales) though not impossible, are very unlikely.
Small sailfish below the 10kg mark are also regularly caught from time to time reinforcing the fact that sailfish are spawning somewhere in or not far from Kuala Rompin.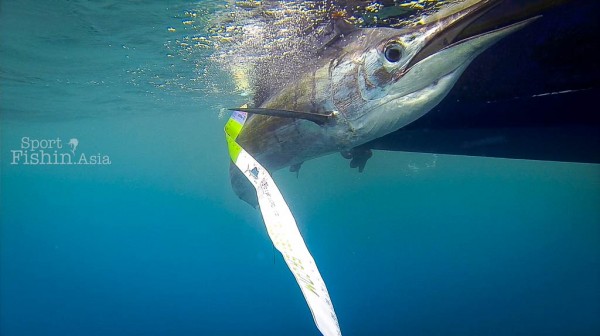 Above photo: Another sailfish swims away after having its statistics taken with the Release Ruler. All done without ever taking the fish out of water.
The size and abundance of sailfish in Kuala Rompin also makes it a fantastic place to catch one on lure (casting poppers, stickbait, soft plastic) or by fly fishing. The affordability is the icing on the cake.
Short video of us doing this soon.