We have found the average sailfish caught in Kuala Rompin to be in the 20kg (44lb) mark, plus or minus 5kg. So chances are you will be catching plenty of fish that size which confirms Kuala Rompin as one of the best place to catch plenty of sailfish without resorting to heavy tackle – as in rods and reels most will tire just having to carry them!
Having said that, plenty of larger specimens are also frequently caught, those in the 30kg to 40kg (66lb to 88lb) range. Claims of fish in the 50kg (110lb) class (often turning out as fishermen's tales) though not impossible, is uncommon. Small sailfish below the 10kg mark are also caught from time to time.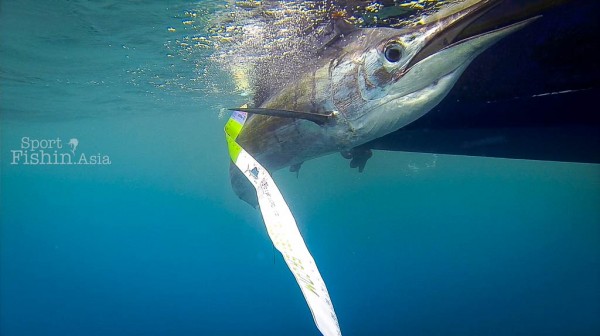 Above photo: Another sailfish swims away after having its statistics taken – length and weight. All done without ever taking the fish out of water.
The size and abundance of sailfish in Kuala Rompin also makes it a fantastic place to catch one by casting poppers, lures or by fly fishing. The fairly low charges is the icing on the cake.
Short video of us doing this soon.