Sailfish fishing in Kuala Rompin Malaysia is world famous. Kuala Rompin is well known for the high numbers of sailfish especially during the peak months from August to October and thousands of sport fishing enthusiasts gather here to battle one of the fastest fish in the ocean.
For all you serious anglers that would love to try something different on your trip to Southeast Asia or Asia region, this could be the fishing trip for you.
Sport Fishing Asia is a local registered company with 100% local crew, full-time professional captains and guides.
REVIEWS: What customer say about Sport Fishing Asia
Frequently Asked Questions:
When is the best time – Rompin Fishing Season
Fishing season is March to October
Peak season is August to October
Sailfish are present throughout the year with their numbers increasing from July.
Busiest months are August, September and October. Tip: Book early for the best dates as these gets taken up quickly, especially for the peak period.
Mid-November to February is the north eastern monsoon and there is no fishing as the sea gets too rough.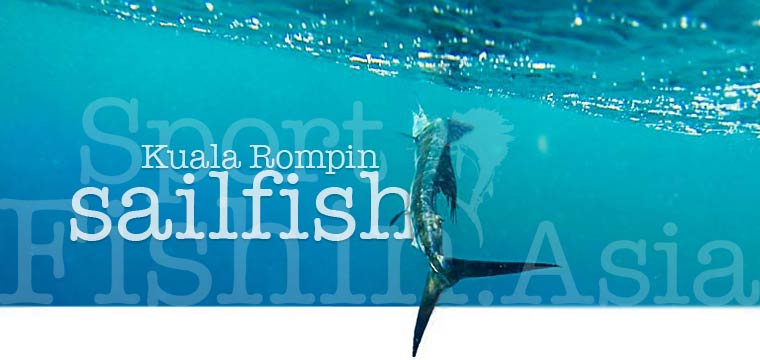 Our Rompin Sailfish Charter Boats
Our boats consist of:
32-footer with twin 115hp motors that suits 1-3 anglers
36-footer with twin 150hp motors that suits 1-4 anglers
42-footer with twin 250hp motors that suits 1-6 anglers
72-footer luxury live aboard yacht, the Sea Urchin that sleeps up to 6 guests
The locally owned, fully air-conditioned 72-footer Sea Urchin is the only luxury live-aboard sport fishing yacht based in Kuala Rompin and Malaysia.
Find out more or reserve your dates. Contact us!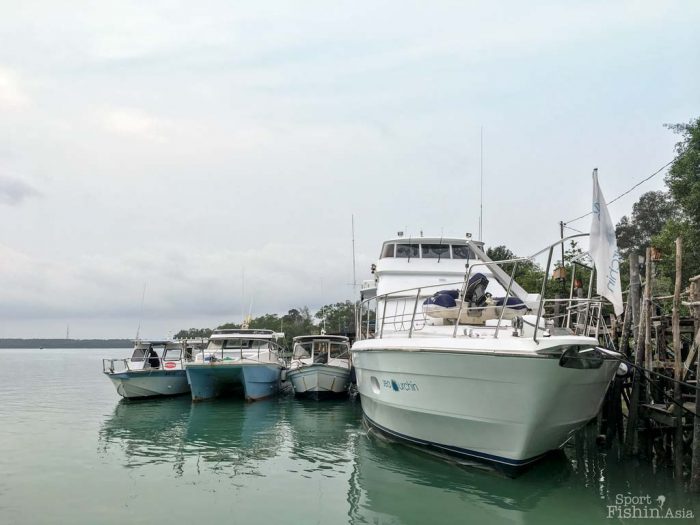 Video Playlist from our Rompin fishing trips…
Fish and Live Aboard The 72-footer Sea Urchin Luxury Sport Fishing Boat in Rompin
Since 2016 the arrival of a luxury live-aboard offered an alternative to hotel resort and guesthouse accommodation when you fish in Kuala Rompin.
Anglers and their partners now has the option of living and dining aboard, enjoy the fishing and even include a trip to idyllic tropical islands nearby in comfort and style.
Find out more about Sea Urchin liveaboard here.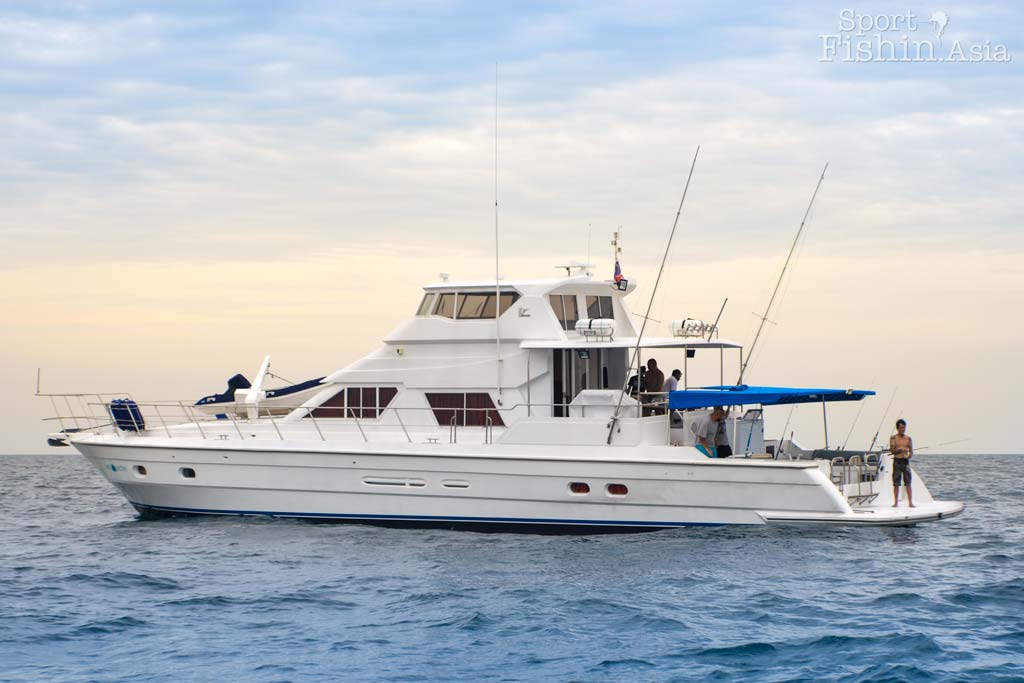 Where is Rompin?
Kuala Rompin is located on the east coast of peninsula Malaysia. It is 270 km southeast from Kuala Lumpur International Airport (KLIA). Jump to getting to Kuala Rompin below.
The prolific gathering of Indo-pacific sailfish in Kuala Rompin has awed many sport fishing enthusiast who have visited this sailfish capital of Asia.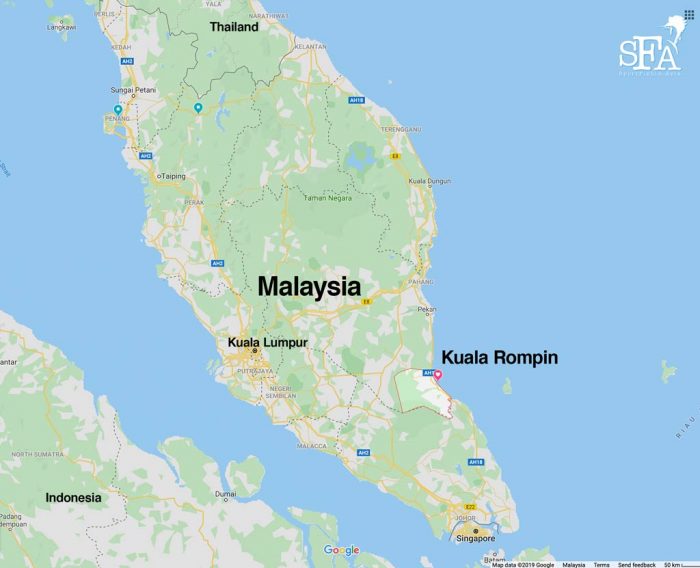 Sport Fishing Asia in Kuala Rompin
About Kuala Rompin
Kuala Rompin offers one of the best spot for sailfish fishing in Asia and up there with the best sailfish hotspots in the world. Described at times as mind-blowing by those who have fished here – multiple hook-ups and double figure catches in a single day per boat is not uncommon.
The shorelines of Kuala Rompin drops gradually and you get to fish just a short run from the jetty and in relatively shallow waters of 20 to 30 meters (60 to 90 feet).
Adding to the above is the affordability of fishing in Kuala Rompin under the sunny tropical weather, downing exotic asian food and fishing in a typical Malaysian coastal town all adds to the experience.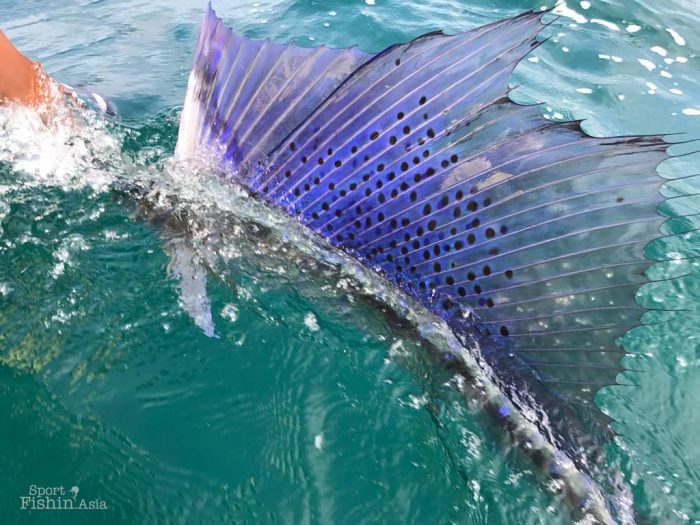 Getting to Kuala Rompin
Your Rompin fishing adventure can begin from KLIA (Kuala Lumpur International Airport), KL city or Singapore. The most common mode of getting to Kuala Rompin is by road, closest airport is in Kuantan, at times, private helicopter charter can also be arranged.
Related: Detailed information How To Get to Kuala Rompin by car, bus or flight
Depending on your departure point, you can choose to fly into Kuala Lumpur or Singapore. We provide transport from both places. The distance from either point is about the same.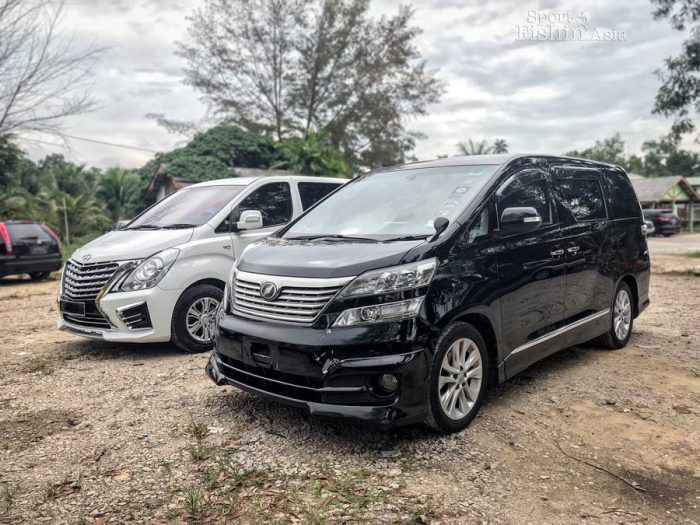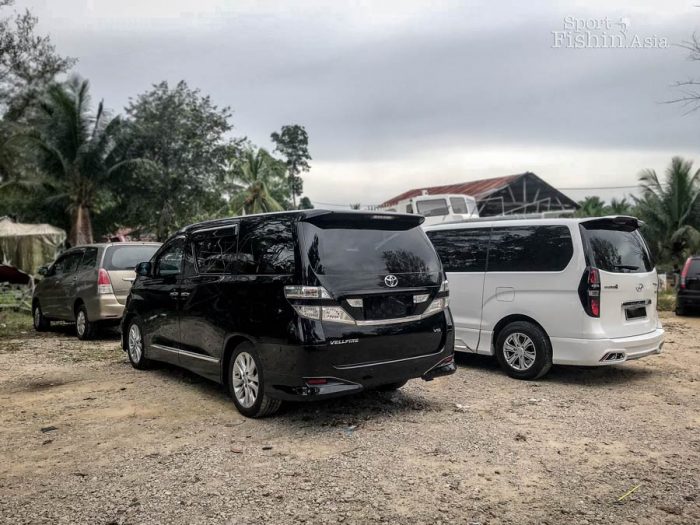 Kuala Rompin is 270km, or about 3 1/2 hours by road from the Kuala Lumpur, about the same distance as coming from Singapore.
Via Singapore you'll need to get across the border checkpoint in and out of Malaysia and get through customs and immigration. So have your travel documents handy.
Some of our guests have told us that they've been informed that the only way to get to Kuala Rompin is from Singapore and that the journey is shorter, that's simply not true and quite silly, Kuala Rompin is located in the state of Pahang, Malaysia.
Just get here whichever way is convenient to you and if need to, we will transport you here as comfortably and as safely as we can.
The closest airport to Rompin is in Kuantan, about 130km north. It is a small airport catering to some flights from cities around Malaysia such as Kuala Lumpur, Penang, Ipoh and Singapore. Flight routes often change, so be sure to check beforehand.
Our Accommodations in Rompin
Our focus is on providing the best fishing experience possible – an incredible fishery and good service – in an environment that we describe as 'comfortable but casual'.
We are not a 'luxury lodge'. You have the options of staying in the few resorts here in Rompin or house everyone in your group in our homestay (guesthouse).
If you choose to go with our guesthouse accommodation, you will be housed in your own private home away from home – a house with multiple rooms, air-conditioning, kitchen, bathrooms, satellite TV and WiFi. No sharing of accommodations with strangers here.
The location is convenient, short distance to the boats and shops, the rooms are clean and comfortable and the food out at the restaurants are delicious. The overall feel is relaxing and definitely not formal.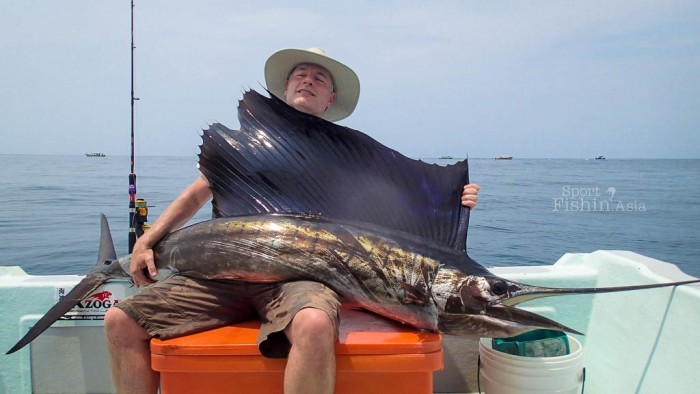 Hotels in Kuala Rompin
Other than our guesthouse and our live-aboard Sea Urchin options, you have the option of booking into beach resorts as well.
Staying in hotel or resort could be a good idea if you have partners that are not fishing. My advise is to go online and read some reviews about the places, expectations may differ.
For those who prefer a beach holiday feel with their game fishing pursuits, there are a few beach resorts in Kuala Rompin including one with a golf course.
Some of the more popular resorts here are Lanjut Beach & Golf Resort and Rompin Beach Resort among others. Tip: Do read online reviews before booking so as to know what to expect.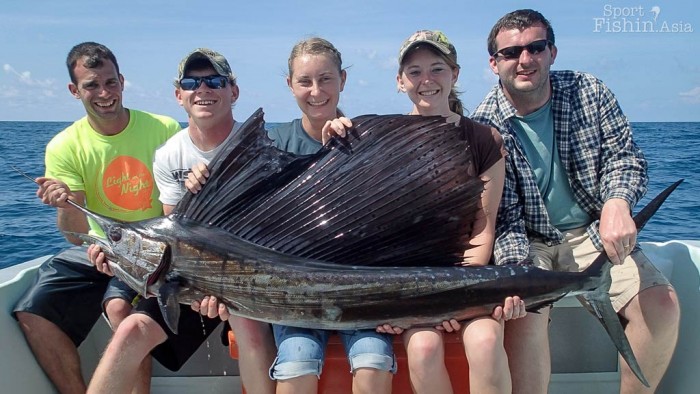 Hotels and Resorts in Tioman Island
There is also the option to stay in Tioman Island which is 40 nautical miles (74km) from Kuala Rompin.
Getting to Tioman Island
Buses from Kuala Lumpur or Singapore followed by ferry transfer to island

There are ferry services to Tioman island from the town of Tanjung Gemok and Mersing. There was charter flights but none are flying at the time of writing this post.

We pick you up from Kuala Lumpur or Singapore, fish in Kuala Rompin and we drop you off in Tioman Island

Fish around Tioman island, and finally fish the way back to Kuala Rompin again.
Tioman island is a designated marine park and diving is popular here, too.
There are a number of hotels and beach resorts on the island, from budget to high-end: click here for more information about Tioman Island and some of its resorts.
IMPORTANT: Please note that although sailfish are sometimes close to Tioman island, they are often not. If sailfish are your main target, staying and fishing off from Kuala Rompin is the better choice.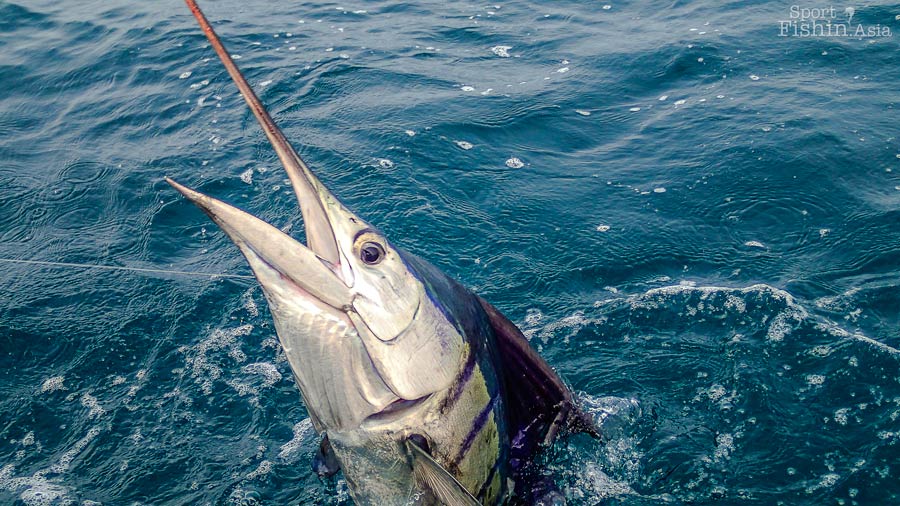 Gear Guide
General gear guideline for sailfish as below;
Fishing rod of 15kg – 23kg (30lb – 50lb)
Leader 60 to 80 pound
Mainline 15kg (30lb) and above, minimum 300 yards/meters on spool
Circle hooks size 6/0
See comprehensive list of fishing gear to bring (Kuala Rompin fishing tackle checklist)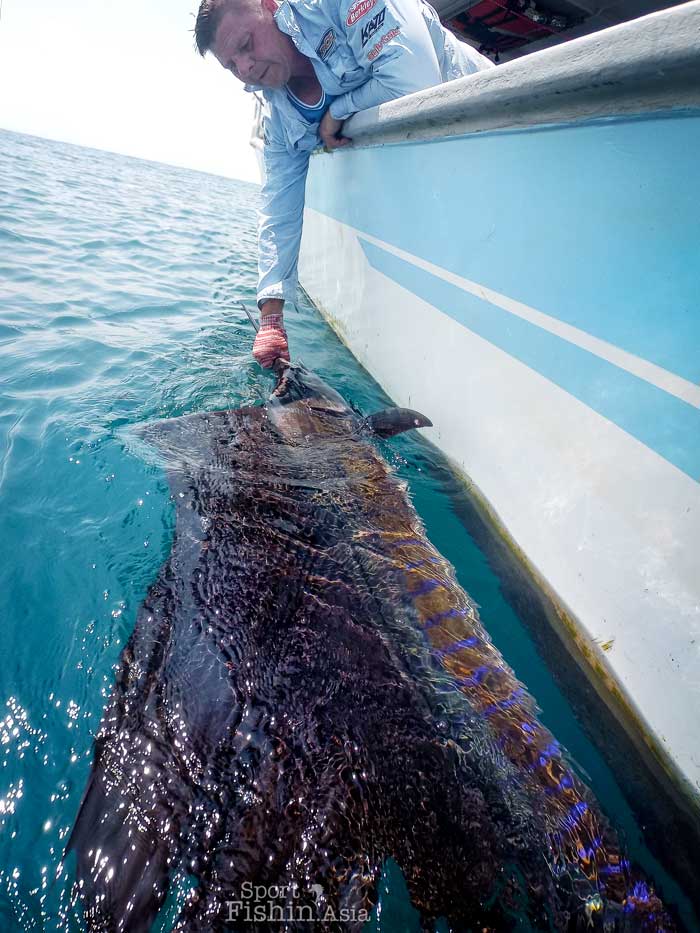 Types of Fish in Rompin
And, there is more than just sailfish on offer. Whether you are live-baiting, trolling, fly fishing or popping for sailfish, you have the opportunity to catch other types of fish, too.
Other pelagic and reef dwelling species are regularly encountered in these waters narrow-barred spanish mackerel, cobia, dorado, trevallies, snappers, queenfish… you never know what may strike at your bait – it can even be a bonefish.
Related: What Other Fish Species To Catch in Kuala Rompin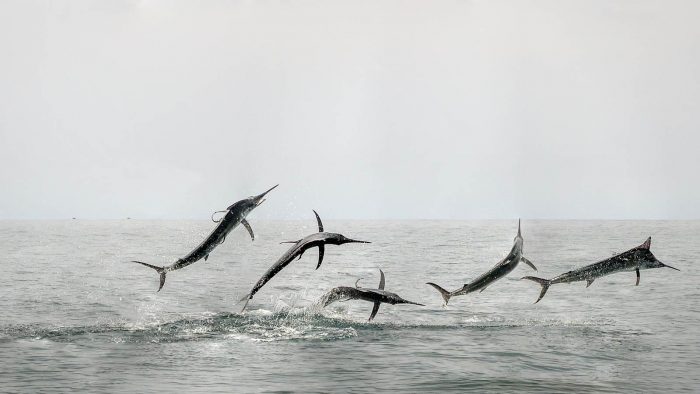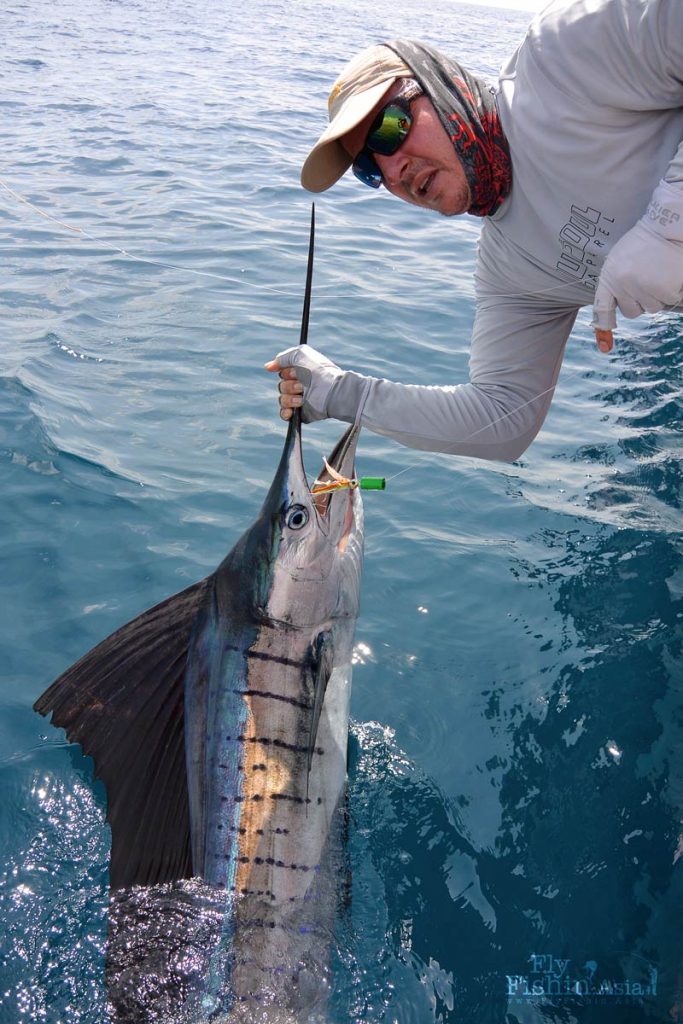 Bespoke Trips
When you book with us, you can be assured of some of the best personalised services as well as fishing with some of the most experienced captain, guide and crew members.
Customer Reviews: Read what some of our guests say
We cater to almost any requests you might have as our packages are highly flexible from picking your party up from different airports or locations, sending you off to different destinations after your trip, to flying you in and out in your own private charter helicopter.
You can also combine a Rompin sailfish plus toman (giant snakehead) fishing trip in the rainforest, or something else you may fancy. We offer attractive package rates when you opt for a combo trip.
We're 100% locals, so ask us for advice and recommendations.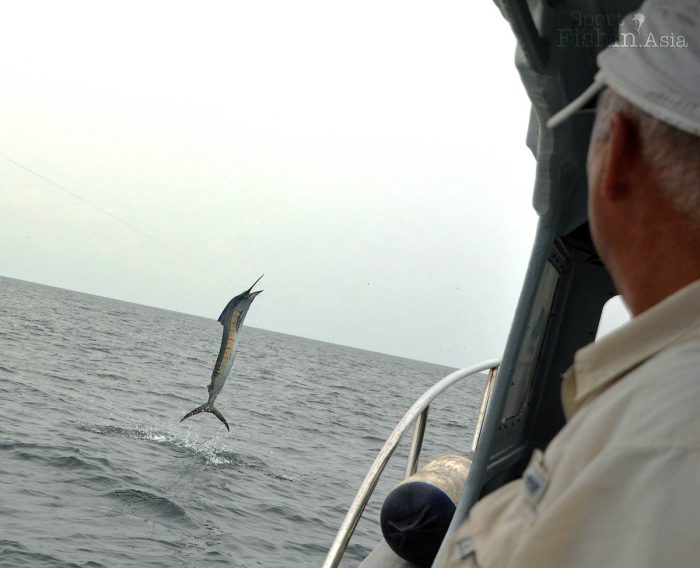 Rompin Fishing Package
Our pricing is really simple – it's pretty much all-inclusive with packages depending on your requirements.
Our package can include transfers to and from the airport, accommodation, guided fishing, food and loaner gear. Your only additional costs during the trip are flight and gratuities for the staff.
You could literally come with just your clothes.
Some of our guests have also discovered fishing tackle can be a lot cheaper here than where they come from. As we work closely with some popular fishing tackle brands, we can also arrange for purchases of fishing gear for you. So you can come empty handed, use your own brand new tackle here and go home with them.
Trips can be of any duration, starting on any day subject to availability – ranging from 1 day trips to multiple days. Recommended trip duration is at least two or three days.
More information
Kuala Rompin fishing trip reports
About Sailfish (Istiophorus platypterus)