Jokingly, they call themselves the three stooges, and our crew…dumb and dumber. All together in the boat…a barrel of monkeys.
Humour aside – Dave, Darren and Ken are some of the nicest guests we receive every season and certainly the most fun. Don't be mistaken for their fun nature as these are serious guys – completely tuned into holiday mode.
This trio from Australia have made three trips here so far fishing a total of 15 days now. 15 days may not sound a lot but if someone fishes here two days a year, it will take him/her seven years just to come close.
Understandably, casting and catching billfish on lure is their main pursuit – which is one of the most challenging ways to catch these powerful spectacular fish, besides sailfish on the fly.
Click to watch video
For some people, there's something about doing things the hard way. I guess it's the result that can be so much more gratifying when it finally comes together. But you need to be able to accept the "not happening" gracefully. It's not for everyone.
HIGHLY ADDICTIVE
Ken especially, calls the bow his "office". All day he will be up front casting and plugging away with all sorts of surface lures such as stickbait and poppers.
Seeing a sailfish swim up to your lure sometimes slowly and sometimes suddenly and often when you least expect them to, and smashing it can be highly addictive.
Catching sailfish by casting lures are not easy, you need persistency and a certain level of fitness to do that, other than experience, which you can gain along the way together with some tips from experienced crew.
Join Juan and his team in Kuala Rompin. Contact us.
Some of the lures used by Ken including the Megabass Jerkman Flapper stickbait that caught the sailfish in the video above.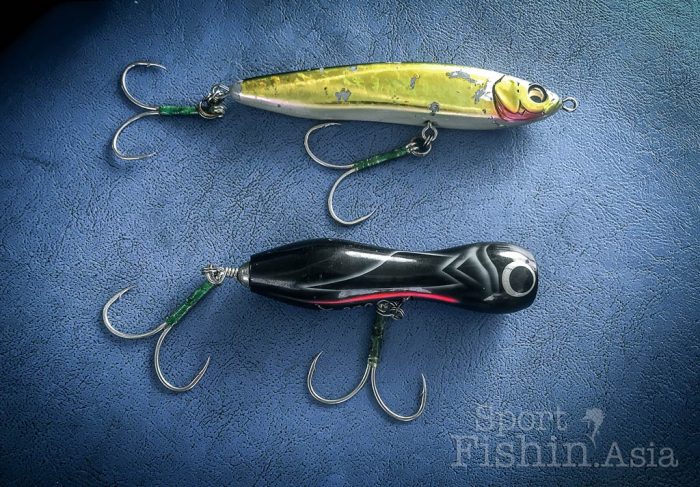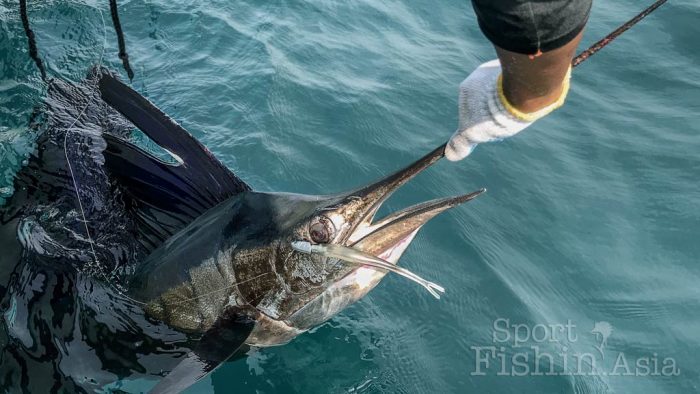 Post and photos from one of their past (second) trip fishing in Rompin.