This little fishing village on the east coast of peninsular Malaysia has now garnered quite a reputation for its Sailfish fishing. Famous over the past few years not only for the abundant Sailfish but also as a very affordable game fishing paradise, Kuala Rompin is a must visit for all serious angler worth their salt, at least once. 20 to 30 hook-ups or more at this Sailfish hotspot on the South China Sea is not uncommon.
Our last trip however, coincided with the arrival of the northeast monsoon. We had tried to console each other before the trip by saying "Nah, the monsoon will not arrive for at least another 2 weeks. Soonest". But the sms received the night before from our ever friendly Doc Syed on Thomas' phone read something like this; Strong winds in the afternoon. Small craft are to keep close to the coast. 3-foot waves are expected. 5.2-magnitude earthquake detected off Timor Timor that evening. Like the macho men we were, we were unfazed! The earthquake is too far away from where we are even if a tsunami is generated. But it rained the next day and instead of 3-foot waves we were met with 3-meter swells!
So that was how the monsoon greeted us on our Sailfish trip.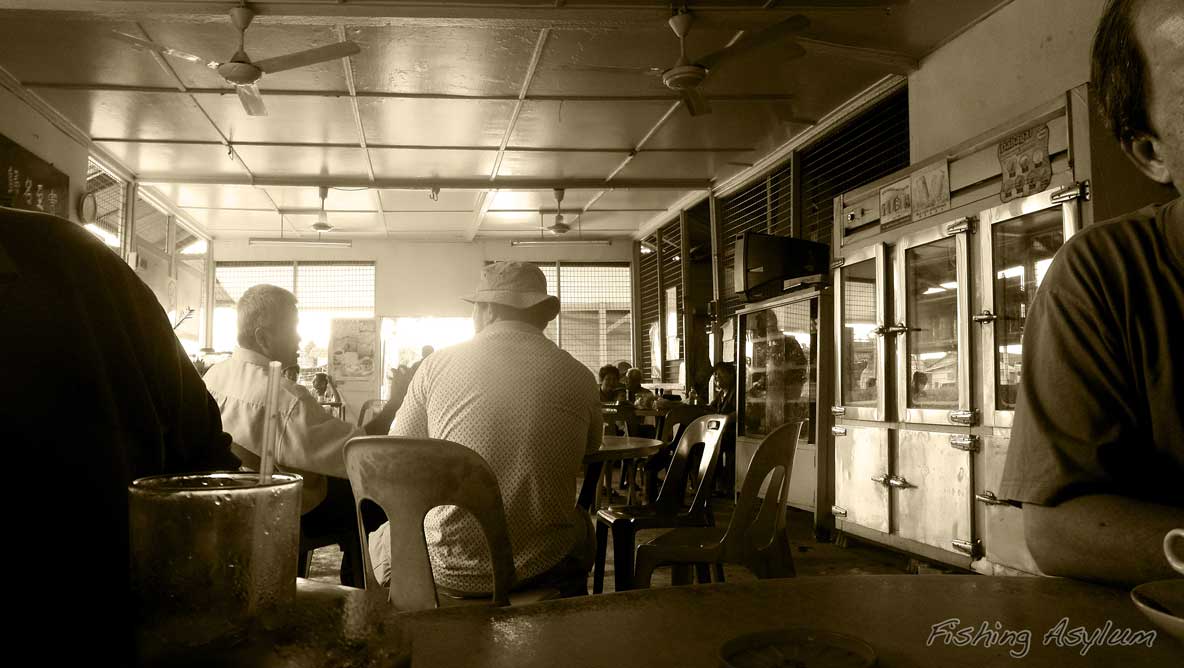 Lost in time. A coffee shop in Bahau (a small town about 2 hors drive from Rompin) where we stopped to have a break. It would seem nothing much have changed here.
Accommodation is basic but very importantly is a clean and comfortable 3-bedroom house. We watched some cable TV and prepared our rigs for the next day while still keeping our fingers crossed. I will present the following report in an editorial-storyboard way. So enjoy the photos.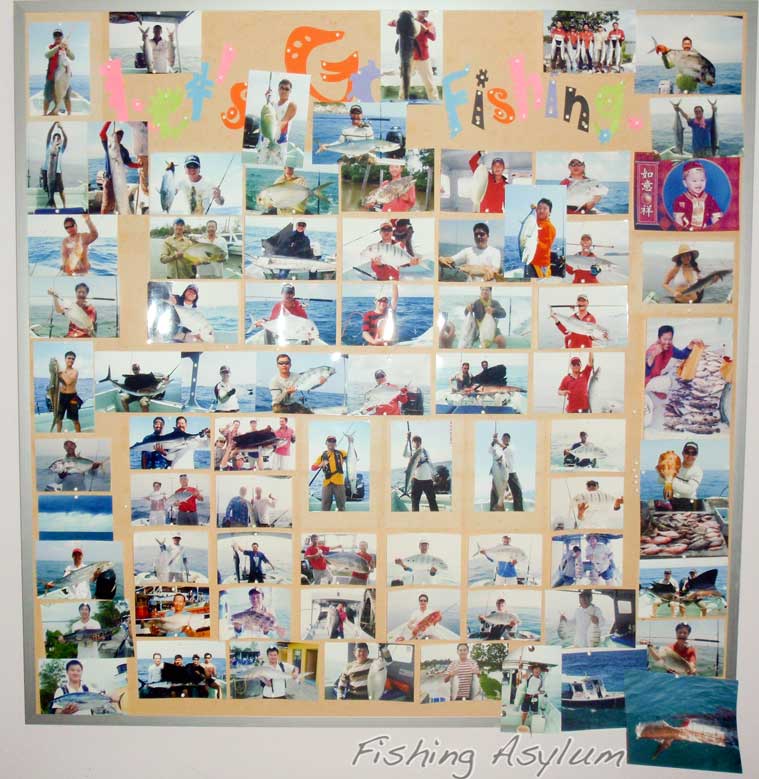 The wall of fame. There were some nice photos to get us excited. Check out the photo of the sailfish on the bottom right.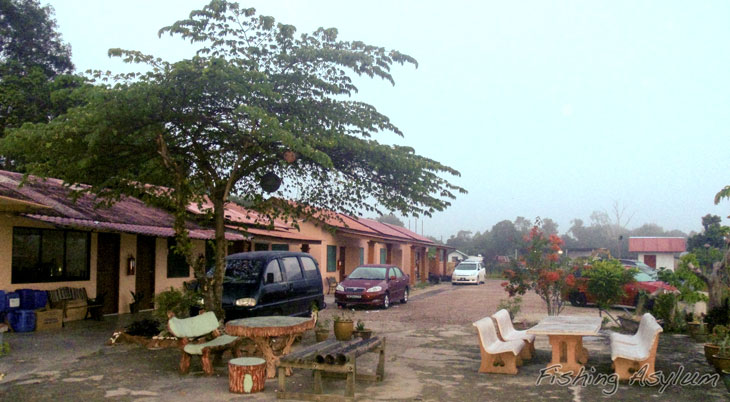 Basic accommodation just in front of the jetty where all the charter boats are berthed.
If you want convenience then the rooms in front of where the jetty is is the place to spend the night. There are also two beach resorts in Kuala Rompin which will be ideal especially if you bring non-fishing partners, is fishing multiple days and want to relax in resort settings when not fishing.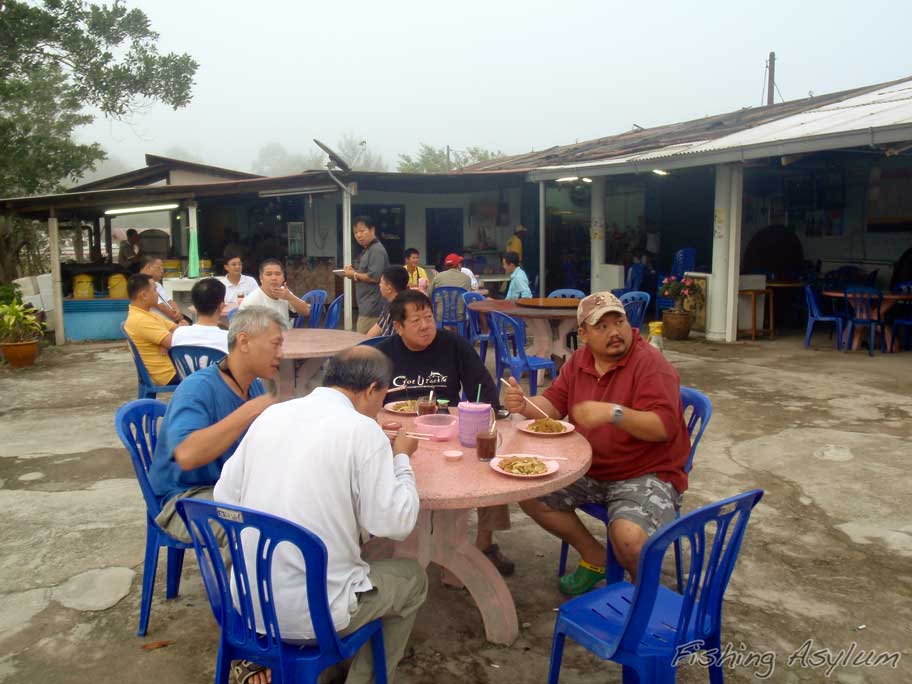 A small eatery in front of the dock serves local delights such as fried noodles or rice, bread, toast, omelet, coffee, teh tarik and more.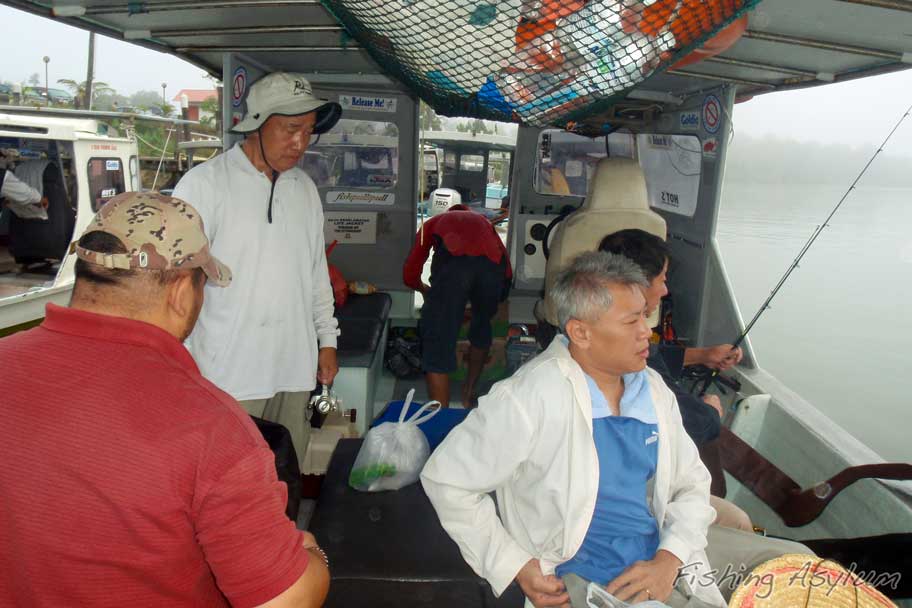 Getting ready to depart to the Sailfish ground on a very misty morning.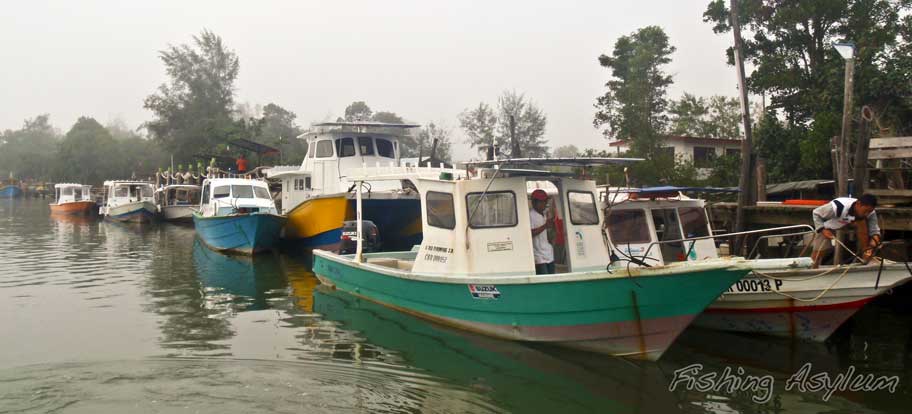 The charter boats here are mostly the same locally built 30+ foot fiberglass type with a generous hardtop necessary to shelter from the sun but precluding anglers from easy walkabout access.
The boat ride to the river mouth was a short one. 2-foot chop greeted us along with a menacing dark canopy at the horizon over our destination. Less than 30 minutes later we were the first boat at the unjam or FAD (Fish Aggregating Device) which are basically sunken old tyres marked with a buoy. Out came the sabiki rigs and we were soon pulling in a variety of small fish. The baitfish of choice are the Ikan Selar (Yellowtail Scad) and Tamban (Indian Mackerel). As if on cue, we were soon surrounded by the other boats.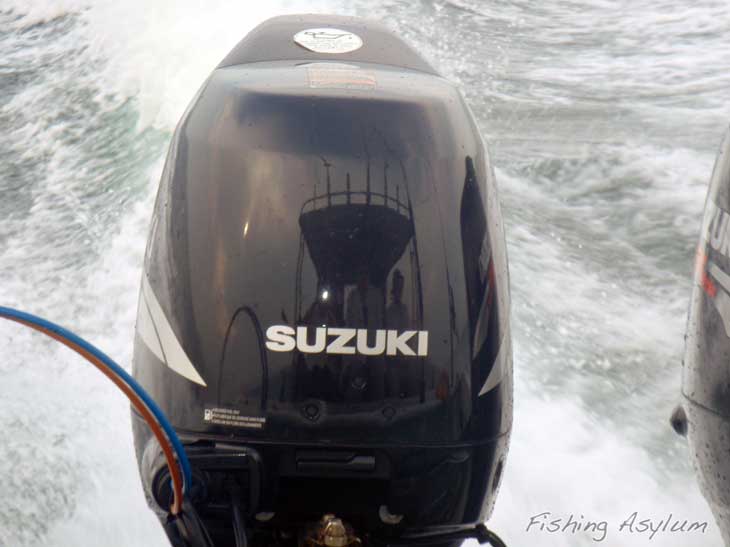 The new twin 4-stroke 280-horse Suzi outboards was just quick enough to be safe and saves us time in between runs. They got us to the Sailfish ground about 30 minutes after our bait-stop.
One-bird one-Sail
Among the first thing we notice on arrival at the Sailfish ground (other than the dark gray sky which is now over our heads) are the numerous frigate birds in the sky. That is always a welcomed sight to every saltwater fisherman, the birds that is.
Although upon arrival, I cannot really fathom what defines this as a billfish hotspot. There appears to be no structure at all. It looks more like a desert so presumably the only reason billfish congregates here every year in huge numbers from August to November must be because of the bait fishes. The bottom is sandy, fairly flat and very shallow.
Regrettably there have been no research to support any theories as to why the billfish are here. Some say it may even be a sailfish breeding ground. It was about 10 years ago that commercial fishing boats chasing scads, anchovies and narrow-barred spanish mackerels starter complaining of sailfish by-catch that caught the attention of angling enthusiasts.
That said, we soon notice birds in twos, threes or more circling and diving occasionally. Paying even closer attention and we soon spot splashes, bills and black towering fins even in this rough sea. The ocean appears almost crowded with sailfish! It is said that for every bird you see in the sky there is a sailfish below it. And there are plenty. As a matter of fact our first drifted yellowtail scad lasted less than 10 minutes in the swell before the clicker on the TLD-25 started singing.
Kuala Rompin is not the best destination for record-size sailfish. While not tiny, the sails here seemed to run mostly in the 20 to 50 kg range. But for sheer number Kuala Rompin is hard to beat.
Tackle Selection
We were using mostly 40-pound tackle on this trip. You can get away with 20 to 30-pound tackle with plenty of line capacity as the sailfish can easily take 200 to 300 meters of line on its initial run.
The waters in Rompin is very shallow, mostly 20 to 40 meters and there is very little to get snagged on. Needless to say, fresh new lines spooled into well maintained reels with smooth drags are a must to also minimize chances of getting busted.
Fighting the Sailfish
As the Sailfish slows, don't be afraid to increase the drag but always be ready to back off again as soon as it makes another run. A lever drag will be a handy reel to have as you can adjust the drag setting and quickly return to the exact strike-drag with just a quick flick of the lever. When the sail tires, keep the pumps and winds smooth. Always keep a bend on the rod as you wind down and retrieve line.
Try to discourage the situation where you allow the sail to recover energy as this will prolong the battle and you may soon discover you have sore arms.
Like many gamefish, the trickiest part is when the fish is nearing the boat. The sail sees the boat and starts to circle just keeping the leader out of reach. Even if the sailfish is tired it will continue to swim and because its movement is restricted for obvious reasons it may start going in circles so get ready.
The important thing is to continue pumping but do not high-stick the rod. Keep to short strokes and if the sail goes under the boat quickly dip the rod into the water. Up to just before the reel if necessary. Let the fish circle but not let the line come into contact with anything as it would mean almost certain break-offs.
The boats at Kuala Rompin is built without the 'walkabout' convenience so you may have to pass the rod around. However, driving the boat forward will solve this problem without too much spectacle. If the fish is stubborn or big and sounds, gunning the boat will make it easier to pull it up in an angle compared to a straight up scenario.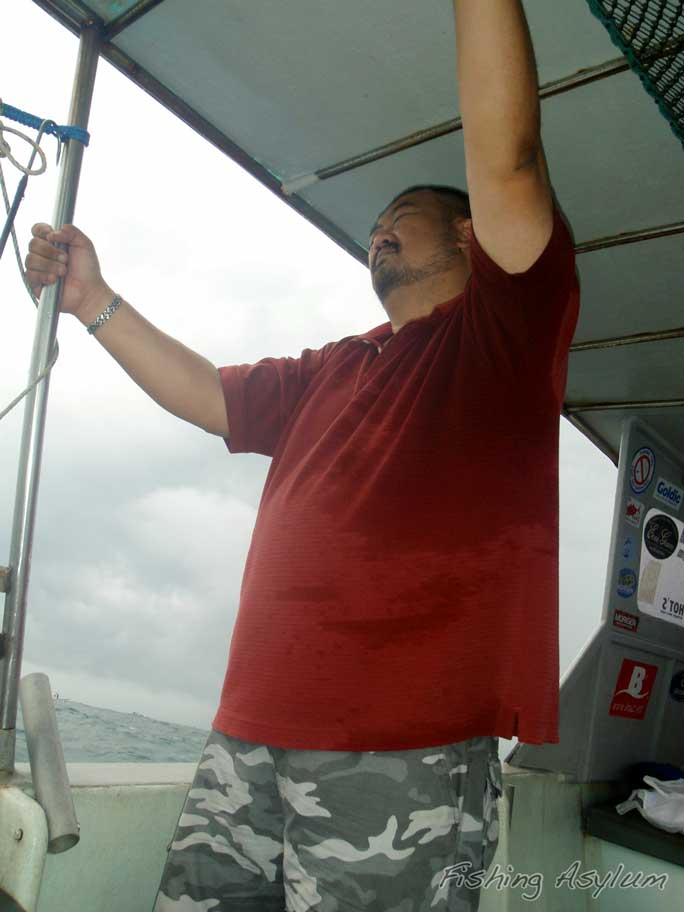 Looming volcano awaiting eruption. Motion sickness may ruin the day out in the seas. Watch what you eat, have sufficient rest before getting on the boat and take your motion sickness pills as prescribed.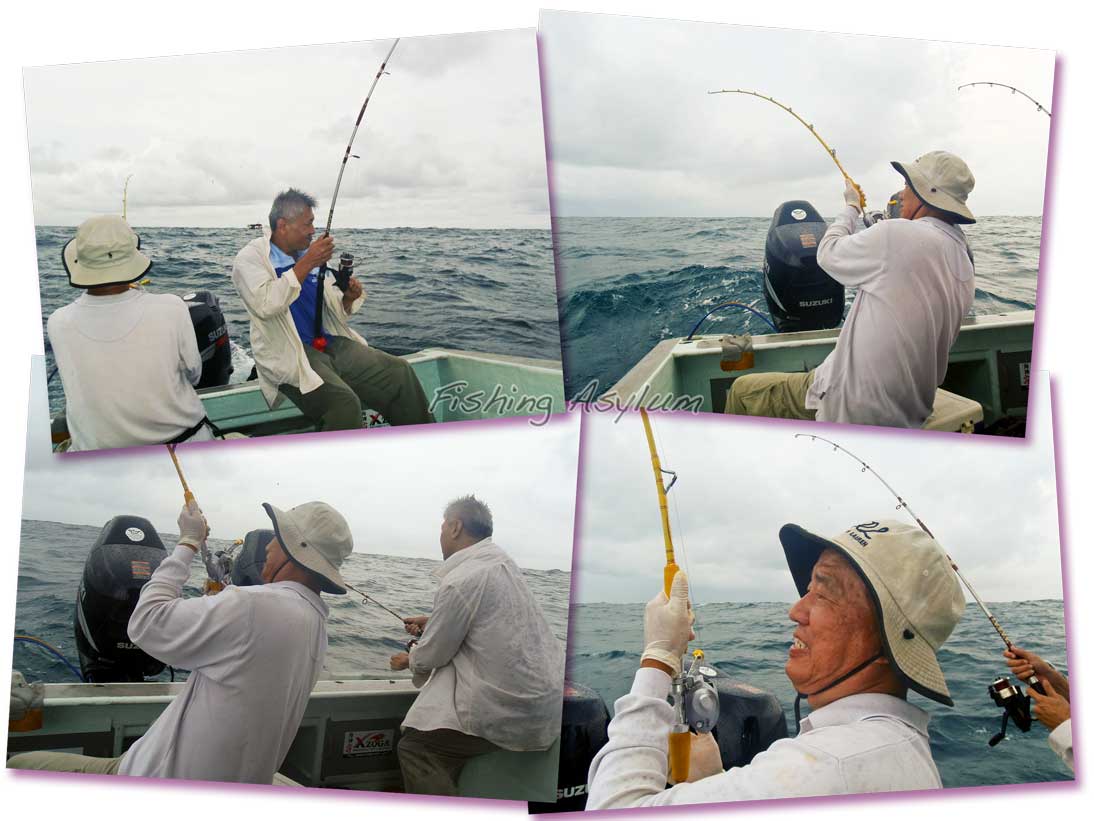 Double or even triple hookups are common at Kuala Rompin. We saw double hookup action on only our second hook-up of the day. Everyone had to fight sitting as it proved treacherous trying to stand on the wet deck in 9-foot swells!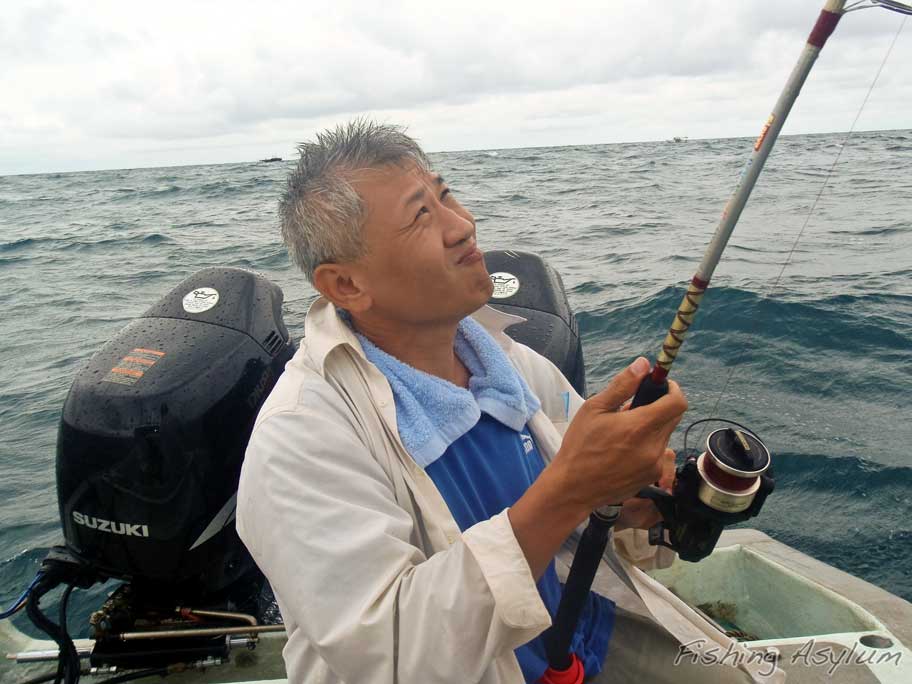 Ed the Boss made short work of his first sail. A beautiful fish with bronze coloring.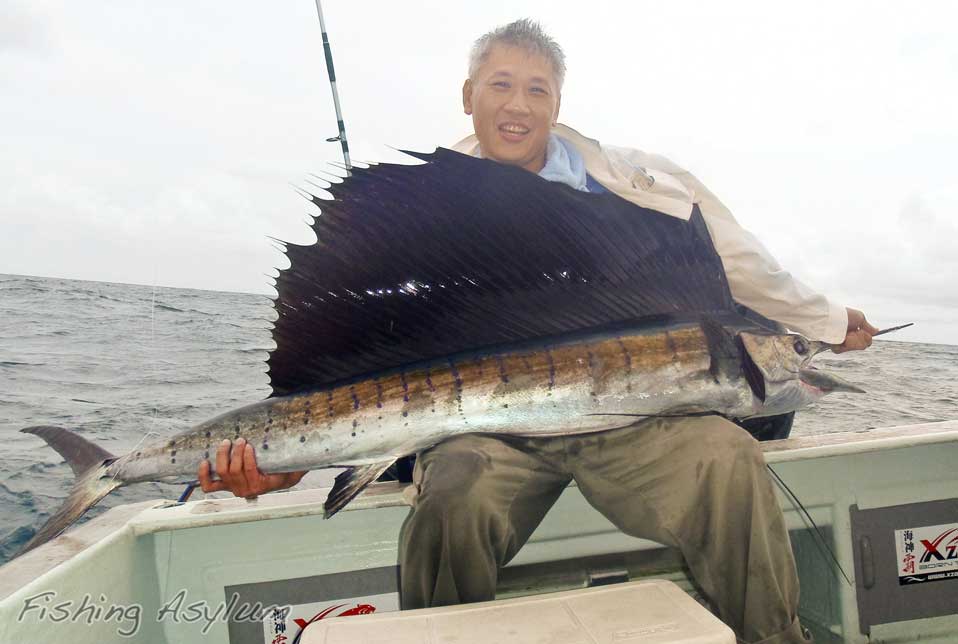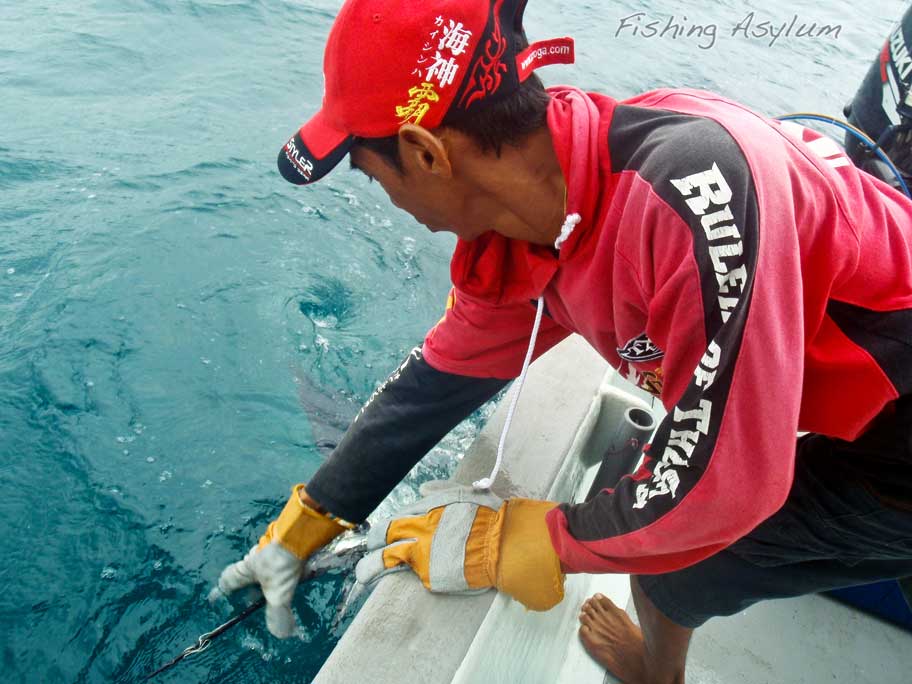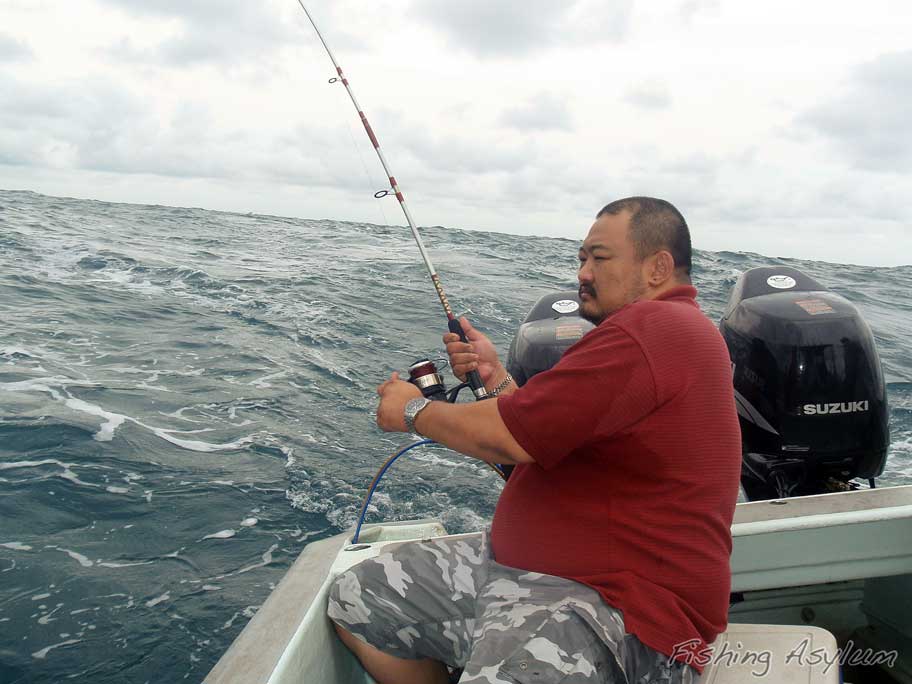 Why so serious?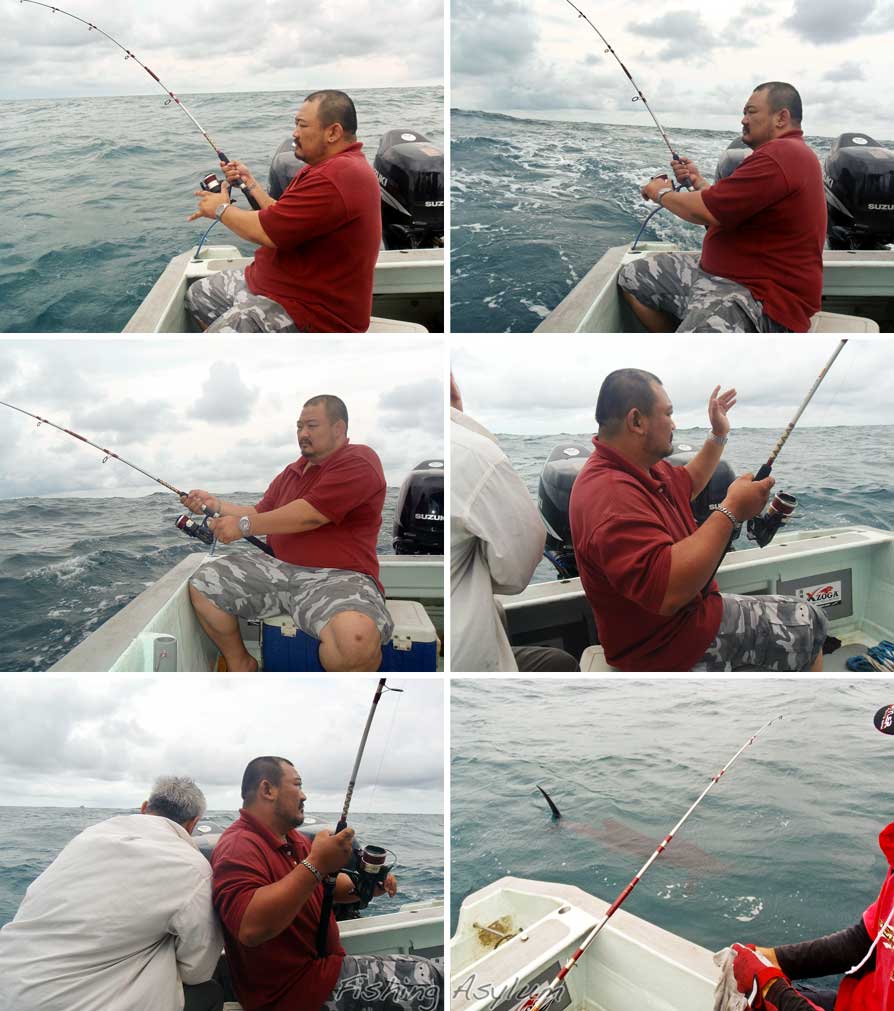 These two big fellas are actually trying not to puke! Well, at least they've got each other's back. What are fishing buddies for?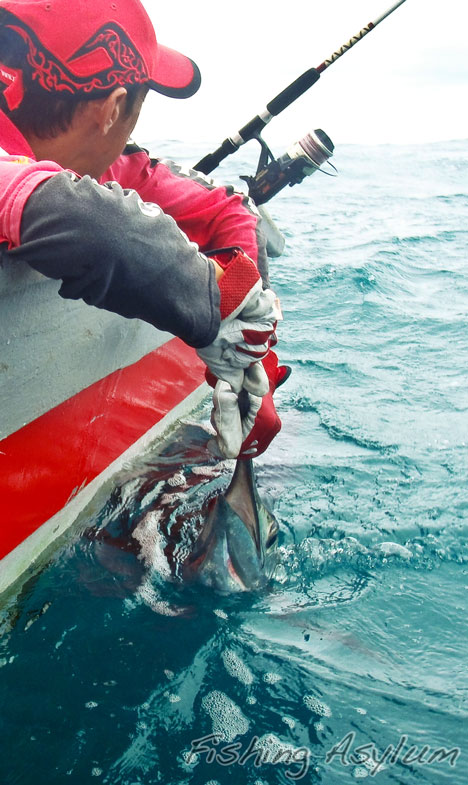 After a couple of photographs with the magnificent Sailfish, it not necessary to boat every single fish caught as they'd look the same in the photographs anyway. This will help minimize stress for the fish. Pick only the really out-standing ones to photograph if so desired.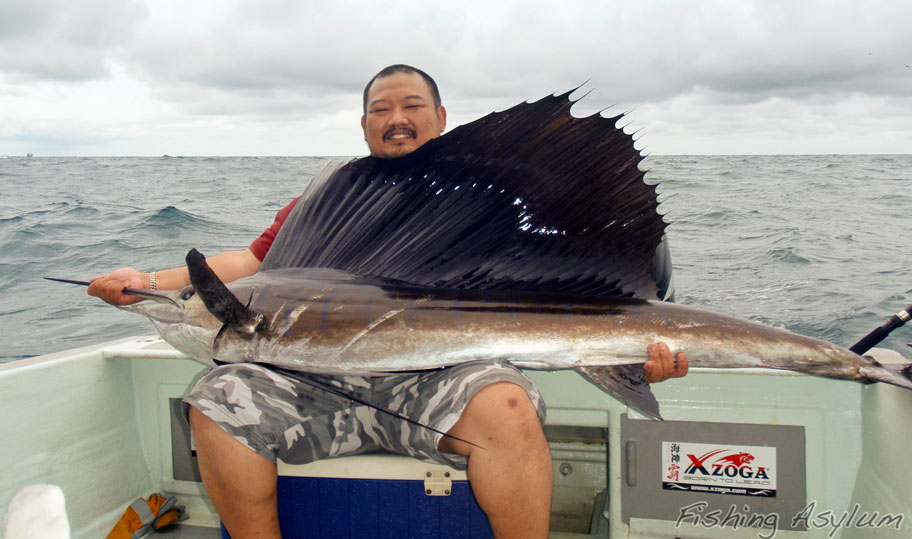 A good sized sailfish deserves a handsome smile. Poor cooler box…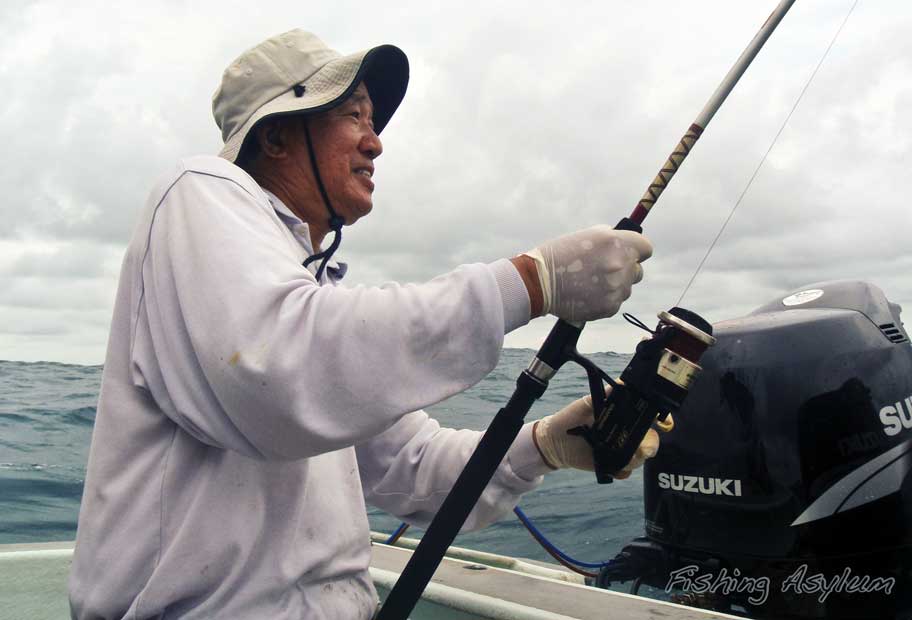 meanwhile…
the action continues…
finally… and a nice one too.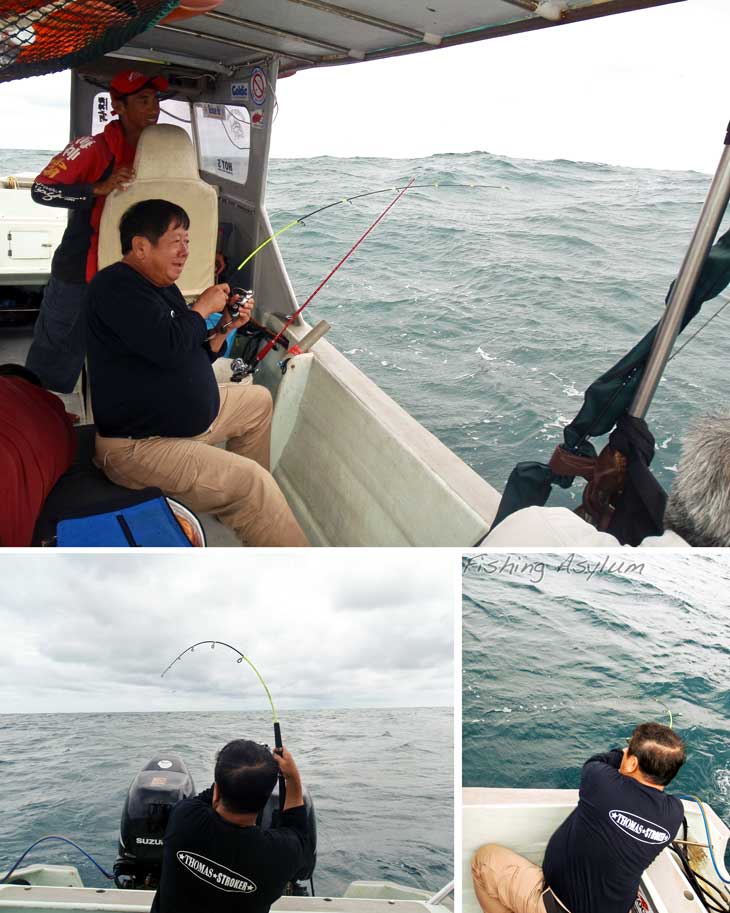 Thomas of Thomas Stroker hooks a sailfish on his 12-pound setup meant for Spanish Mackerels. Catch the action in this video.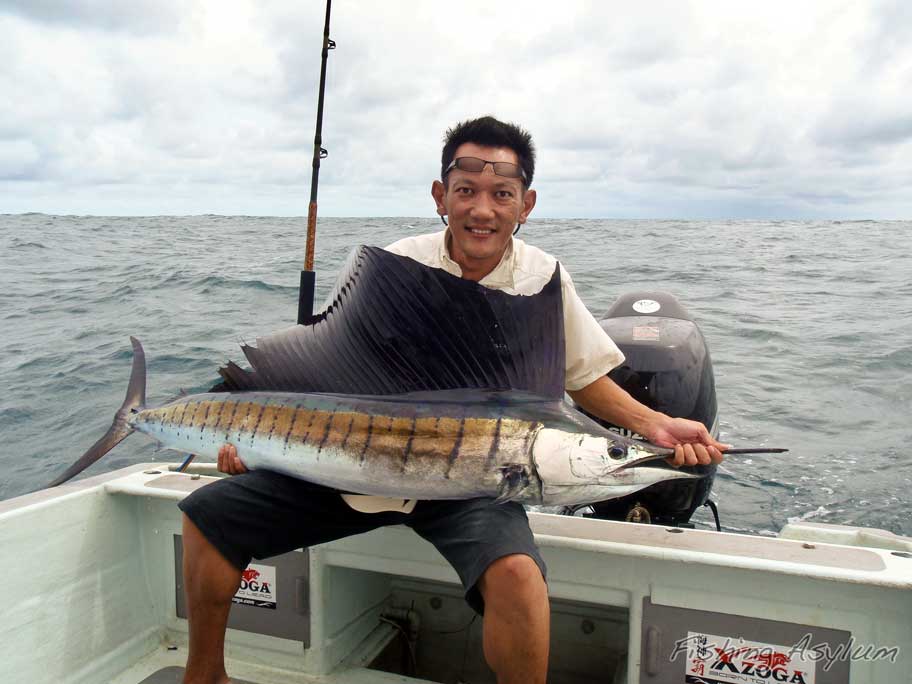 A smaller nicely colored sail with a broken bill.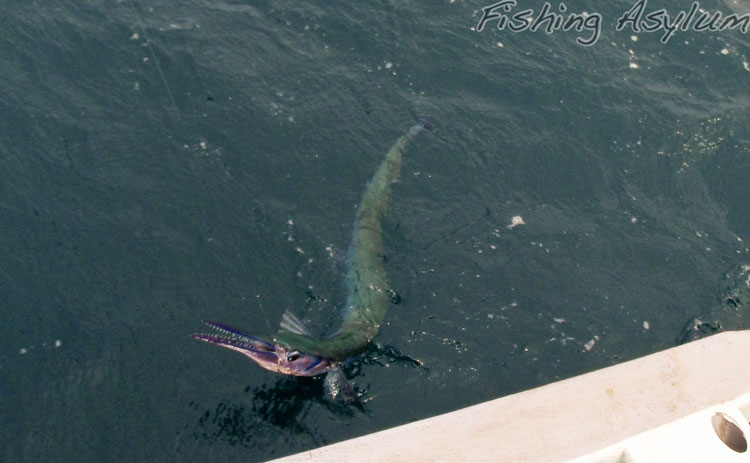 Plenty of garfish to irritate us. These toothy critters are mostly in the 2-3 kg range and they make a mess of our rigs.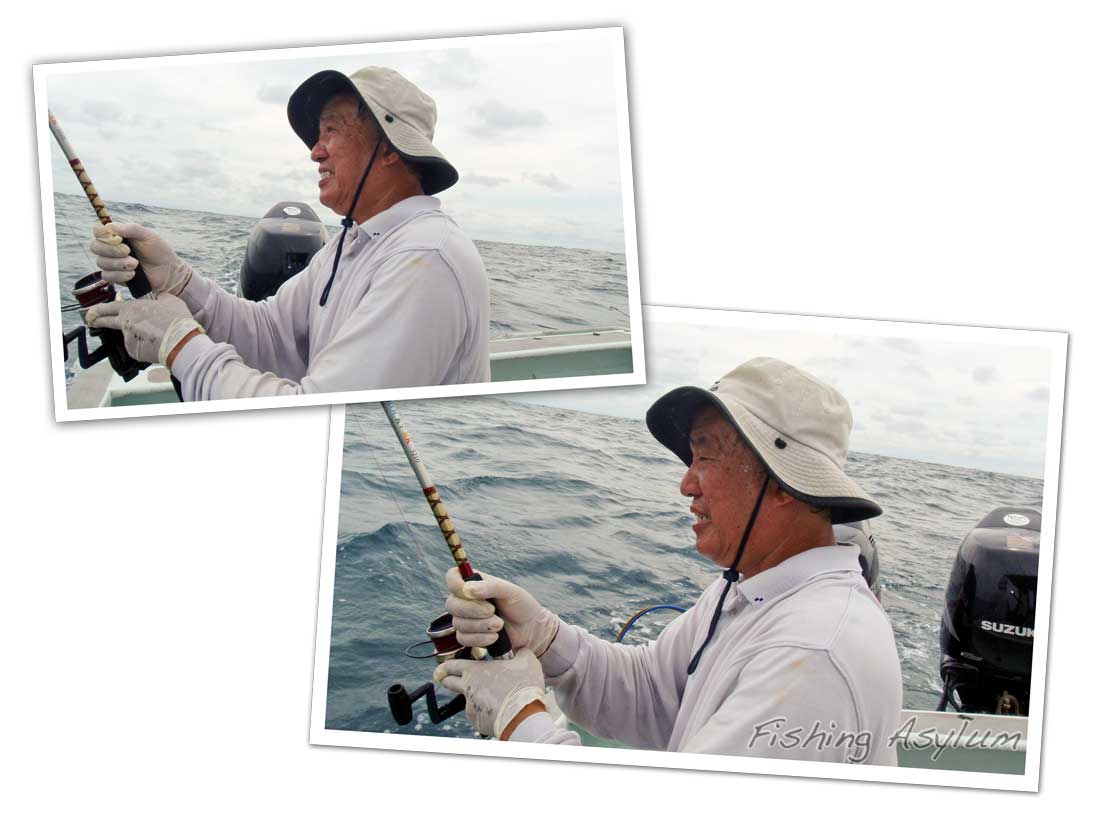 Fitness and Fishing
Staying fit and strong will make your tussle with big fish less strenuous thus more enjoyable ensuring you make the most of your trip out. It is good to have a consistent work-out routines such as weight lifting and working those wrists and thigh muscles.