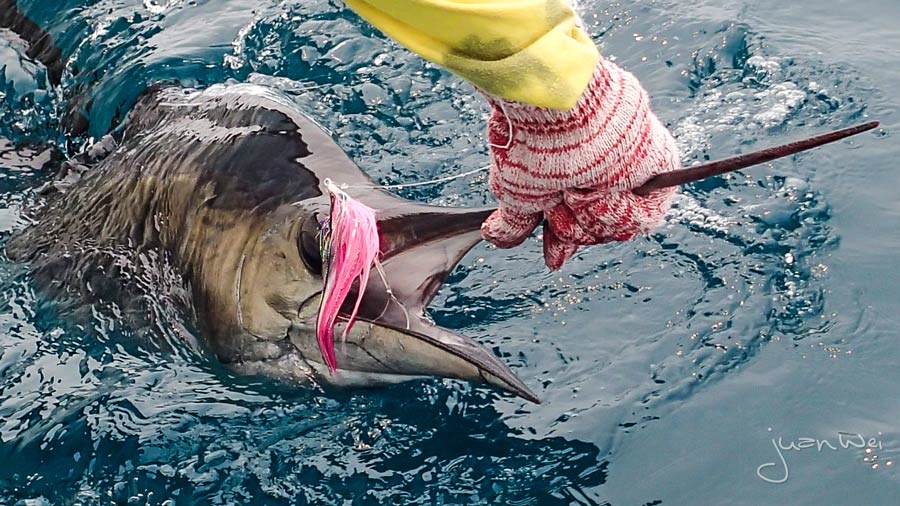 Sailfish on fly makes catching them on bait seem like a piece of cake, a walk in the park, shooting fish in a barrel, … you get the picture.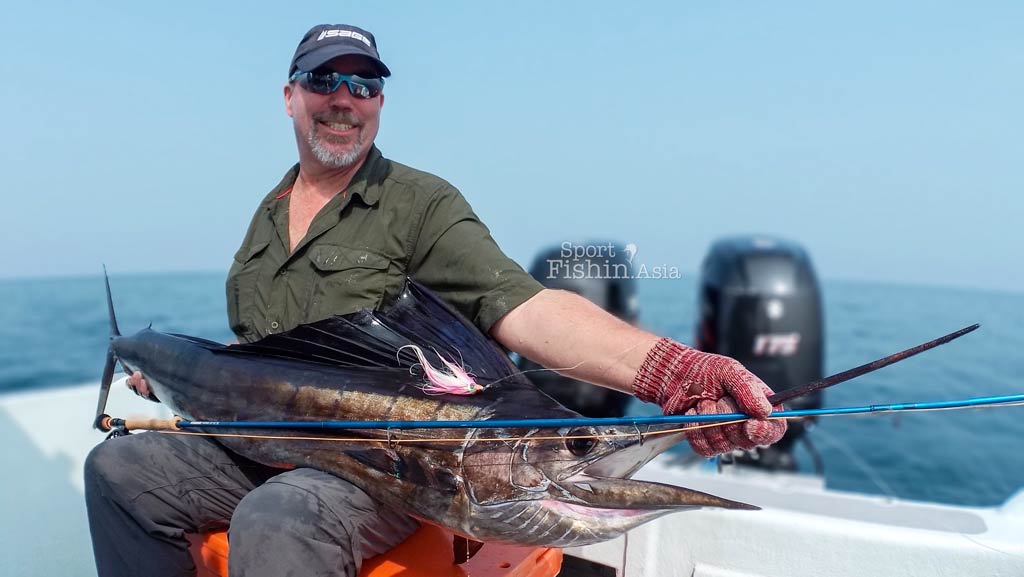 We Got It!
When we finally solved the puzzle years ago and everything came together, it almost feels like "hey, that wasn't so hard. How did we not figure it out sooner?". We've been getting our guests hooked up to sailfish on their flies on a regular basis ever since.
Adrenaline Rush
Challenging or difficult it may be, being an avid fly fisherman myself, catching sailfish on fly is really quite the adrenaline rush. Bonefish, permit, Atlantic tarpon, milkfish are all in there as fish-to-catch-on-fly for many of us. Billfish on fly can be quite a different kettle of fish which you have to experience first hand to understand.
Allow me to attempt putting into words what it is like…
You Wait for All Hell To Break Loose
Fly fishing for billfish is about the hunt. The search for the fish, the experience of a well-rehearsed crew is paramount for any success, the equipment and the birds all comes into play.
There can be a lot of waiting for something to happen and often, nothing happens, sometimes for a long period of time.
And then all of a sudden it all happens, you get ready, all hell breaks loose and your opportunities appears before you to get a shot at casting to a sailfish or two. It lasts for a full couple of seconds!
It's either screaming fly reel and angler, total euphoria, or not – in which case the waiting game (hunting) resumes.
When you do get the hook to set and the line comes tight on a sailfish, chances are you'll experience for the first time ever the fastest your fly line and backing line shooting out of your fingers and rod guides.
Hopefully, you'll have a good pair of gloves on. And watch out for the knuckle-busting reel knob now spinning in a blur.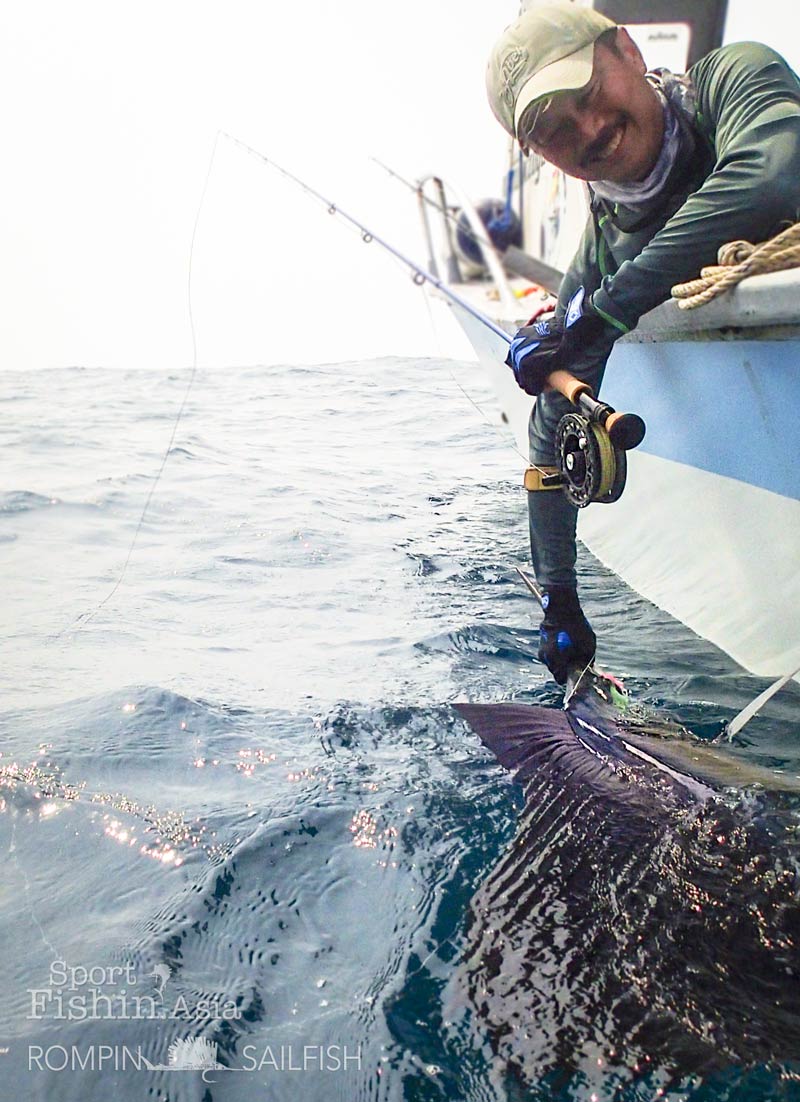 Trolling Teasers – Bait and Switch
Bait and switch is arguably the most commonly deployed method for catching billfish, not just for fly fishing but also baited hooks or rigged baitfish.
Sailfish are a bunch of inquisitive fish. Drag a bunch of stuffs on the surface near them and they cannot resist taking a look.
Taking a look, however, doesn't always translate to chasing or feeding and eating your offerings. Most times they are contented to just "look".
When they are in the chase and feed mood, that's when we tease them get close to the transom and present the angler with the opportunity of having a shot, throw the levers to neutral, swap the teaser with your fly and hopefully get you connected to the fastest fish in the ocean.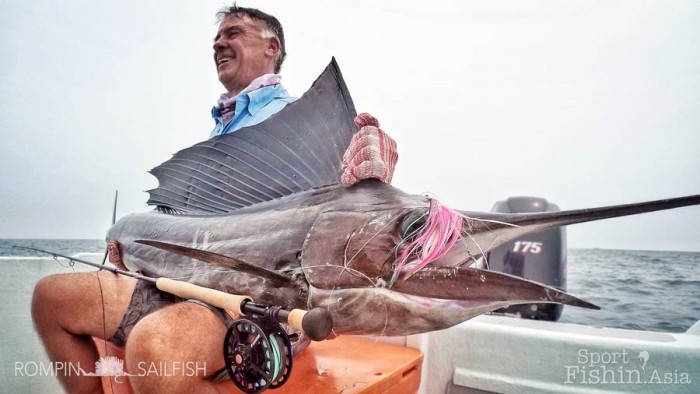 Bait and Switch – Casting Hookless Poppers or Lures
Who doesn't want to cast a fly from a drifting boat, hook and land a free-swimming sailfish? I know I do!
But boy, it is a lot of hard work, even harder to get a hookup, involves a lot of spotting and casting and the fly fisherman must be a very competent caster.
The earlier method of trolling teasers often calls for very short casts while this second method is quite different. You will need to put the fly accurately and very quickly over varied distances. Did I say very quickly? Yes, I'll say it again, very very quickly.
It is heart-stopping to see one or more big sailfish appearing behind a popper, attacking it and see your fly now in front of it.
Another big challenge here is getting a hookup.
We often see sailfish slashing at the fly and not eating it. It's like having a sword fight with a big fish on the waters surface. There will be times when they do eat the fly and they are facing the wrong direction, at you, the angler. Setting the hook on a sailfish facing us will be near futile due to their mouth's bony build.
Get ready to be disappointed over and over again as the sailfish turns away at the last moment and you not able to put the fly where the fish is and quickly enough.
Fly casting to free swimming sailfish is the toughest and at the same time also the most rewarding way to catch a sailfish on fly. We've only had a handful of anglers achieve this feat.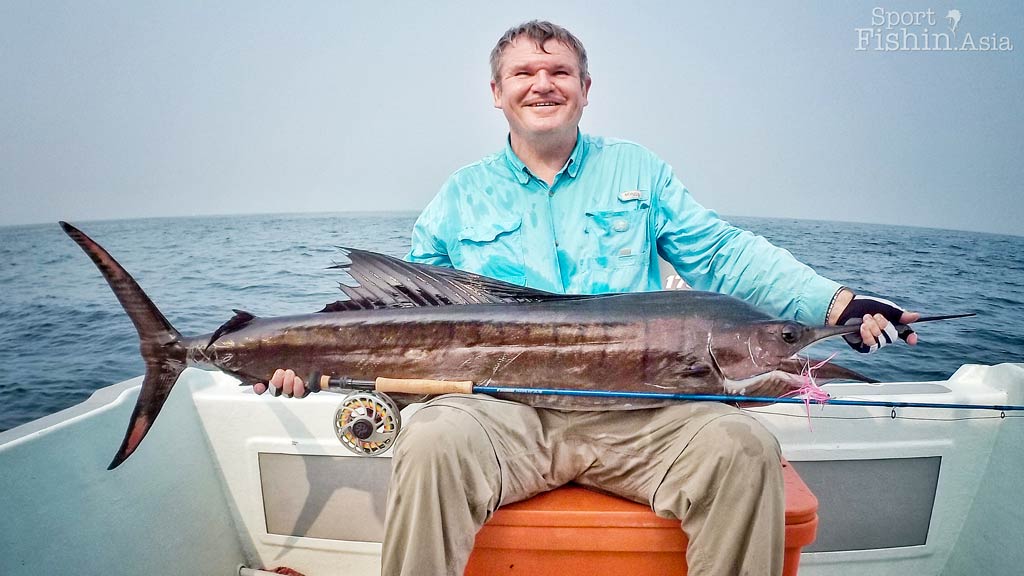 Casting to Feeding or Free Swimming Fish
There will be times when we run into a school of sailfish feeding on a bait ball. Unlike other fish (eg tuna or Spanish mackerel) hammering into a baitball and eating everything in their sight and contrary to what many may think or imagine, getting a sailfish hookup this way is not easy.
Sailfish feeding on baitball often feed in a very leisurely manner. They often don't attack their food in blinding speed. The sailfish will often slash at your fly with their bill attempting to disable the prey before casually swimming back to eat it.
This method can also be frustrating as we can often appear to be just out of casting range of the sailfish as the baitball moves quickly from being hounded by the pelagics.
Tough as this method may sound, successfully catching a sailfish this way is not impossible and gives the ultimate satisfaction.
So how about giving it a shot yourself?
Should you have any questions about fly fishing for sailfish, wish to make a booking or enquire about available dates, please contact us here.
You may also contact us at our new, dedicated Fly fishing Asia website.