Rompin has made catching a sailfish on the fly very possible and affordable to many avid fly fishers from around the world.
It is an adrenalin rush that is difficult to put into words and need to be experienced to understand. Many who have keep coming back to get their fix and experience the excitement over and over again.
Kuala Rompin has a huge part to play – by offering large numbers of sailfish (more shots equals higher chance of success) and affordable compared to most other sailfish hotspots around the globe.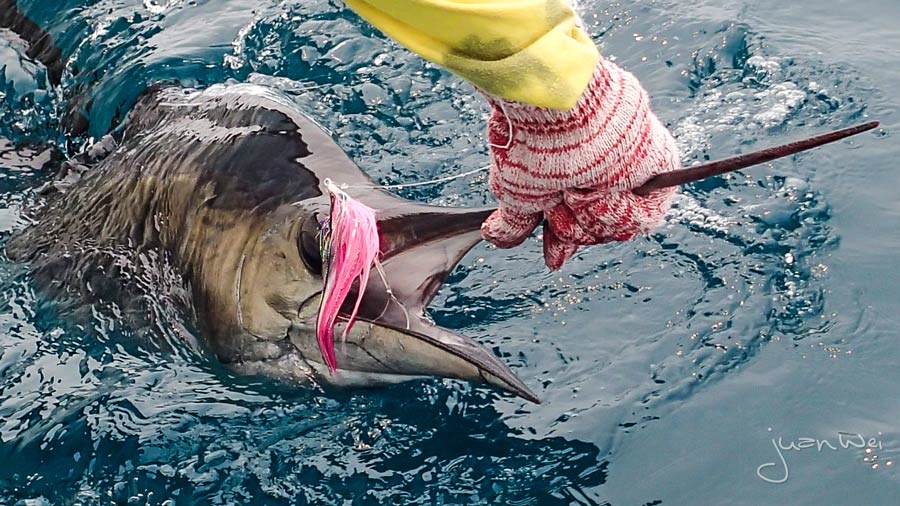 Better Numbers Better Possibilities
Large numbers of sailfish is crucial to your chances of success. Billfish can be notoriously difficult to catch on artificial lure, let alone on fly.
More fly-fishing action in FLY FISHING ASIA
Sailfish on fly makes catching them on bait seem like a piece of cake, a walk in the park, shooting fish in a barrel, … you get the picture.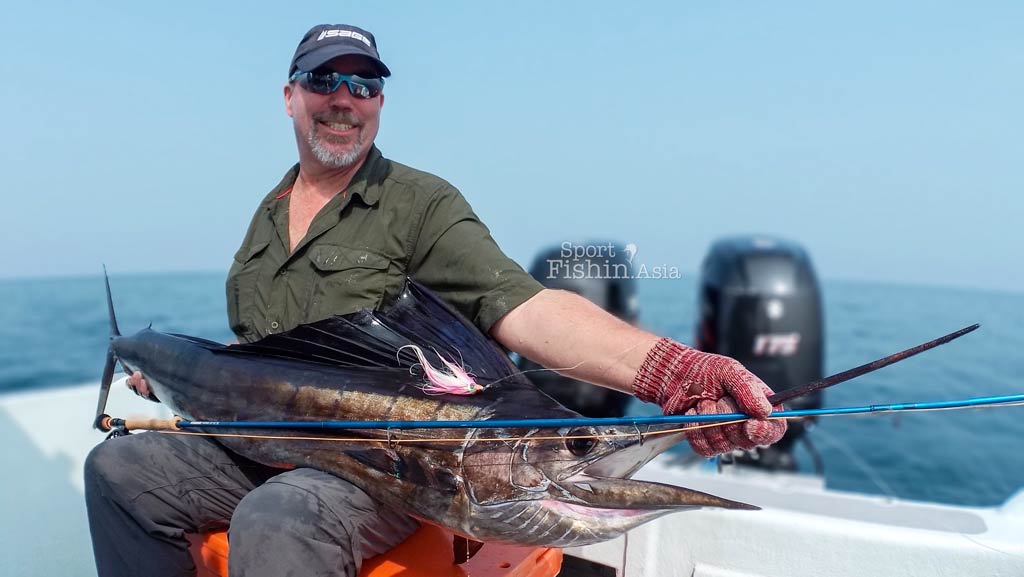 We Got It!
There is no substitute to putting in time on the water actually fly-fishing for sailfish and we've been getting our guests hooked up to sailfish on their flies on a regular basis for years.
Juan Wei (Sport Fishing Asia founder and head guide) is an avid fly fisherman and will understand your needs.
Adrenaline Rush
Challenging or difficult it may be, being an avid fly fisherman myself, catching sailfish on fly is really quite the adrenaline rush. Bonefish, permit, Atlantic tarpon, milkfish are all in there as fish-to-catch-on-fly for many of us.
Billfish on fly can be quite a different kettle of fish which you have to experience first hand to understand.
Allow me to attempt putting into words what it is like…
You Wait… for All Hell To Break Loose.
Fly fishing for billfish is about the hunt. The search for the fish, the experience of a well-rehearsed crew is paramount for any success, the equipment and the birds all comes into play.
There can be a lot of waiting for something to happen and often, nothing happens, sometimes for a long period of time.
And then all of a sudden it all happens, you get ready, all hell breaks loose and your opportunities appears before you to get a shot at casting to a sailfish or two. It lasts for a full couple of seconds!
It's either screaming fly reel and angler, total euphoria, or not – in which case the waiting game (hunting) resumes.
When you do get the hook to set and the line comes tight on a sailfish, chances are you'll experience for the first time ever the fastest your fly line and backing line shooting out of your fingers and rod guides.
Hopefully, you'll have a good pair of gloves on. And watch out for the knuckle-busting reel knob now spinning in a blur.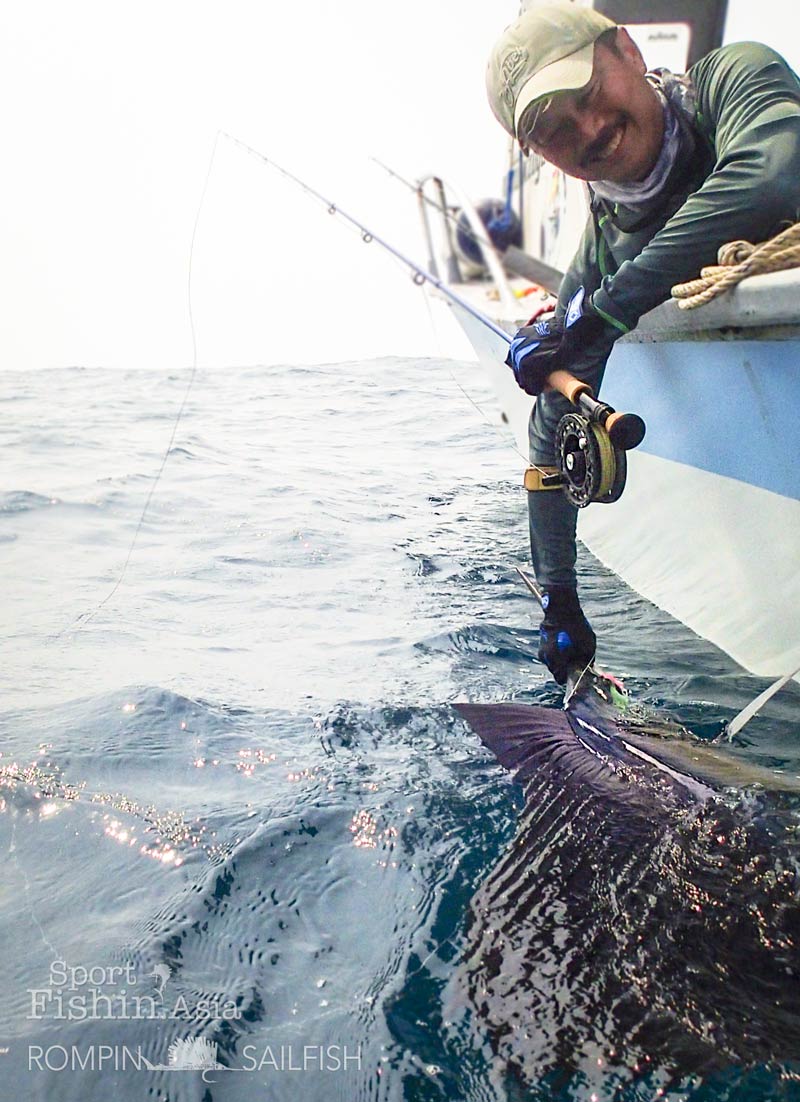 Bait and Switch
Trolling teasers to raise sailfish is the most popular method by far for billfishing, for fly fishing and even conventional gear with baited hooks. A proven technique nonetheless.
Here's how it works – a billfish spread of hookless teasers are trolled behind the boat. Once one or more sailfish comes to investigate these fleeing baitfish, the crew plays a catch and mouse game to agitate the sailfish and lure them in to within casting distance.
The fly angler must by now be ready with rod in hand and have enough fly line out of the rod tip to present the fly when signaled to do so.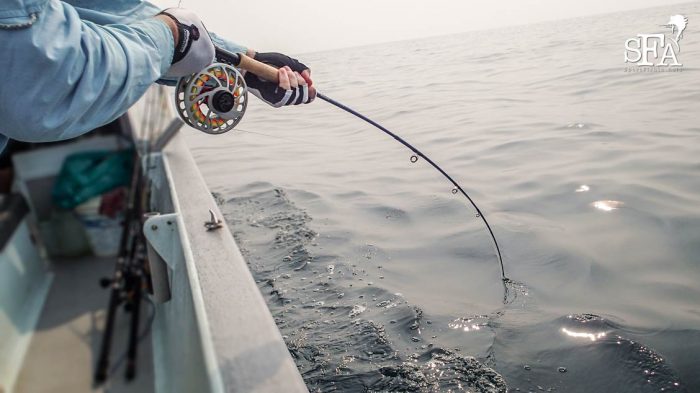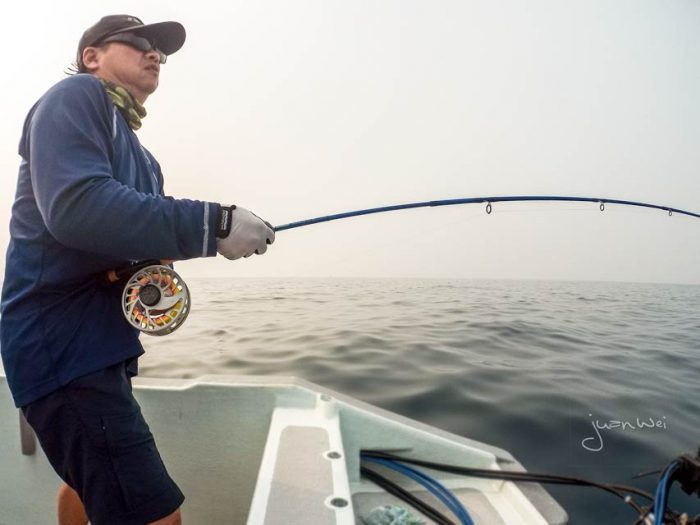 COMING, COMING, CAST!
The cast will be made after the boat is put out of gear and if everything goes as planned, the sailfish will engulf your fly and swim away with it and your line comes tight.
Line management comes next and before you know it you're into your backing, your reel is screaming like you've never heard it do before and one angry sailfish tail walking behind the transom.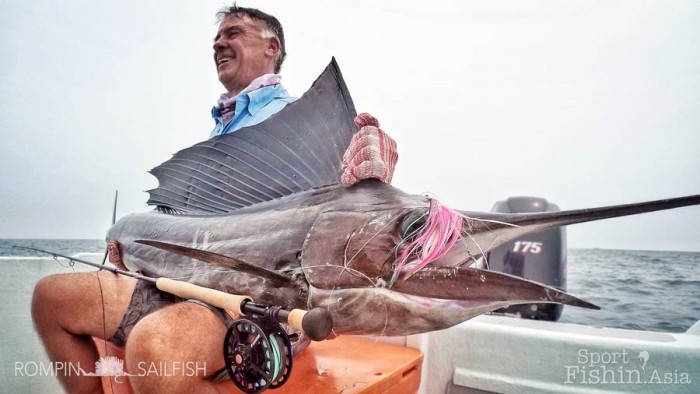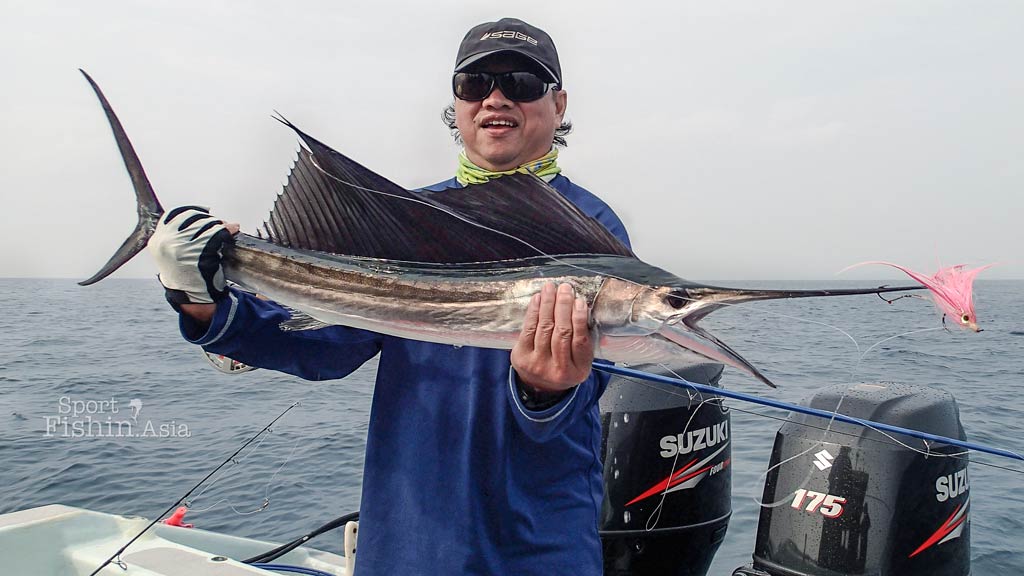 Bait and Switch – Casting Hookless Poppers or Lures
Something we have done before and had very limited success is casting hookless poppers or lures as teasers. This is done from a drifting boat.
But that is a lot of hard work for both caster and angler, getting a solid hookup is also very remote as the fish is often facing the angler when eating the fly. The mouth of sailfish is very bony and not much for a hook to catch on. The angler must also be a very competent caster.
The earlier method of trolling teasers often calls for very short casts while this second method is quite different. You will need to put the fly accurately and very quickly over varied distances. Speed and accuracy casting a big fly using heavy gear on unsteady footing in the wind are all the ingredient for frustration.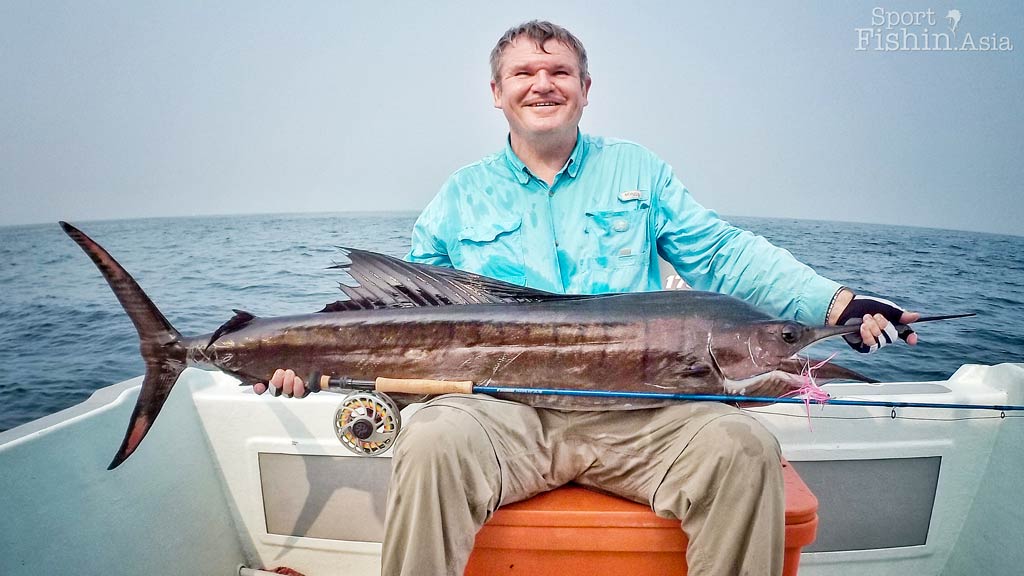 Casting to Feeding or Free Swimming Fish
There will be times when we run into a school of sailfish feeding on bait balls. Unlike other fish (eg tuna or Spanish mackerel) hammering into a baitball and eating everything in their sight and contrary to what many may think or imagine, getting a sailfish hookup this way is not easy.
Sailfish feeding on baitball often feed in a very leisurely manner. They often don't attack their food in blinding speed. The sailfish will often slash at your fly with their bill attempting to disable the prey before casually swimming back to eat it.
This method can also be frustrating as we can often appear to be just out of casting range of the sailfish as the baitball moves quickly from being hounded by the pelagics.
Tough as this method may sound, successfully catching a sailfish this way is not impossible and gives the ultimate satisfaction.
So how about giving it a shot yourself?
Should you have any questions about fly fishing for sailfish, wish to make a booking or enquire about available dates, please contact us here.