SW Jurassic Fishing Pond
Address: Bagan Lalang, Tanjong Sepat, Selangor, Malaysia
UPDATE JANUARY 2017: The SW Jurassic pond has since been renamed as FISHING BUDDIES pond.
Operated by the same people from the Jurassic Pond with the snakeheads, next to the Natural Exotic Fish Fishing Pond in Rawang, this is a different offering as it features saltwater fish, hence the SW moniker.
About 70km from Subang where I picked up Nick and Mah, it took us about an hour to get to this place that started operations about three months ago (February 2015). Comprising of mainly two ponds simply labeled pond A and pond B they offer an assortment of saltwater species.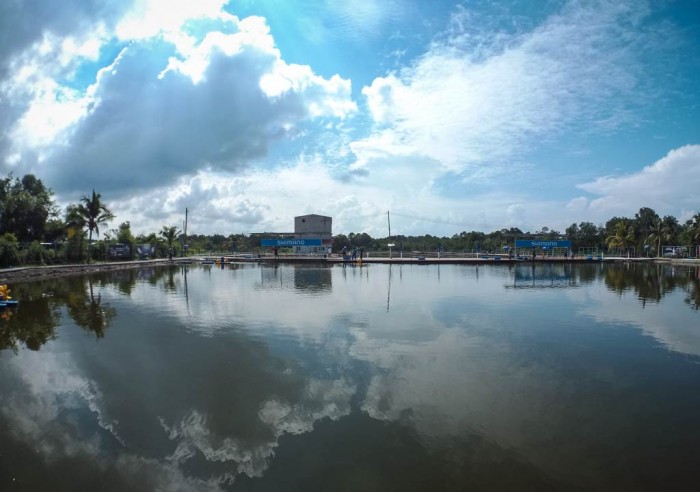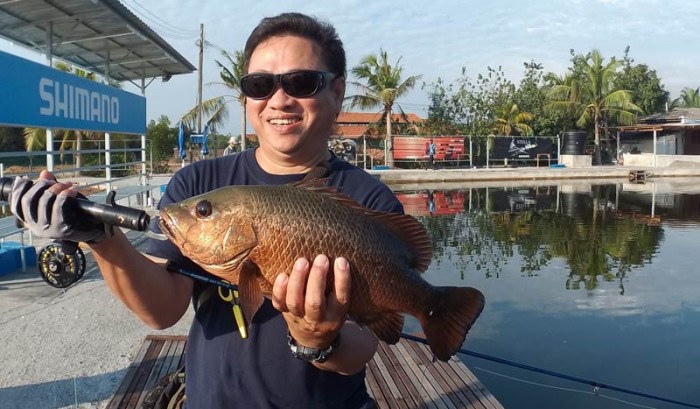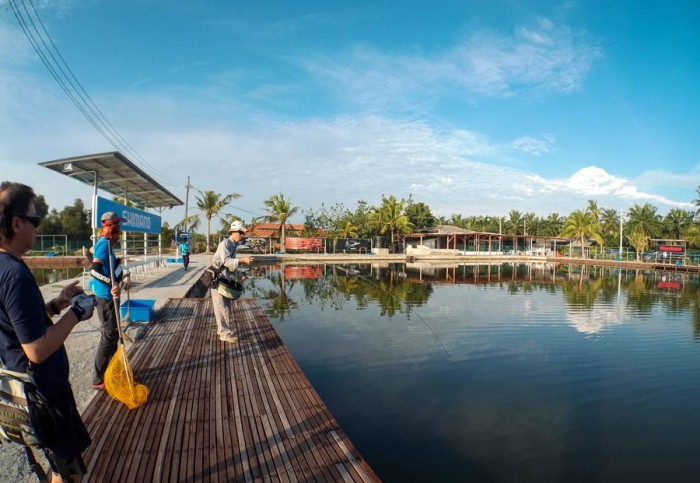 Above photos taken using the HTC Re camera
Pond A
Pond A has 10 species of fish ie cobia, mangrove jack, golden snapper, redfish, giant trevally, barramundi, grouper, err and I can't recall what the rest are…
The rectangular shaped pond is not very big, maybe 20 meters by 30 meters (60ft x 100ft). I was told it is around 3m (9ft) deep and basically featureless except for a 'drop-off' somewhere.
Fishing fee is RM 100 per rod for 4 hours.
Pond B
Pond B is open only for group bookings at RM 500 for 3 hours.
This pond is only slightly larger than pond A, and is said to have 3 FADs somewhere along the middle of the pond so we were told.
This pond mainly consist of groupers and some barramundi.
Fishing Tips
There were some success with top-water lures so you can try that for the explosive thrill but be prepared to sacrifice catch rates.
Going deep is certainly the way to go here. Deep and slow. Very slow if you're going for the groupers.
The GTs can often be seen cruising along the edges and near the aerators and under the wooden platforms. Chucking very small flies to them appears to work well as they are also feeding on very small bait fish around the edge of the pond.
The groupers will be mostly holding around the deeper edges waiting to engulf fish that swims to close to their big mouths. Larger lures and flies will get them. Fish them deep and very slowly, literally dragging on the bottom with short pauses.
At pond B, I observe most of the groupers are caught near to the aerators.
Most of the other fish in pond A are caught by casting out and letting your lure/fly drop all the way to the bottom before retrieving.
As usual, vary the retrieve to find something that works that day.
The fish caught are not big or very powerful so you don't need heavy tackle here. Tackle under 20lb will do nicely or for fly a 6 or 7 weight.
We wish the pond operator all the success. A tip I'd like to offer them is they should constantly replenish 'new' fish into the ponds to keep the anglers coming back. Ponds like this sees rapidly declining bite-rates due to various reasons and it's important to have fresh fish which in turn will bring back and bring in the paying anglers.
The following photos are by Jurassic SW.