This is a continuation of the earlier report from the trip with Dan and friends. You can read it here if you missed that.
MORE ACTION
Colleen and Dan both caught more sailfish on day 2 and Colleen battled her fish under the rain. That fish created havoc, too when the Stren line got around some buoys and then the line and rod somehow got into the motors and the fish decided to go in the opposite direction.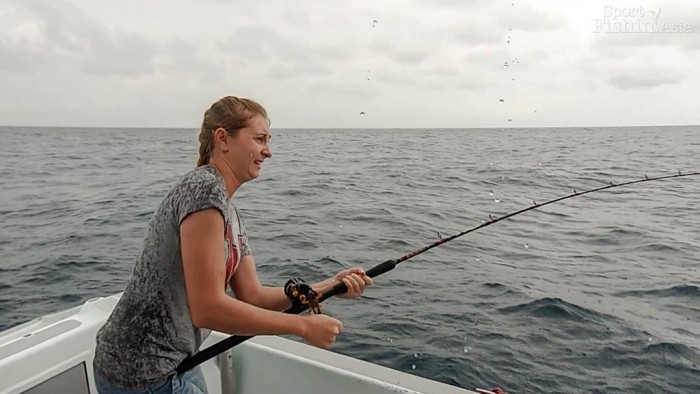 It took us a while to get out of this 'knot' and I was actually worried the line will snap, and later was expecting the rod to break having gotten under the motors. Somehow everything held, the Stren fishing line from Pure Fishing performed beautifully and any rod that is flimsier than the PENN Snapper used may not have survived.
When we were stuck under the motors we had to loosen the drag on the PENN Fathom reel and as a result the fish took a lot of line. The risk of getting spooled was certainly a possibility at that moment.
Somehow, we managed to get untangled and resumed the battle proper. When the line cleared the concern of having a tail-wrapped fish was there and luckily it did not happen and the fish was duly brought to the starboard side and released.
Another epic battle – captured on video.
While there were less drama with Dan's second sailfish it is still a nice catch.
OTHER ACTIONS