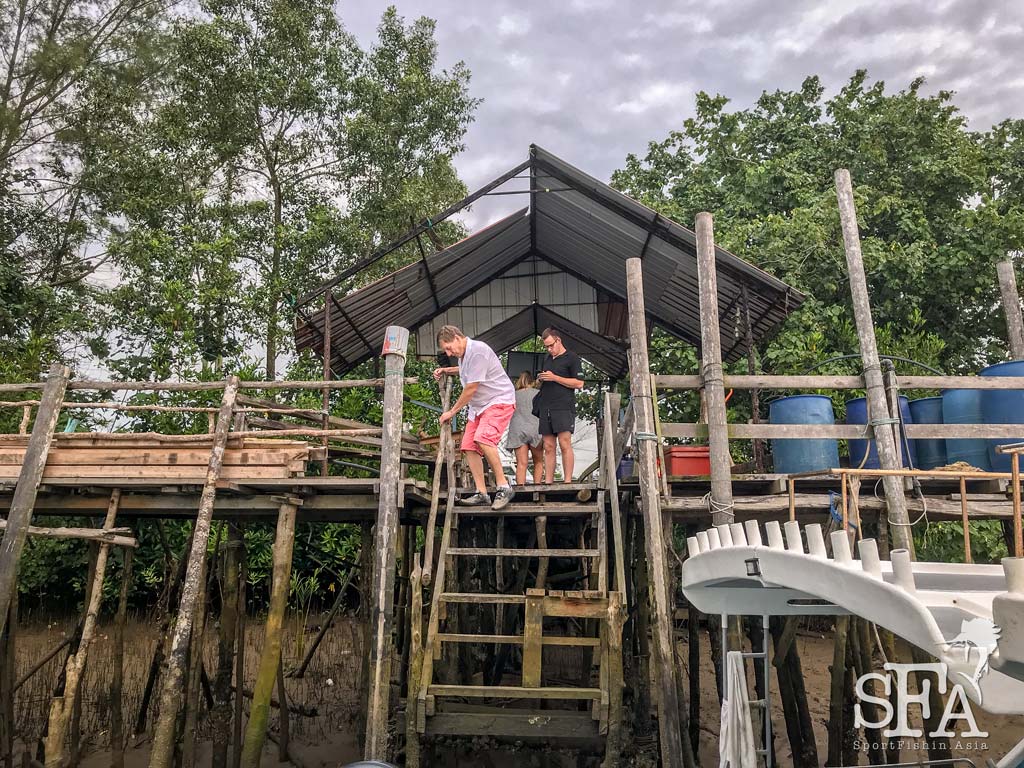 "Oh, I wish I knew Rompin 20 years ago" – Allan
That's how impressed Allan is with the fishing in Kuala Rompin. Wishing he could have been fishing here more.
Many consider the month of July to be too early to fish in Kuala Rompin. And they may be right, sometimes. We say you can also be in for some crazy good fishing if you hit it right!
You see, there are some distinct advantages to fishing in July. The fish begins to come into the Kuala Rompin waters at this time, fresh and un-harassed, these fish can be pretty aggressive. With less boats out there, these "naive" fish can be good for certain targets such as catching them on lures and fly.
And good fishing is exactly what this trio experiences on the first two days of fishing for this family of fishing enthusiasts from South Island New Zealand – Allan, Andrew and Eilish. 
Old hands at fishing and catching big fish, this family is no stranger to big game saltwater fishing. 
The trip actually starts off in an interesting way for JW as he went to the airport to pickup this three intrepid anglers without knowing their flight number or even airline. The only information he has are where the flight is from and arrival time (which was inaccurate, too). He sure was glad they finally turned up and at the terminal he guess they'd arrive at, albeit a little late. There's always a first for everything!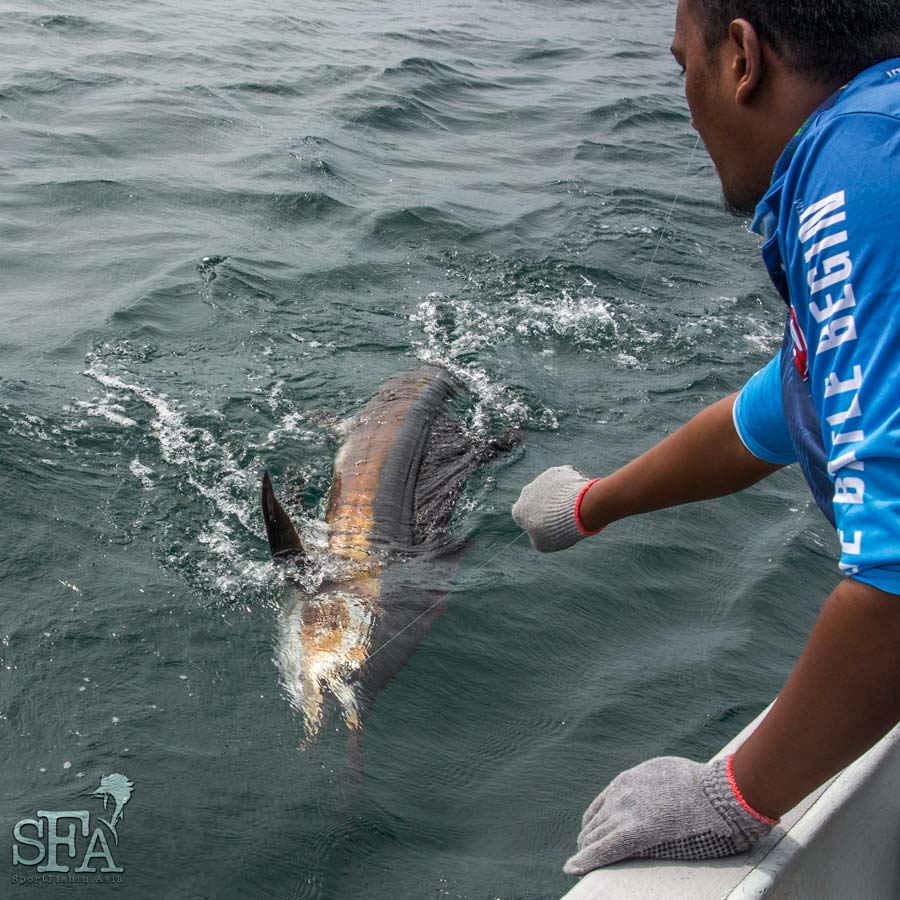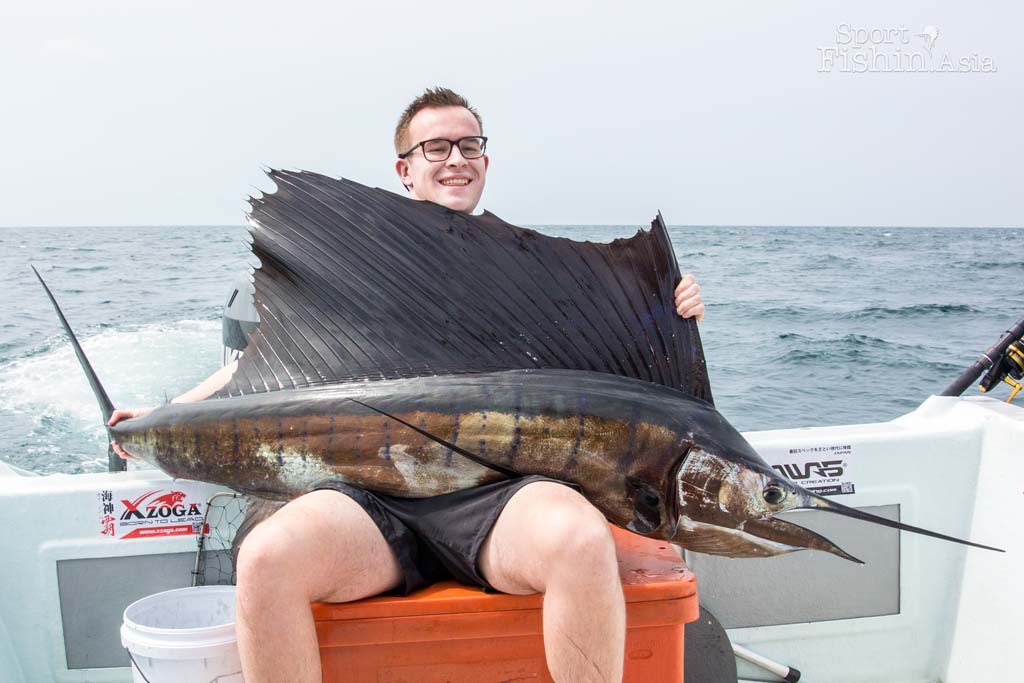 DAY 1
The fishing actually starts off kinda slow with only one fish in the morning. That first first is a nice one though. An above average fish estimated at 43kg measured using the Release Ruler. 
Wind has started to pick up over the last two days after a lull and the southerly wind is forecasted to last throughout the week. 
The family are planning to attempt fly fishing later part of their four-day trip. Hopefully we'll get something on fly. 
At the end of day one, a total of five sailfish was caught. Andrew and Eilish both had two apiece and Allan, one.
We appreciate all three of them only bringing aboard the first fish they caught for a quick picture and kept all the following fish in the water.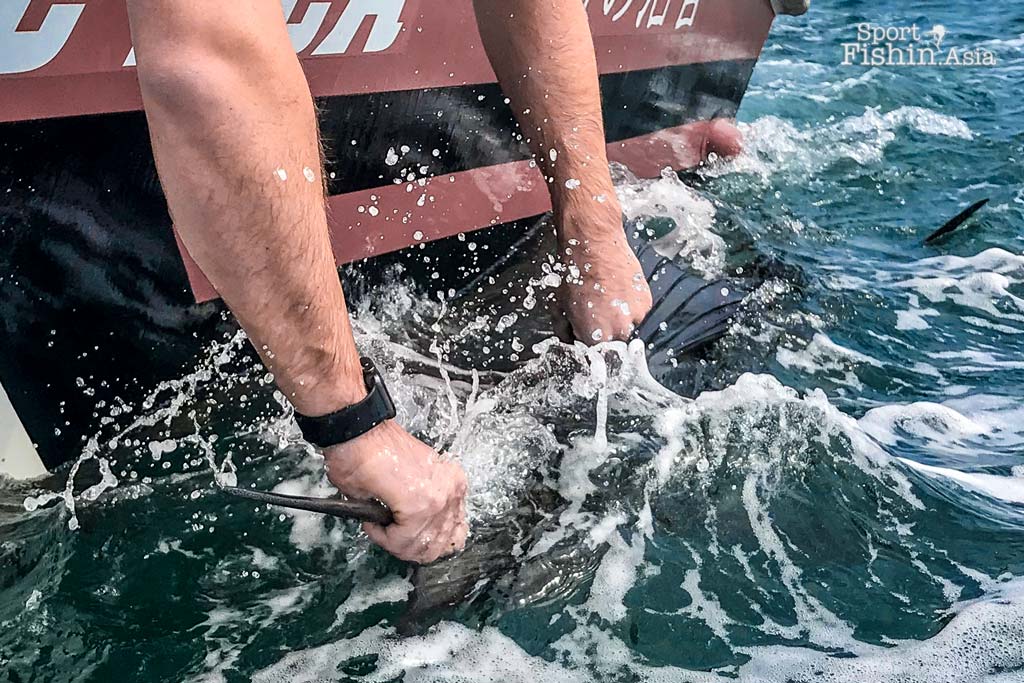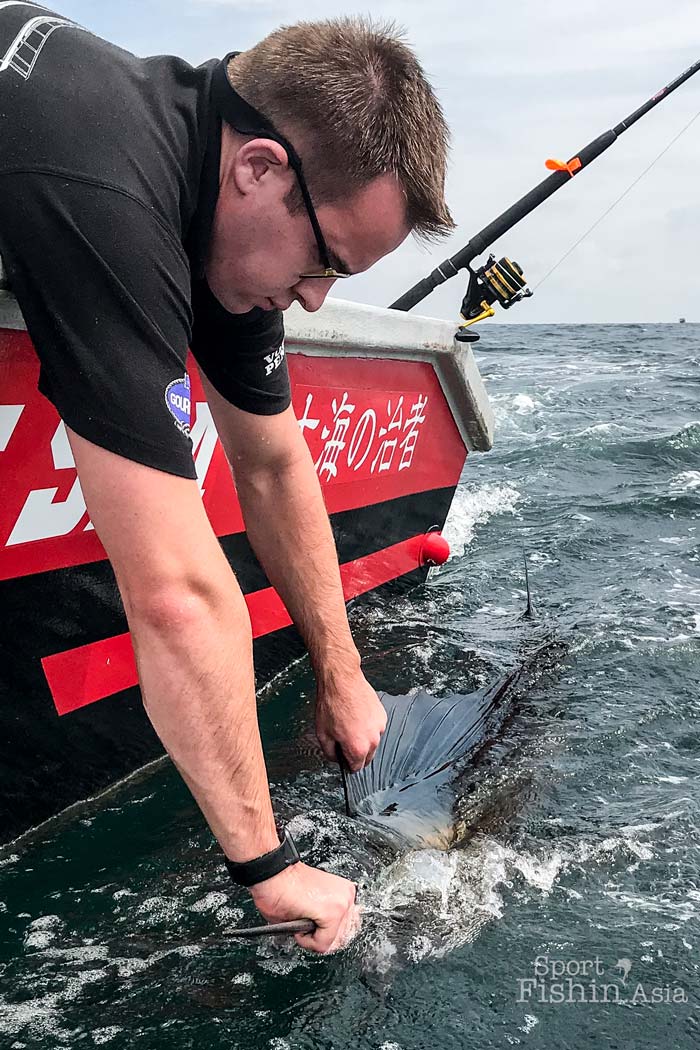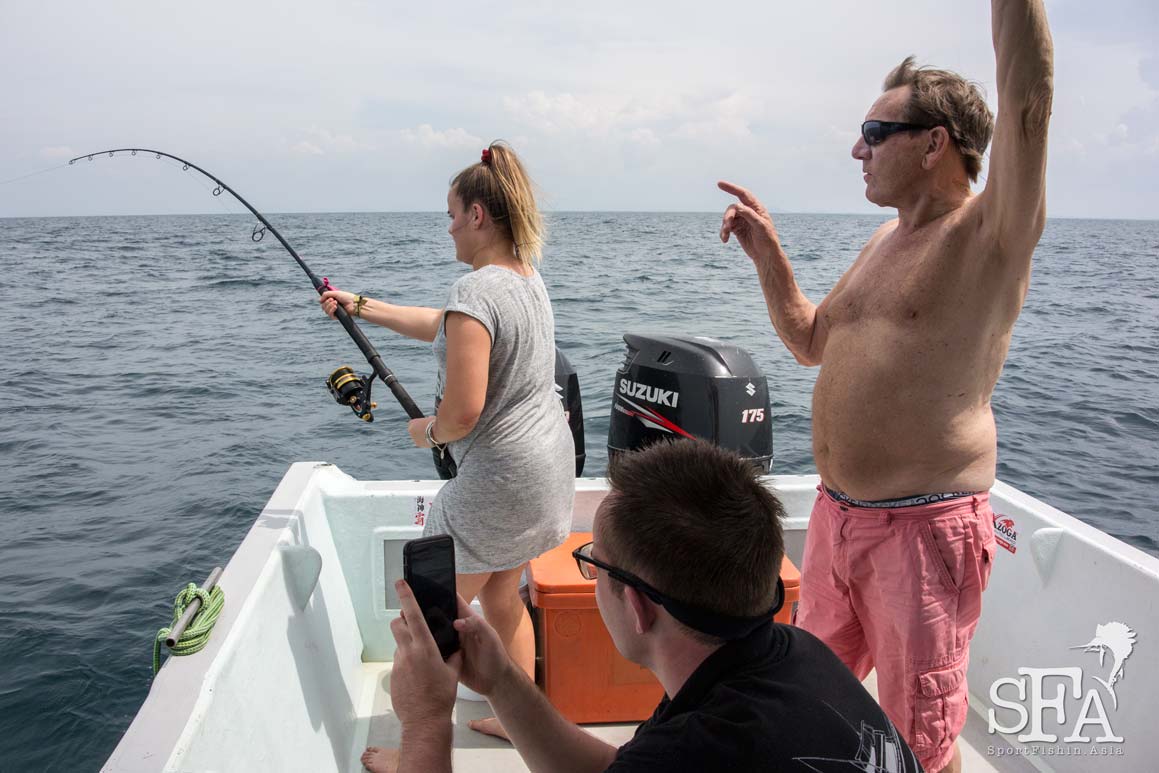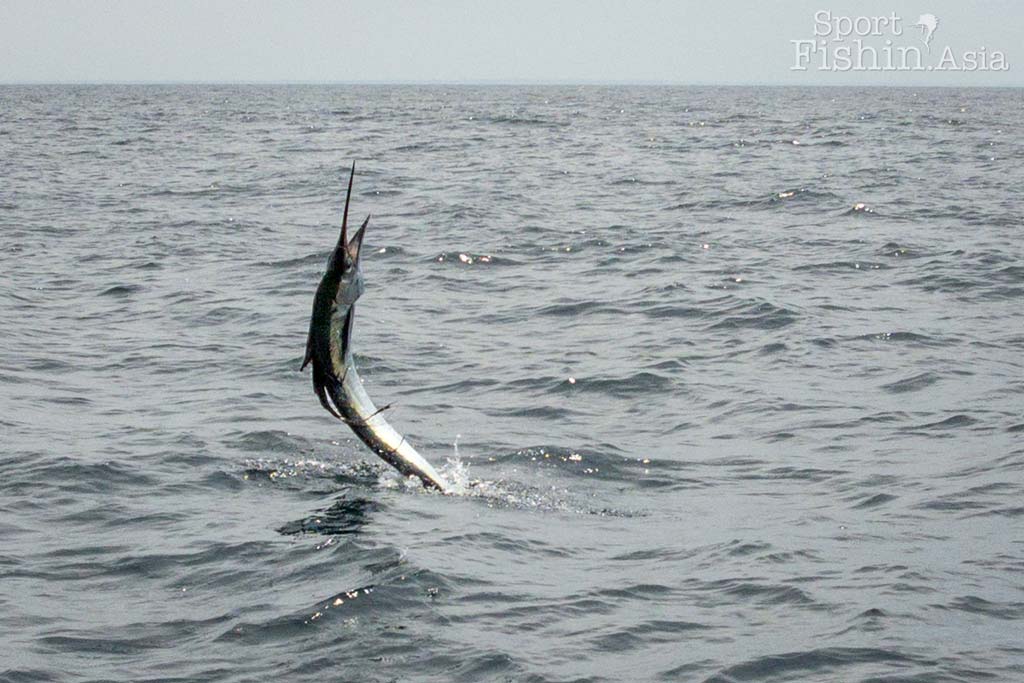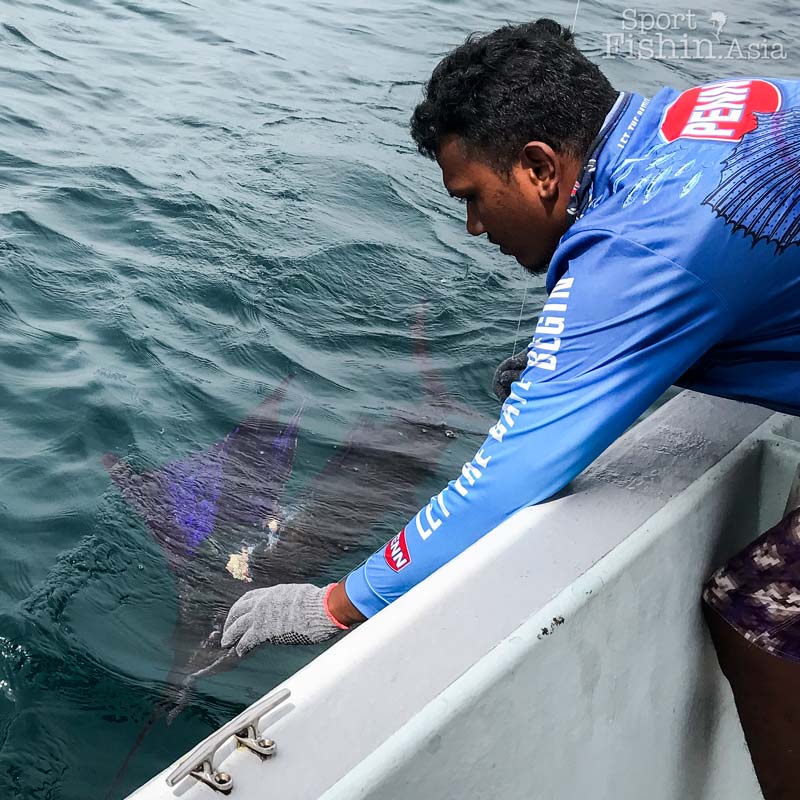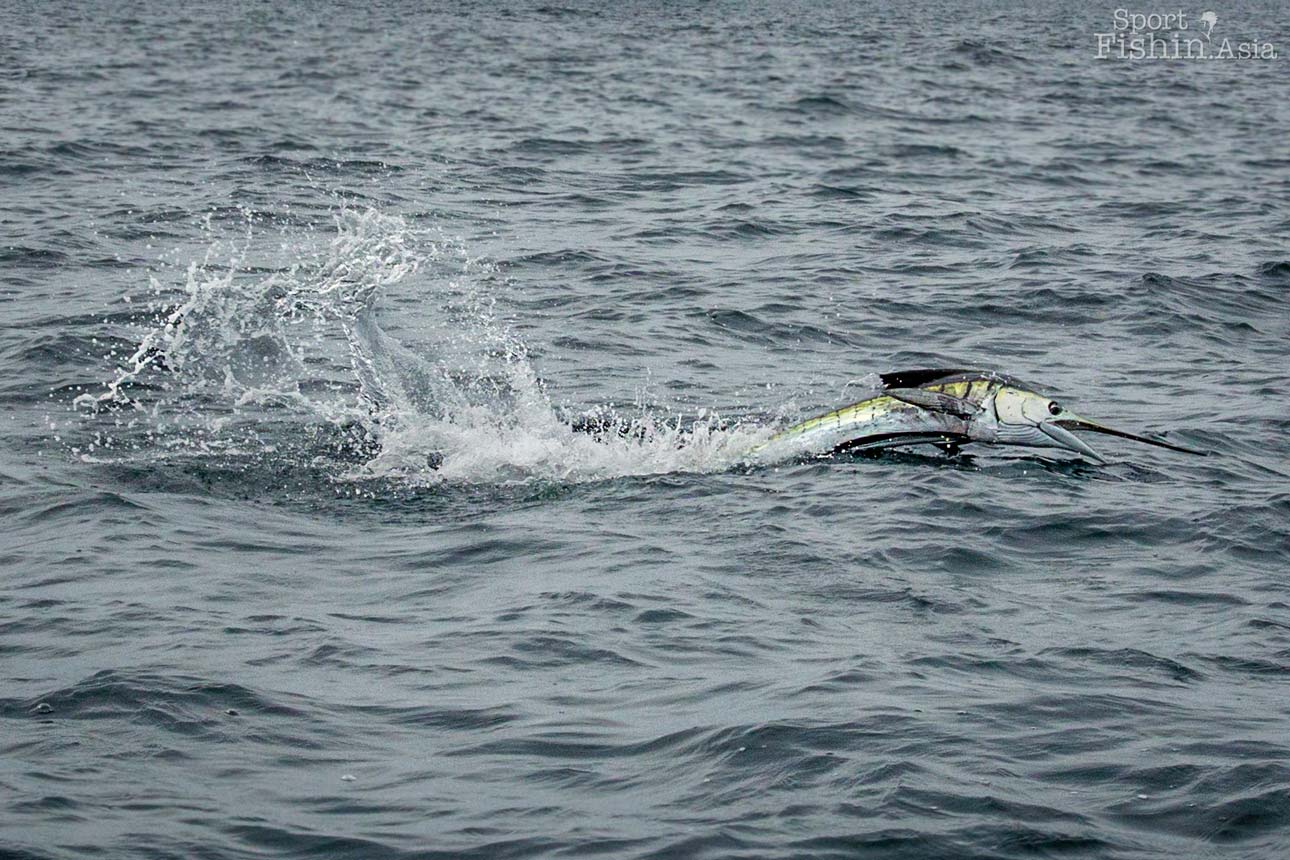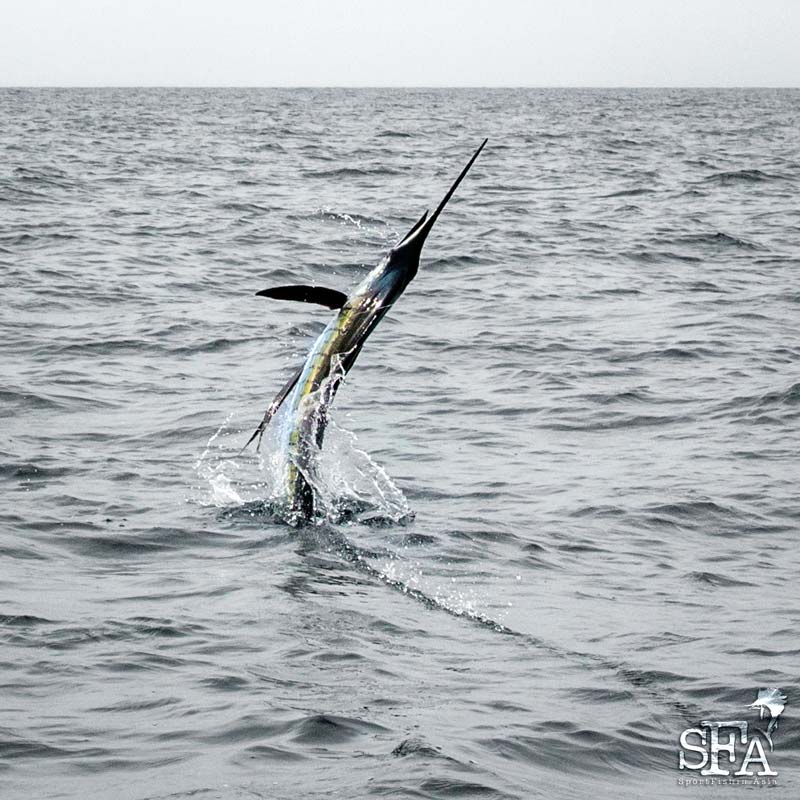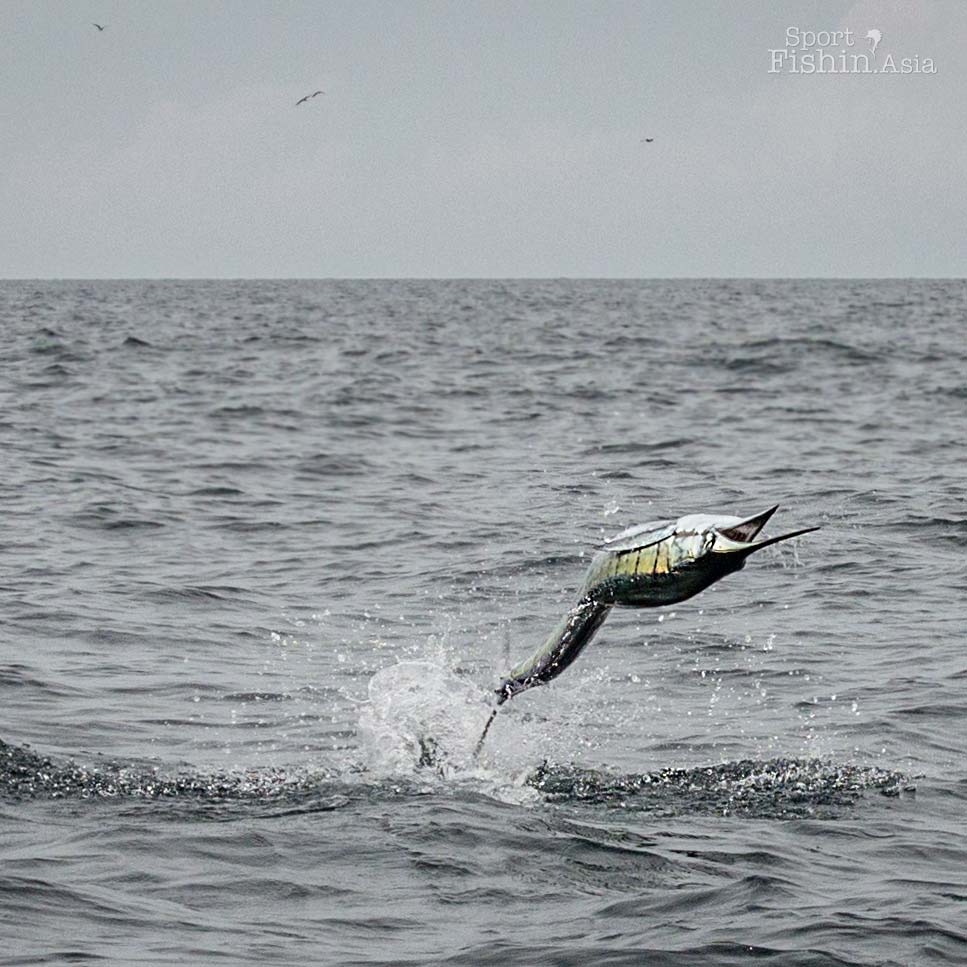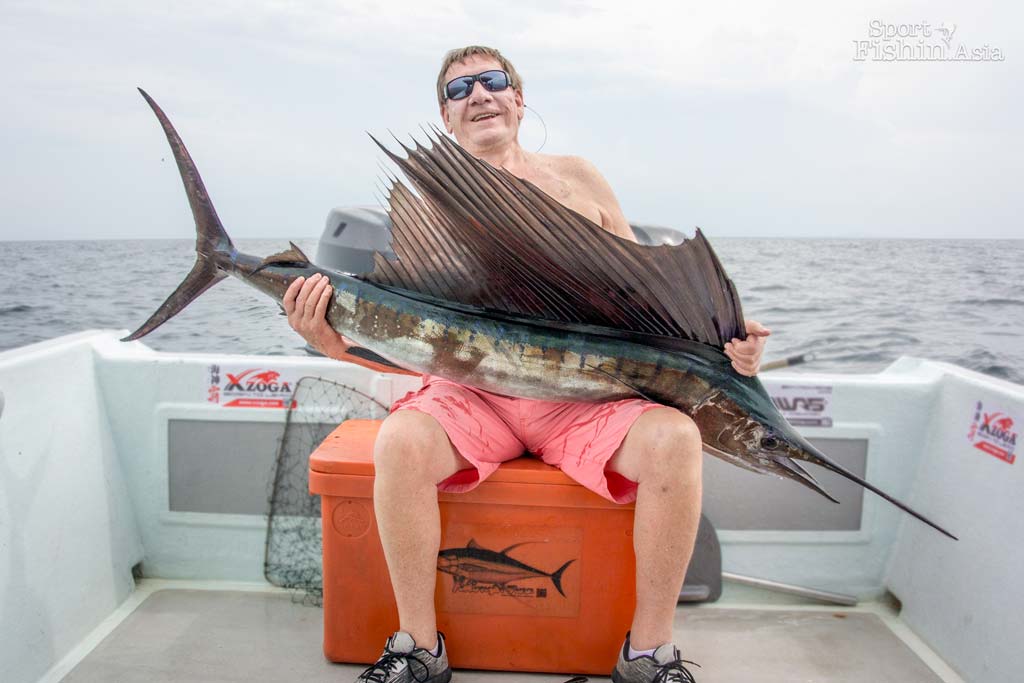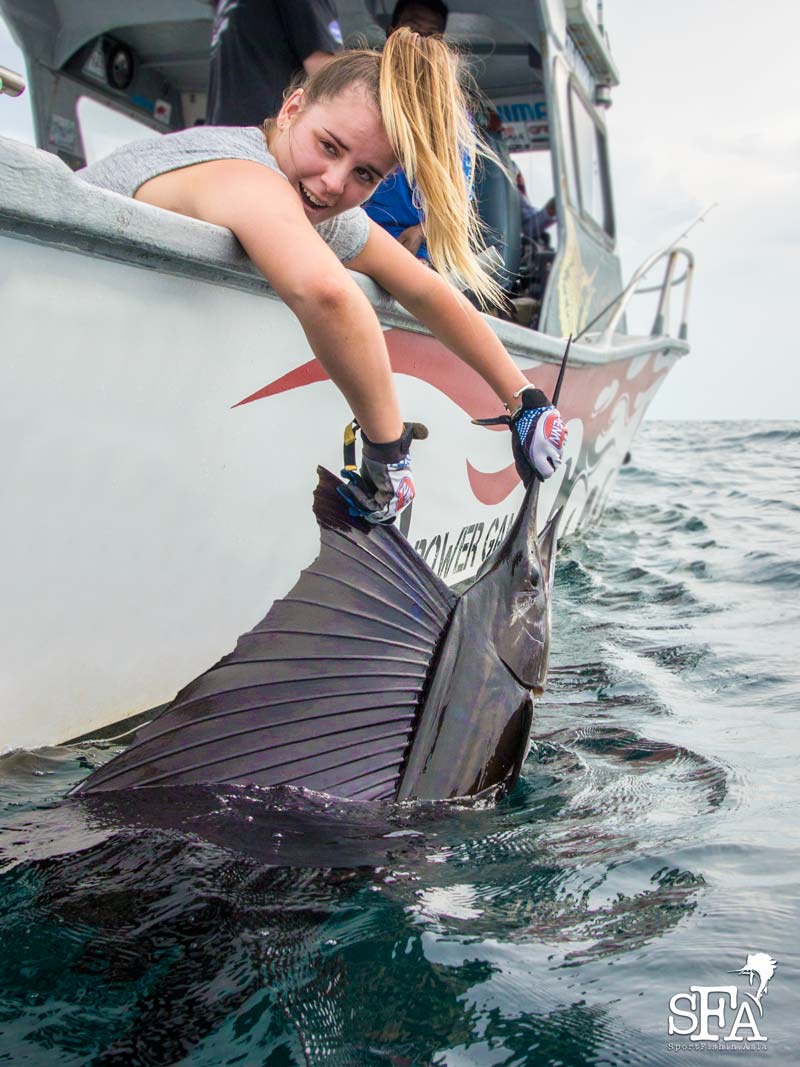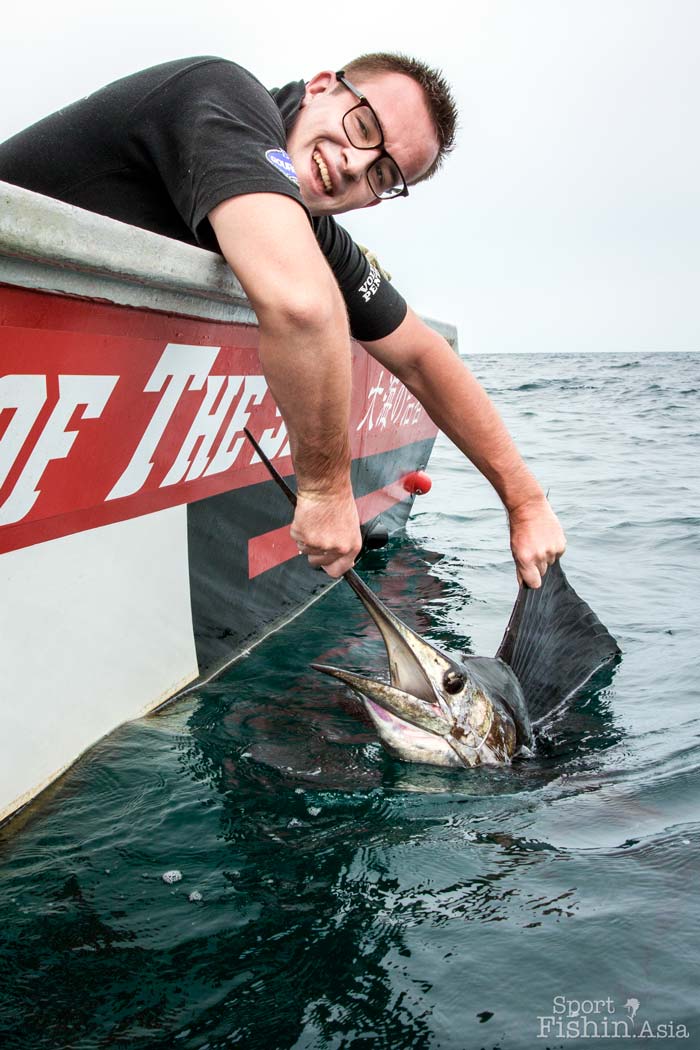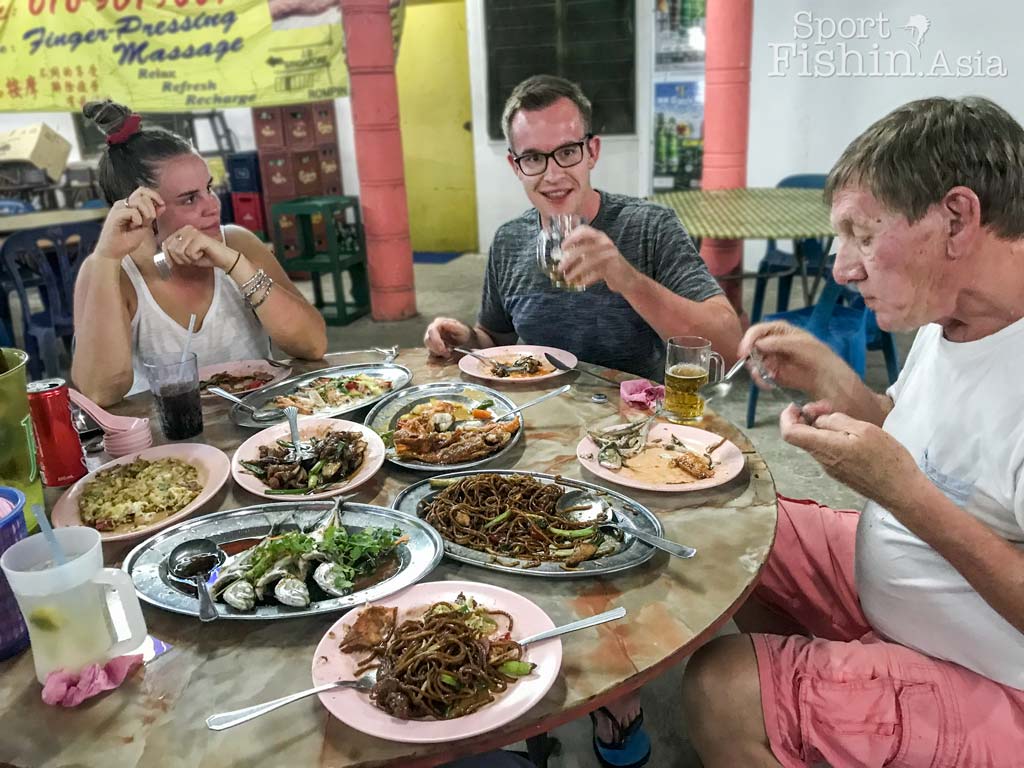 DAY 2
What a pleasant morning it is when we are greeted with a slightly sunny morning and very calm seas.
Guessing the bite will only be hot in the afternoon like it was yesterday would be a mistake. The bites today came in fast and furious!
There are times when we had feeding sailfish all around us chasing down prey, good time to cast out a popper, a stickbait, anything!
Everyone had a blast as we were five fish up in the morning. After a lull during midday, the bite started coming in again fast in the afternoon with three consecutive fish lost by Andrew within minutes.
He and the other two family members went on to land four more sailfish shortly after finishing with a triple hookup with all three successfully landing their fish before we called it a day at 4:30pm.
Andrew is also happy having successfully catch a sailfish on his light spinning setup, during the triple header nonetheless with his line getting tangled under another boat's for a moment and all three fish heading in opposite directions most times.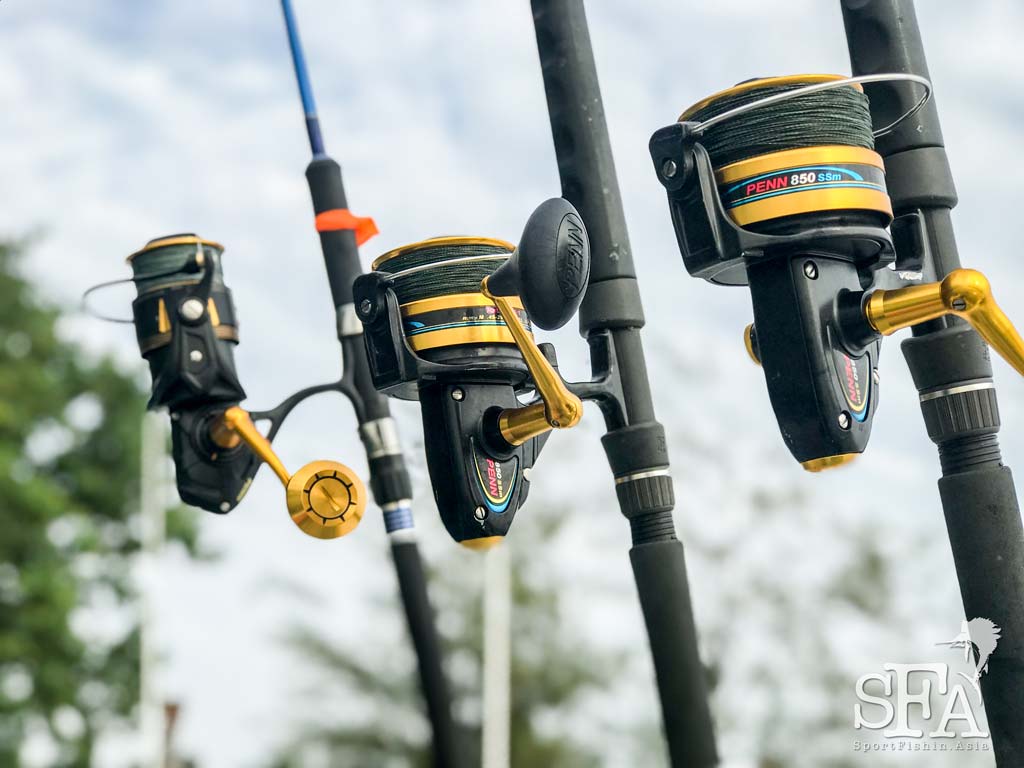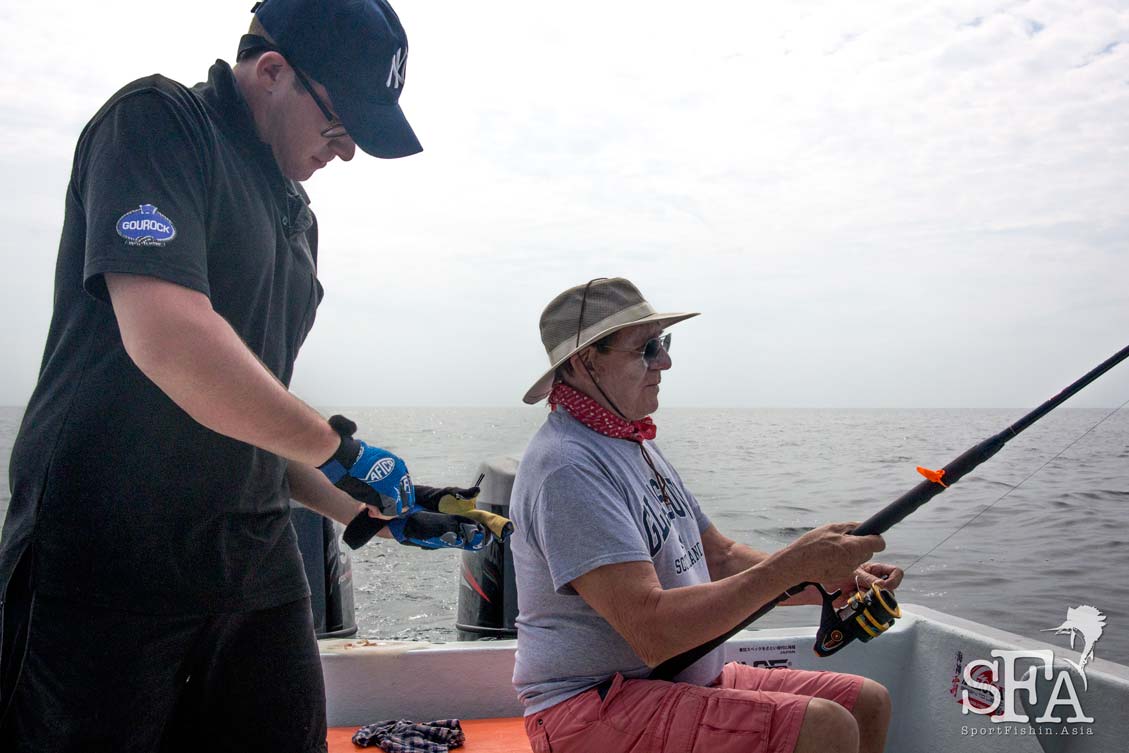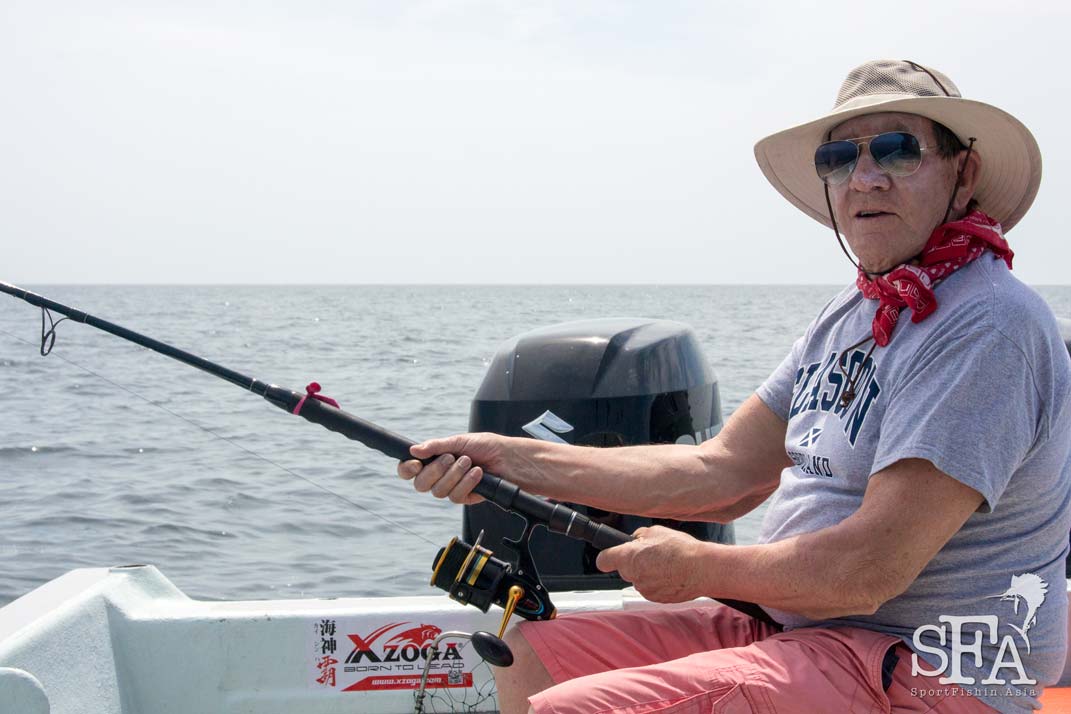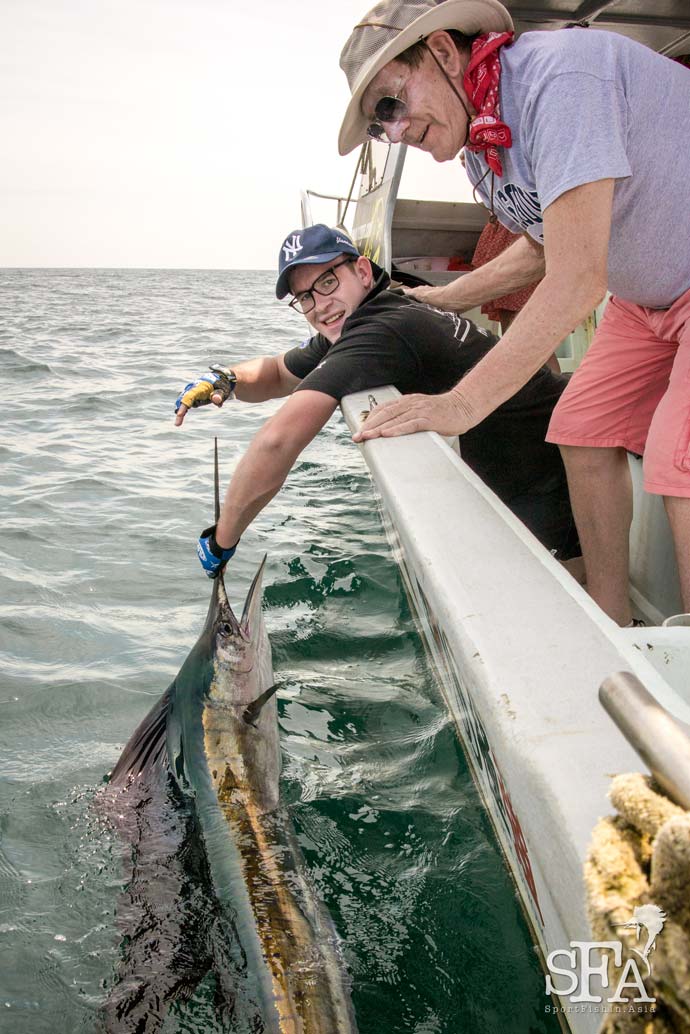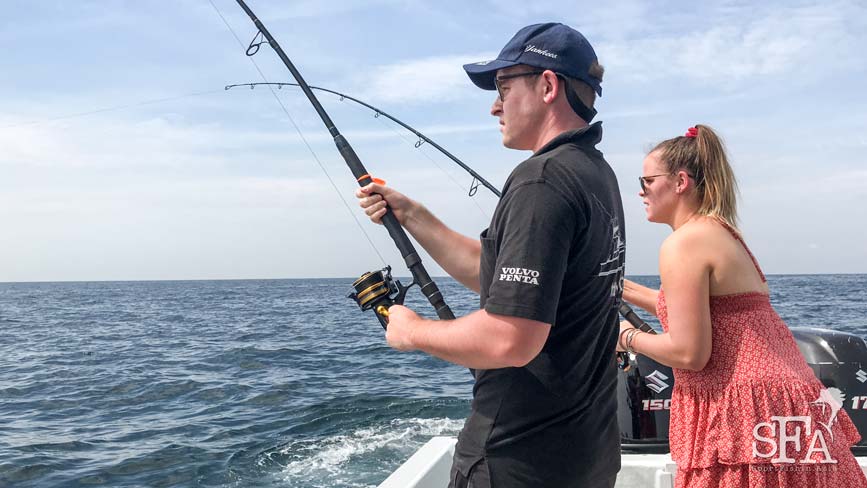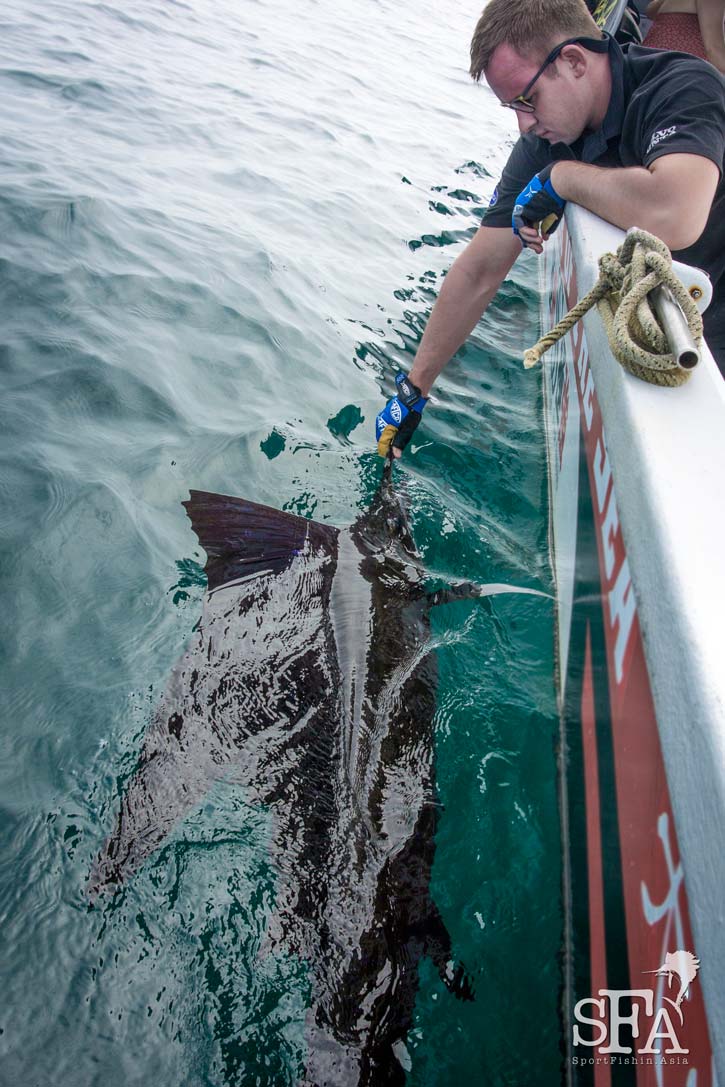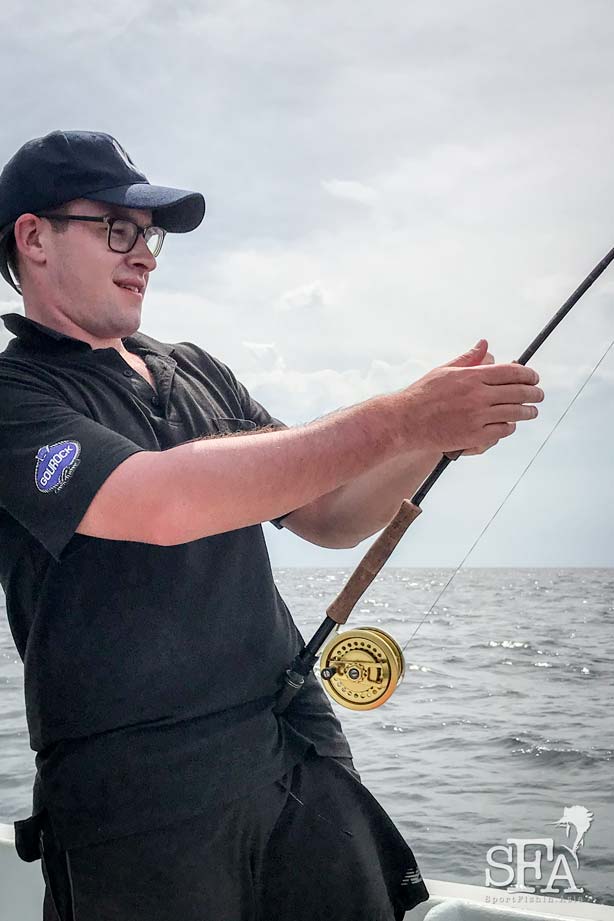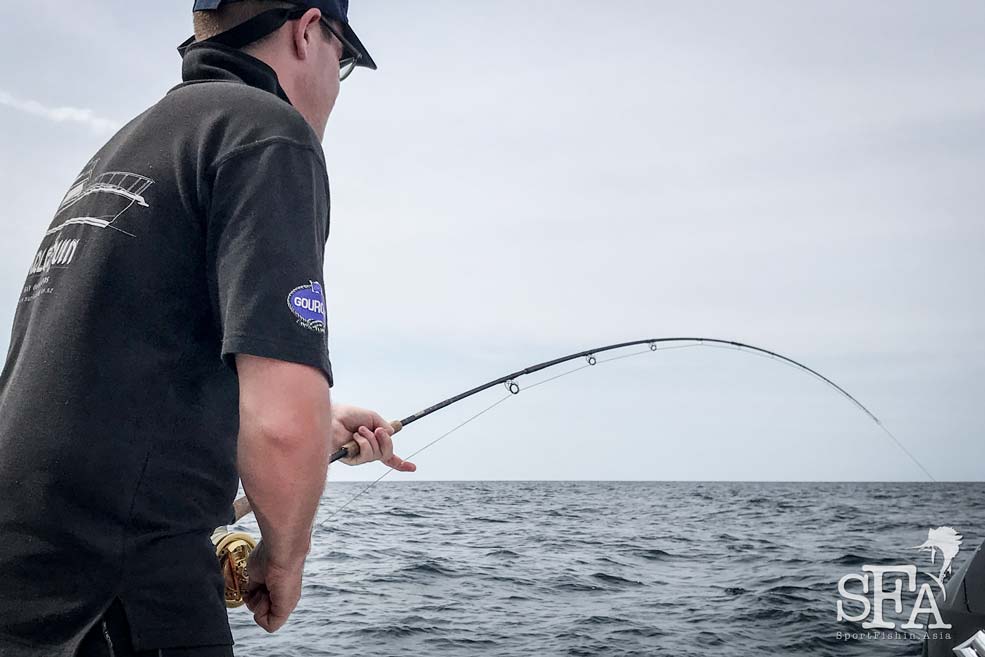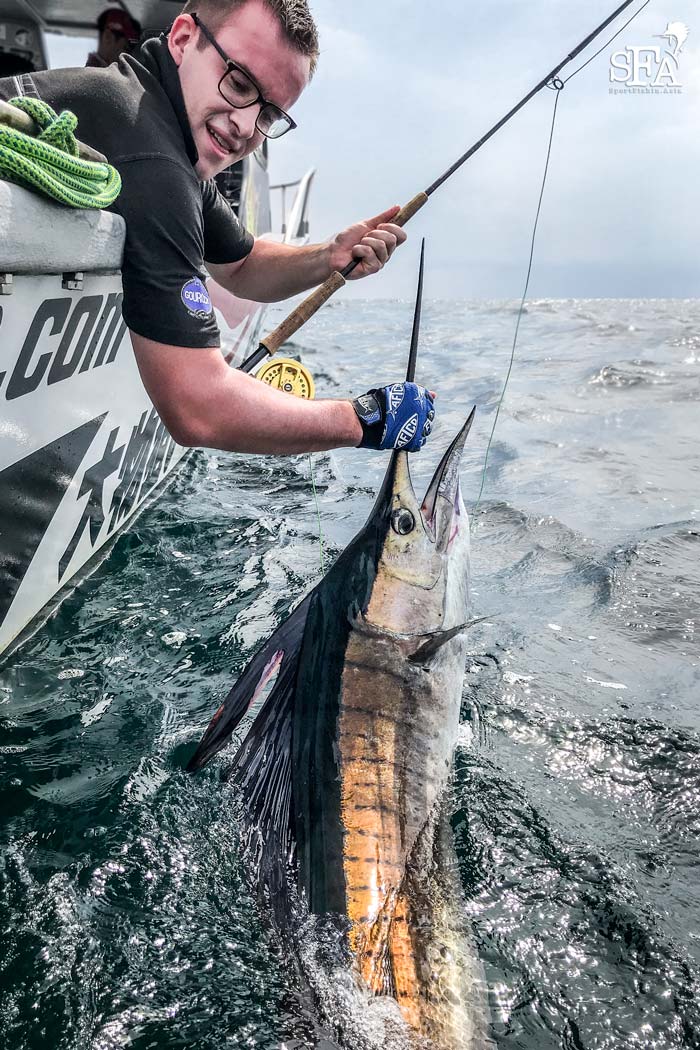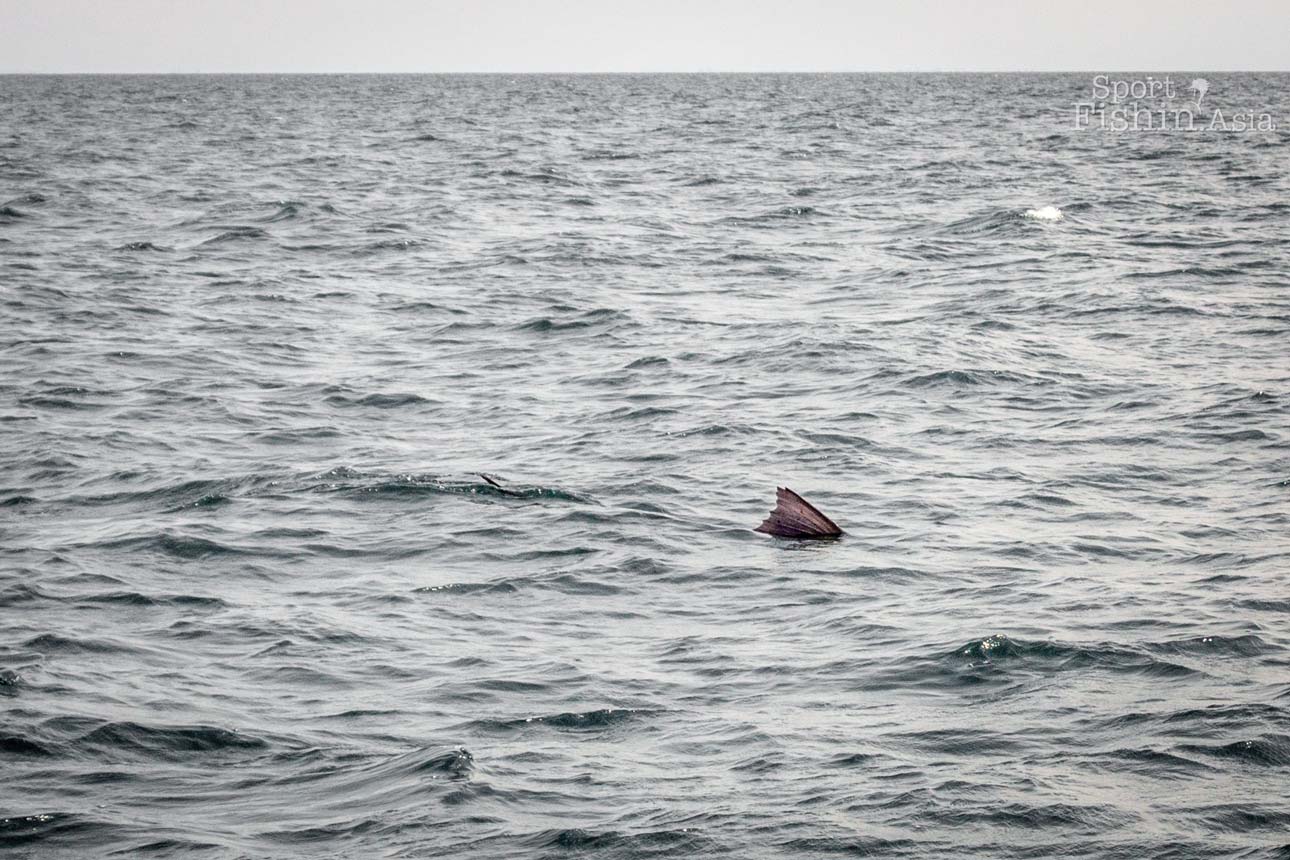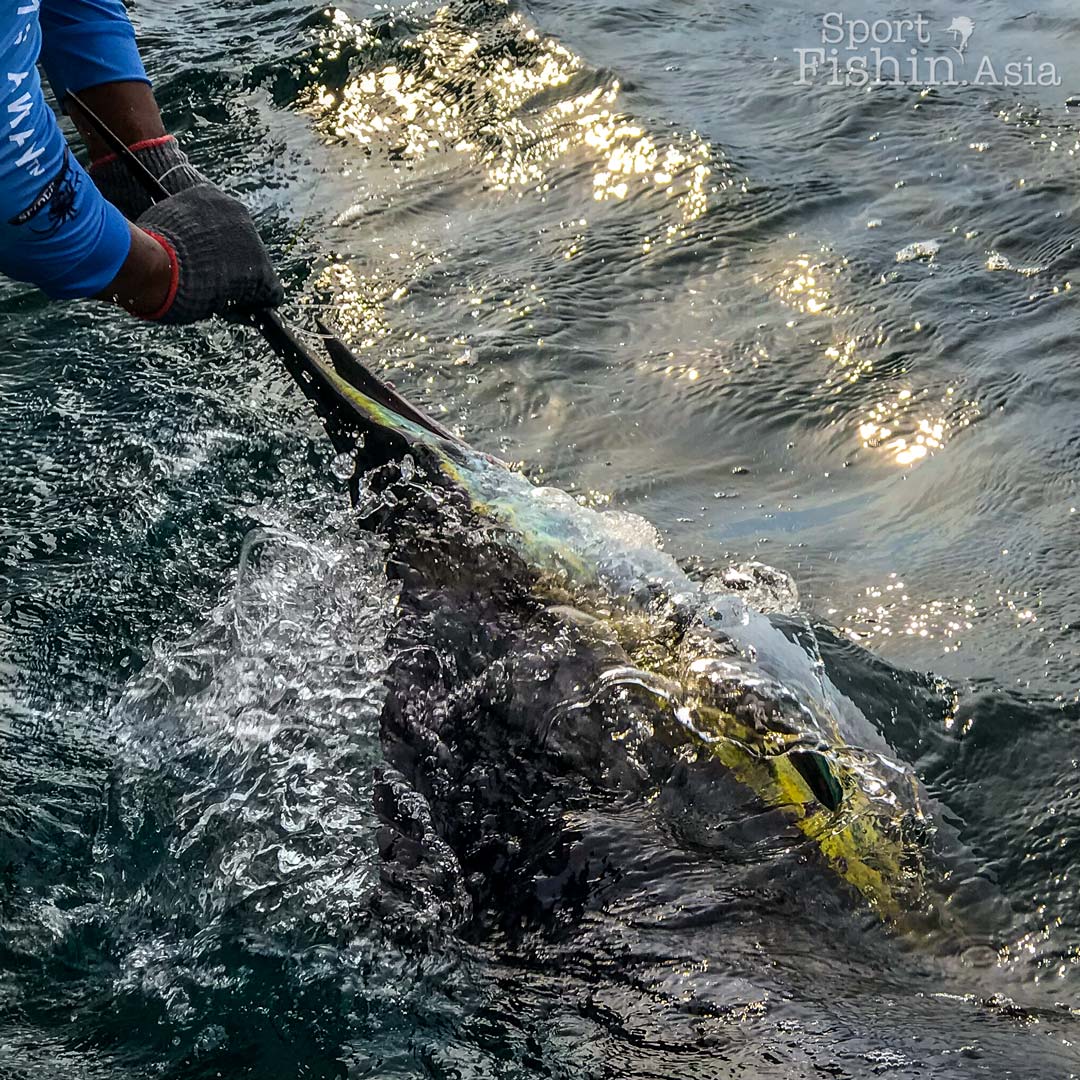 DAY 3
What a contrasting day compared to yesterday! The day starts off with baitfish species from yesterday basically scarce. We had to stop at a couple of spots to gather bait.
The sailfish were also missing when we arrived at the first stop. Only at noon did Andrew catch the first sailfish and this one actually put up a very good fight.
It was then a rather slower day in comparison to yesterday. Andrew tried casting stickbait and poppers today and only had one follow but no eat.
Another exciting moment when Allan hooks a Spanish mackerel but unfortunately the hook pulled. This is followed by four more lost sailfish with two dropping the hooks and the other two pulled the hooks halfway through the fight.
So the day ended one to five! Not really a bad day but certainly poor on conversions.
After a sumptuous dinner of curry fish and crab amongst others, these kiwis wanted to try durian for the first time and so we did. I'm glad no one puked, and they actually liked the taste!
Tomorrow will be the family's final day.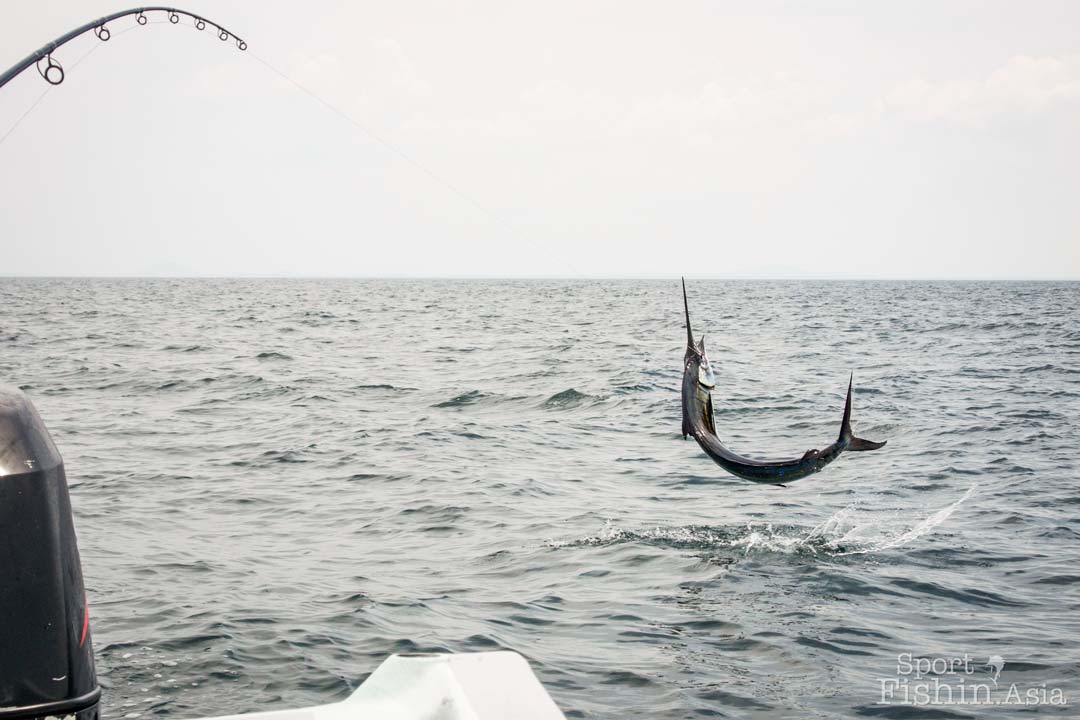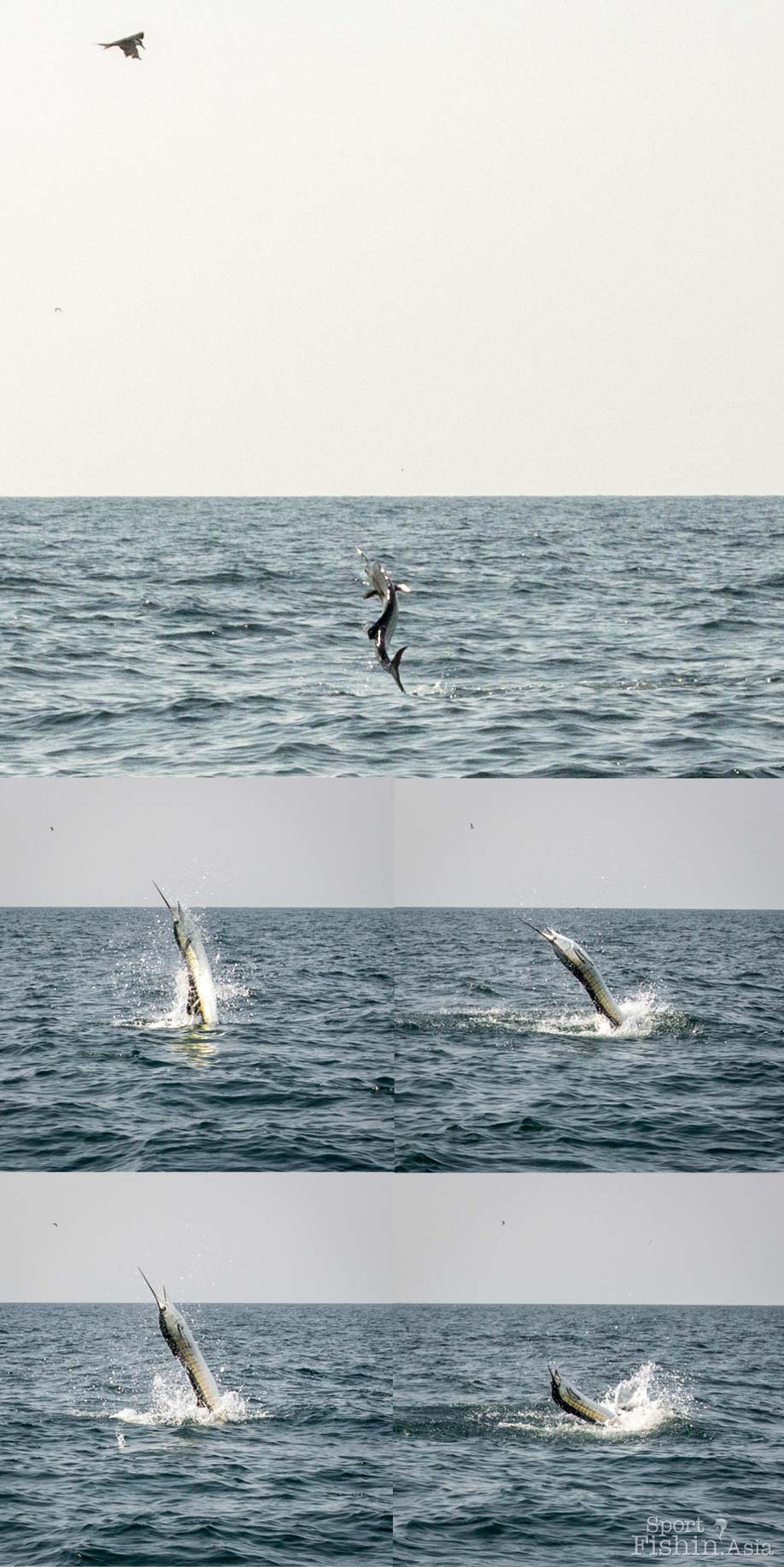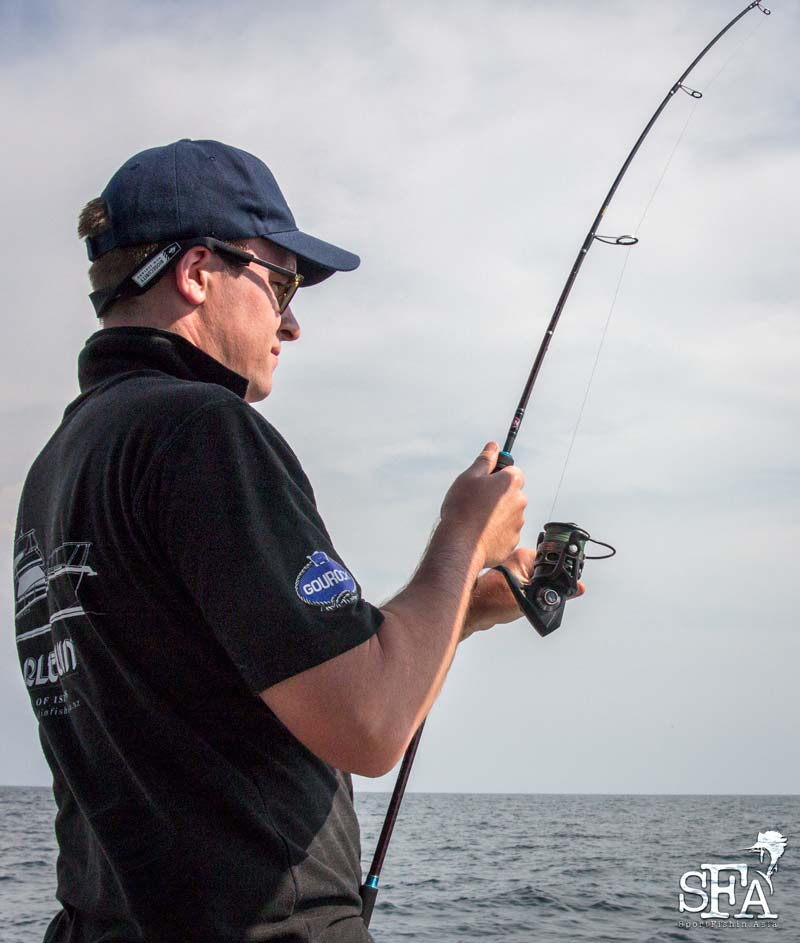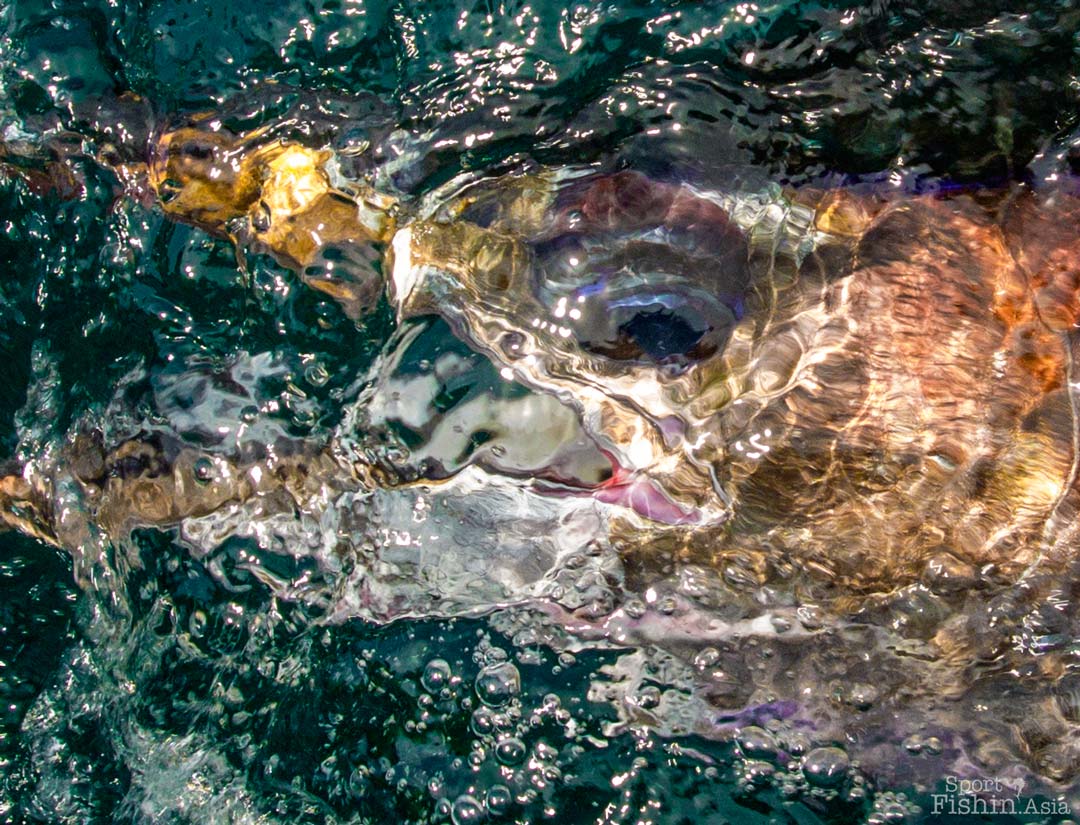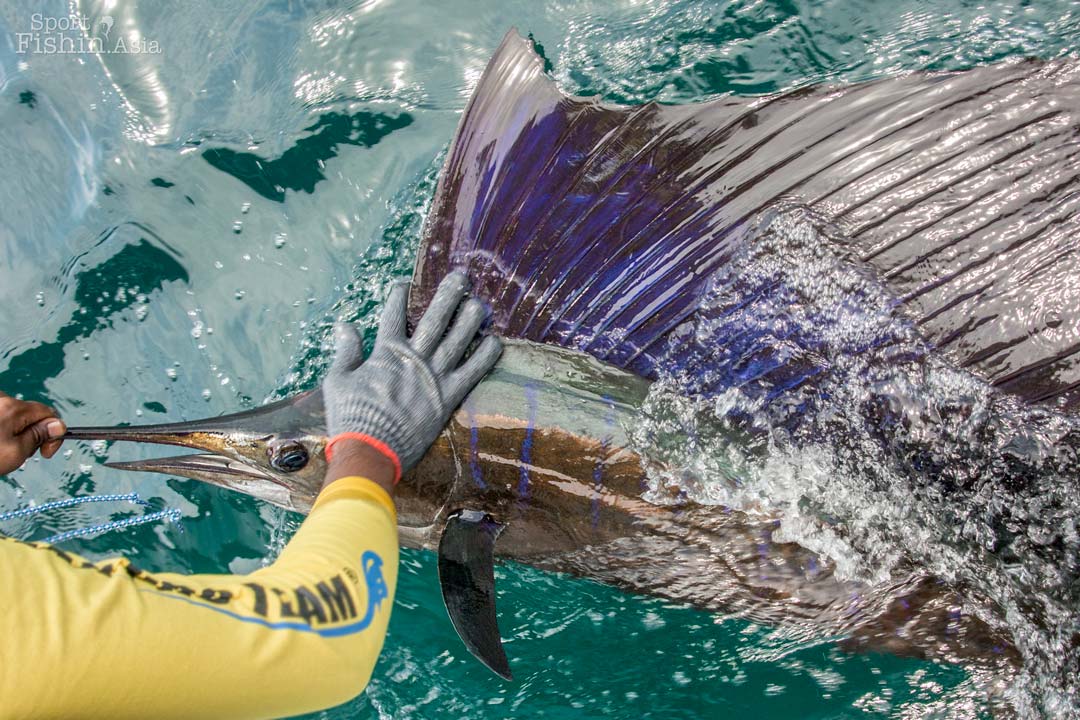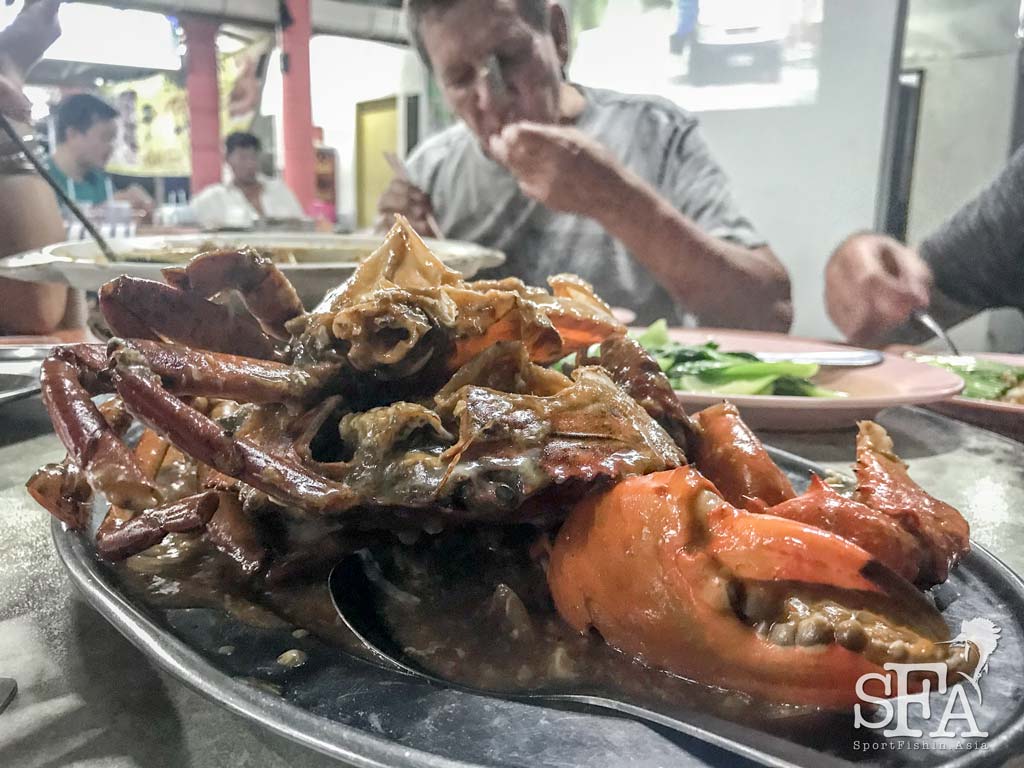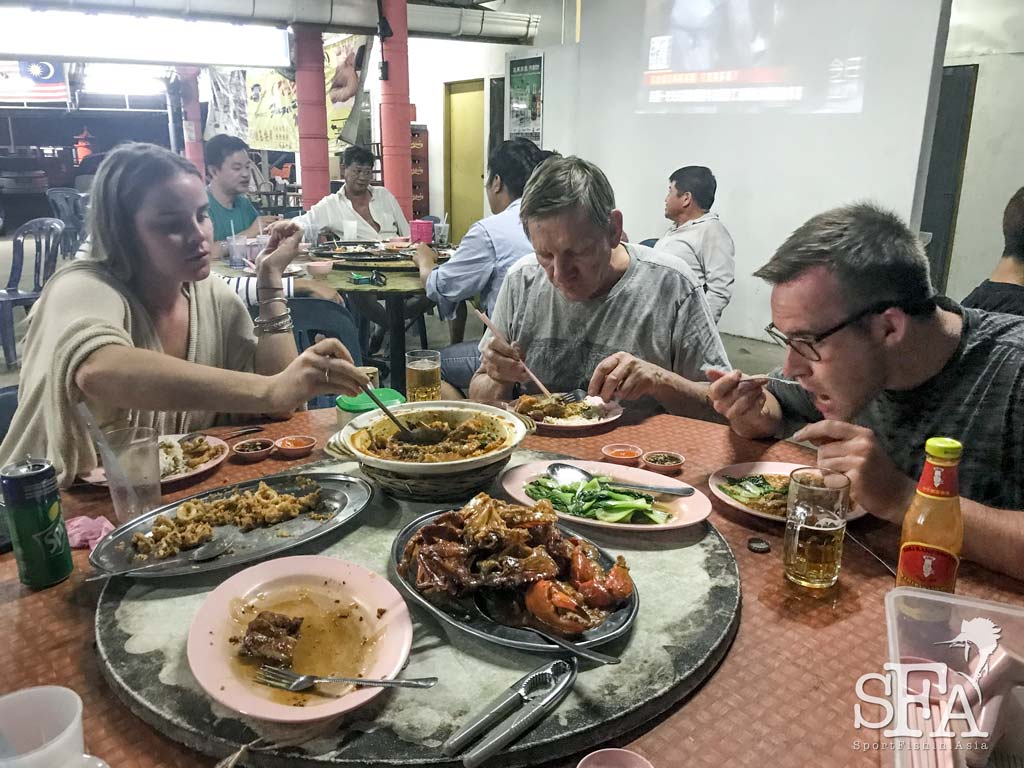 DAY 4
Beautiful weather today and it is the Hargens' last day of fishing in Kuala Rompin.
Bait was a lot easier to catch today compared to yesterday. Is that a sign of better fishing? Not necessarily. But one can be optimistic.
Instead of just our boat being out there yesterday, there were four other boats with us today. More competition for the fish.
The first bite came in less than an hour after we started fishing for sailfish but it is not a sailfish though. A longtom needlefish was caught instead.
At 11:20am Allan is on again, this time on a sailfish. Fifteen minutes later the sailfish is alongside the boat for a quick photo and release.
Ten minutes later at 11:50 Andrew is on to another longtom needlefish. This was quickly released and a huge shark attacked and ate the longtom on the surface resulting in some excitement for us on the boat!
"Shark Week" in Kuala Rompin generally happens later around August or September, are they coming in earlier this season? We'll see.
It wasn't until about 1pm did we get another sailfish with Andrew on the rod. This fish fought hard and Andrew had a lot of fun using the Penn Detonator rod paired with a Penn Spinfisher SSV 5500 reel.
Late afternoon we successfully got an eat on a popper casted up front but the hooks did not stay on long enough and pulled. Catching a billfish on lure is very exciting but calls for a lot of persistent casting.
Like how the trip started off with Andrew catching a good fish, the last fish of the trip is also caught by Andrew. This one is just a little smaller when measured with the Release Ruler at 40kg or 80lbs. The last fish however, put up even more of a fight and Andrew had to work hard for it. Some fish just fights harder and this one took around 40 minutes before it finally gave up and came to the surface alongside the boat.
We ended the day landing four sailfish and losing a couple more. Not a bad day at all. All in 19 sailfish was landed with quite a number lost over the four days.
Thanks to the Hargen family for buying me a nice dinner this evening. Very happy that they had a great time fishing in Kuala Rompin.