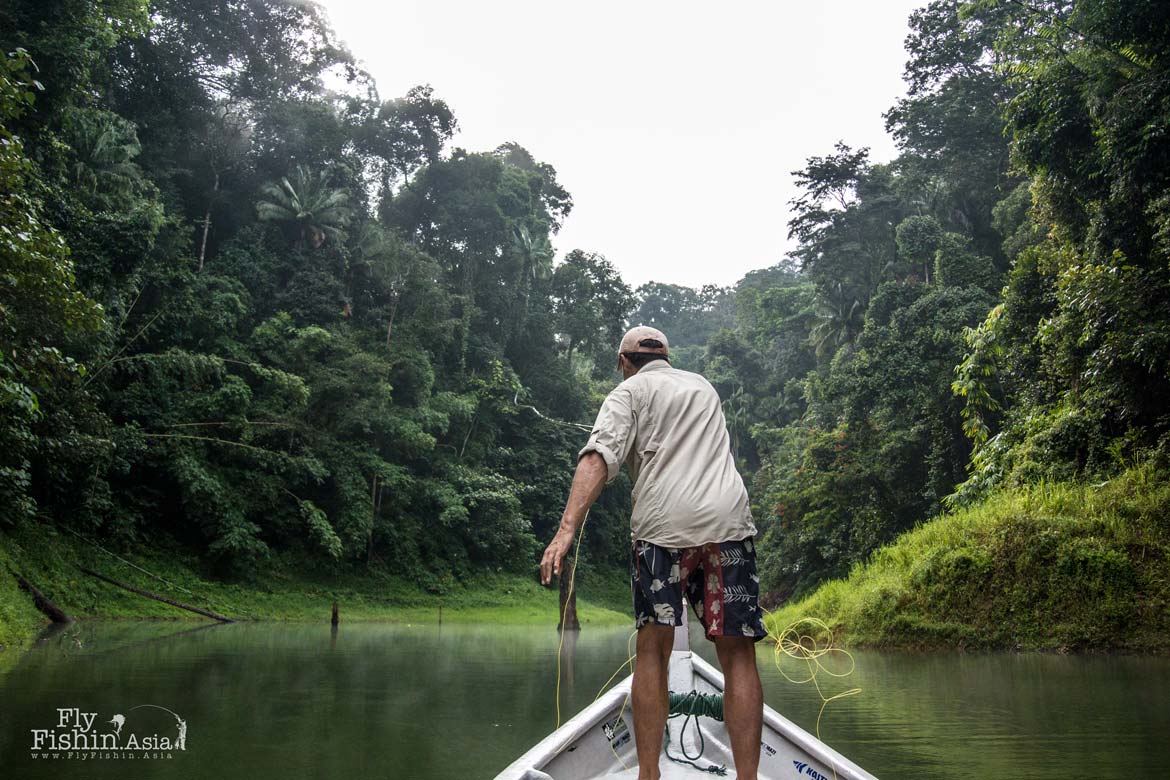 Aussie Jason, after his first attempt at arguably one of the hardest fish to catch on the fly, the giant snakehead (toman), shares with us his experience in his own words…
Sebarau
As fisherman we know we must make presentations to where the fish are at. In the case of jungle perch (Sebarau) they live deep among the snags so you must condition your brain to accepting you will leave many flies behind, it's just the nature of targeting this species. However, they are instinctively predatory, strike with a hard thump and will fight until the end. It's for these reason's you won't mind leaving a few flies behind.
Toman
The Toman is a fascinating target. It really does offer the technically inclined caster a true challenge. Single fish (or Bachelors as JW likes to call them) will pop up for air (they are a lung fish) and give you maybe 1-2 seconds to spot, cast, deliver, check the cast and strip – typically a popper, into a marauding fish. If you are fortunate to come tight on a fish you take a wrap of line around your stripping hand and essentially try to hand line them in or else they will take you into the nearby snags. You must not give them an inch.
Other times you will be looking for Toman fry to surface which will resemble a small bait ball. The parent fish are typically nearby to protect their young so a well timed, quick cast just behind or to the side of the young will hopefully entice the larger parent fish to attack in a defensive strike. The surface strikes are usually extremely violent and visual which just adds to the experience.
WATCH THE VIDEO FROM JASON'S TRIP
Royal Belum
Remote, potentially once in a life time type fishing experiences require careful and thorough planning. If you are not from the area you really must engage a competent operator. I engaged Sport Fishing Asia off the back of a recommendation from a trusted fly fishing friend. Mine was a solo trip so I received a personalised service which I'd rate as one of the better experiences in this industry. I'd have no problem recommending Sport Fishing Asia.
The fact that your fishing experience is taking place in a genuine Malaysian jungle wilderness with over 100 million years of history only adds to a relaxing and interesting all round experience.
Cheers
JB