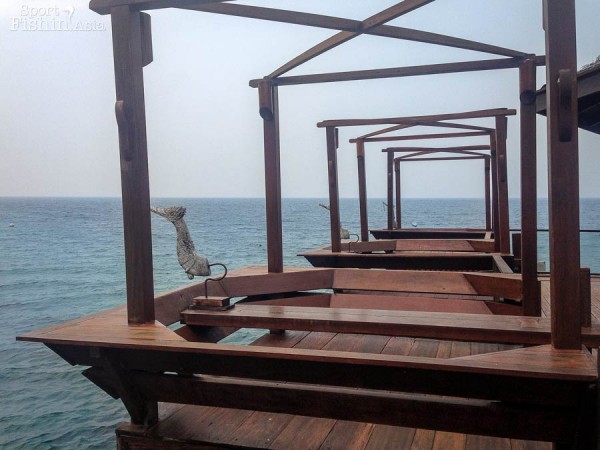 [Update 1 Jul 2016: We are now offering an even better way to experience Tioman Island, book a Rompin sailfish fishing trip and stay in a luxury 72 footer boat. Find out more here.]
Other than staying in Kuala Rompin when you are here to experience what its sailfish fishing has to offer, you can opt to stay in one of the many beach resorts on Tioman Island.
Stay in Tioman Island
You can have the option to enjoy a tropical holiday at Tioman Island with your group or loved ones and have a sailfish charter from Kuala Rompin come pick you up for some serious game fishing, best of everything.
However, do be prepared for higher charter fee when you choose to do this as extra fuel and time are required to cover the additional distance.
Or Fish Your Way to Tioman from Kuala Rompin
You can even choose to fish all the way to idyllic Tioman Island from Kuala Rompin, spend a night or two on this popular holiday island destination and fish all the way back to Kuala Rompin again, if you are game. That's quite a holiday.
Not all charters from Kuala Rompin offers the above options, so do find out beforehand.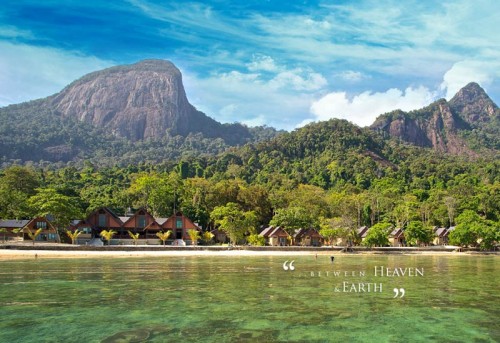 Tioman island is a designated marine park and scuba diving is popular here, too. There are also a number of idylic beach resorts on the island, some of these are (click to go to resort websites):
Please check with us if we can pick you up from your resort in Tioman Island. Some resorts do not have suitable jetties or are less accessible and further inland. In such cases, you can arrange with your resort for transport to drop you off at a more convenient public jetty or yacht berthing jetty near the Tioman Island airport.
Quick facts about Tioman Island (Local name: Pulau Tioman)
Duty free status island
Marine park
Small island located 32km off the mainland in the state of Pahang
Under the district of Rompin
Its beaches were depicted in the 1958 movie, South Pacific as Bali Hai.
Voted one of the world's most beautiful islands in the 1970s by TIME Magazine
Hosted intense battles during WWII and littered with war remains including HMS Repulse and HMS Prince of Wales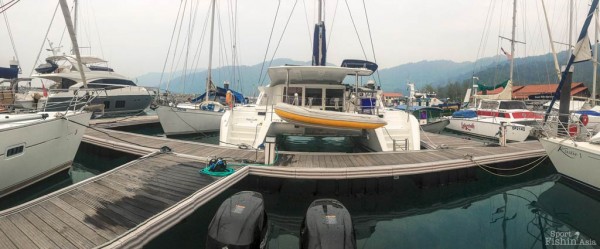 Getting There
Travel time to Tioman island from Kuala Lumpur.
By flight: 55 minutes
By car: around 4 hours to Mersing jetty
By ferry: 1 hour 30 minutes from Mersing jetty
Why Would You Want to Stay in Tioman island?
Better resort accommodations and island-holiday stay feel. Also, a holiday stay on Tioman with some sailfish fishing thrown-in may be worth considering if you have non-fishing companions with you.
Downside
Distance – more traveling, less fishing. Tioman Island is farther from the sailfish spots compared to fishing from Kuala Rompin.
Tioman island is a fairly undeveloped place and the people, laid-back. Flight and ferry services may not always be reliable.
It will be better to rough it out a little and stay in Kuala Rompin if sailfish fishing is the main purpose of your trip.
Note that we are not aligned or affiliated in any way to any of the resorts mentioned in this article, the list only serves as a reference or suggestion point. Please research the resorts services and facilities on your own.
For all inquiries regarding availability and bookings, please go to the contact page.
Newsflash 20 April 2014: Flights to Tioman island suspended
We were informed recently of the suspension of air services into Tioman island. Previously only Berjaya Air, a private company operating turboprop planes offering flights into Tioman island from Kuala Lumpur and Singapore. The reason given for halting the services is due to technical reasons (what does that even mean?). With no indications of when, if ever, air services may be resumed for this route.
That is certainly a blow to promoting tourism to Tioman island and a blow to the resorts on the island.
UPDATE 9 June 2014: Flights to Tioman island resumed
Good news for quicker travel between Tioman Island and Kuala Lumpur. For more up-to-date information, Berjaya Air website.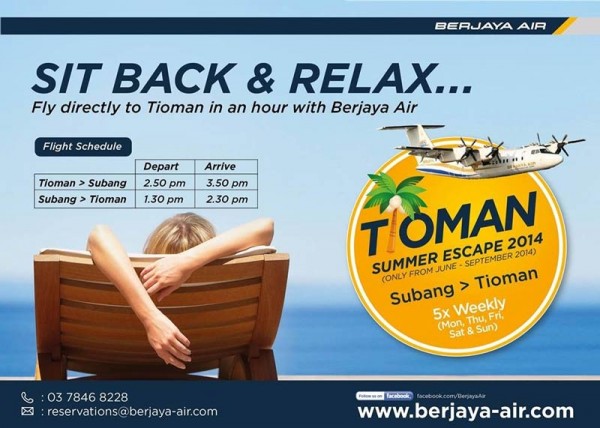 Main photo source: http://berjayahotel.com/tioman/