Looking for new ways to film fishing videos, I got hold of the new GoPro Jaws Flex Clamp. Unfortunately it broke the first time it was used.
The part that broke is the mount on the lower part of the flexible adjustable arm clipped-on to the clamp. How it broke – the whole thing was clamped onto the handle of a landing net and with a few shakes of a big pacu, it popped off. Fortunately it did not fall into the water.
I took some photographs of the broken GoPro Jaws Flex Clamp and wrote to the shop I bought it from on March 6th and have not heard from them.
I went to http://gopro.com to submit a support request on 17 March 2014 and also emailed them a photo (read updates below).
The part that broke is the quick release buckle and without a replacement for this relatively small piece the Flex Clamp is next to useless. The thing that I am most disappointed with was it broke the very first time it saw action. Aren't GoPro meant for action?
Not So Tough
My opinion on why it broke is because the flexible adjustable arm section is fairly solid and has some weight to it. With the GoPro camera attached on the top section and some violent shakes, the buckle just can't take the pressure/stress as the extended neck adds quite a bit more force to it. We are used to mounting the camera close to the various mounts and that poses no problems.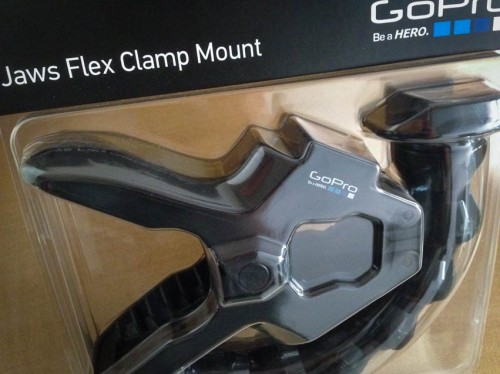 If you're thinking of getting a GoPro Jaws Flex mount, you may not want to clamp it to something that will be moving (shakes violently) too much.
Do you have a Jaws Flex Clamp? How's your experience with it so far?
UPDATE: March 20, 2014 – Yet to hear anything from neither GoPro (3 days) and March Equipment Store, the shop I got the clamp from (13 days).
March 21 – Awesome, received a reply from GoPro. Shall email them information they requested.
Fantastic, I received a reply from GoPro support saying the new replacement part is on the way just a couple of hour after I send the information they requested.
March 22 – GoPro replies email stating order for broken part have been placed.
March 24 – Email from GoPro stating order has shipped.
March 25 – Replacement part arrives via UPS. Very impressive!
UPDATE: August 2017 – three years on and the GoPro Jaws Flex Clamp is still going strong. We use it regularly to clamp the GoPro around the boat to capture action moments and at times shoving it in the water if something interestong is happening sub-surface. I have to say this accessory is a good buy as it has proven very useful and withstands plenty of use in saltwater environment.