The Motorola Defy+, which I still use for my second number is also life proof (waterproof, dust proof, etc) but it is super slow and a pain to use. It has also taken quite a beating.
The iPhone 5's design and build quality is absolutely incredible – but it can't go fishing straight out of the box. That is such a waste since it captures pretty good photos and video plus makes uploading a cinch. It looks like I have no choice but to hide its good looks in a tough protective case.
By doing that, I add another camera to my tools-of-the-trade. They say "you can't get something without giving something".
There are quite a number of life-proof cases available for the iPhone but the Lifeproof Fre is, from my findings, the most compact.
There are warnings all over the packaging telling you that the Lifeproof Fre is not indestructible and needs care. Fair enough.

Giving the Lifeproof case the hour long soak test making sure it is watertight before installing the phone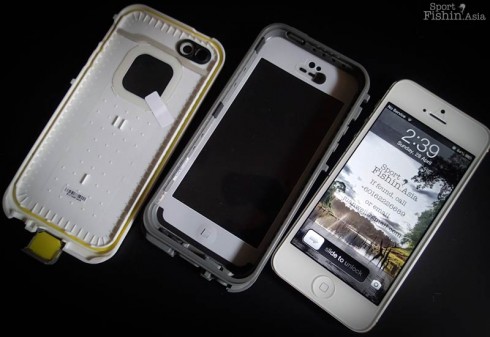 For size comparison – The front and rear case cover next to the iPhone 5
Before installing your phone it is recommended that you do a water test to ensure all the seals are working. I suggest that you contain your excitement from using it immediately from the store as opening and closing the case can be a little tough.
Bring the case back from the store as is – don't be in a hurry to install your phone in it. Check that it is closed tight and dump it in water for 60 minutes. Dry and open the case after that to check for water inside. If all is dry, install your iPhone.
I have now taken the Lifeproof Fre case to the "field" for real world tests and if you have been following my blog, you will know my gears get a good use and abuse. So far it has been holding up decently.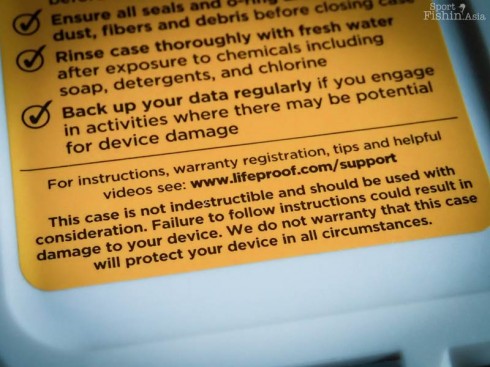 Warnings are printed everywhere.


With the iPhone 5 in the Lifeproof case
What I like
The audio remains loud and clear
It is fairly compact and the phone still fits into my pockets
What I dislike
Echo like audio (but at an acceptable level)
Mute button is a little harder to operate
There is a small gap between the casing's front panel and the iPhone's screen that makes the touch screen a little less intuitive and leaves a wavy appearance
It looks a little plain, especially on the back side. Another candidate for some pimping!
More information on Lifeproof here http://lifeproof.com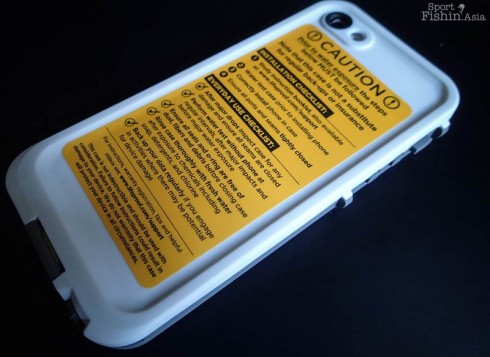 The sticker on the rear which can be peeled off.