Squids are abundant around the months of June and July off the east coast of Malaysia. The most popular squid jigs are the pink/red-white colours but other colours such as green-white and blue-white also produces, even purple. The only way to know during that place and time is to experiment.
There are no real techniques to squid fishing or Egi, the Japanese name for squid fishing. Just keep in mind to let your jig sink all the way to the bottom and once there, do one of these routines. Jerk and drop. Jerk, jerk and drop. Vary between short and long jerks until you find something that works. Do not be afraid to rip the rod as squids are aggressive feeders and will chase down a prey.
Once you feel as if your jig have snagged into something (a squid has grabbed it). Stop jerking immediately and there is no need to strike. Striking may dislodge a squid as some may only have the tip of their tentacles hooked and striking hard may rip the hook off. Play the squid up to the boat in a smooth retrieve manner. Big squids put up a good fight and is a lot of fun on light tackle. It can be a very addictive type of fishing on its own.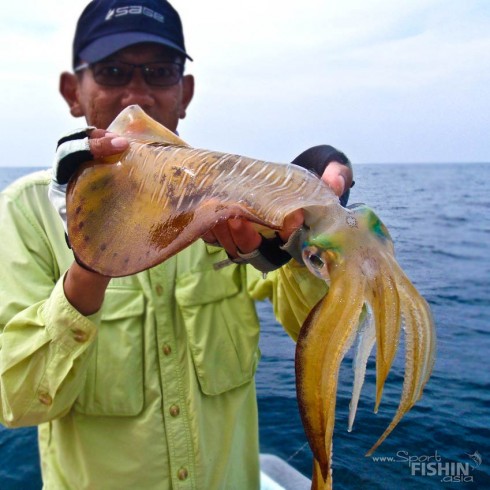 Good Japanese jigs do make a difference. Yo-Zuri, Yamashita, Harimitsu, Tsuriken and Breaden makes some of the best jigs in the market.
Although they do not look that much different from the cheap jigs, quality jigs does produce better results. This is probably due to the high quality materials used to create the texture and shine plus swim action. Squids do have the biggest eyes in the animal kingdom and that gives them excellent eyesight.
Quality jigs also have better sink rates. The only exception is when fishing during the peak of the season when there are so many squids and they are practically fighting over whatever appears in front of them. Squids are very aggressive creatures and are also cannibalistic.
Quick Tip: Learn to differentiate a fish's pull from a squid's pull and soon you will know when squids are trying to steal your bottom fishing catches. When this happens, it is time to bring out the squid jigs to catch these fish snatchers.
Often, one or more squids will follow a hooked squid to the surface. Some even attack the hooked squid and it is not uncommon to get our squids in with bite marks and chunks of flesh missing.
You can get away without adding weight or using a sinker on your rigs when fishing shallow waters, In deeper waters, depending on the current, a sinker is needed to bring the jig down to the bottom where the squids are.
This is the rig I use the most when squid fishing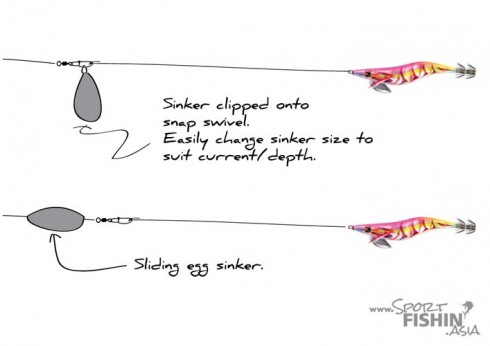 Alternative rigs for squid fishing