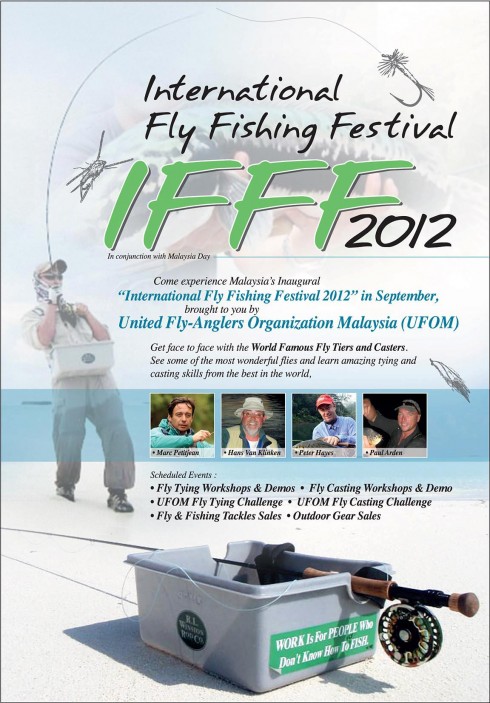 This is huge, don't miss it!
Date: 16 & 17 September 2012

Time: 9:00 AM to 6:00 PM

Venue: Taman Botani Negara Shah Alam (Botani Garden Shah Alam), Selangor, Malaysia.
Entrance Fee is MYR40 per day / MYR60 for 2 days. Students with pass MYR20 per day.
The event is organised by the United Fly-Anglers Organisation of Malaysia (UFOM).
Invitations have gone out to some of the finest fly fishers, fly tiers and fly casters in the world for this event.
Participants will learn innovative fly-tying techniques, better ways to cast, to fish, exploring new fishing waters and fishes, make new friends and have a very good and memorable time.
Among the activities being planned are:
Fly Casting demos & workshop
Fly Tying demos & workshop
Fly Casting competition
Fly Tying competition
Fishing Tackle Exhibition and Sale
Honorable Celebrity Fly Anglers:
Hans van Klinken
Marc Petitjean
Peter Hayes
Paul Arden
It will be a unique event for the region and especially for Malaysia and it is hope that with support from participants and anglers, it can grow into one of the biggest fly fishing events in Asia in the near future.
This event is open to all fishing enthusiast regardless of the style of fishing that you do. If you have never fly-fished this is the perfect event to find out more about it and perhaps try your hands on it.
Some event highlights
Fly fishing at Tuckamore Lodge with Hans van Klinken
Tuckamore Lodge – main sponsor – Hans van Klinken will share some wonderful stories about fly fishing in Tuckamore, Newfoundland in Canada… come see the show, hear the stories..
For more information about fly fishing in Tuckamore Lodge, click here.
Launching of Sexyloops fly rods
Paul Arden, FFF MCI and the big man behind Sexyloops, is launching his Sexyloops fly rods during the show.
Paul is also sponsoring a wt6 sexyloops rod (the 1st in the world) to the winner of the Accuracy casting competition. The talented lucky winner may also want to get Paul's signature on the rod!
Fly fishing grand slam – Permit, Bonefish and Tarpon – in Cuba
Exhibitor and sponsor the Avalon Cuban Fishing Centers' owner, Mr Filippo will be at the show and giving a presentation and slide show on Fly fishing Grand Slam – Permit, Bonefish and Tarpon in Cuba
For more information about fishing the Avalon, click here.
Stay tuned for more updates to this exciting event.
*Above information are subject to confirmation and changes.