It is mid-year and we are seeing squids again.
June signals the arrival of squids to the east coast of Peninsular Malaysia. By July they can number quite a few and it is time to whip-out those squid jigs and join in the egi fun.
Freshly caught squids taste nothing like what you get from the market. The smaller ones also make excellent sailfish and Spanish mackerel live bait.
Bottom dwellers such as groupers and groupers also find it hard to resist pieces of squids baited on hooks lowered to the bottom.
Using their sharp beaks, check out the damage squids did to this jig. And what does that tell you? Squids love this jig!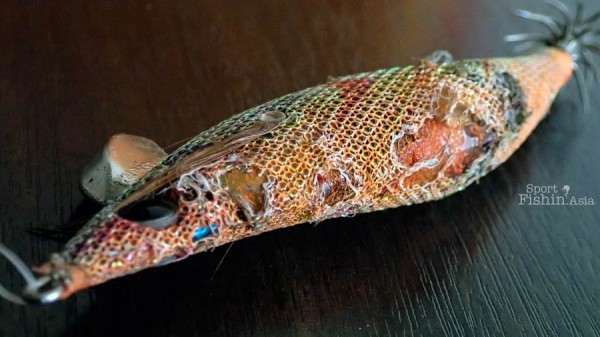 For tips on how to fish for squids, check out Squid Fishing How To – Squidding or Egi
Light to Ultra Light rods make good squid fishing rods, depending on the size of the sinker required for the tide at that moment. Some rods we currently use include:
Berkley Cherrywood CWJ C632M120A
Abu Garcia Vektor MJ VXS66 PE 0.8-1.8
Storm Gomoku Erito GOS601L PE 0.8-1.5