Sport Fishing Asia is tagging along with the United Flyanglers Organisation Malaysia (UFOM) to Sabah for the 1st Borneo Fly Fishing Conclave from 23-26 January 2013.
Joining us there will be the North Borneo Fly Angler (NBFA) and Jabatan Perikanan Sabah (Department of Fisheries, Sabah) officials.
A fly casting and fly tying workshop will be held to promote this sport to our fellow anglers on the exotic land below the winds. And of course some fishing at Babagon for the Malaysian Red Mahseer. Woot!
CCI, Dron Lee from the Fly Tying Nation blog, is making the arrangements and we hope to see a good turnout for the event. The workshop itself is free for participants so you Borneo boys better snap up this opportunity to have some fun and learn some valuable lesson at the same time.
Certified Casting Instructors from UFOM is footing their own expenses for the trip and for the benefits of the sport of fly fishing.
Related: Mahseer Fishing in Sabah Borneo
Outdoor and Indoor Fly Casting, Fly Fishing and Fly Tying lessons
Among the activities in the line-up will be indoor and outdoor casting lessons/stations to cover important casts such as pick-up and lay-down, roll cast, overhead cast, hauling and accuracy. Fly tying will cover flies that suit the popular local species.
There will also be technical discussions on leader makup and tippets, essential knots and rod wts and fly lines. All done in an informal and interactive manner. If time permits there will also be casting games and competitions.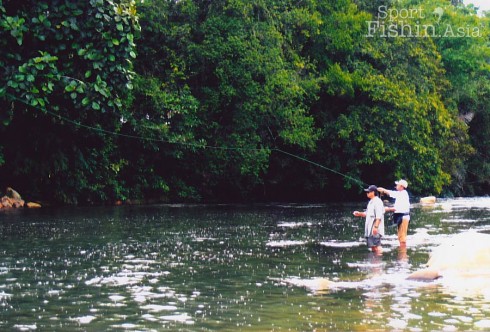 Mahseer Fishing
One of the highlights of the trip will of course be fishing for the pelian or malaysian mahseer (Tor duoronensis) found in the rivers of Sabah and Sarawak, East Malaysia (Borneo island).
[Editor's note: I would like to thank reader Geefat Edaffi for highlighting that the pelian of Sabah and semah of Sarawak is of the genus tor duoronensis as compared to the kelah (Tor tambroides; Tor tambra) found in West Malaysia].
This elusive but very powerful fish only thrives in clean jungle rivers where they swim in strong rapids feeding on jungle fruits, insects, crustaceans and even on small baitfish, when mature.
Belonging to the great mahseer species that inhabits the great rivers around Asia such as the mahseer in India and Thailand, they are the prime freshwater sports fish of the continent.
The success of the pelian in Sabah owes much to the Tagal system (more on this later) adopted by the people of Sabah and successfully implemented by the Sabah Fisheries. Kudos to them.
Stay tuned for more updates on this event.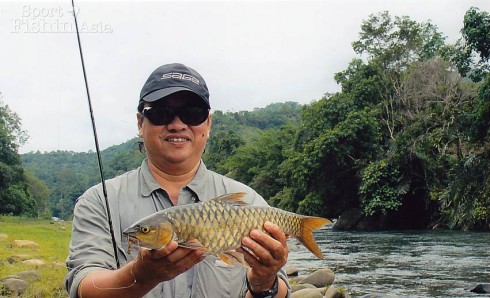 Photo credits: Nick Ooi – Tacklebox Adventures