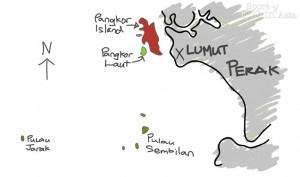 Main photo: "One more cast. One for the road" Sounds familiar? – at the Black rock or Batu Hitam
Pulau Sembilan or nine islands is a cluster of islands that can be productive for fishing, especially light to medium tackle. Common target species here consist of the giant trevally, queenfish, hard-tail scad, and barracuda among others.
Pulau Sembilan is not far from Pangkor Island and the ultra luxurious, insanely-expensive-to-stay-at Pangkor Laut Resort. It takes about an hour's boat ride to get to Pulau Sembilan in normal seas at speeds of around 20 plus to 30 knots from the mainland.
Pulau Jarak meanwhile is considerably farther at about twice the distance.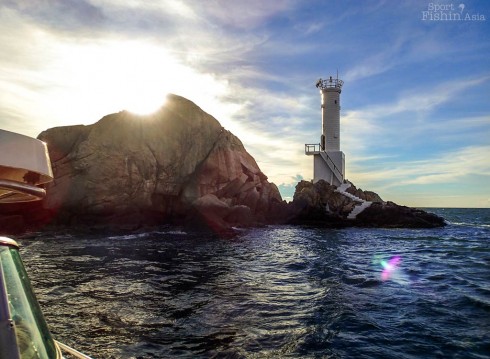 Bad Timing
There are so many variables to factor in for this favourite pastime of ours that we call fishing. More so when it comes to saltwater fishing. Chief among these factors is the tide.
So when high tide is at 3pm on the days of this trip coupled with unfavourable wind conditions, there is no sense of urgency getting out there in the early hours.
We had to call off our plan to fish Pulau Jarak which was a bummer as we were really looking forward to some heavy-weight fights with the bigger GTs.
So we spent our morning chit chatting, enjoying lunch in the air conditioned comfort of the Pangkor Marina restaurant, making new friends and checked out the boats and the surrounding marina area which is still being developed.
The Pangkor Marina on Marina Island is one of the best designed and managed marina in Malaysia.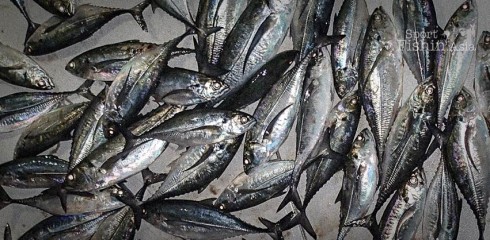 The hard-tail scads – also known as torpedo scad, (Megalaspis cordyla) that are caught here are larger specimens than those normally found in the market. They range in size from 30cm to 60cm (12 to 24 inches). The biggest cincaru reported is 80cm and weigh 4kg.
There are some who also believes the fishes caught on the west coast of Peninsular Malaysia – Straits of Malacca tasted better than those caught from the east coast – The South China Seas.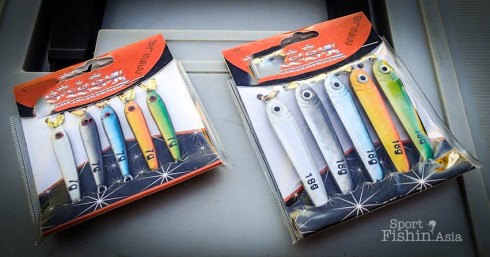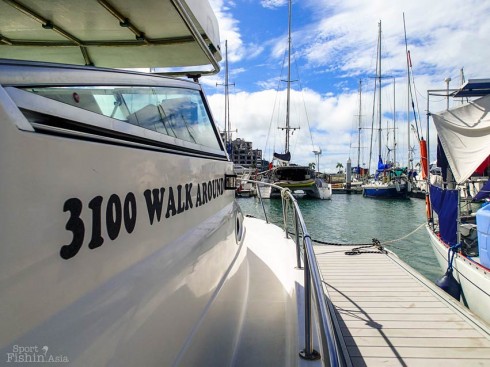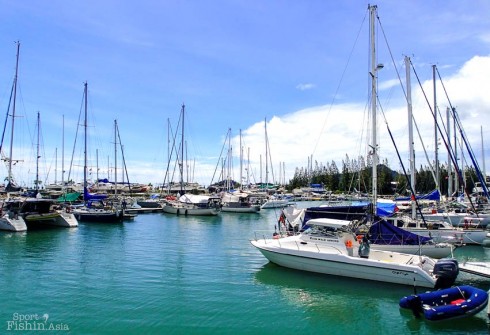 Leaving the dock at about 2pm we headed straight for the cluster of islands with rigged tackle looking for some giant trevally action. Although the GTs here will usually be smaller than those found at Pulau Jarak, they are still plenty of fun to catch and as strong as any errr… GTs you'll find.
We only had about four hours of fishing time and still caught plenty of fish including a couple of GTs. At an island called White Rock, we also ran into schools of hard-tail scads feeding on bait balls.
We decided to go out a little earlier the next morning though we know the tide was not favourable. We decided to try out luck anyway as the sky and sea conditions look much better.
Our plan is to go try to catch some squids and have them cooked for lunch at Seaview Resort which is a beach resort on Pangkor Island. Seaview's owner and former Olympic badminton player, Dato' Tan Yee Khan even cooked the lunch we ordered. We had a little chat with him before resuming our fishing.
We had a pretty decent result from fishing even though the weather was not favourable. In the end our scorecards had a couple of GTs, a few barracudas, lots of hard-tail scads and some other reef fishes.
This turned out to be a really enjoyable trip and I look forward to doing it again.