Main photo: Ho! Ho! Ho! What a Christmas gift it was for David as he landed this beautiful toman or giant snakehead (channa micropeltes) in Royal Belum. Landed on a 7-weight setup, well done.
Birds suddenly take flight from the canopies of the rainforest. Although fishing from a different boat at another river – I swear I hear David's scream of joy pierce through the Royal Belum State Park and I guess he must have landed a big one.
The toman playground
Getting a toman to take a lure or fly is one thing. Playing one surrounded by the sunken timber environment of the watery world in Royal Belum is another thing altogether.
Catching a toman on fly, now that is total awesomeness. Yes, David did scream in joy (just not that loud) and the happy boy is still flashing a huge smile long after we have gotten back.
It's been a while since I actively fished for toman. I remember going toman fishing almost every weekend with friends in the 90's. Found in most ponds, lakes and canals – toman was aplenty then. Fishing tackle were not as sophisticated back then, big heavy fiberglass rods like the American made Shakespeare Ugly Stik and heavy spinning reels such as the PENN Spinfishers or round multipliers like the Swedish made Abu Ambassadeurs. Monofilament lines was the norm and the first braided lines such as the Spiderwire was just coming into the scene. No low profile baitcasters are preferred by many and nobody would even have imagined fly-fishing for toman.
Fussy ferocious fish
Anyone who has attempted to fish for the toman will know how challenging it can be. The toman may be a ferocious predator but it is also easily spooked. When they are spooked the toman continues doing what it does – swimming around in the open and coming up for air as usual instead of hiding but refusing anything you throw at them. They will even rise next to your boat, making huge loud splashes but bite they will not. The toman can be one frustrating fish to target. Basically, it will piss at you and make you breakout with profanities and feel like pulling your hair out.
Often, when we spot toman at places like Belum, I like to target them for say 10 minutes. Maybe 20 minutes depending on how they react. If I feel they may not bite or is spooky, we move on. Sometimes, if you are persistent, you will eventually get the fish mad enough to strike. Toman have been known to strike after being pursued for 4 hours or even longer.
Fry stalking and harassing mama toman
You will basically encounter two types of toman fry. The smaller ones around one to two centimetres – packed close together in a deep red bunch. The other is the more grown-up babies which could range in size up to 15 centimetres (10 inches). The bigger babies usually number a lot less than the newborns due to predation as they grow. The main culprit being the sebarau (hampala barb). Bigger toman babies tend to attack anything that swim by. Hence the former is a better target as the parents tend to be more protective and aggressive. If you cast to the big babies you will keep hooking these juvenile tomans till you find it becoming a nuisance – you're hurting these small fish and don't get any fight with the heavy tackle meant for mama and papa.
The male parent are known to swim close to the fry while angry mama circles around in a wider loop chasing away potential threat.
If the parents are aggressive you will see them attacking the lure within the first few casts. If you "blow the opportunity", you will see the parent fish lead the fry away from harm. Away from you and towards the edges where there are structures.
The more desirable solo or single toman
Casting for predators that feed on the toman fry is also something to be considered, such as casting for sebarau. Tying on a small reddish/yellowish lure to imitate the toman fry usually does the trick.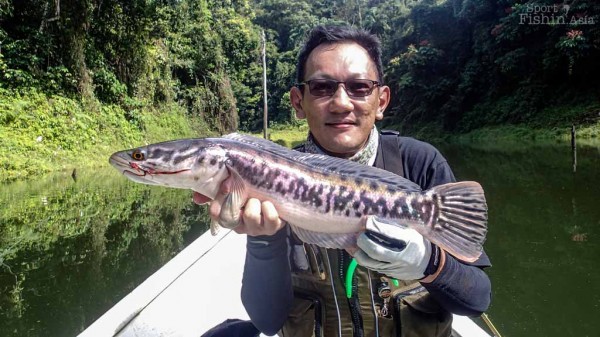 A smaller toman caught on a Split-tail fly intended for sebarau tied to 12 pound tippet on a 6# rod.
Toman like any snakehead is an ambush predator. You can cast a lure out and hope it swims past a free swimming toman that is angry or hungry enough to strike the lure. The more common way is to wait for toman breaking surface for a sip of air. They can be very subtle when doing so and they can also be very visual, big swirl and you see the kick of the tail as it swims back down quickly – giving you the opportunity to gauge the size of the fish. The trick is to make a quick, accurate cast and intercept the diving toman.
Who's your daddy?
The slightly easier way is to target parent fish guarding their young. The toman fry need to come to the surface for air every five minutes or so and you can be sure papa and mama will not be far away. What you will need to do is make your lure appear like it is threatening the "fry ball" and hope that one of the parent will strike at the lure. It does not always work though as the parent may sometimes choose to just chase away the threat instead of striking at it. I have seen adult toman follow the lure right at its nose all the way to the boat and turn away.
Release a spawning adult quickly so they can get back to tend to their young. At times the school of toman fry will follow mama/papa all through the fight to the boat.
If you think the above is daunting, now imagine fly-fishing for toman. It crazy tough for sure but there are ways to do it and to many, that's the appeal. Good fly casting ability however, will go a long way towards a successful outing.
Most had their chances for shots at the toman on this trip. Yusaku-San had a couple of fish-on without landing any. I watched and briefly recorded on video Irhamy and Justin losing a big one each.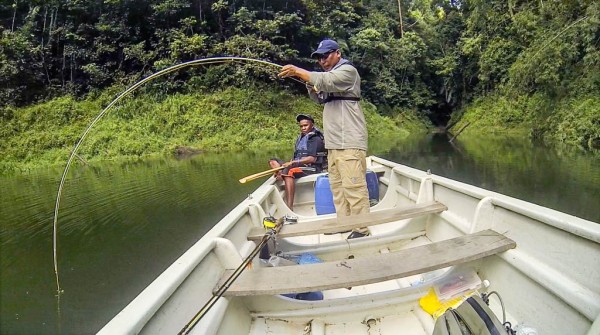 Irhamy's huge brightly coloured toman rose to the surface and took his split-tail fly just three feet from the boat. After successfully controlling the fish and bringing it back to the boat it dove into a submerged tree trunk and the leader popped.
We resisted casting and waited for the toman fry to come near to us in Justin's case. On only the first cast the protective parent chased Justin's lure towards our boat and struck but managed to throw the hooks after a brief fight.
Happy casting and Merry Christmas to all.