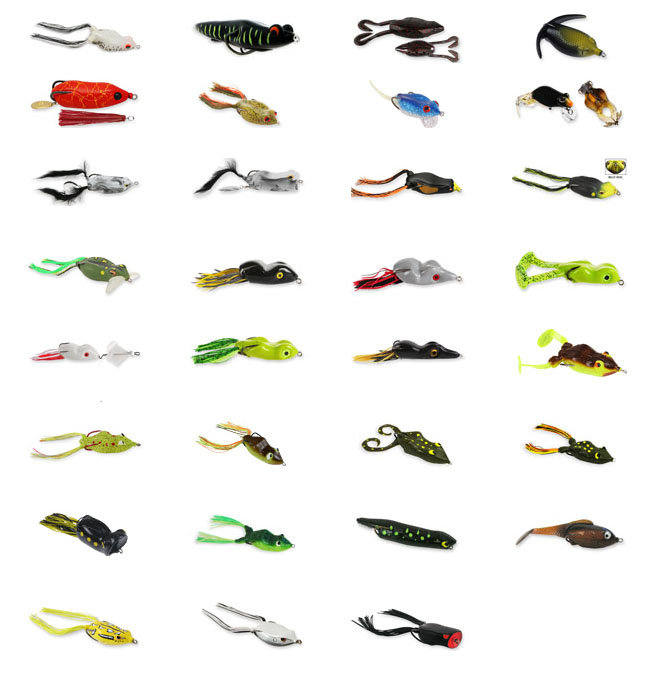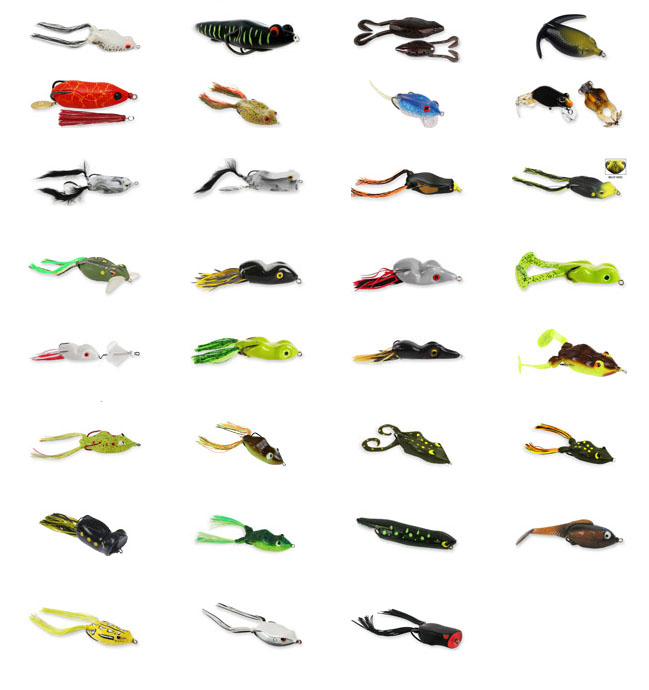 Now that I've wrote about frogs, let's talk about using Soft Baits or as some like to call them, Soft Plastic. In Asia, every serious snakehead fisher knows, just like bass fishers, that their quarry are opportunistic feeders. Anything that swims, crawls, slithers, hops or flies are in the menu for an aggressive, ambush fish. Most lures in the market focus on the primary food sources for snakehead or the like which are mainly forage species; small fish, scrimps, worms, lizards, rats and certainly frogs. Though the Giant Snakehead has been know to eat small birds and ducks. Forage species are usually found along the banks than in the deep or open water. Some of these species can include frogs, snakes, birds, dragonflies, mice, and more. They are aware of the danger of getting too close to open, predator infested water and will stay where they considers themselves safe in the cover of shoreline, vegetation and on top of thick mats of grass.
Our challenge is to present a lure into the type of cover these food sources inhabit without snagging every piece of branch or stem of grass. There are many lures that can do this and they have become ever more sophisticated over the years, resulting in lures that function exceptionally well and as a result, pulls big fish out of thick, heavy covers.
The distinctive feature of these lures is that the hooks are weedless with no protrusions or angles that can pick up vegetation. They are also soft in the materials used to produce them. The idea is to enable fishers to cast these lures right into snag countries without bringing back a chunk of the garden, which will render the lure 'lifeless'. Frogs like these mostly comes with hooks already built-in. The other type of soft baits which are also among my favorite are the soft plastic variety. Soft plastics can resemble anything from a frog to a fish, to a worm. You will generally need a worm hook for these. There are a variety of worm hooks in the market to fit all soft plastics.
Fishing the frog lures are pretty easy. Cast it out to the snags, literally, and hop it back to you. Hooking and landing big snakeheads with these lures and in this habitat can be challenging. Fishers will use heavy lines and a fast action rod to get these fish. Mono lines of 20-30 lb class are common, even braided line to 40-50 lbs has gained popularity in recent years. Braided lines cut through vegetation like a knife and its non-stretch properties also helps with a more solid hookset, especially on a long cast. Some fishers prefer low and medium gear ratio reels, like 5:1 for the cranking power to get the fish out of the salad. While others like higher speed reels so they can quickly bring the fish to the boat. Rods are generally long, from 7-8 ft with a light-tip and lots of backbone. The light-tip is needed for long accurate casts and stiff mid and butt section to set the hook and move the fish.

When you have located some fishy looking snakehead water and have the appropriate rod, reel and lure combo, then the fun starts. The most common creature on top of these mats along the shoreline are frogs. You'll want to thoroughly pick apart the mat and get your lure over any area that may hold fish. Some of the more productive areas would include any sticks or emergent vegetation that would indicate additional structure beneath the mat, channels, drop-offs, and rocks. Many of these spots can be located by observing the bank and extrapolating what's out in the water. Pay special attention to openings and thin spots since snakehead that are actively feeding will use these areas to ambush unwary frogs, birds, and other mat denizens.
When casting the frog, sometimes the best effect is to cause the frog to slap down hard on the mat or water, like a frog jumping off the bank. Sometimes you'll find it better to cast on the bank and ease the frog onto the mat or water. This technique is especially effective when the bass are right up on the bank and the slap may spook them. Other times you'll get an instant reaction strike as soon as the frog touches down. When the frog is on the mat your purpose will be to attract attention to your offering. On thin mats and in pads and sparse grass your frog and your retrieve will be enough to attract a fish. On thicker mats, you may need to add some weight to the frog. A couple of small weights shoved inside or some lead wire wrapped around the hooks or jigheads should do the trick. Take care not to pack too much stuff into the bait since it will pile up at the tail end and may hinder your hookset if the body of the bait won't collapse to expose the hook points. Observe how frogs move, most often with fast short hops and long pauses, and imitate this natural motion. Frogs are more apt to pause on a pad or other floating debris than just stopping in open water where they know they are vulnerable, so try to imitate that behavior as well.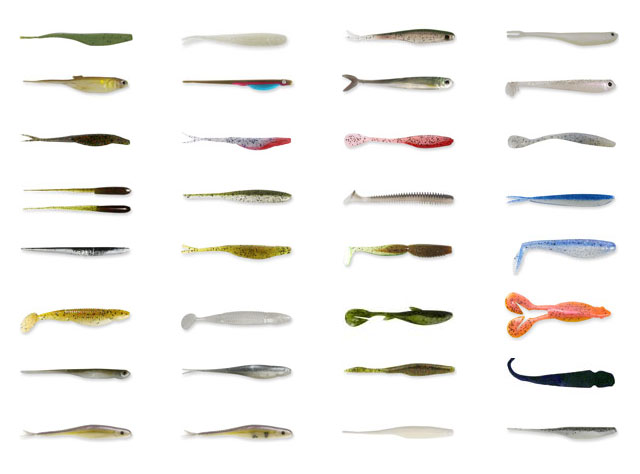 When fishing a gap or opening in the mat, or when coming to the edge, be especially prepared to get bit since this is where the snakehead will see your bait most easily and can get at it without getting a mouthful of salad. Hop your frog near the edge of the hole and slowly twitch it forward and pause it on the edge. Snakeheads are the kind of predator where; something that has stopped moving will draw more and more attention until the first twitch will make them eat. Your frog stopped at the very edge of a mat looking like it might want to jump in will keep a snakehead fixated until you twitch it in, and then WHAM! Holes, edges, and thin spots are not the only places where your frog will be attacked. You will have fish breaking through thick stuff trying to get at your frog.
One of the tricks to learn when frog fishing is the hookset. You may be all keyed up waiting for the explosion and pull the trigger right away, but all you'll get is your frog flying back in your face. When the snakehead eats, wait a second or two before setting the hook to ensure the fish has the bait. This way, your hooks will stick fish instead of nothing. Many fishers will wait until they feel pressure on their rods before setting. Experiment to see what works best for you, but pause before you set the hook and if you continually miss fish, pause a little longer. Another reason for missing strikes is as simple as dull hooks. Also, be sure to check every once in a while to make sure the hook point has not penetrated too deep into the body of the lure, where it won't do you any good. When you do set, set hard and try to get the fish turned toward you. If you can pull it back out the same hole it was when it bit you've got a good chance of landing him. If the fish turns on you and starts swimming around under the mat, tying up bales of grass, you'll have a much harder time. Be patient and keep pressure on the fish like you would if you were wrapped around a stick or brush in other situations and he may back himself out. Sometimes, opening the bail and free spooling causes the fish to swim out of cover when it feels the pressure lessened. But if it doesn't work, don't blame me! It's a suggestion!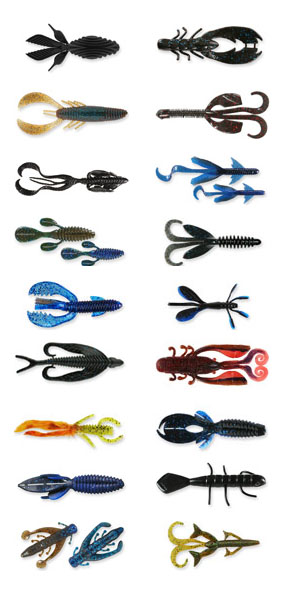 Color selection for soft baits is a subject of debate among experienced fishers. Fish often lurk around the edges and it might have a good look at your lure before deciding it's a meal (that's trying to get away). Generally, I prefer the more natural colors. Brown or light brown or green with light shaded belly has worked for me. Also tanned or black under dark skies works. What I do most often is keep changing the lure I'm using and the style of retrieve. Different colors, shapes or even imitation is swapped with after about a hundred repeated casts to the same areas. Changing the rhythm catches fish also. Fast retrieve and slow. Hops, wind and pause and so on. We never know how the fish view our lure and what kind of mood they are in. But if you are persistently casting to a spot that holds fish, you will hook it. Another important thing to remember is to rig your frog so that it swims right side up. The lower the center of gravity the more upright your frog swims.
Snakeheads in some water seem to respond to soft baits more than others and on some days are better that others, so if your offering is not swallowed today at a particular pond don't give up. Switch lure or switch ponds. You will be surprised by how effective a piece of plastic or rubber can do. Observe the experienced soft bait fisher and learn how they fish the lures. Once you start catching fish with lures, you are a true convert.