Whether it is going to a foreign country for a holiday, shopping in a newly opened mall, the anticipation and thoughts of checking out a new environment is always intriguing.
A long time buddy has recently been working a new family plantation and nestled within is a wild pond fed by an underground stream and under the heavy cover of trees and scrubs. Two species of snakehead fish have been caught thus far from this pond. The common striped snakehead and the elusive Bujuk (Channa Lucius).
The Bujuk or Channa Lucius is highly sought after for its tasty flesh which sadly, had made it scarce due to to over fishing. Its body marking can be very interesting and this has also made it an aquarium fish. The Bujuk is a fierce predator and gives out a harder fight than the common snakehead, pound for pound. It prefers to ambush its prey from thick cover making fishing for them a challenge in itself.
We had numerous bites. Mosquito bites.

Morning in a rubber plantation. What the photo don't show are the thousands of mozzies.

'Guided tour' before we went to 'work'

Thick growth needed some trimming to make some space to fish from. Many thanks to CT Poh.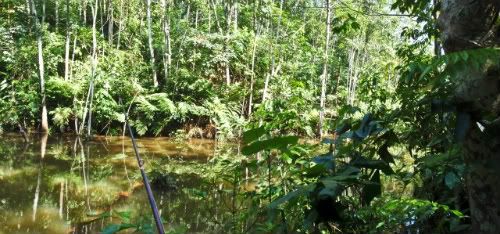 Trees and greenery everywhere. Even in the water! To say this place is snaggy is an understatement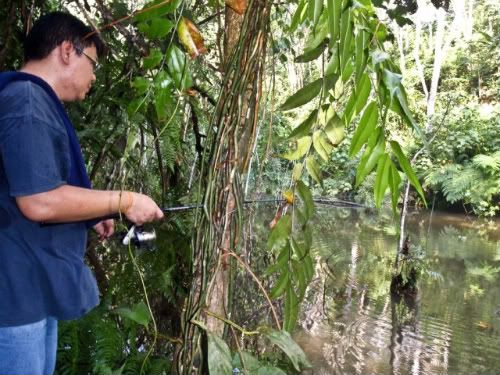 A challenge for light tackle in snag-country. And I wasn't the only one. Gary here is fishing with only 8 pound line.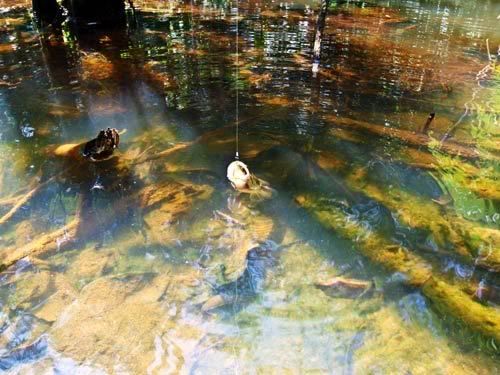 Due to the underground water source, the water is crystal clear. Look at all the snags! Weedless is about the only way to fish here.

Water so clear the fish appears to be in an aquarium.
When the snag gets tough, the Mazzy frog lure is always called into duty.

Only the little ones came out to play that day and they were all Striped Snakeheads.
Channa Lucius remains elusive, for now. We'll be back!
Since we were sort of in the neighborhood of a childhood friend's new playground, we decided to pop-by for a quick visit. Partly due to the reason that he has 3 ponds and I was told they were choking with fishes! With that we migrated from fishing wild to fishing man-made pond.
This is my first visit to Frankie's 'resort' and it'll be nice to catch-up with an old friend again since we've not met for almost 2 years. His private 'resort' is nestled among mountains and greenery. He's had fruit orchards being planted with plans for a motorcross track and paintball area. And of course, the 3 fish ponds.
We chatted and while we were there, 'sampled' one of his pond. It is nearly over-flowing with fat juicy Tilapias at the moment while the fishes I'm more interested in catching are still small at the moment. Sadly, one of the two Red-tail catfish that Jimmy released earlier did not survive. We'll let the fishes grow a little bigger and surely, we'll be back!
Gary and Jimmy landed a couple of nice Jelawat (Leptobarbus hoevenii) or Sultan fish also known as Mad Barb. Great fun on light tackle and on fly gear especially when they get bigger.