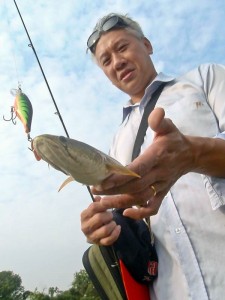 A good example of the importance of being quick on the cast and accurate as well, will catch us more fish was demonstrated on a recent Haruan (Striped Snakehead) fishing trip. I've emphasized on this in a previous post. Please check it out if you missed it.
I need to also highlight the need to be always on the lookout for (sometimes subtle) signs of fish. A tool that can help us on this is a pair of high-quality polarized sunglasses. Currently I'm using Cocoons. If you've never tried polarized sunglasses, you'll be amazed with the improved fish-spotting ability it provides. And if you've gone through different grades of polarized sunglasses like I have, you'll also know all polarized sunglasses are not created equal.
One Cast One Fish
On that short morning of casting in heavily fished waters, Ed caught the first not-big-but-decent haruan on his very first cast after spotting a rising fish – using a Rapala XRSH.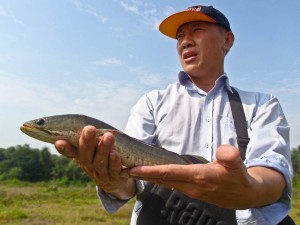 The second fish, a little bigger than the first, was caught in only his third cast to the edge of a weedy island. Also after having eyed signs of fish. This time allowing his Mazzy frog to sink and waiting for that distinctive "bump" before setting the hook home.
Special Cocoons Deal in KL
For those in KL interested in a pair of Cocoons, only Vision Space at Damansara Utama, Petaling Jaya, can offer you the best deal. All you have to do is say you got this info from SportFishing Asia! (This is not a paid endorsement whatsoever. I just managed to work out a deal with the owner for our readers).
If you do visit Visionspace, leave a comment here or drop me a note here so that I know how did it go and if you got a good deal. Visionspace is one of the few eye-care specialists with qualified Optometrist (not opticians like you'd normally expect) and if you have a little time to spare they will even do a no-obligation free eye check for you totally free! This is not just to check your eyes' power and if you require glasses but also to let you know the health condition of your eyes.
Now you know you don't just learn about fishing at Sportfishin' Asia but we get you other benefits as well!