There are fishing spots and then there are fishing spots. Without the faintest of idea what the morning had in store for me that day, it turned out to be one of those days. The one-that-got-away day. While I've lost my fair share of fish I usually don't give much of a hoot. Maybe a sigh, a curse and I'd laugh about it and that's that. But this one sucked. It could well be my record Haruan (Channa Striata). You may be thinking, yea… the one that got away is always the biggest, a fish landed has only one tail but the fish that got away has many tales…
So how is this any different? Here's how the "tale" unfolded. We discovered this new haruan hole a couple of weeks back and decided to name it Jurassic Park. The name seemed apt because there were some rather big animals nearby and their constant bellowing is nothing short of loud.
Newly discovered fishing holes are always exciting to fish at
I got a few bites then but no solid hook-up from one particular spot I was casting from. Healthy aquatic weeds litters the bottom and occasionally catches the lure.
Determined to have a look at the fish that kept missing the pointy section of the lure the last time round, I spent some time selecting, hopefully, appropriate lures and sharpening the hooks on the night before. When we arrived on that seemingly mundane morning, I strut straight to that very same spot. Started fanning my casts to cover as much water as possible I could see the rises were there again. At one time a good sized fish even showed its body as it swam to the surface and rolled back just maybe 10-15 ft from where I stood. Now that is something you don't see a haruan do very often. The very big ones may perhaps exhibit that behavior as it descends quickly after taking a gulp of air but more often than not it is its close cousin the Giant Snakehead (C. Micropeltes) that would announce its presence in such manner. But this is a haruan for sure.
More determined after getting a "visual" on the fish, even the local who appeared nearby to wash himself and his clothes didn't move me from the spot or stop me from casting (though taking precautions not to direct my casts towards the guy) who left shortly after much to my relieve.
Ed then joined me and after what seemed like 5 or 6 lure changes and about 200 or so casts, something grabbed my lure! I shouted "fish-on, got it", then my little Calcutta started to let out the 20 lb Spiderwire it was spooled with at speed. That got me off-guard. I've never had such a strong pull from a haruan. The moment the reel stopped spitting line I took the chance to pump and regain some ground but as soon as the rod was pointing up again, the fish took-off once more and downwards this time and that's when I started saying "Big one big one, shit shit!". Then the line stopped, looking at the bend on the rod I realized the fish has swum into a snag of some sorts! Without thinking, I yanked the rod a couple of times and horrors!, the mainline suddenly went limp. Words unfit for publish shots out of my mouth and I felt like throwing the rod into the water out of frustration. Under inspection the mainline had snapped. Until today I could not figure out what may have actually happened. I can only assume the Spiderwire braid must have come into contact with some snag. To top it all off I have also lost my favorite (original) Rattlin Rapala to that fish. Hopefully the fish will manage to shake the lure off as I had all the hooks de-barded like always. It'd be a huge waste to lose a lunker like that. Well… win some loose some… and… shit happens.
Good news was we later saw Richard appear from among the trees telling us he discovered a new spot not too far away where he had multiple takes and landed 4 Haruans within 2 hours. That will be our next destination, to the Lost World!
Share with us your most memorable one-that-got-away story in the comment box below.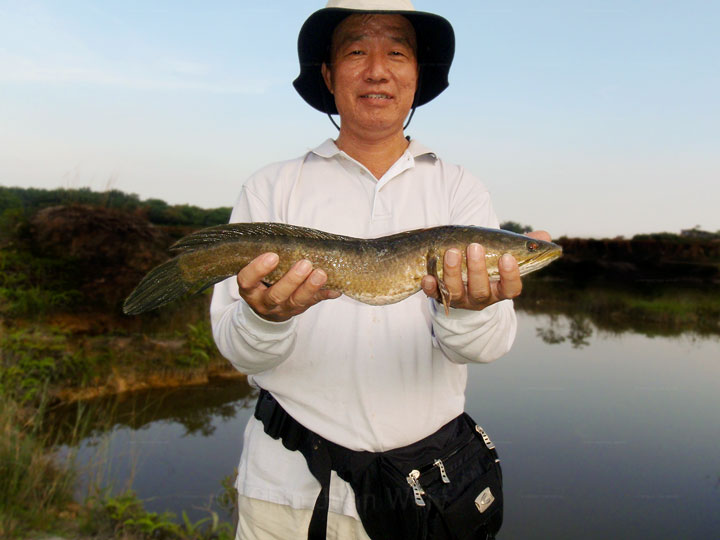 Fish of the day. YTL with a nice specimen (Hey! New hat & new pouch!).