The snakehead fish is an amazing specie. Branded by some as the Fishzilla, the snakehead also have a huge following around the world by both fish keepers and anglers alike. The following is meant to be a reference guide to the Channa genus of the Channidae family of snakehead fishes.
How many types of Snakeheads are there?
While there are many types of Snakehead fish – mainly the 3 largest and most common species that are highly sought after in most Asian countries. They are Channa lucius, Channa micropeltes and Channa striata.
So let us meet the Channa family…
Channa Amphibeus


Image source
The Borna snakehead, or Chel snakehead, Channa amphibeus, is an extremely rare species of snakehead. C. amphibeus is native only to the Chel River (in the drainage of the Brahmaputra), of the Bhutan foothills, in northern Bengal, India.
As with all snakeheads, C. amphibeus is an aggressive predator. The fish grows up to about 25 cm (10 inches). C. amphibeus requires warm fresh water (about 22–28?C) to properly mature, and access to atmospheric oxygen. Ref
Channa Argus


Image source
Max length 84 cm. The notorious fish that terrorised certain US states. The Northern snakehead (Channa argus) is a type of snakehead fish native to China, Russia, North Korea and South Korea. In the United States, the fish is considered to be a highly invasive species. In a well-known incident, several were found in a pond in Crofton, Maryland in June 2002, which led to major media coverage and two movies about the incident, Snakehead Terror and Frankenfish. Ref
Channa Asiatica

– China, Taiwan, Japan. Max 35 cm
Channa Aurantimaculata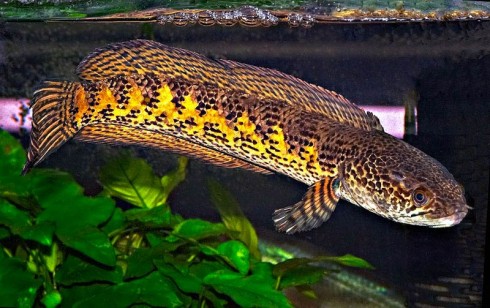 Image source: www.verslun.tjorvar.is
– Orange striped/spotted snakehead. India. Max 40 cm
Channa Bankanensis
– Sumatra (rare) max 15 cm
Channa Barca

Image source: www.modernpetcentre.in
– Barca snakehead, India? (extremely rare)
Channa Bleheri
– Rainbow snakehead, India max 20 cm
Channa Cyanospilos
– Bluespotted snakehead, Malaysia, Sumatra, Kalimantan max 20 cm
Channa Gachua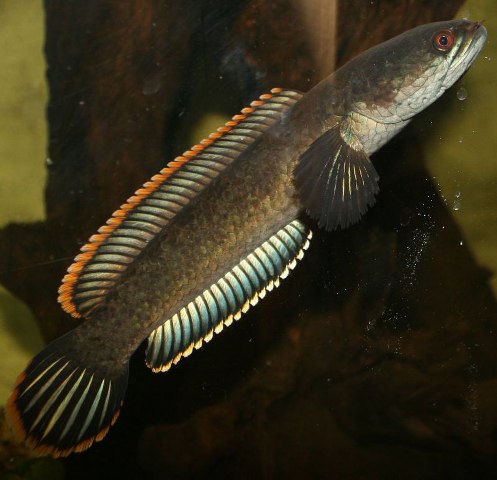 – Dwarf snakehead, Pakistan to Indonesia max 20 cm
Channa Harcourtbutleri
– Myanmar max 15 cm
Channa Kamuruti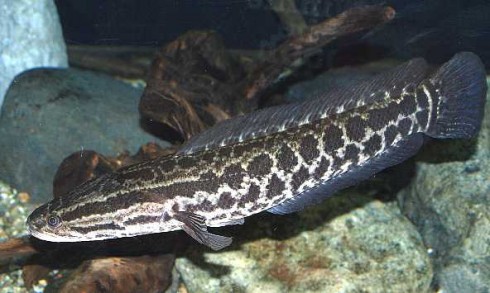 Image source: www.diving.tank.jp
Channa Lucius


– Splendid snakehead, Bujuk, South East Asia, Pla Krasong ???????? max 40 cm
Channa Maculata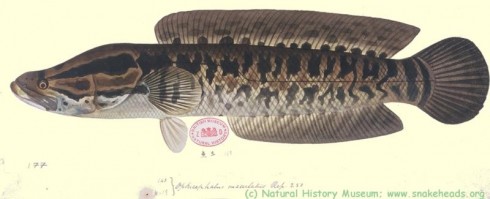 Image source: snakeheads.org
– Blotched snakehead, Southern China Northern Vietnam, max 33 cm
Channa Marulioides
– Toman Bunga, Darkfin/Emperor snakehead. South East Asia max 66 cm
Channa Marulius
– Bullseye/Great snakehead, India-Sri Lanka-Bangladesh-South Nepal, max 178 cm
Channa Melanopterus
– Blackfinned snakehead, Kalimantan, max 66 cm
Channa Melasoma
– Black snakehead
Channa Micropeltes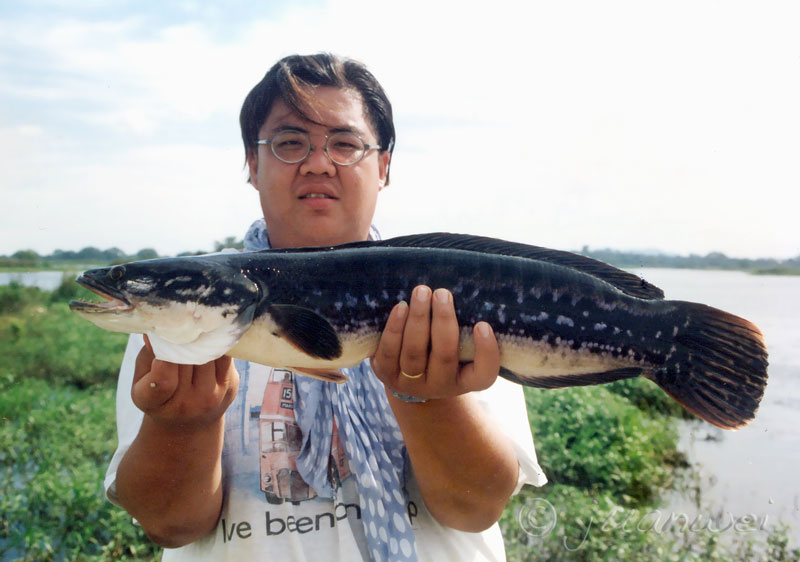 – Toman, Giant snakehead, Pla Chado, India-South East Asia, max 178 cm / 20+ kg
Channa Nox
– Night snakehead, Southern China max 20 cm
Channa Obscura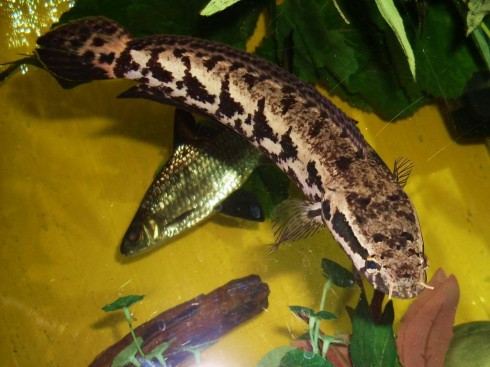 Image source: monsterfishkeepers.com
Channa Orientalis
– smooth-breasted/Ceylon snakehead, Sri Lanka max 10 cm
Channa Panaw
– Myanmar max 17 cm
Channa Pleurophthalma

Image source: www.commons.wikimedia.org
– Ocellated snakehead, Sumatra-Kalimantan max 40 cm
Channa Pulchra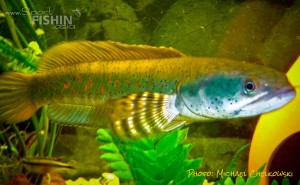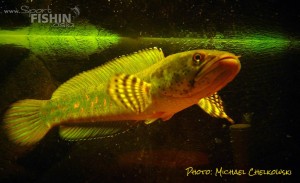 Channa Punctata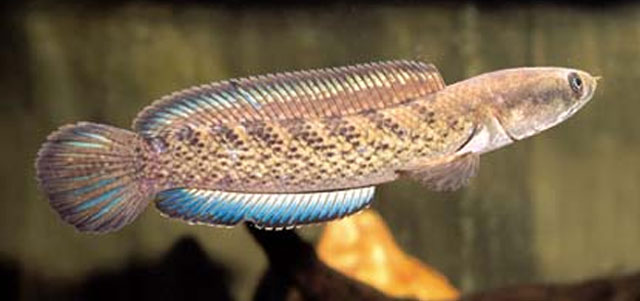 – Spotted snakehead, green snakehead, India-Sri Lanka-Nepal, max 30 cm
Channa Stewartii
– Golden snakehead, India-Bangladesh-Nepal, max 25 cm
Channa Striata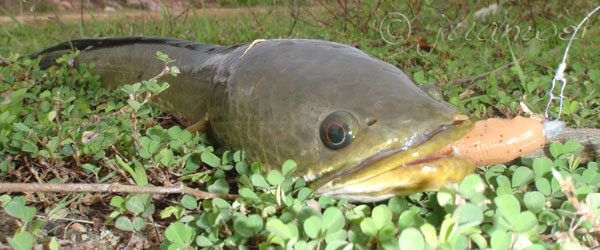 Perhaps the most common of all snakeheads – Haruan, Common snakehead, Snakehead murrel, Chevron snakehead, Striped snakehead, Pla Chon
Pakistan to South East Asia, max 91 cm
The smaller, colorful snakeheads are important in the aquarium fish trade. Most of these "dwarf" snakeheads are difficult to obtain as they can have very beautiful markings and fins. They are also mostly mouth brooders.
Below is a Quick Reference guide to the attainability of Snakehead fishes in general around the planet;
channa anphibius – zero chance of finding
channa argus – easy to obtain in many countries outside europe
channa asiatica – comes up for time to time , some around at the moment
channa aurantimaculata – not often seen in shops , but a fair few around at moment
channa bankanensis – very hard to obtain
channa barca – very hard to find – few around at moment but over $3500
Channa baramensis – near impossable
channa belhri – fairly commen and useally able to order at most times
channa burmanica – very rare in the trade and will be very hard to find
channa cyanospilos – near impossable to find
channa diplogramma – getting easier to find and can useally be ordered in
channa gachua – very easy to obtain
channa hartcourtbutleri – hard to obtain , poss some around at moment
channa lucia – can be ordered ,and some around now but getting harder to find
channa maculata – very hard to find but some around at moment
channa maruliodes – pretty easy to find , many around at moment
channa marulia – very easy to find – many around at the moment
channa melanoptera – very rare , near impossable to find
channa melasoma – hard to find – not many about at all
channa micropeltes – extreamly easy to find – allways around
channa nox – near impossable to find
channa orientalis – very hard to find in shops , can be found through several breeders
channa panaw – very rare in shops – some around at moment
channa pleurophthalma – fairly rare – but many around at moment
channa punctata – useally available to order and quite easy to obtain
channa stewarti – getting harder to find , some varieties around at moment
channa straita – not many shops stock but should be able to order + around at moment
parachanna africana – hard to find but small amounts around at moment
parachanna insignis – extreamly hard to obtain
parachanna obscura fairly easy to obtain , many around now
channa pulchra – now fairly commen and should not pose a problem in getting
channa ornatipinis – rare in wild ,but many around at the moment
channa sp five stripe – once easy to find now quite rare
channa sp greenfins – few around at moment
channa sp turqoise – few around at moment
pseudomarulia – limited amounts around at moment
sp assam – fairly easy to obtain and order
sp platinum – very hard to find but some about now
Channa sp. 'Meghalaya Leopard' – few around now but very expensive
Channa sp. 'Spear-head' – few around now but fairly rare