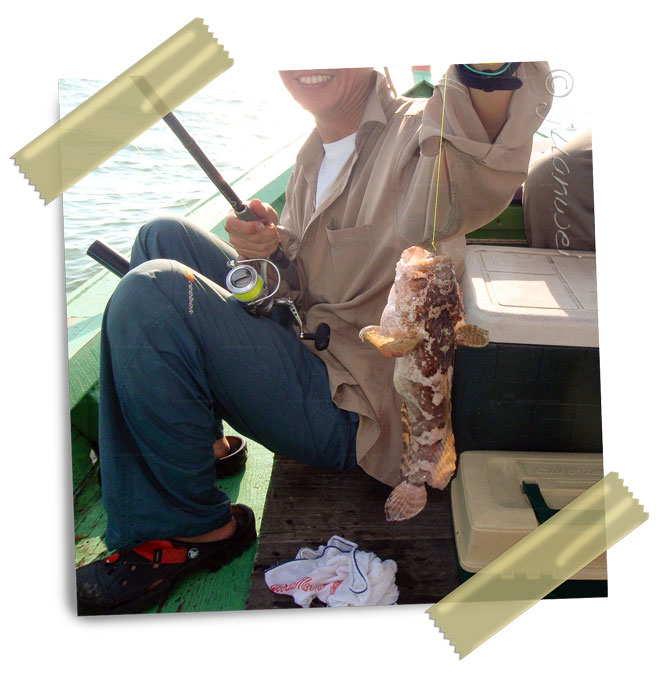 On a recent fishing trip to the west coast, a couple of not-so-pretty looking fish was hooked and landed. Normally we are quite keen to ID unfamiliar species caught but these fellows were just plain ugly.
Some wondered if they were edible and that thought was kind of hard to swallow to the rest of us!
Well, the mystery is finally solved. Thanks to Alan our resident scuba diving, rod wielding, reel pimping bro. The fish is a Toadfish. No surprise even the name is unappetizing.
The toadfish comprise the family Batrachoididae, the only family in the ray-finned fish order Batrachoidiformes. Both the English common name and scientific name refer to their toad-like appearance (batrakhos is Greek for frog).
Physical attractions
This particular Toadfish is the Opsanus variety (sounds like Oops Anus!). Toadfish are usually scaleless, with eyes set high on large heads. Their mouths are also large, and often decorated with barbels and skin flaps. They are generally drab in colour, although those living coral reefs may have brighter patterns. They range in size from 7.5 centimetres (3.0 in) to 57 centimetres (22 in).
All toadfishes possess sharp spines on the first dorsal fin and on the opercle (gill cover). In fish of the subfamily Thalassophryninae, these are hollow and connect to venom glands capable of delivering a painful wound to predators.
Behaviour
They often hide in rock crevices, among the bottom vegetation, or even dig dens in the bottom sediments, from which they ambush their prey. Toadfish can survive out of water for as much as 24 hours, and some can move across exposed mudflats at low tide using their fins.
Awesome facts
Males make nests, and then attract females by "singing", that is, by releasing air by contracting muscles on their swim bladder. The sound has been called a 'hum' or 'whistle', and can be loud enough to be clearly audible from the surface. The eggs are sticky on one side, so that the female can attach them to the side of the nest. Each male will attract numerous females to his nest, so that the eggs within will have multiple different mothers.
The male then guards the nest against predators. During this period, the male must survive on a limited supply of food, as they are not able to leave the immediate vicinity to hunt. The eggs rapidly develop into embryos, but these remain attached to the side of the nest until the age of about three to four weeks. After this time, they continue to cluster around and hide behind the male, until they are large enough to fend for themselves. This degree of parental care is very unusual among fishes.
And so my conclusion is if you happen to hook one of these guys, just release them.
Update [September 2011]
"It's me again, can we spawn?"
I came across a great article on this interesting fish on wired.com and thought you ought to get a blast out of learning more about the Toadfish.
The article is fantastically written, very informative with great photos plus the intriguing sounds made by the Toadfish as a communication tool!
Read the full article here Simple Toadfish Grunts May Contain Complex Information