12th May 2012
9.15am to 12 noon (lunch Included)
Abu Garcia Sports Fishing Center
Fish Valley,
PT 16367, Fish Valley Semenyih,
Sri Haneco Industrial Park,
Jalan Kachau,
Semenyih, Selangor, Malaysia.
Whether you have been fishing for many years or are new to fishing, it is good to be reacquainted with the basics of fishing.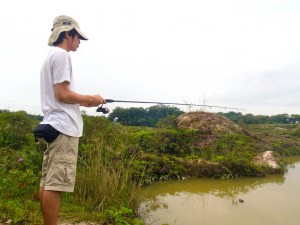 The basics of fishing will help you to understand fishes better and why they act in a certain way. We will also explore the basic knots needed (different fishing lines have different recommended knots), usage of soft plastics, understanding of lines, etc.
All these information will help you be a better angler and hopefully catch more fish.
Clinic Notes:
Understanding fishing tackle – rods, reels, terminal tackle.
Fishing Lines – The Effective usage of lines.
Knots basics – recommended knots for different types of lines.
– Knots, the weakened link.
Soft plastics – Soft plastic vs Hard lures. Effective usage of soft plastics.
Matching your tackle.
Tackle care.
"Fishiology:" Understanding why fishes do what they do.
Identifying where to fish.
 Are you going?