Rapala has come a long way since the day Lauri Rapala created one of the first artificial fishing lures in 1936, which would later become the original floater.
Today the largest lure maker in the world has many other reputable tackle brands under its umbrella. Namely VMC, Sufix, Plano, Okuma and Williamson lures.
Though Rapala lure has been around in the South East Asia market for a long time, organizing this seminar in Kuala Lumpur must reflect its recognition of the growing demand for artificial lures regionally.
Having an event of this nature on a Saturday at a shopping area appears to be a good move. But May 1st being Labor Day may see the crowd thinned as some may have taken the opportunity to make holiday plans over the weekend, especially anglers.
I have to congratulate Fred Goh and his Rapalero teams for the effort of making this event happen. It was also my first meeting with Fred as we've only interacted online before this.
Most internet-using fishos in the region would have seen Fred's presence on the many fishing forums and social networking sites such as Facebook and the Rapalero blog.
I also managed to catch-up with CS Fong, the editor of Rod & Line magazine who was there to cover the event as well.
THE CROWD
We were there early at 08:30 not knowing what to expect. There were about 5 other participants waiting patiently at the lounge area. The crowd soon started to flow-in and the little lounge area started to get stuffy and smoke-filled.
There should have been Q-ropes to organize the registration but the crowd size was manageable for the first morning session. The seminar session started at around 09:45 and the crowd managed to fill about one third of what I guess must be 300 seats available.
THE DISPLAYS
There was a small collection of products on display outside the seminar room. There wasn't much interaction between what was displayed and the crowd from my point of view. Apart from a screen showing lures being used mainly for bass fishing there wasn't much 'going-ons'.

Visitors checking out the product display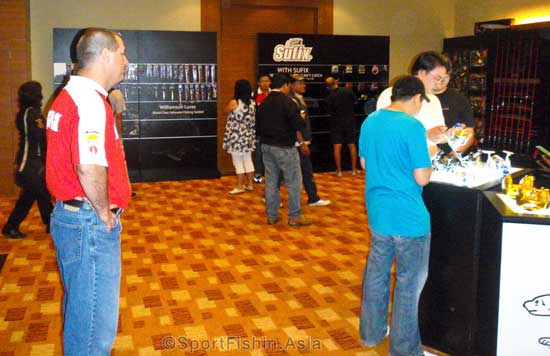 The Williamson lure wall in the background looks sparse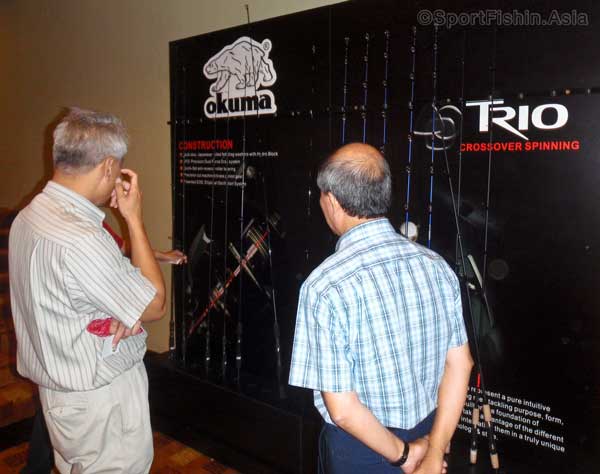 Okuma rods on display. Saw a guy picking one up an bending the rod tip against the ceiling to check-out the flex!
THE SEMINAR
The Rapala team must be applauded for bringing in speakers from their respective brands to the seminar.
There wasn't much to take-away from the seminar proper as it was more like an introduction of the respective brands.
Aku Valta, Managing Director, Rapala Australia Director of South East Asia Distribution, introduced Rapala and briefly took the attendees into their production and R&D facilities through a slideshow.
Hiroshi Takashi of Storm lures shared a little about what he thinks makes a fish bite a lure. Funny thing is he did not actually talk about Storm lures but shared some of his fishing secrets in his own quirky Japanese-French influenced way.
Miriam Lee shared with everyone the history of how Sufix fishing lines came to be and what made their lines different from others which was good as I'm sure not many knows about this less illustrious sister-brand of Rapala.
John Bretza in the typical American style however, managed to stoke my interest in the Okuma brand of reels. I have been observing this up-coming reel make in recent years but until recently is not very convinced of its performance and quality.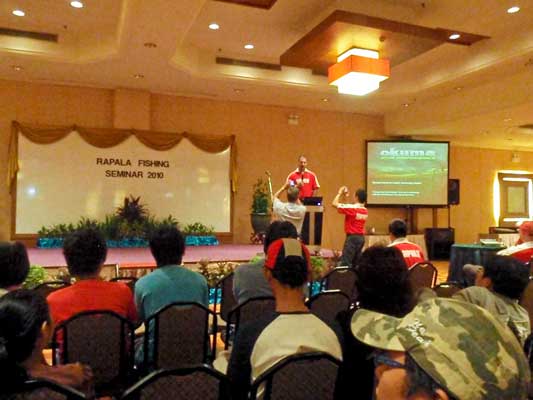 John's presentation certainly provided some good insights into how the reels are constructed to high-standards and made me decide to take one for a spin soon.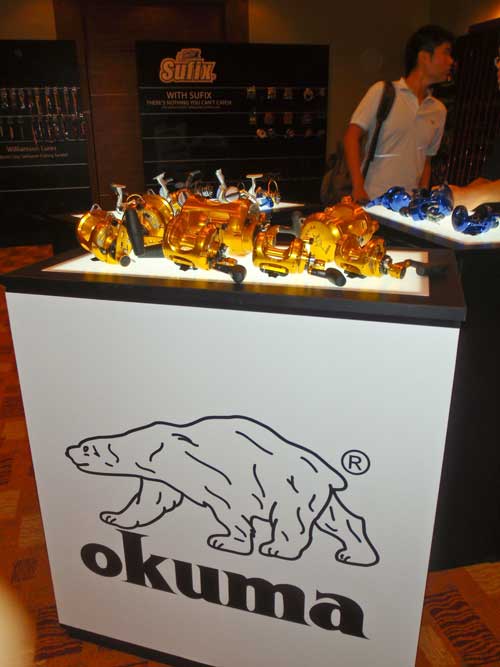 The Okuma Makaira big game reels look impressive
OTHER ATTRACTIONS AND DISTRACTIONS
The winner of a Rapala lure design competition was announced, Mingmon. He was the proud receiver of a sponsored fishing trip to Australia but I guess the real prize would be seeing his designs actually being used on Rapala lures. Well-done Ming!
It was kind of puzzling though as not much publicity was done to promote said contest.

Lucky winners of the giant Rapala lures
Five large Rapala lures were also given away as lucky draw prizes, which was a real treat to the fans. Congratulations to the four guys and sole lady too.
I couldn't help but wonder what is the real reason of half the attendees' presence. Mobile phones were going off all around the room reminding me of a surround sound cinema.
Many were seen walking in and out of the room and I noticed many who were obviously not listening to the speakers. Either they have no idea what was being said or perhaps they'd rather be fishing somewhere.
And there was this kid who I swear was giving his own seminar from one end of the room that I just do not know where to focus my attention. Not to mention those who talk loudly just outside the door of the seminar room! I was surprised the organizer was too polite to do something about them.
Among the door-gifts are a 610m spool of 34-pound Sufix monofilament line and a Strom crankbait. A staff member was kind enough to exchange the coupon for a friend who had to leave just before the end of the seminar to attend to his children at home. But some who came with soft-plastics were surprised they were unable to exchange them for the Storm lures as advertised.
It didn't help that the poster ad only stated the exchange of Gewang (in Bahasa) and in Chinese language. No English to state hard bodied lures only. Too bad for those who do not read Chinese and Malay. And what does Gewang even mean? Doesn't it say artificial lure? Those who could not exchange their soft baits were told to come back later with hard bodied lures! Are they nuts? Go through all the hassle just for a lure? Having said that, aren't the lure supposed to be just a door gift and the exchange a token? Isn't this done with the purpose of promoting Storm lures? And what do they want to do with the old hard bodied lures exchanged that they insist on it? Recycle or Rapala staffs want to field-test them? Strange.

Part of the crowd listening attentively
OVERALL
There were no 'Tips and Tricks' to be had at the seminar. This would have been interesting especially for Rapala and Strom lures. Even for Sufix lines. For example new lure explained, types of lures that have been successful for fishes of the region accompanied by photos, choice of lures/colors/lines, etc.
It would be great if Rapala will make this an annual event. But they will need to improve on the program. Most notably what new knowledge attendees will be able to take home with them?