UPDATE: [5 Sep 2011] We have been informed by The Kuala Rompin Fishing Association that the 2011 Rompin Billfish Classic have been cancelled.
Kuala Rompin is still a small sleepy coastal town (not as sleepy as it used to be of course) and it sure has come a long way. Sport Fishin' Asia is proud to share this great event news, the Inaugural EdgeWater Power Boats Rompin Billfish Classic to be held on 7-9 October 2011.
The tournament is being organised by Ocean Blue Media, a subsidiary of Ocean Blue Fishing Adventures who have marketed Kuala Rompin to international anglers for the past four years. This three day event will be the first of it's kind to take place in the sailfish rich waters of Kuala Rompin, and aims to attract teams of international and local anglers, not only to fish this tournament, but to further promote the area as a world-class sport fishing destination.
Prize/Categories
Champion Team: US$15000.00
1st Runner Up (Team): US$7000.00
2nd Runner Up (Team): US$3000.00
Champion Angler – Topwater Lure Casting: US$5000.00
Champion Angler: Kaiser Tackle Pack
Champion Female Angler: Black Pete Tackle Pack
More prizes to come
World's first and only Popping the Sails tournament.
Be the first in the world to win this tournament with good prizes and the ultimate bragging rights. Those that have done this, knows what i am talking about…the Sails awaits…
A big one for all sports anglers – A Popper / stickbait prize category is to be included into the Rompin Billfish Classic meaning there is big cash payout and prizes allocated for this 'casting artificials' section. A very rewarding way to catch a sailfish and we expect to see some skilled anglers coming from Japan, Asia and Australia. Standby for more, unofficial prize pool is US$5000 plus prizes!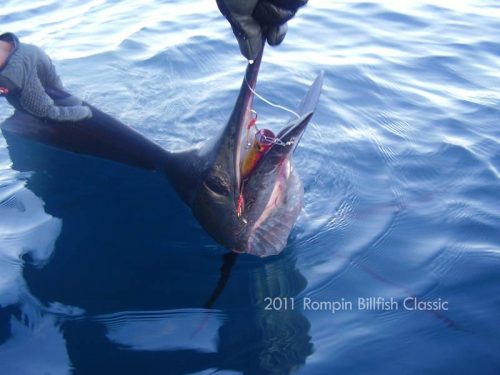 Tournament Format
This event has a format that is unique to the Asia Pacific region. A tournament cash purse of US$30,000 will be shared between the 1st, 2nd and 3rd placed teams. In addition to the main tournament cash purse, jackpot style optional entries will also be on offer, whereby teams can enter mini tournaments for each day of the overall event. This has never been offered before in Asia and provides an additional incentive to participate and earn great cash prizes.
"As tournament organisers, we believe Kuala Rompin in Malaysia has the potential to become a truly world class fishing destination. We're sure that the inaugural 2011 EdgeWater Power Boats Billfish Classic will provide a catalyst for future investment into this superb sport fishery". Anthony Pisano – Principal Ocean Blue Fishing Adventures
Tournament Rules
The 2011 EdgeWater Power Boats Billfish Classic is a release only event and will operate based on IGFA rules. The overall winning team will also qualify to take part in the renowned IGFA Offshore World Championship held in Mexico 2012.
Registrations for the 2011 EdgeWater Power Boats Billfish Classic are currently being taken and can be made online via the tournament website or by contacting Ocean Blue Fishing Adventures.
For information: http://rompinbillfishclassic.com
Contact: info@oceanbluefishing.com.au
Phone: +61 2 8572 4777