Before you go "WHAT?"… BangkokHooker here is Oz Sittiporn, the fishing celebrity from Thailand.
Tomonori San and Yusaku San are are both very experienced fly fishermen from Japan and both are FFI Master Casting Instructors.
I went to the KL airport in the wee hours to pick up Yusaku San who arrived about an hour earlier than Tomonori San who is popularly known as "Bill" in the fly fishing community.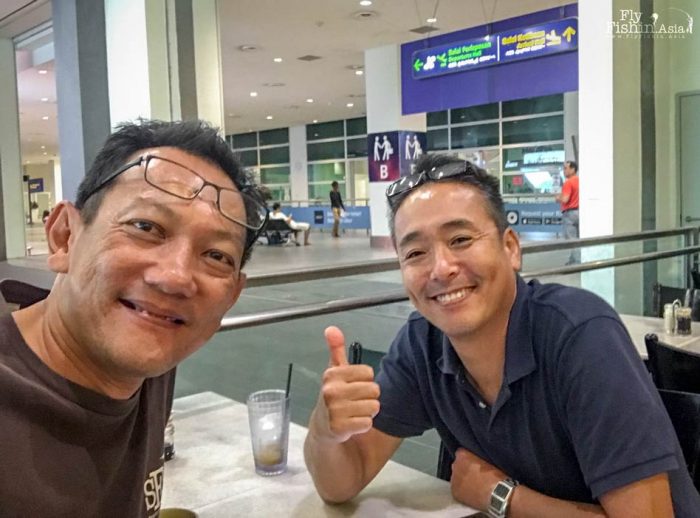 We then proceeded to Bangsar to meet Oz BangkokHooker.
After a quick breakfast and some shopping, we started our drive to Kuala Rompin.
All three will be living aboard Rompin's only luxury yacht the Sea Urchin throughout their adventure with us.
MEETING THE BANGKOKHOOKER
I first met Oz in the web sometime around the year 2000 where he started blogging about fishing and shortly after we did some fishing together where he also caught his first peacock bass when I took him to Clearwater Sanctuary near Ipoh Malaysia, and what a nice peacock bass that was, too.
That was many moons ago and he has since gone into the fishing business in a big way, appearing in TV shows, produces his own products and so on.
Oz has fly fished a little but did not get into it seriously. He will be fishing with us aboard the Sea Urchin and is also tremendously curious to see how fishing sailfish on fly is possibly done.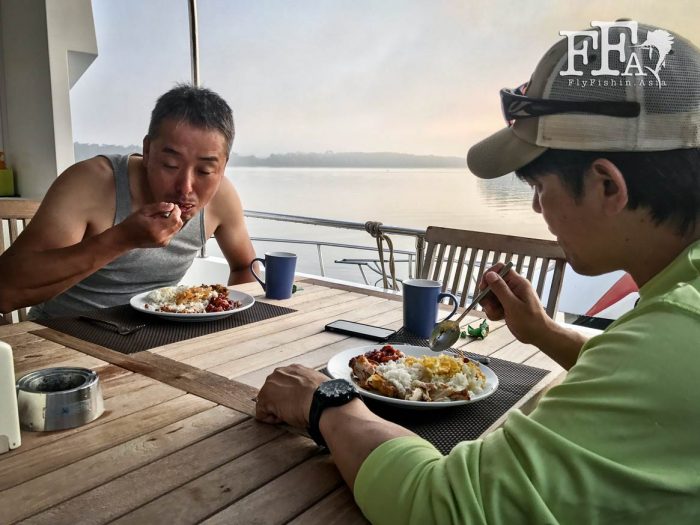 CHECKING INTO SEA URCHIN CHARTERS AND ARRIVING IN KUALA ROMPIN
Everyone settled into their own air-conditioned cabins after arriving and I showed the around the yacht and introduced everyone to the crew.
We had a local dinner and spent the evening aboard before setting off to fish the next morning.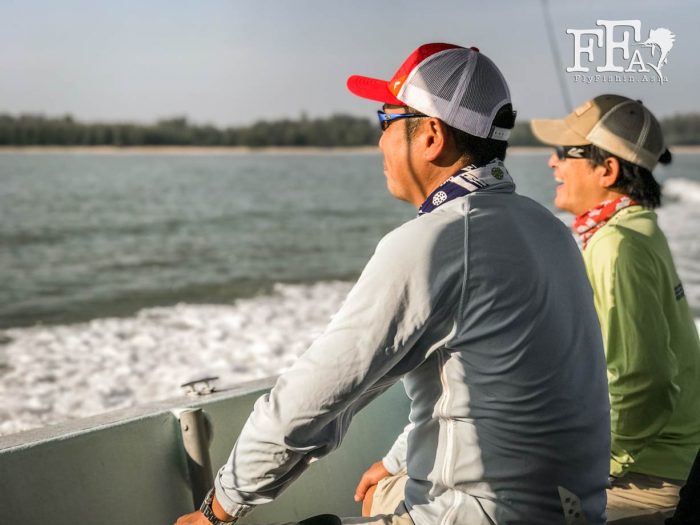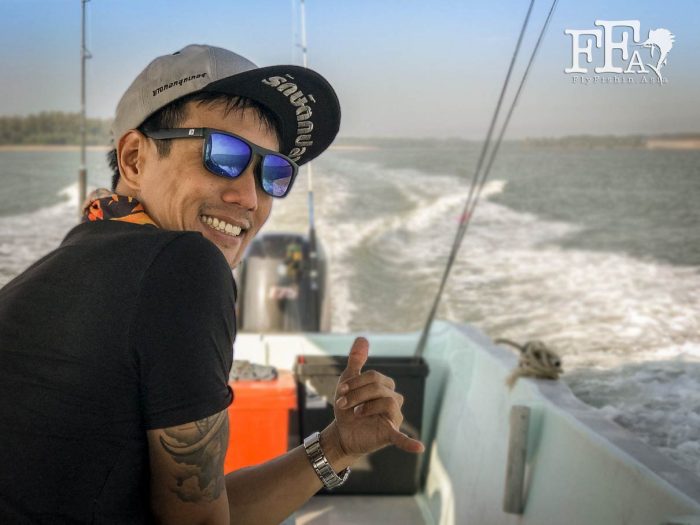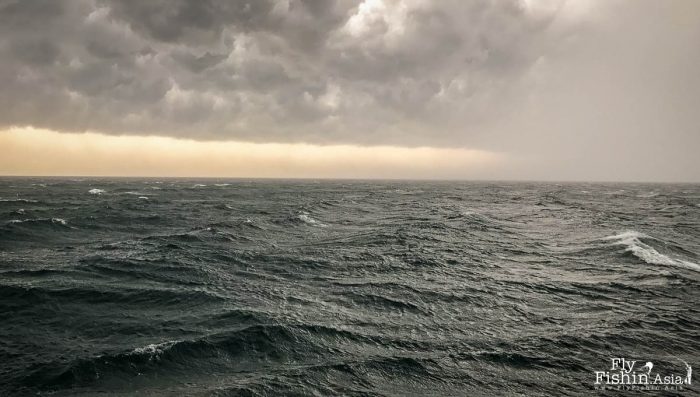 BAD SEAS!
Although the morning looked promising as we headed out to fish, the sky quickly turned dark, wind picked up and the seas too rough to fish.
The seas looked like a typhoon hitting it!
We return to the Sea Urchin early to take shelter. The great thing about having a mother boat is you just have a short run to comfort and right back to the action when conditions improve.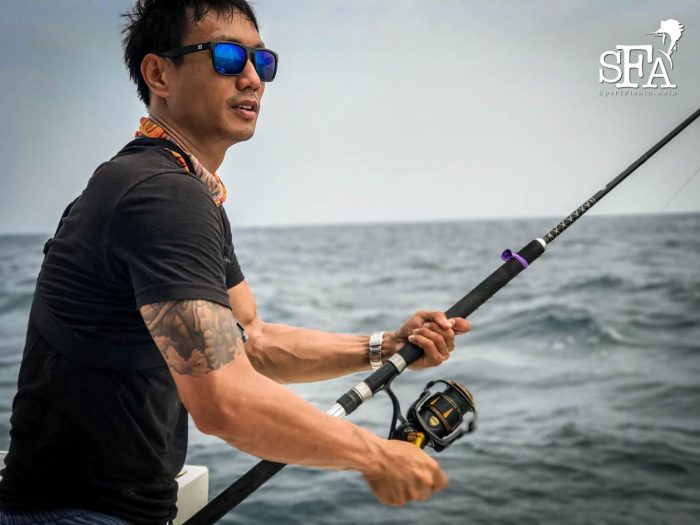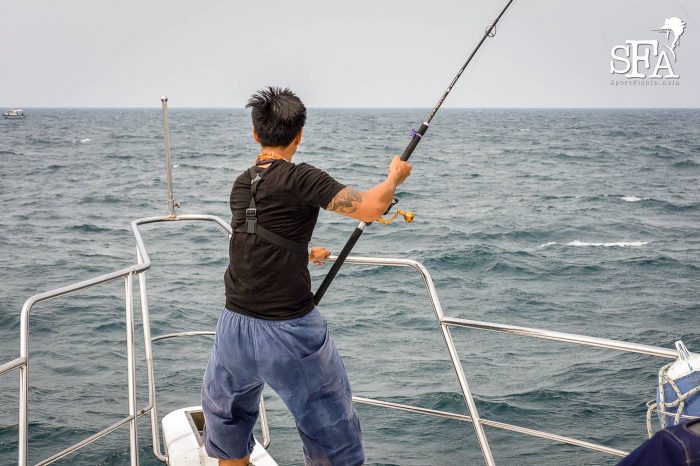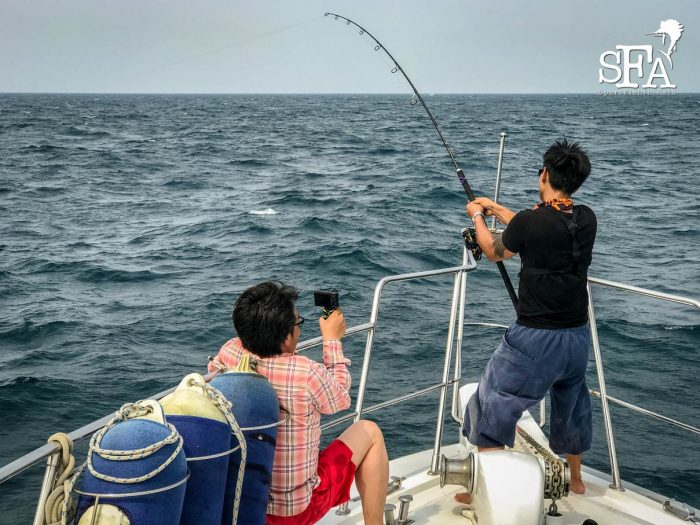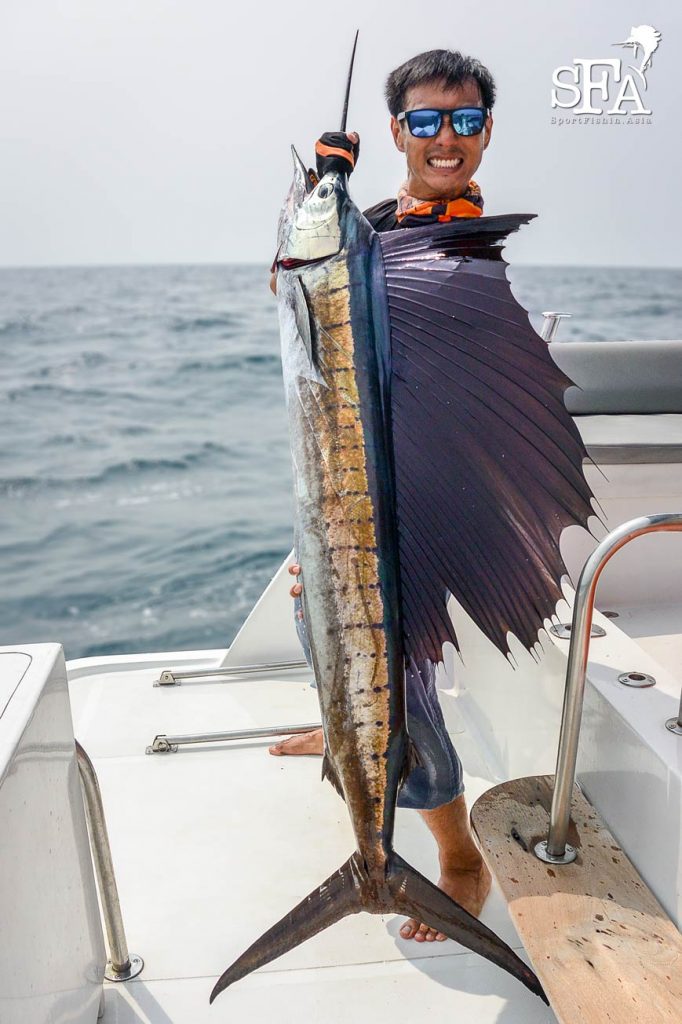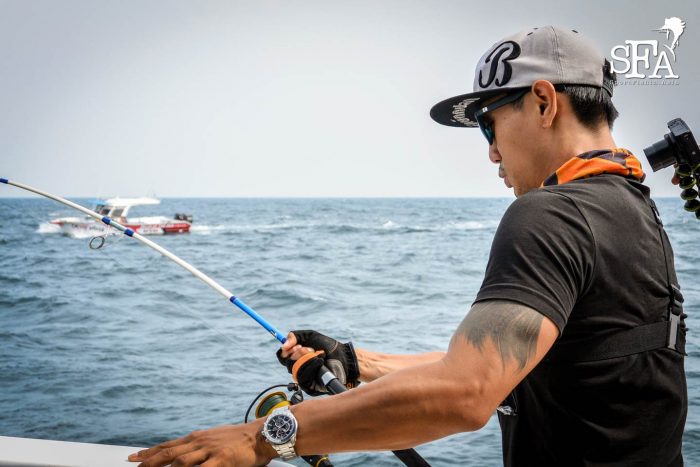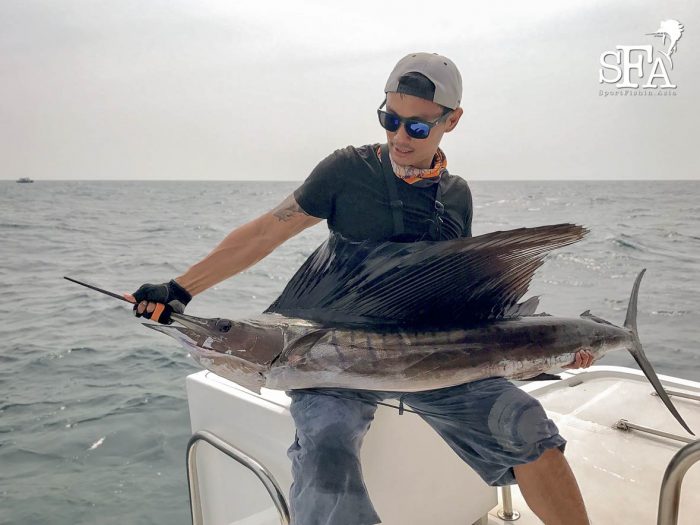 IF AT FIRST YOU DO NOT SUCCEED
Conditions was still rough the next day so we had to wait it out and hope the conditions improve.
While we wait onboard the Sea Urchin, we whipped the spinning and conventional tackle out and Oz was able to land a couple of nice sailfish on them. No time wasted!
When conditions got a little better in the afternoon, we decided to jump into the tender and try to get some fish if we can.
We were right and in the short window that we had, everyone had chances on sailfish today.
Bill had a sailfish on that took off so fast into the horizon it literally spooled him, but jumped off when only his knot was holding onto the arbor! Lucky having saved the gear, or unlucky to loose the fish?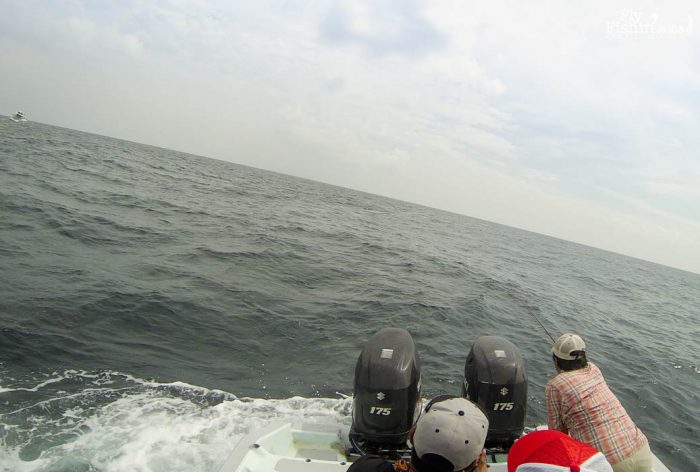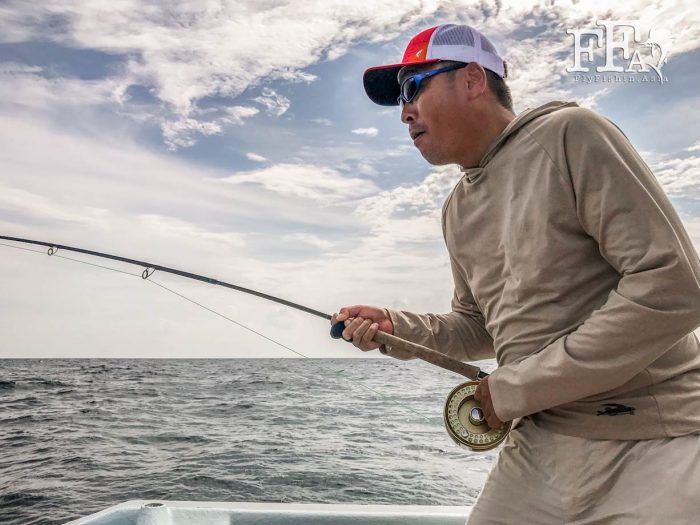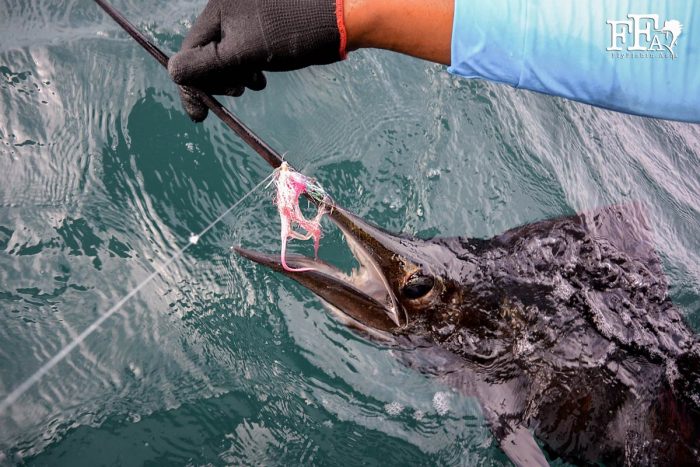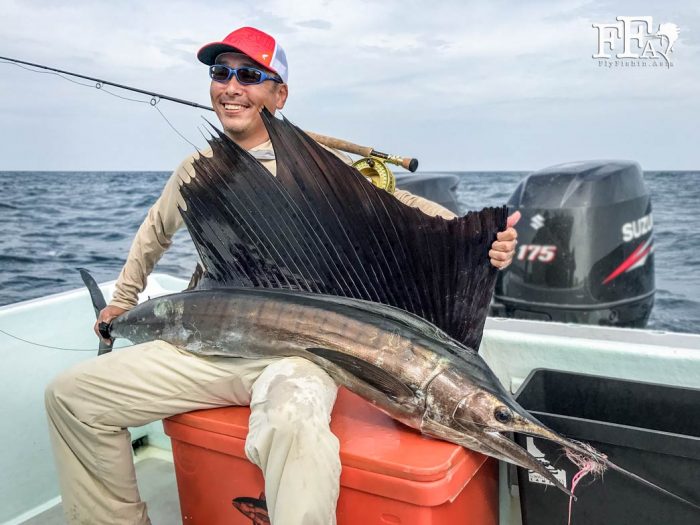 Yusaku San however, manages to bring a sailfish in very quickly to everyone's joy. Watching back the video it took him exactly 5 minutes from hook-up to landing the fish, amazing!
In the evening it was squid fishing time, or egging and fresh squid sashimi onboard. The action never stops!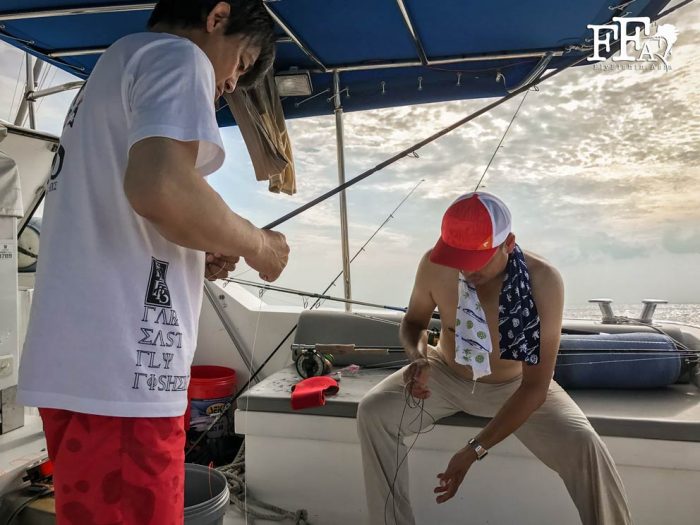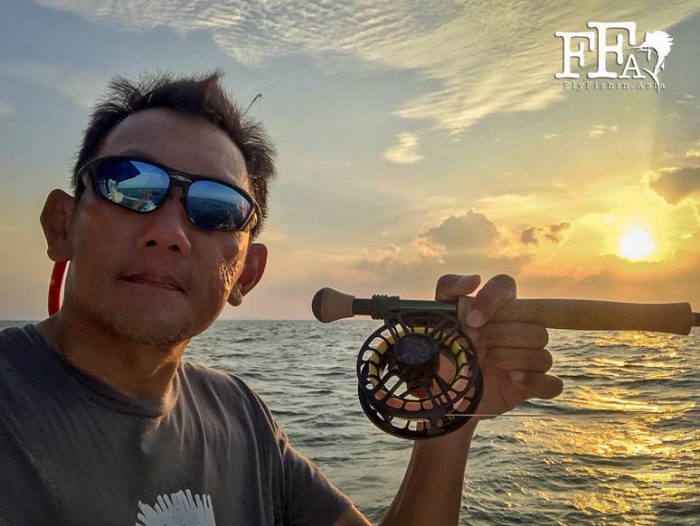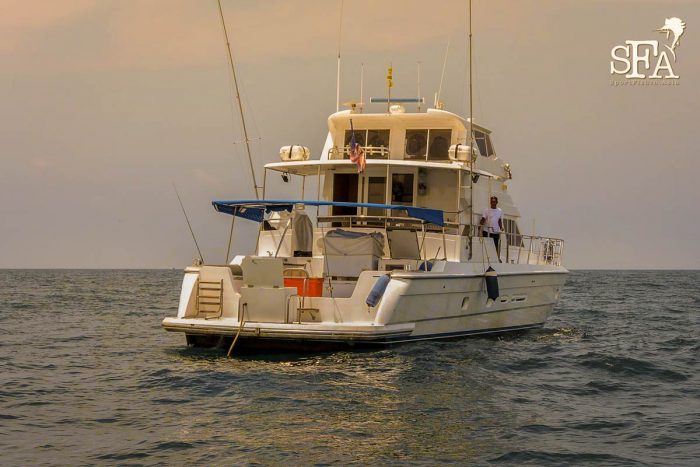 ONE MORE ATTEMPT
The final day is all about fly fishing again. At around noon, we have a solid hookup on Bill's fly.
This fish put up a crazy fight and it was all mayhem onboard.
With the sailfish playing ball and seeing all the excitements, Oz BangkokHooker gave it a go on the fly, too. And he had his chances especially when in one instance two very aggressive fish that took turns hitting Oz's fly. One eventually ate it and took off! The hook-set however, did not stick and it came off. Oooh… how nice that would have been if Oz lands that fish.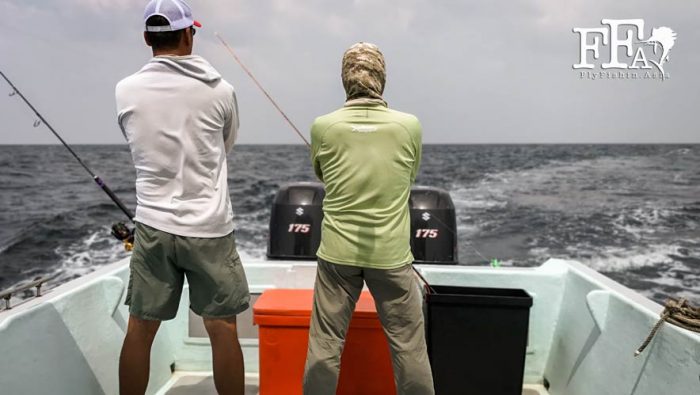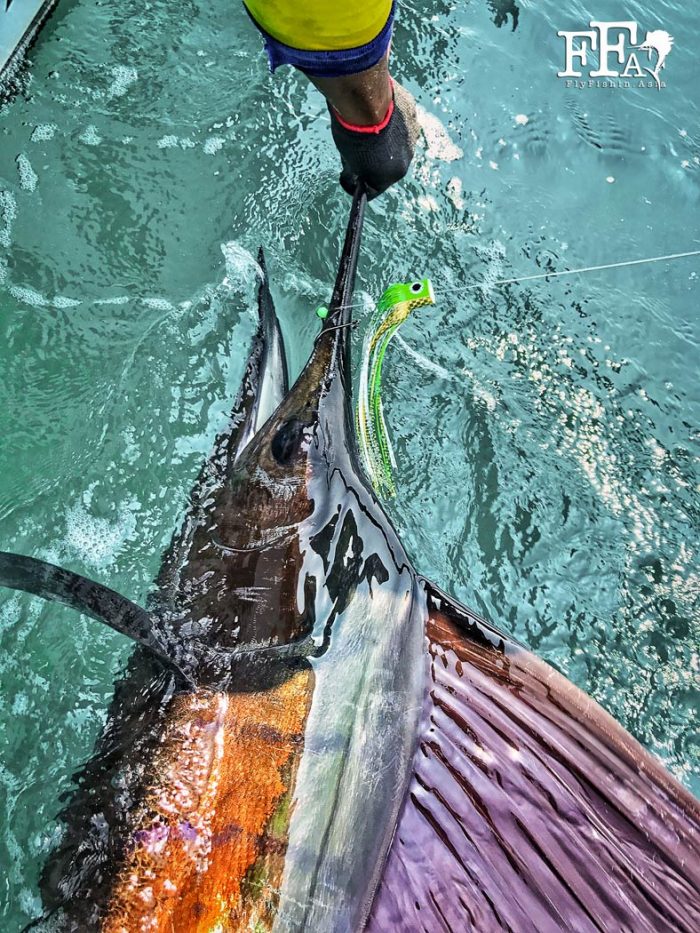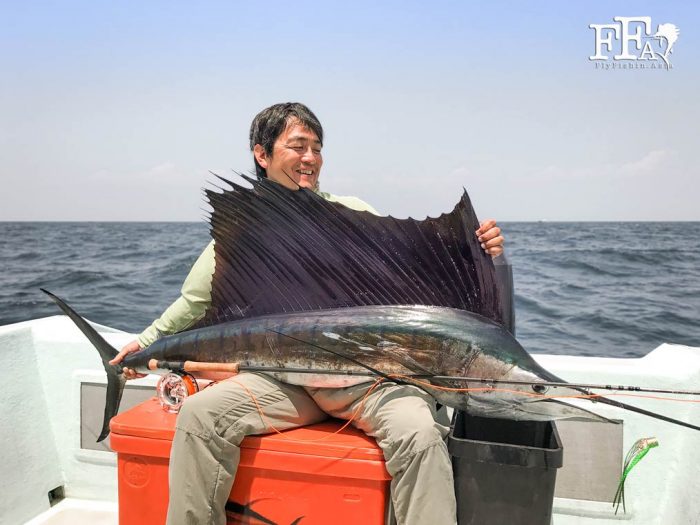 10 minutes later our first mate grabbed the bill of the sailfish and it was celebration time for all!
Yusaku San had another eat later that afternoon but it came off.
Couldn't ask for a better final day to wrap up this trip with two Japanese fly fishing sensei and a…errr, the BangkokHooker.
Catching a billfish on fly is one of the ultimate for many fly fishers. Not easy, but when it all comes together…it is indescribable.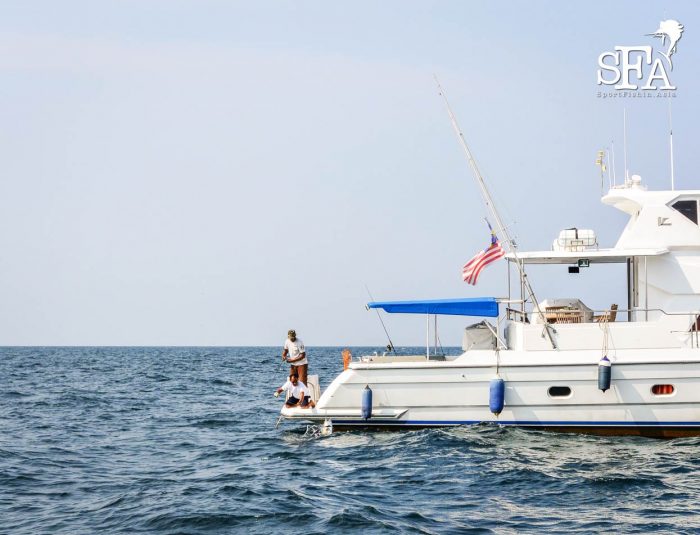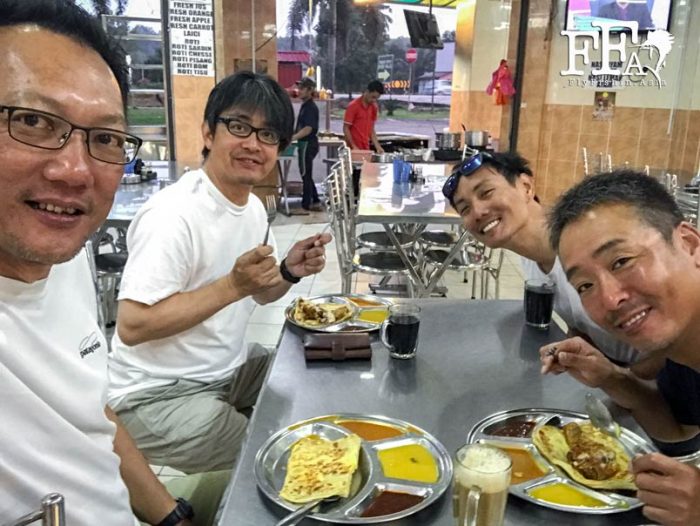 FIND OUT MORE ABOUT
Watch trip video, "The Perfect Storm".