Some of our Japanese clients whom some are now good friends are back in Rompin to fly fish for sailfish. This group comprised of Tsutsui San, Higashi San, Kita San, Konishi San, Sonora San and also, Lee from South Korea.
The keen fly fishers will be divided into two groups fishing in two boats, a challenge of sorts!
See previous Rompin fly fishing trip with Tsutsui San, Higashi San and Bangkokhooker aboard the Sea Urchin yacht
Part 1 – Arrival and Foodie Paradise
Malaysia is known by those whose been here to be a true food paradise due to its diverse mix of culture.
You will not just find variety here, you will find really delicious variations! And if you enjoy food, you're in for a treat!
Roti Canai Breakfast in a Mamak Restaurant
After picking our Japanese friends from the airport, first stop was in a mamak restaurant in the suburbs of KL for breakfast.
Some of our friends just love the roti canai served and this is certainly in the list of 'things-to-do'!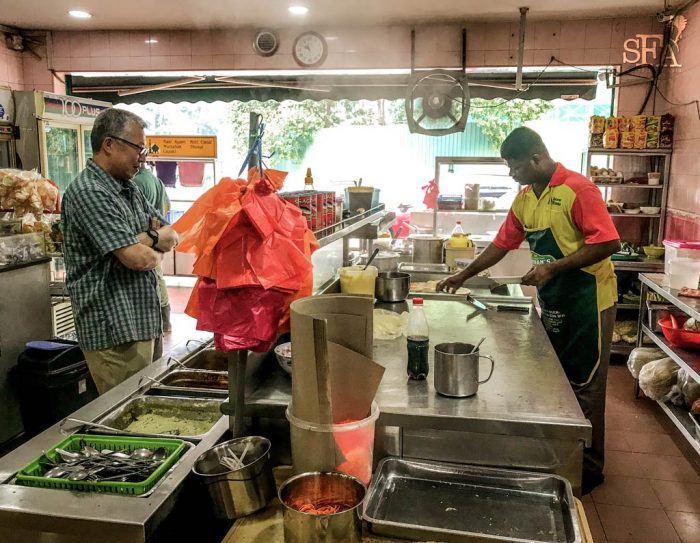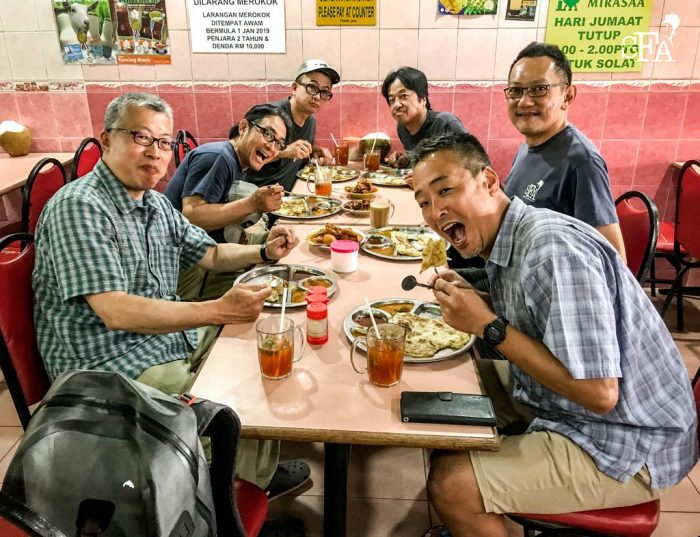 Hot Chinese Food Dinner
After sending them to their accommodation in the heart of KL city, we later met up again with some old friends for a fantastic dinner.
Some of the local friends present was Dr Ling, Nick Ooi, Sek, and Tony Wee. All local fellow fly fishos.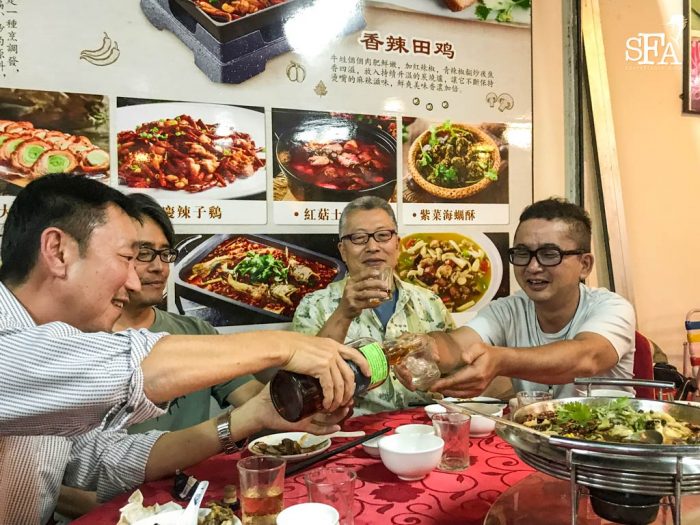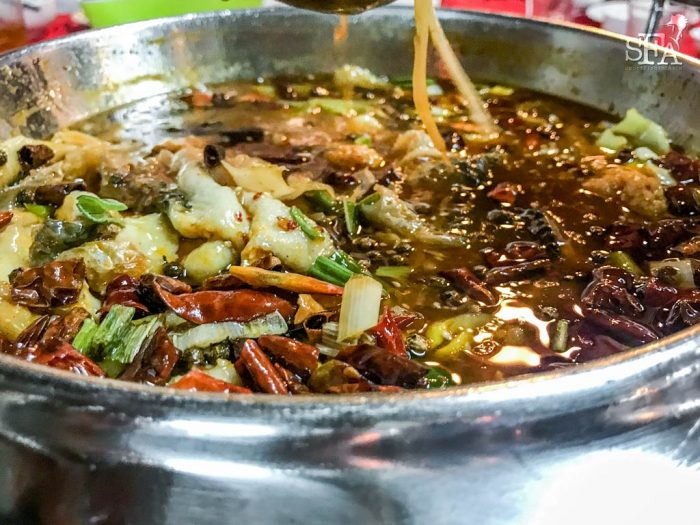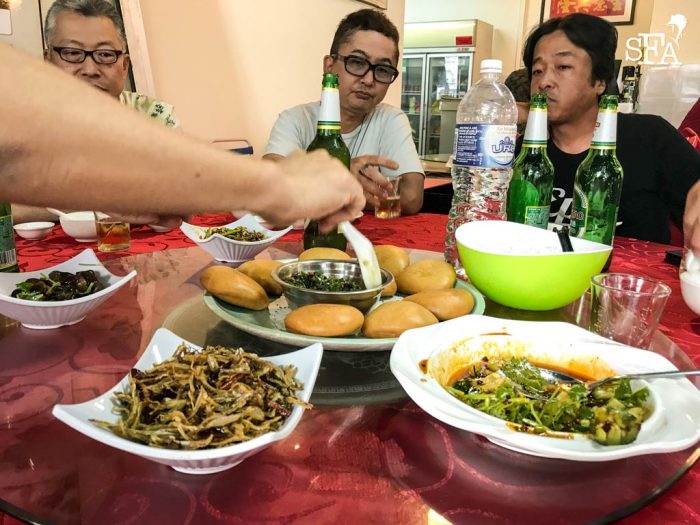 BUMPY SEAS (DAY 1)
Very choppy conditions throughout most of the first day of fishing.
Here are the summary for day 1. However, this summary is just from one boat.
At 10:50am Shono San had one eat and broke off. And at about 2pm Shono San had another hookup but the fly came off.
A hot period was a 15 minutes window beginning at 2:45pm till 3pm where we raised 5 fish, made 3 casts out of which we had 2 eats and 1 hookup but it broke off.
DAY 1 (one boat of two): 28 fish raised, made 9 casts, had 7 eats, 1 broke off and 1 dropped. No fish landed.
SMOOTHER (DAY 2)
The seas condition was still choppy but better than day 1.
All 3 anglers had some opportunities today.
Shono San had the most shots and had 3 eats.
We had another 15-minute "HOT" window at 10AM when 6 sailfish was raised, 4 casts made with 2 eats. No proper hookups.
11:30AM 3 sailfish was raised and Shono San successfully landed his first sailfish.
RESULT FOR DAY 2 (ONE BOAT ONLY)
22 raised – 10 casts – 4 eats – 1 landed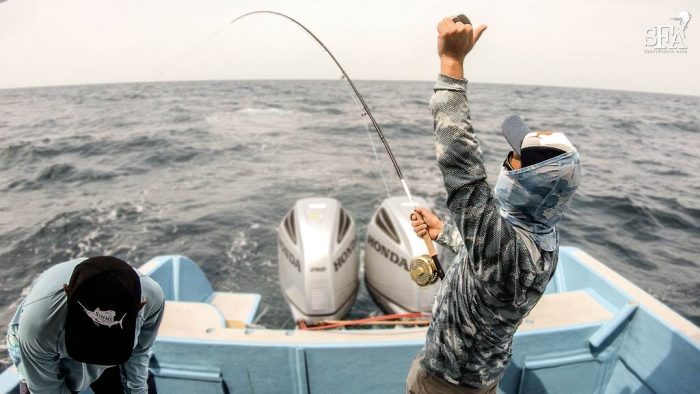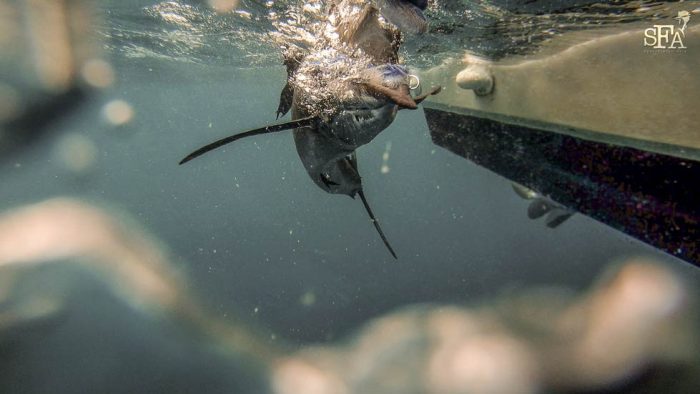 SUPER SAILFISH (DAY 3)
Some of the anglers switched boats today to mix things up a bit.
Much quieter day today compared to yesterday in terms of fish raised although the seas was looking better.
Best opportunity went to Lee who had a sailfish eat his fly but did not translate to a hookup.
Lots of fish around late afternoon but not biting.
RESULT FOR DAY 3 (ONE BOAT)
10 raised – 4 casts – 1 eat – no hookups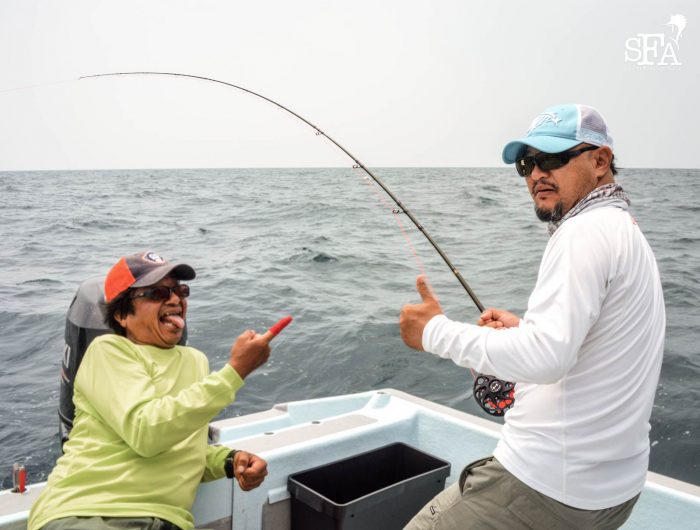 Things were better in the other boat, Konishi San successfully landed a sailfish, his first.
Unfinished Business
Konishi San finally land his first sailfish on the fly. This fish is special because it's caught with the fly tied and given to him by the late Mukaida San whom he came to Rompin with 5 years ago in 2014.
Both he and Mukaida San failed to land any sailfish then. They planned to return 2 years later in 2016 even when Mukaida San was living his final days. Mukaida San lived his fishing life to the fullest and he so wanted to come back to catch his sailfish. Sadly, he passed away days before the trip. Those who knows Mukaida San and have fished with him will always remember him as a nice cheerful fly fisherman.
To be continued…