Main photo: Pete and Greg having a taste of local breakfast.
There are seasoned fishermen and then there are hardcore seasoned fishermen like Greg and Pete, both from Australia. The two of them literally flew in, caught fish and flew out. No in-between activity nonsense!
So I went to the Kuala Lumpur International Airport to pick-up Greg and Pete who flew in from Bali where they are celebrating a loved one's birthday. We drove straight to Kuala Rompin from there, slept for a couple of hours and went out fishing straight after breakfast. Early the next morning we were off to the airport for their flight back.
I was a little nervous about this quickie session. Not so much if we will catch fish but more concerned about the weather since we will only have one day and no contingency. As it turned out the fishing god was smiling upon us and the weather kind to us.
Greg and Pete are seasoned anglers who fish regularly on their own boats back home and this is their first time in Malaysia. It is straight down to the business of catching fish for these two with the only sight-seeing and tour will be coming from me while we traverse between aircraft-boat-aircraft!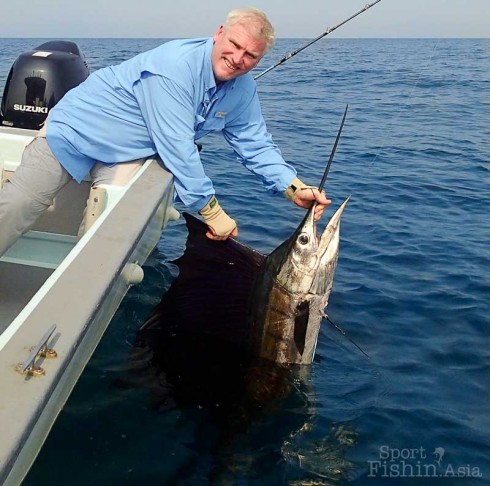 Pete with a nice sailfish!
First order of the day is catching bait and we had a blast doing that, too. This time, we also caught quite a few olive razorfish at one of the spots. This nasty wrasse is able to turn their head around to bite you when you handle them. Not a common thing to be catching so many of them. We quickly moved on to a different spot to avoid these little guys with sharp teeth.
It did not take long for the sailfish bites to come. Pete fished and landed the first sailfish of the day before 10AM. At the end of the day around a dozen sailfish were caught and release between the two anglers – not counting the many misses.
The sea was alive with action that day with many sailfish around and under the boat. Boiling bait balls was also encountered with one coming right up to the boat. Catch the action of that boiling bait ball in this video. Watch out for the sailfish around it and our brief attempt at casting plugs and poppers at them. We did not go for other species but a couple of smallish spanish mackerels was brought in with jigs by the crew.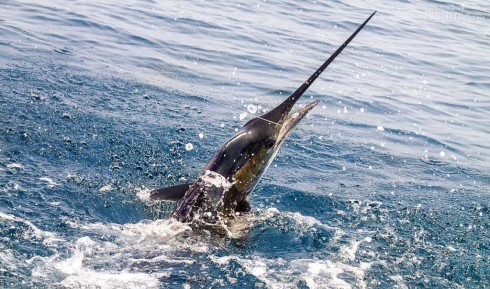 Sailfish is a spectacular sport fish to catch.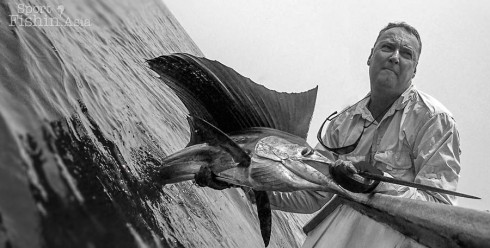 Greg with a beautiful sailfish.
Being seasoned anglers, Greg and Pete is ever sporting to lend their cooperation by not wanting to bring a single fish completely out of the water and into the boat for photos.
By doing this, the fish is release as quickly as can be and in the best condition possible. There will also be less risk of removing the protective slime on the body of the fish that protects them from diseases. (Editor's note: I'm trying to get hold of a release ruler that will enable measurement of fish length and estimation of weight while having the fish in the water – JW).
This is one of the continued effort by us to promote sustainable and responsible sport fishing among anglers. We may as well be the first charter to promote this here and hope to set a good example to all the other boats in general and anglers in particular.
This trip also saw some bigger than average sailfish. We estimate some fish in the 40kg-50kg (90 to 110 pounds) category. Pete experienced the power of one hooked sailfish that just refused to stop stripping line. Tightening the drag further proved futile as the mainline eventually snapped. Who knows how big that fish could have been?
Enjoy the rest of the day through the photos below. Click to enlarge them.
If you like to find out more about sailfish fishing at Rompin, you can get in touch by using this contact form.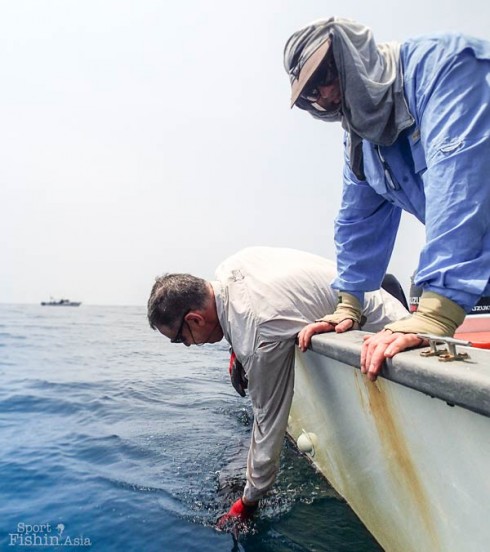 Greg revives the sailfish for release as Pete looks on.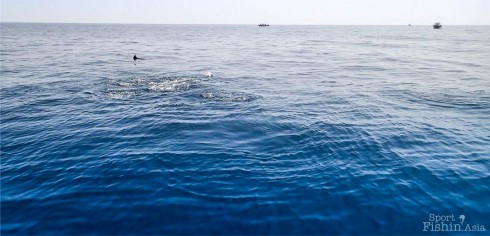 Pelagic and predators pounding a baitball close to the boat.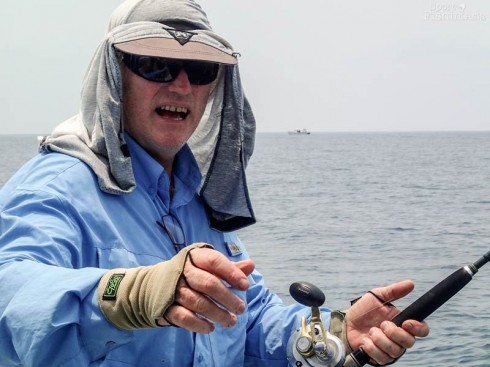 Frenzy action!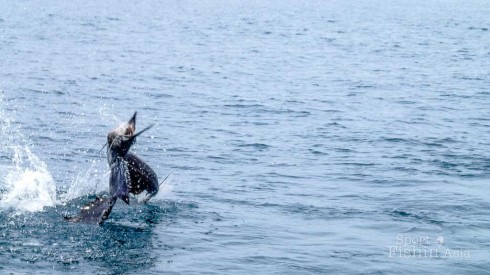 Somersault. The sizzling run, screaming drag and aerial display of a hooked sailfish is best experienced to be appreciated.
Fish-on!!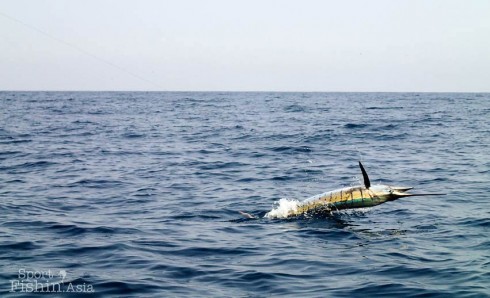 Solid fish.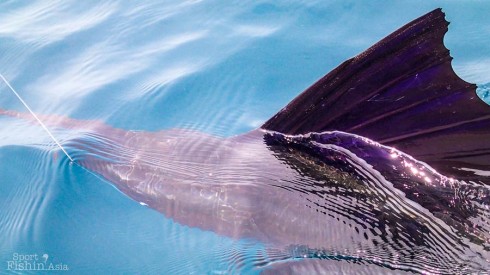 Electrifying!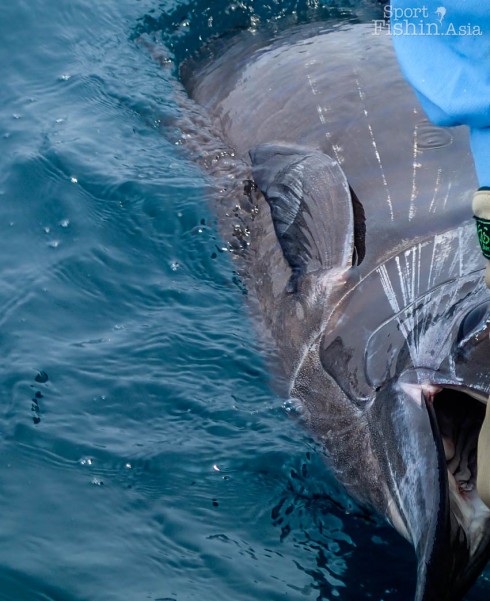 Up-close with the fastest fish in the ocean.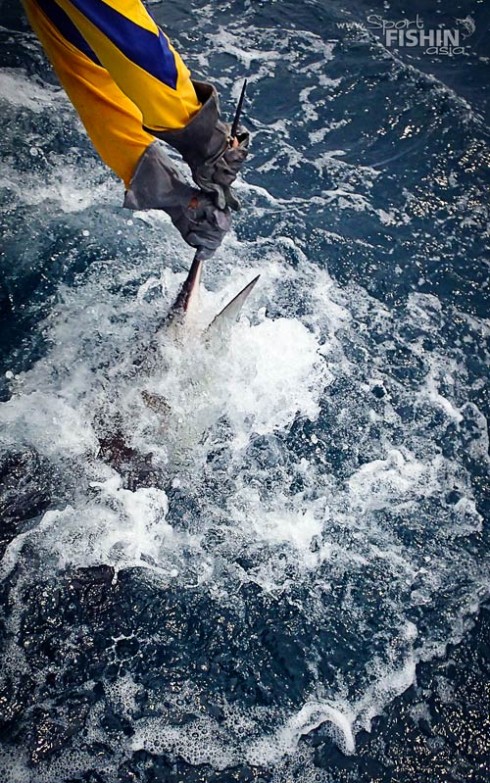 Handling a angry sailfish.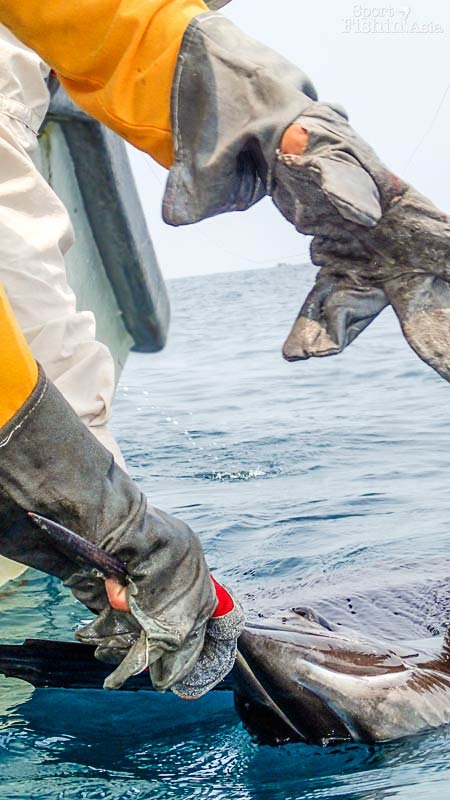 I've got you.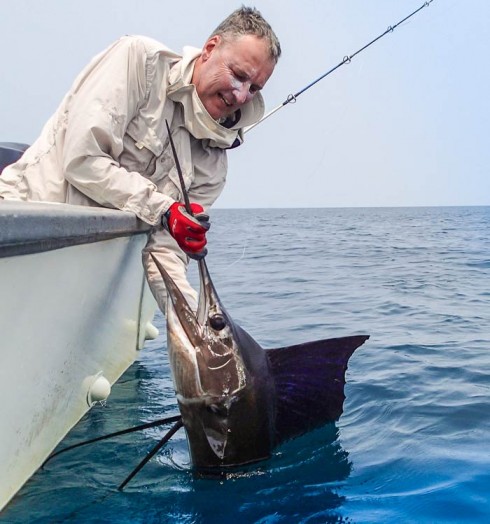 Greg brings in a handsome sailfish.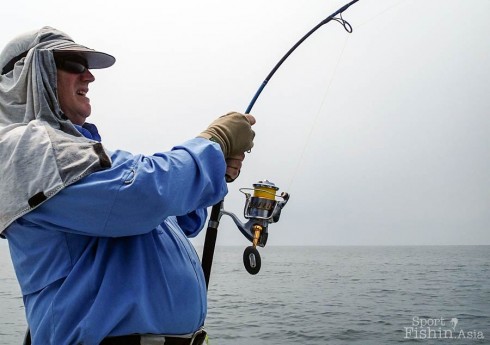 Pete and sailfish making the rod work hard.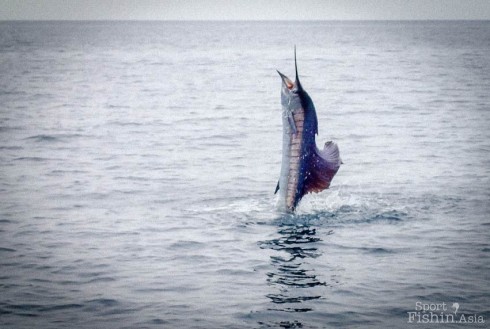 Dancing on the water.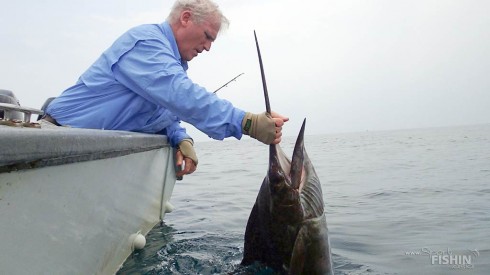 Pete with a big sailfish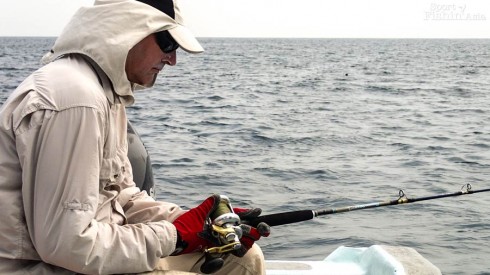 Serious angler. Greg waits patiently for the moment to lock the drag and let the circle hook do its work as line peels out slowly from the Daiwa Saltist reel.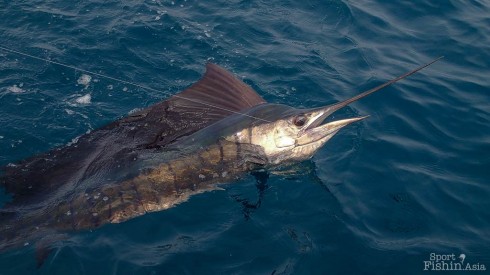 A Rompin sailfish comes in for release.
Haha, I love this shot. The light is definitely shining down on someone that day!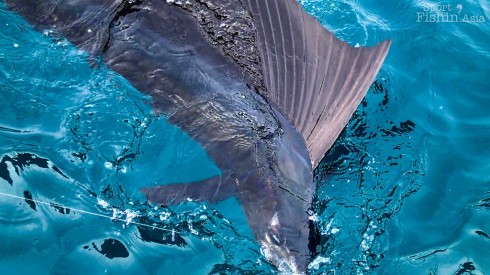 Like an alien.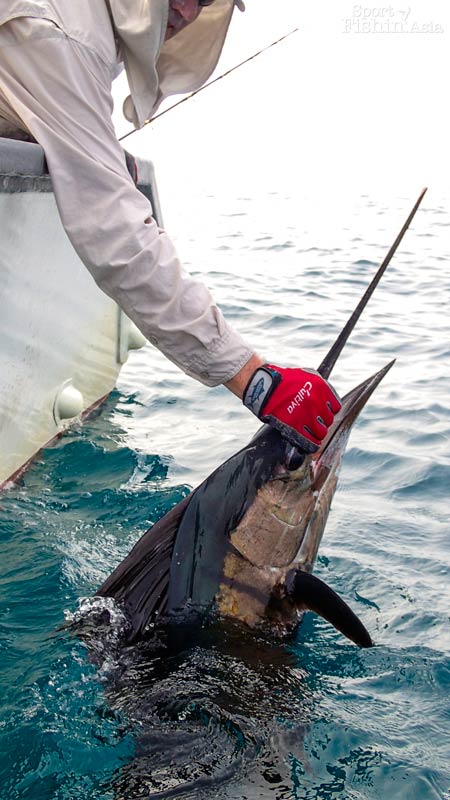 Greg handles and releases another good sailfish.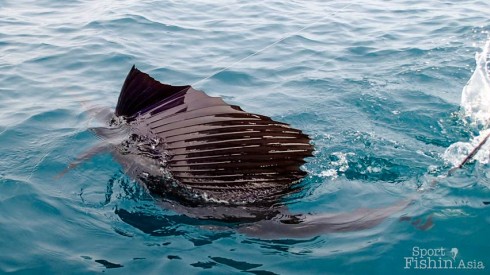 A sailfish shows off its full sail.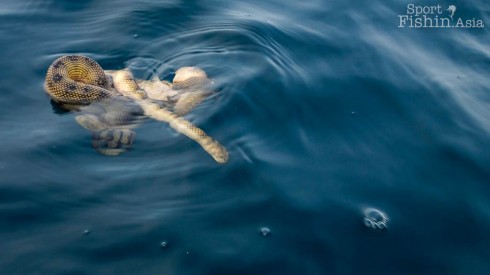 A messy tangle of at least two sea snakes caught in an embrace.
A real breeze. Pete from Brisbane enjoying the ride back and a little sunshine after a good day out fishing.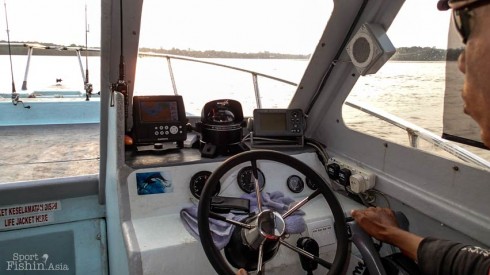 Heading home.
A group shot of us in support of the Save Our Sailfish campaign initiated by SFA! It has been adopted by the Kuala Rompin Fishing Association and charter operators to promote this same cause.
The S.O.S. campaign is to urge the authorities, in particular the Jabatan Perikanan Malaysia (Department of Fisheries), Tourism Ministry of Malaysia and the State Government to recognise the need to keep commercial trawlers away from the sailfish zone and enforce protection for the sailfish.