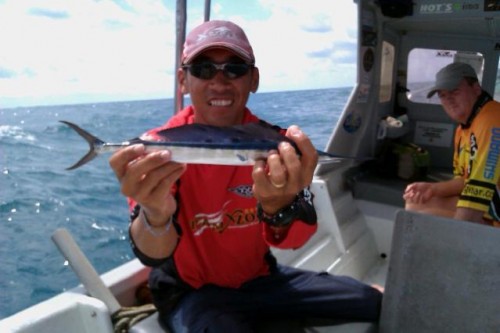 A beaming Sky with the baby Sailfish
Unfortunately, no scientific study has ever been carried out to find out the reason for the congregation of Sailfish off Kuala Rompin, which is located on the east coast of Peninsular Malaysia.
It has always been a debate if the billfish concentration, particularly in huge numbers from August to November annually could be due to the arrival of bait fish, anchovies especially. Thus bringing along with them huge numbers of frigate birds, yellow tail scads and hordes of other predators including the army of sport fishers (so too the commercial trawlers).
The bait fish arrival must be a big factor but many have also wondered if the Sailfish are here to spawn. Not until a month ago and many thanks to Thomas Lee of JD Artac for sharing this exciting news, was there solid evidence that the waters off Kuala Rompin is also a spawning ground and nursery for this gracefully powerful billfish.
A juvenile sailfish of about 8 inches in length and weighing 200 gm was hooked on a jig by skipper Sky Chong, while out with some customers. The little Sailfish was released in good condition after the photograph was taken.
The sport fishing fanatic in me is incredibly excited by this piece of news and discovery. It is with great hope that perhaps the local state authorities, Fisheries Department or Jabatan Perikanan, will finally get off their bottom and do something to preserve and protect the surrounding waters. It must be made known that it is not just the Sailfish that needs to be protected but just as important the bait fish and ecology that holds all together in balance.
Research must be carried out and closed season too if necessary. Fortunately, the north-east monsoon between November to February does a decent job of that. Perhaps what will be good is a gazetted No Netting Zone. But in Malaysia one of the biggest challenge is the enforcement of law or rather the lack of it, even after procedures have been implemented.
What do you think needs to be done? Please share your suggestion as any support is much needed.