It used to be that anglers would meet one another at fishing spots, either lakes, rivers or on boats. We'd get introduced to one another by our fishing buddies. Some also get acquainted at fishing events or club get together. But anglers can be a quirky bunch of people. Some are loners preferring to indulge in the peace and quiet aspect of the sport. Others look for those they can 'click' with as fishing can be such a teamwork at most times. Whatever floats your boat I say.
Times have changed. Before we even fish together, we get to cast our nets wide and far in the world wide web. We get to share our exploits and make new friends in fishing forums, blogs and websites that litter the cyberspace. This to me is a fantastic thing. Expanding our knowledge has become so easy. We get to learn new tricks to catch more fish, find out about new fishing tackle and what our friends from around the world is catching. Sort of like seeing what's in the next pond without even casting our line into it. Great stuff.
Sawadee Krup
I recently had the opportunity to get acquainted to Oz aka Bangkok Hooker through our fishing sites. As the catchy name of his fishing blog suggests, he's from neighbouring Thailand. We took the chance to catch-up when he came to visit some of his family members in KL.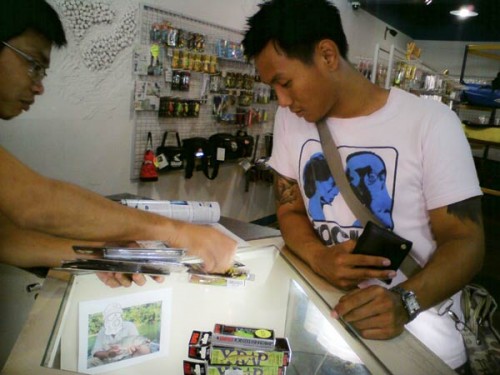 While swapping fishing stories was a natural thing to do when two fellow anglers meet, the initial thing that surprised me was Oz's craving for KL's Kentucky Fried Chicken (There I was thinking what delicious local delicacy he'd be wanting to try out)! So I took him to the KFC in The Atria which has been round for ages.
Not having enough time to plan a proper fishing trip this time around we nonetheless did a few hours of Stripped Snakehead fishing not too far from the city. Read about that in another post. After an exchange of some fishy tales and downing a few fried chickens we did the next best thing to fishing, going to the local tackle shop!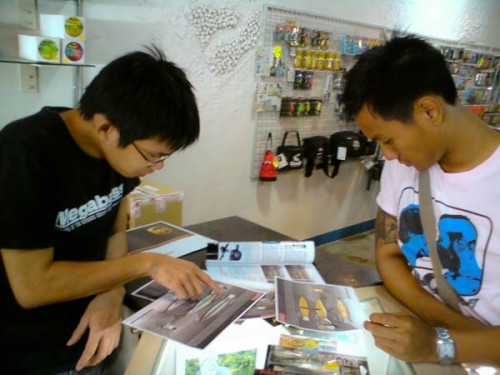 Checking out the Malaysian inspired Rapala X-Raps designed by Ming
Though there are a few tackle shops within the radius of a few kilometres from where we were, I thought Red Hot Angler would be a suitable first-Malaysian-tackle-shop experience for Oz. I have to admit I was thinking at the back of my mind if the shop will be open. Those who are regulars to RHA will understand my concern.
Getting there after a short drive what do we find stuck onto the door of the store? A piece of note with this scribbles onto it "Out for lunch. Back at 4pm". Lunch? 4pm? I know.. Good thing though it was already past 3 and Oz did not mind waiting. It's also good that RHA has a small cafe-like sitting area at the front of the store plus Sam, the owner, has left a bass fishing video playing on the video-screen.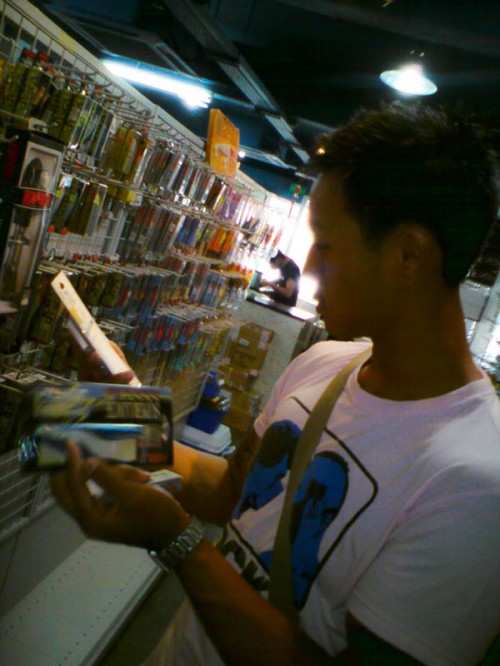 Once the wallet is out, you are well and truly hooked
In its heydays, Red Hot Angler is the go-to place for lure fishos. Owner Suzuki san was a popular guy among lurers who patronise his then well-stocked store. With a reputation as a very humble, extremely friendly and generous angler, he has earned admiration from many customers. Many probably misses his presence since his departure back to the the land of the rising sun.
Red Hot Angler is located at: 16,Jalan SS26/4, Taman Mayang Jaya, 47400 Petaling Jaya, Selangor, Malaysia. TEL: +603-7803-0724