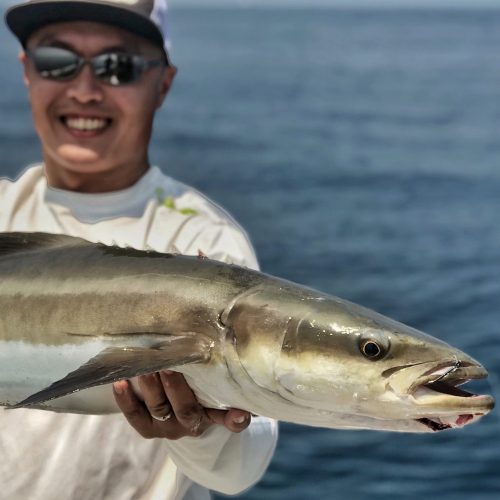 Good memory in Kuala Rompin for fly fishing Sailfish, two days trip is too short, although we can not made our sailfish on fly dreams come true, but we learn so much during the trip, thank you Juan Wei, you and your teams are the best fly fishing sailfish guide in Rompin ~!!! we will come back soon !!!!!!!!!! Thank you again ^^
Marco Teng, Macau
Sept 2018
---
Thanks for having us. Really enjoyed our trip and were very happy with the way we were looked after. We are currently planning for a return trip so will be in contact soon to try and book a time…
David McCallum
Australia
August 2018
---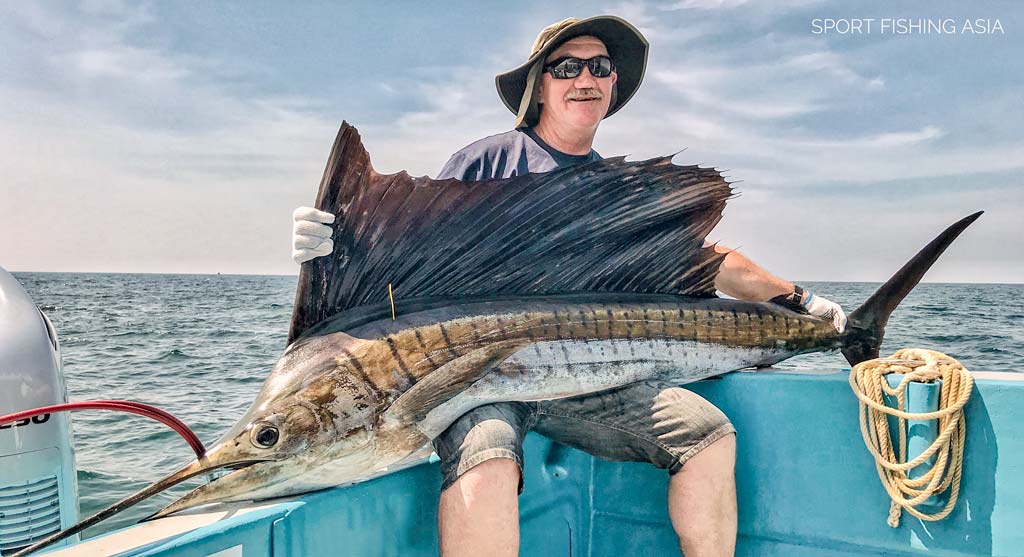 Hi Juan,
We are safely bank in New Zealand now. Just a quick note to say many thanks for the trip it was a great experience and we enjoyed seeing the local area , tasting the food and fishing trip was fantastic. You guys did really well for us considering the slow fishing and conditions. Will be in touch sometime as I would like to do another trip.
Regards
John, Kay and Gary
New Zealand
July 2018
---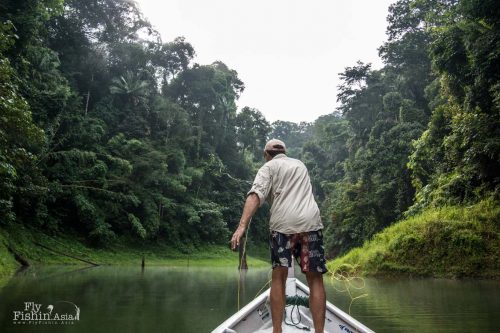 Royal Belum
Remote, potentially once in a life time type fishing experiences require careful and thorough planning. If you are not from the area you really must engage a competent operator. I engaged Sport Fishing Asia off the back of a recommendation from a trusted fly fishing friend. Mine was a solo trip so I received a personalised service which I'd rate as one of the better experiences in this industry. I'd have no problem recommending Sport Fishing Asia.
The fact that your fishing experience is taking place in a genuine Malaysian jungle wilderness with over 100 million years of history only adds to a relaxing and interesting all round experience.
Cheers
JB
Australia
June 2018
Click to read Jason's complete review of his trip.
---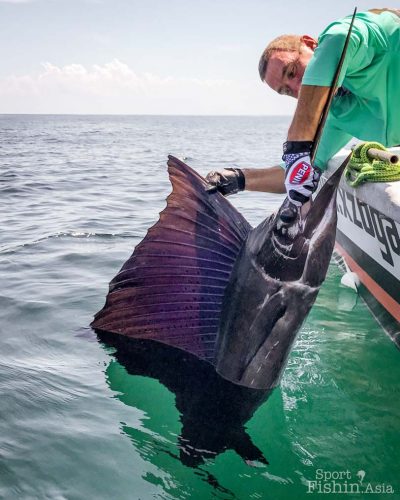 Hi Juan,
On behalf of Howie and myself we would like to say a big thank you for the fantastic time we both had , not only fishing but the life experience of spending time in Beautiful Malaysia.
We topped off our fishing in Thailand with some great sport, with Howie taking his first, Second and third Arapaima as well as an assortment of other species and then just to give the arms a real test we spent a day targeting Chao Phraya catfish, taking several each with a couple  getting close to the 100lb mark.
We both had a wonderful time both fishing and enjoying the warmth of both Malaysia and Thailand.
I think I was just starting to get over the rush of seeing those Sailfish jump but after watching the video my pulse is again racing, maybe we will get to enjoy it again but if not it will always be firmly locked into both our brains and now with the excellent video to help remind us.
Thanks to both yourself for going the extra mile and to your crew as well.
Sincerely
Trevor
Nova Scotia
Canada
Hi Juan,
Just had a look at the pics and videos from our trip. They look great! Thanks for that and a great time in Malaysia, like to do it again
Howard
Nova Scotia
Canada
26 November 2017
Click for pictures and video of Trevor's trip
---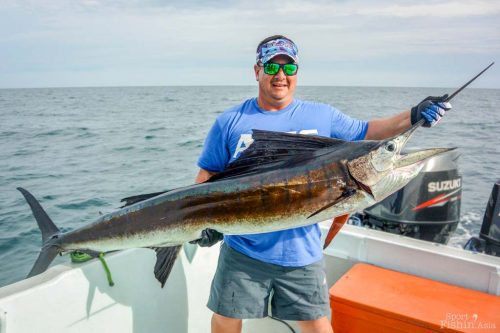 Hi Juan,
Hope you weren't too buggered after your long drive back yesterday to Rompin!
We all want to thank you very much for what we all regarded as one of the best if not the best fishing trip we have all been on. We were just amazed at the fishery and the hospitality offered by all the people involved in our trip. I will be organising another trip next year for sure!! I will also give thought to a trip with you to Mongolia next June / July and come back to you with my plans.
Once again Juan many thanks to you and your team for the trip it was greatly appreciated and well received.
Kind Regards,
Gary Hatton
Auckland Marine Center, New Zealand
October 2017
---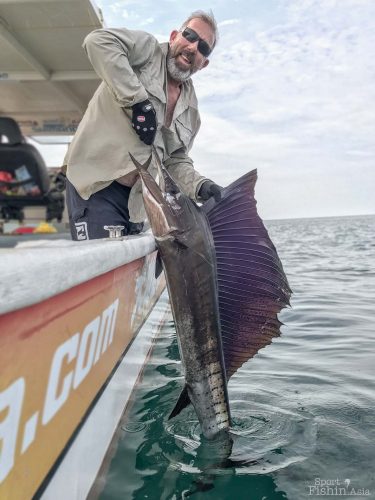 Hello Juan,
October 2017
I can't thank you enough for the most amazing day out fishing for sailfish.  You are a man at the top of his profession and it was a pleasure to have fished with you. This was my first time fishing for sailfish and it definitely won't be my last. I was thrilled to have caught so many fish and I enjoyed the whole experience ,catching the bait fish, seeing the sailfish free jumping around us and packs of sailfish feeding on bait.
The boat was perfect for the waters offshore Kuala Rompin, your skipper was first class and the preparation of the boat, fishing gear and attention to detail was excellent. Oh did I mention that the food on the boat was awesome!!
The Home Stay accommodation is basic but fit for purpose and the video and photos that you provided me were a complete surprise and you have given me some great treasured memories of my first Sailfish.
You have a first class fishing charter operation and I would recommend it to anyone wanting the experience of a lifetime.
I will see you again in 2018.
Gary
Mandurah
West, Australia
Pictures and catch report of Gary's trip
---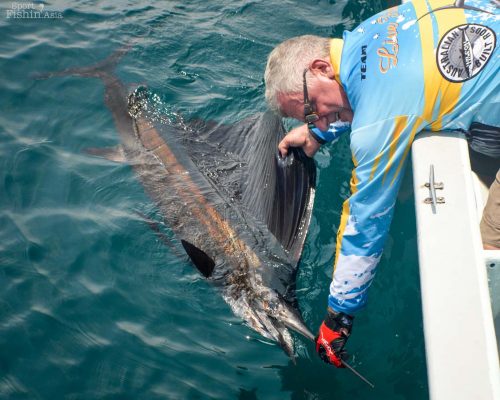 Hi Juan, Chris, Richard and myself would like to thank you for a great trip in October, special thanks to Denis and Steve their knowledge and effort of chasing sails from Rompin was excellent and they were fun to fish with, the house was great and the local food was most enjoyable and we will definitely be back for another trip when possible.
Anthony Berrill
Darwin, NT Australia
28 November 2017
Click here to see post of Anthony's trip
---
Dear Juan,
I can't thank you enough for the outstanding fishing experience Pete and Brodie had.
They have literally not stopped talking about the trip since arriving home.
They said it wasn't just the fishing that was amazing, it was the whole package, and I believe the food was the best they have ever had. (I am so jealous).
From airport pick up to drop off, they said you and Denis went above and beyond to make their trip the ultimate adventure.
They have already Spoken of returning next year. I believe a 10/10 experience was mentioned more than once.
So from the bottom of my heart, I want to thank you, Denis and your team.
Kind regards
Mel Quaas
Newcastle, Australia
Sept 2017
---
Hi Juan
Just a quick email to thank you very much for the wonderful time in Rompin. The Fishing was great, the food was great, and the company was great.
We are looking forward to the Maldives trip.
Cheers
Steve Lee
New Zealand
October 2017
---
Hey Juan
Please pass on my thanks to Denis,Steven and "Black Magic" for all their help.
Weather, fishing, food and accomodation suited what we were after and we are already
talking about a return trip next year.
I don't think there's much you need to change with regards to business over there.
It's an affordable trip for us which makes it a realistic chance of happening and not just a dream destination once you win lotto!
I will recommend you guys and hope to return with my sons and a few other friends.
Cheers
Paul E.
Darwin, NT Australia
August 2017
---
Juan,
We thank you and Denis for a fantastic time. Your choice of boat, skipper and deckie could not have been any better.
I hope they had as good and funny time as we did. Each of us very much enjoyed our time and the arrangements were impeccable.
All of us commented on the quality of the food everywhere Denis took us to eat.
Denis and the boys were professional, friendly and inclusive. They were always ready to help and advise when needed or asked (We are still laughing at some of the very funny things that happened).
We had nothing to complain about in anyway, but as a very small suggestion: the bedding and pillows in the homestay could have been a bit softer. That is not a complaint but a suggestion for us soft Aussies. The homestay was basic, clean and more than expected.
We have already discussed coming back next year with timings around late August early September (avoiding the full moon). I think you could pencil us in for the 5 days 3rd Sept to the 8th Sept 2018 and we can make the formal arrangements when things settle for you after the peak period.
Regards and thanks again.
Dave Williams, Darren and Ken.
Melbourne Australia
August 2017
---
What can I say! What an unbelievable fishing experience! Travelled to Singapore and met our guide Denis who drove our 3 man crew to Rompin. What followed was five days of fishing that we'll never forget.
Multiple hookups and sails caught on live bait, stick baits and poppers. Denis' advice in assisting our crew with popping and stick bait techniques was greatly appreciated and enhanced our ability to maximise our hookup and catch rate.
Already looking forward to our trip next year with this highly professional operation.
Thanks again to both Denis and Juan Wei for ensuring that our trip was a memorable one.
Highly recommended!
Darren
Melbourne, Vic. Australia
August 2017
---
Thanks Juan, luckily we had a very good day today as all of us could catch a sailfish. Guest house was kept clean and comfortable, and most importantly Denis and captain took very good care of us.
So it made us have a perfect weekend holiday. Thanks so much for your hospitality.
Hope to visit you again in the near future and definitely I will recommend you guys to my friends!
Hajime Machimura
Japan
July 2017
---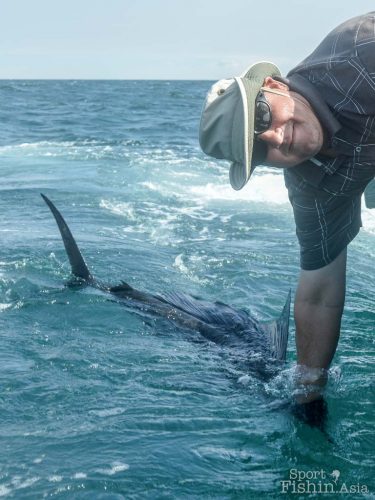 Second trip for Mark Banns with us in as many months, here's what he has to say…
Hello Juan
Wow is all I can say. Another outstanding time and the fish cooperated a little better this time. More and bigger in and to the boat, different species again, we found the honey of a FAD to tie to and no dam big boat pushing us of. Gar or houndfish? Big mackeral, queenfish and a real nice sail for pics. No pinkies for the table, the bigger ones eluded us, did get another nice baracuda and a ton of miniatures on the sabiki rigs. Seemed the bait and fish numbers were up from last visit, must be the season getting better, chasing schools of sails was fun, dam they are sneeky with 3 not hooking up, lets not forget the one that eat the bait on the 10 lb bass outfit, and I caught it. Food again outstanding. Lets not forget Denis, he also did a great job.
Everything was as stated, you run an awesome company that I am proud to reccomend. Dam good job.
Here's to next time.
Mark Banns
BC, Canada
June 2017
See pictures and post of Mark's trip
---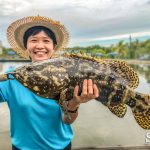 Thank you to Juan Wei for generously giving us a first fishing experience that we will remember fondly for many years to come. It was fun, exciting and challenging. I had a wonderful afternoon nap following the fishing trip.
We had great company for this fishing trip too.
Dr Leong YY
Kuala Lumpur
June 2017
---
Hello Juan
Thanks for the outstanding time, excellent memories for life.
Mark Banns
BC, Canada
May 2017
---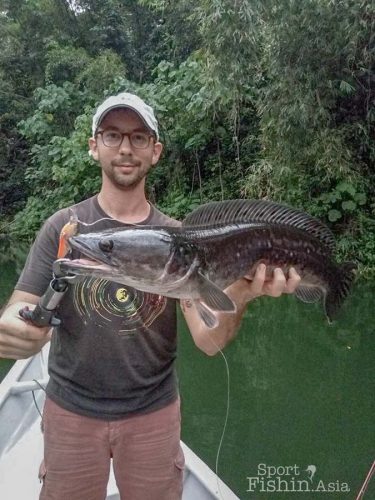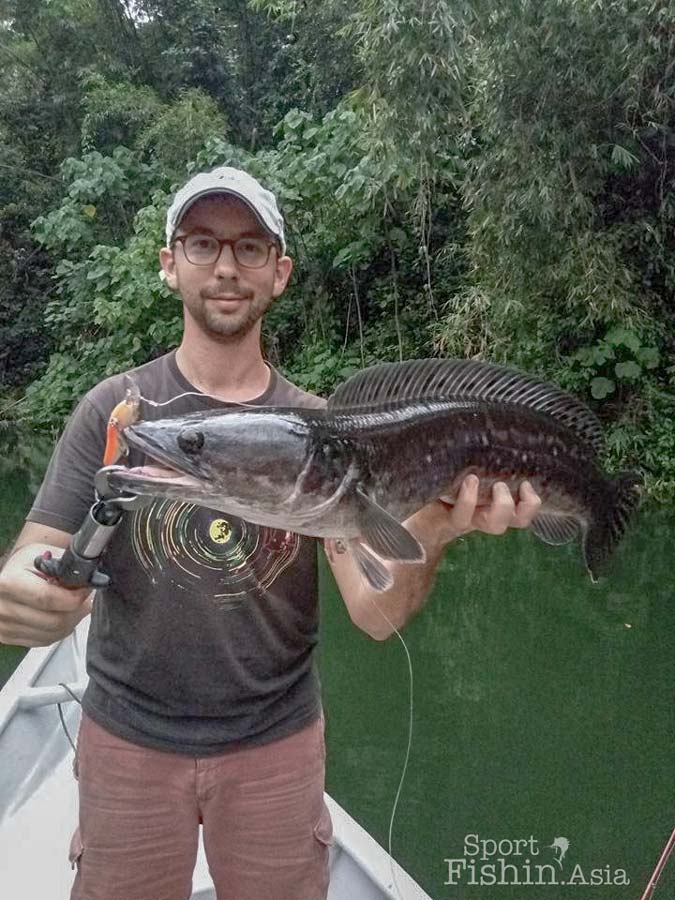 Hi Juan,
Overall, the feedback is highly positive, we had a very good time fishing on the lake!
Denis and the boatman were great guides, very professional, doing their best for us to catch fish all day long. On top of, we had a lof of fun with Denis. The material for fishing was good.
I will come for Sail Fish in October!!
Overall, once again, super experience, a lot of nice fish and good memories.
Thanks to both of you.
Regards
Vivien Pouget
France
March 2017
Read about and view pictures of Vivien's giant snakehead fishing trip in Royal Belum 
---
I had a fantastic time. Caught some good fish. But I must confess I could not have done it without JW. He simply knew where the fish were. JW was guiding me most of the time.
David Samuel
Malaysia
Feb 2017
Fly fishing Thai mahseer
---
Hi Juan,
My friends and I had an awesome time. We caught 4 sails and 4 other really great fish and that felt like a lot of action for us! Boat, homestay, whole experience was great.
Denis was a fantastic guide, and the crew was very accommodating and helpful. It was a really memorable trip for us. And we'll definitely try to do it again next season, maybe a bit earlier Denis recommended September is best timing for sails.
Overall an excellent experience that we won't forget. Thanks for helping me set this up!
Justin Maffei
Singapore
November 2016
---
Safely catching and releasing sailfish, particularly on a fly rod requires a coordinated team effort. These guys are the best out there. Super friendly, professional and passionate about what they do. Many thanks to Denis, Ming, Steve and Juan Wei you guys are the Dream Team!
David Carr
Hawaii USA – Tokyo Japan
November 2016
My first #sailfish on fly with Sportfishin.asia it's been a great trip and I'll definitely be back!
Martyn Whit aka FlickingFeathers
United Kingdom – Tokyo Japan
November 2016
Click here to see full trip report of David and Martyn's sailfish on fly trip
---
Thank you for a great weekend i will never forget it!
Gabby
Sydney, October 2016
---
Thank you Juan. It was a very memorable trip. I'll send you the video once I've finished, judging by the footage it should be really cool.
Cheers,
Pierre
Sydney, October 2016
---
Hi JW, Denis and fellow DF's,
Got home safe and sound last night – all good.
Thanks for a great trip and looking after us so well – a very professional outfit !!
Cheers and keep healthy,
Geoff and the other DF's
Coffs Harbour, NSW, Australia
October 2016
---
Thanks!!! And thanks again for a great weekend. Touch base soon for the next trip.
Jesse Baker
USA
October 2016
Trip photos and report: A contrasting weekend to remember
---
Hi Juan
Everything is fine specially Denis who is a very capable. Also you captain and crew.
Thanks
Henry – Phillipines
September 2016
---
Hi Juan,
Steve and I would like to thank you very much for all your care and attention last week. We really enjoyed the fishing and the food.
Cheers
Judith Lee
New Zealand
September 2016
Click here to see the action packed photos from this sweet couple
---
Thanks again for a couple of very memorable days JW. I hope to book something again as soon as my schedule permits.
Phil Ash, Scotland
September 2016
---
Well Juan, what a great trip you supplied for our crew of sixteen men, the food was great, the boats were good, the skippers and deckys were good, the accommodation was ok for that many, everyone on the trip commented on the great time they had, a trip to be remembered, and wow the fishing was terrific, 154 sailfish caught between us says it all. Thanks to all that helped put this together. Hoping to see you next season!
Regards
Trevor Webb (vice president MELTON SPORTS FISHING CLUB)
Australia
September 2016
---
Hi Juan
Just a thank you to you, Dennis, Sky, Steven, Yu and all your other staff for an unbelievable experience
I was with the group of 16 Squid Jiggas and we all had an exceptional time
Food, accommodation, transfers and of course the fishing was top class as was the many laughs we all had
Once again thank you very much for the experience and I will definitely be coming back as all my other fishing mates were very jealous
Regards
Mick Mitsios
Australia
September 2016
---
Hi Juan Wei,
Want to thank you for arranging a good team on the catamaran which made our fishing and boat trip an enjoyable one.
Denis your man understands what is delivering a good service and he did everything he could to make our adventure trip an interesting and exciting one…except he was working on Malaysian rubber time on the first day.LOL.. His apologies were accepted.
He made it up on the two days of our trip.
I will contact you on our next trip out from Rompin when the opportunity arise.
Thank you for your patience and quality service.
Best,
Keith LEE
Singapore, Sep 2016
---
Hi Juan
Everything is fine specially Denis who is a very capable. Also you captain and crew.
Thanks
Henry – Phillipines
September 2016
---
Hi Juan,
We cannot thank you and Denis enough for helping organise and provide an unforgettable experience for my Dad and I. This is sure to be one we will never forget!
Positives
– Helpful, professional and friendly staff and crew
– All inclusive from door to door enabled us to enjoy our trip worry free about anything other than that we had enough beer packed for each day!
– You promised fish and fun and you certainly delivered!
– All gear and boats were well maintained and in good working order which gave us peace of mind that we were in good safe hands
Negatives
– Having to leave after 3 amazing days fishing!
– The big one that got away (my 'black marlin')
We will be recommending Sport Fishin Asia to to all our friends and look forward to planning our next guided fishing adventure with you!
Take care guys.
Warm regards,
James & Phil
Tasmania, Australia
August 2016
Juan,
One more thing to add:
Positive – We're very grateful that you went out of your way to ensure that we were always enjoying ourselves and no request was ever too big for you to provide.
Cheers,
James
August 2016
---
Hi Juan,
Amazing time, lots of sailfish both days which was a great experience. Denis is a fantastic guide and bloke. The rest of the crew very good as well.
Bruce and Phil, Melbourne, Australia
July 2016
Watch Father and Son Team Bruce and Phil July Trip video
---
Sport Fishin Asia for Sailfish off Rompin to Blue Masheer in Thailand. Great guiding and superior service. Its the little details that get you the photos. Thanks Juan.
Dr Tim Kempton, Australia.
June 2016
Tim made this video of his Rompin fly fishing trip, click to watch.
---
Hello Juan.
I and my wife thank you once more fore a very good fishing and everything else was also ok. Weather at the moment +2 degrees and fog so no sun. I hope that we can have some contacts under the year. It can be that we are next year also coming to Singapore, so I really wait to see if we also come to Malaysia, and the best thing if we cud get out to fish with you again.
Best Regards.
Janne – Finland
March 2016
---
Me and Sara had a great time. I liked that everything was included and planned for us. Although the price was a bit high for our budget but it was worth it. The restaurants you took us to had great food! :)
We really enjoyed it and I would love to come back in a couple of years. Then for more days and during the prime time! :)
Nice to hear from you Juan! I'll send you an e-mail when it's time to catch a sailfish on fly! :D
Linus – Sweden
March 2016
---
Thank you. We had a very good time, too. Nothing to tell you for improvement especially.
Kazunori Muratani – Japan
November 2015
---
Thank you once again for your hospitality and good company. I had the best time fishing.
Stephen Darcy – NSW, Australia
November 2016
---
Hi Juan Wei!
Thanks for the great service, hospitality & last but not least, a great 2 fishing days!
Will surely come back to Kuala Rompin with my buddies next year!
Ary Anglerboy – Jakarta
August 2015
---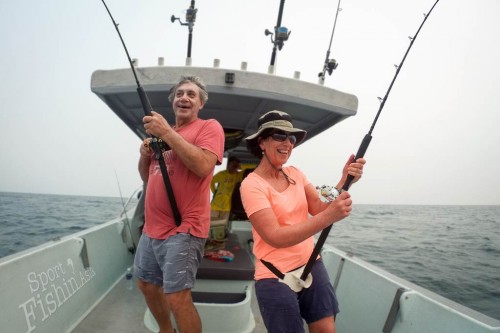 Barry Jarman says
Hi Juan Wei,
Irene and I wish to thank you for an amazing 4 days of fishing, it was amazing to see the large numbers of sailfish in your waters. The 2 skippers and yourself were experienced and most helpful and it was a pleasure spending time at sea with them.
Thanks also for the wonderful food and the delicious satay on our return to Kuala Lumpur. You went far beyond what was expected.
We will see you again next year.
Until we meet again,
Barry and Irene – WA, Australia
September 27, 2015
---
Sailfish of Rompin… The pride of Malaysia.
If you dream of hook your Sailfish on fly.. Come check out K. Rompin… We have the best Sailfish population in the world.
Remember to check out Juan Wei, our only local guide who are experience and professional at www.sportfishin.asia
Dron Lee, IFFF Certified Casting Instructor and renown fly tying guru – Fly Tying Nation
August 25, 2015
---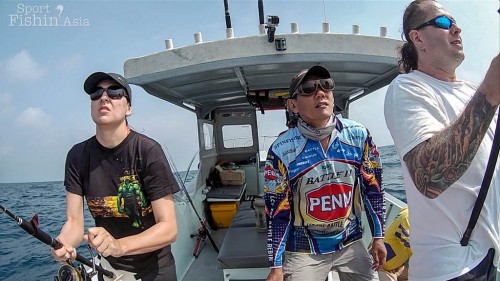 You guys are very professional. We are enjoy the fishing very much.
Andre and Elisabeth Rabe – Germany
August 12, 2015
---
I rate the charter as 5-star!
Everything from the fishing, to the boat, to the accommodation, to the food, to everything about the service is top notch.
Paul Colvin – Seattle, USA.
July 29, 2015
---
Trophy Peacock Bass
I booked a wild Peacock Bass trip with JW at Sportfishin Asia in Kuala Lumpur. JW picked me and my friend from the hotel and we set off to a most unlikely fishing spot. JW is very knowledgeable about the target species and whilst we provided our own tackle, his selection of lures was extensive and he was happy to change when required. The fishing was tough but I landed my best ever Peacock Bass of around 50cm plus that was subsequently released to grow bigger. Lunch was provided at a very tasty local Chinese restaurant. Overall a very professional operation with an enthusiastic guide.
Best regards,
Bob – QLD, Australia
April 30, 2015
---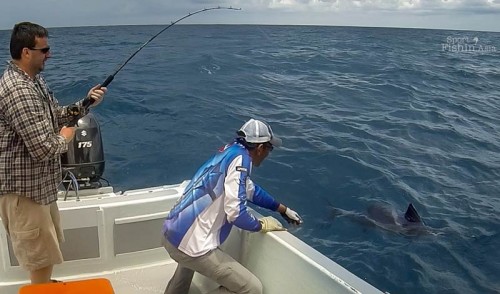 Hi JW.
Thanks for the blog write-up, everyone loved it. Would it be possible to swap videos and photos?
Thanks again for a great experience!
Dan
Wisconsin, USA
May 1, 2015
Click here to read Dan's comprehensive write up of his experience with us through his own words
---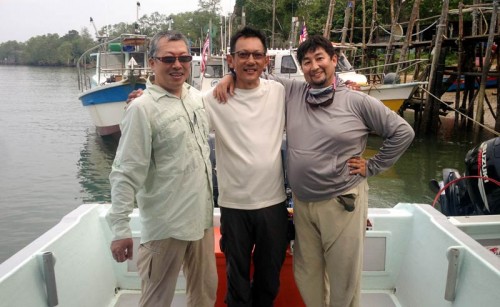 Thank you for everything!
we are very happy fishing with you!…
Next year I want go back!
Masashi Mukaida, IFFF Certified Casting Instructor – Osaka, Japan
September 25, 2014
---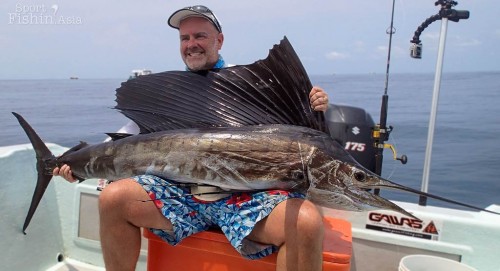 Hi JW,
Stu, Mike and I just wanted to say thanks for a terrific trip. We had a great time and you were an amazing host.
Cheers
Andrew – Australia
October 14, 2014
---

Hi JW, I would like to thank you for the fantastic video you have sent of Greg and I. I have sent the link to all my fisho mates in Brisbane. I hope there is some interest that comes your way.
I do rate this trip as my best charter ever! And I can not see it is going to be beaten soon. Well done JW. I really appreciate your organising this to happen.
Regards
Peter Vandeleur – Australia
February 3, 2014
---
Delar Juan Wei
Tank you for the great photos! I Will write the article this week and send it to our three fishing magazines and then we'll se.
We are back in Sweden after à great vacation. We traveled to Kuantan, Cherating and Melaka before Singapore. We are already planning our next trip to Malaysia (probably next september/october). The article om your blog was great.
tank you agan for à great fishingtrip, we Will be back!
Sincerly
Joakim – Sweden
July 13, 2013
Click to watch video of Joakim and son, Albin talking about their rompin sailfish fishing experience.
---
Hi JW,
Thanks for organising the trips and taking me fishing. Everything exceeded my expectations. Lots of first time catches.
I've just e-mailed Greg in Darwin to tell him I was very satisfied with how it all went, so you may have more clients from Australia in October. I also suggested he fish for sailfish for more than just one day.
Hope to fish with you again some time.
Fond regards,
Bob – Australia
July 1, 2012
---
Hi Juan Wei,
Thanks again for the great trip! It was awesome. Jackie and I had a great time, well worth the trip. Beautiful scenery as well. I will send you the pics and links once I get them up.
Thanks!
Joe Kennedy, Co-founder of Fish Addix – New Jersey, USA
August 15, 2011