The challenge is getting a good hookup and keeping the fish on, due to the nature of how the sailfish hunt – where they like to strike their prey with its bill, and the hard bony bill and mouth of the sailfish.
One way to get around this which we successfully deployed is tying a single hook to a length of Kevlar, 2″ to 3″ long. Do this to both the mid section and tail section hook. You may even just use this method on the rear hooks with the middle section with just a single hook attached to the lure through a strong split ring.
You get better hookups this way and the bonus part is that the single hooks are also a hell lot safer for everyone when releasing the fish. Trust me, it is unnerving removing embedded treble hooks from a big strong trashing fish with a long pointy bill. A mishap can also spell the end of the fishing trip. Now, that is not fun.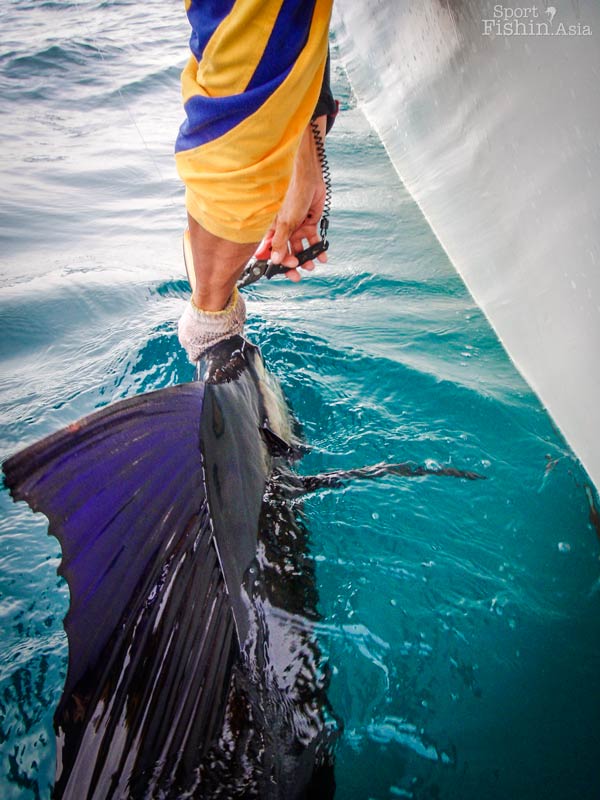 When you see a sailfish swimming to your lure, continue with what you are doing. If you see the sailfish slashing at the lure with its bill, pause and wait for the sail to bite. They sometime swim away and turn back to pick-up their wounded "prey". You can also try twitching the lure. The best time to strike is when you see a take and the fish is facing away from you.
When you feel weight on your rod and line, make a few more sideway strikes, hang-on and enjoy the ride!
Try it the next time you pop or cast for sailfish.