The peacock bass were not shy that day for sure. Between the 3 of us more than 60 was caught and released. In the right conditions, the peacock bass is more than just one the hardest fighting freshwater fish pound-for-pound on the planet but are also a survivor.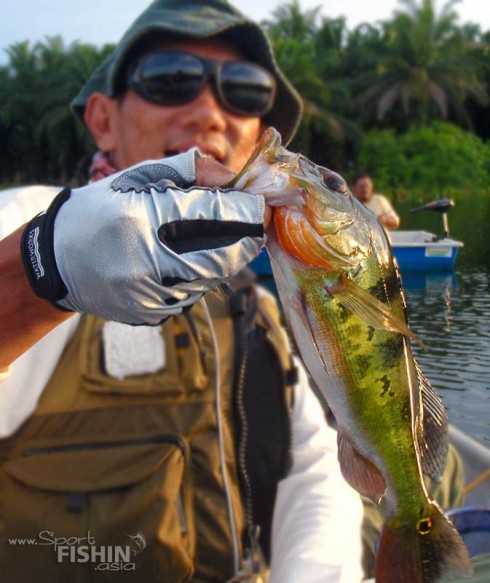 This brute of the Cichlid family from the Amazon appears to have settled down in many countries other than South America. They were introduced on purpose into Florida waters to control the Tilapia (another cichlid) outbreak and now reside merrily along with other immigrants from Asia namely the infamous fishzilla, the Snakeheads!
Over here in South East Asia it is the other way round where the peacock bass has invaded the traditional homes of the Snakeheads.
Peacock bass is most abundant in Malaysia (almost throughout the country), in Singapore, the Philippines and at the time of writing, some appears to starting the appear in Thailand too.
Peacock bass was and still is a controversial species especially in Malaysia where it first started appearing sometime in the mid 1990's.
The peacock bass – the bane for "tree huggers" and a boon for sports anglers!
The fighting quality of the peacock bass cannot be argued. Once hooked it just goes berserk.
There is no turbo-charged run but instead the fight can go in any direction! Away, down, up, left, right or airborne, you never quite know what the peacock bass you just hooked might do which makes it so crazy fun to catch.
They fight hard and fight till you boat them, if the fish did not somehow throw the hook. The best way to catch a peacock bass is to fish with appropriate tackle to maximize the fun.
Speaking of fun, I find fly-fishing for peacock bass is nothing short of awesome and it's a very effective method as well.
Alvin and I made a recent day trip to fish for peacock bass on light tackle.
Alvin's gear was ultra-light. His preferred spin-fly method of catching peacock bass is very effective. The Major Craft Troutino rod matched with a Shimano Stella 1000FE reel spooled with 4-pound line was great fun to use.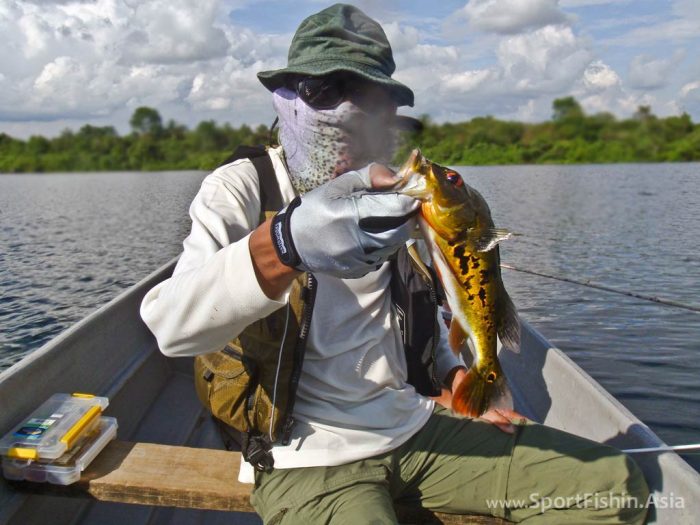 I on the other hand decided to further test out the newly acquired Daiwa Exceler-X 2500 spooled with 8-pound Berkley Vanish Transition with a Daiwa Crossfire rod.
This is only my second time trying out this reel and line. The first time the Daiwa Exceler-X 2500 saw action was a week ago when out saltwater fishing where it was given a really good workout.
The Piss-Stop
I have to mention our stop at the Tapah rest-stop (RnR) along the PLUS North-South Highway for a quick piss and breakfast was a real mistake. The food there was just plain horrible with rip-off prices. I'd advise you to skip the place and eat elsewhere if you have to.
Now, back to some reel action. The fishing got off to a slightly delayed start as we waited for a fellow angler, Hanif who is a regular here.
Our first stop was fishing at the outer perimeter of a duck farm. Yes, duck farm, you can find lots of them here. Thankfully there are no ducks around and we could fish in peace.
The action was almost instantaneous with many peacock bass on the bite but no biggies except for one 40 cm fish by Alvin immediately following a nice striped snakehead (Haruan) by Mee. No, not me, but Mee. Heh!
Alvin had great fun bringing the fish in using his ultra light gear. We initially thought it was another good-sized snakehead till we saw the broad flash of yellow and red ascending. Naturally all on board shouted, NET!
Snakehead Surprise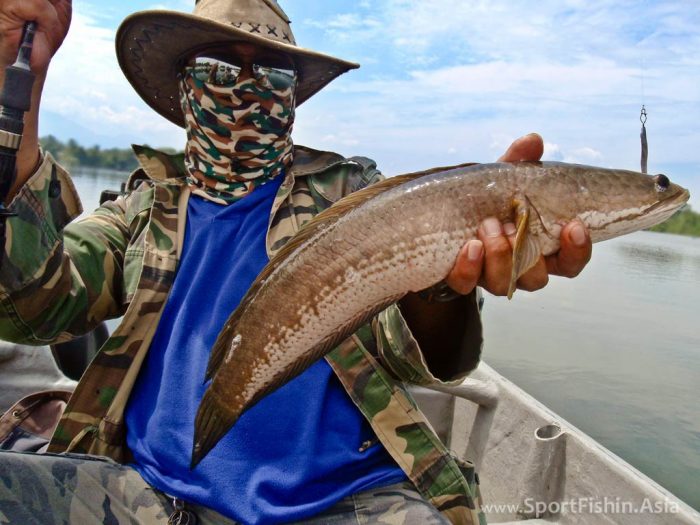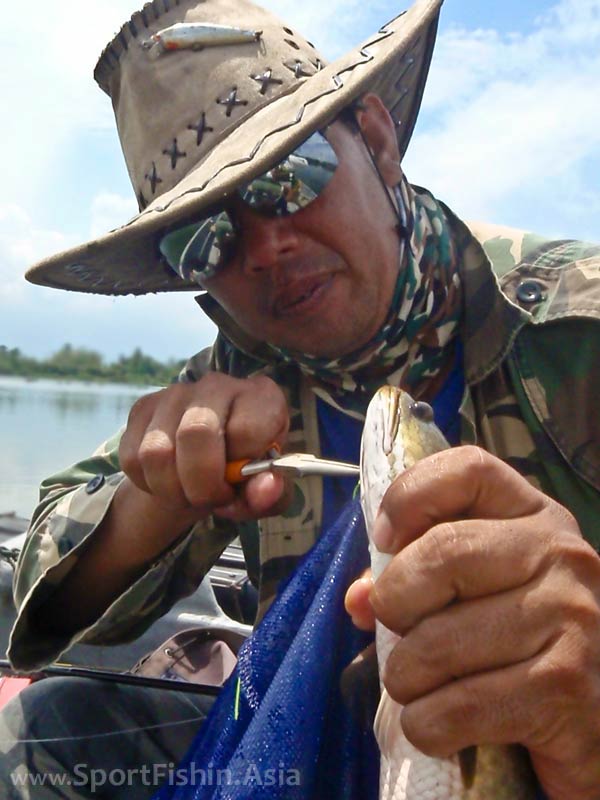 Everyone had loads of fun here including Hanif who went around checking out different spots and being rewarded with a small sebarau (hampala barb).
Mee, then went on to hook another (smaller) Snakehead. But there were also many Mayan Cichlids going after our lures
These Mayans are not big but they put up a good fight, much better than those awful Flowerhorn Cichlids. Many a times we'd think we hooked a smallish peacock bass only to see a Mayan at the end of the line. Fun but not what we came for.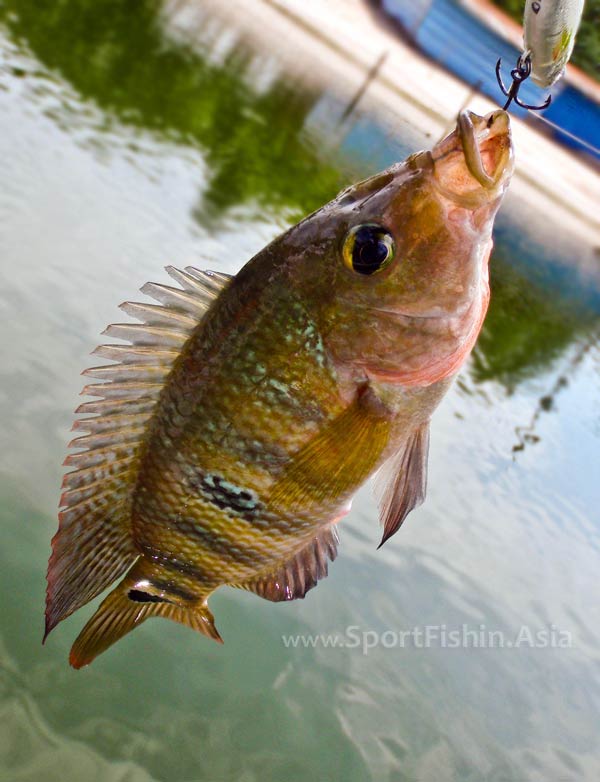 So we took a breather back on land and sheltered from the hot sun to cool our bodies down.
After a quick simple lunch under some trees we loaded the boats back onto the trailer and made our way through some really winding paths to another pond.
I've seen my fair share of ponds in my years of fishing but this pond is something else. It took my breath away. It was like a hidden oasis surrounded by thick trees where monkeys were swinging from branches.
There are also limestone structures sticking out from the clear waters with the biggest resembling a mushroom in the center of the pond. There were birds nesting within its nooks and crannies. Many different species of plant fringe the edge of the pond.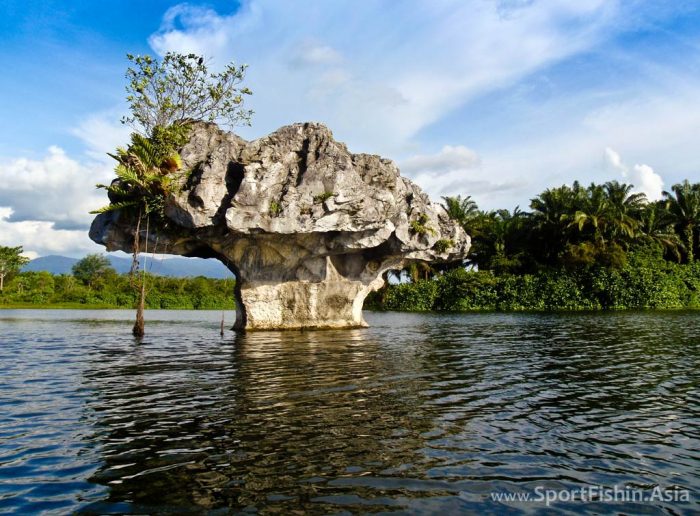 This pond also has hidden corners behind huge boulders of limestone rock. The place has a natural garden look about it and felt mythical even.
The first peacock bass that greeted us immediately as we commenced fishing was a very dark colored specimen.
The bites were not as consistent as the first pond we went to but all fish caught were peacock bass. We felt they fought harder too, over here.
No monsters were caught but Hanif had a few good ones. He also fly-fished a little here.
Alvin got a good hook-up at one time but the fish got snagged in the weedy bottom. Who knows how big that one could have been?
We moved about a bit more at this pond. At one time the bites slowed and was far in-between. As the thruster motor was pushing us gently back to where we parked our cars we happened upon a boiling surface, which could only indicate a Peacock Bass feeding frenzy.
We moved in to get a piece of the action and within less than one hour probably caught somewhere around 15 fishes between the three of us.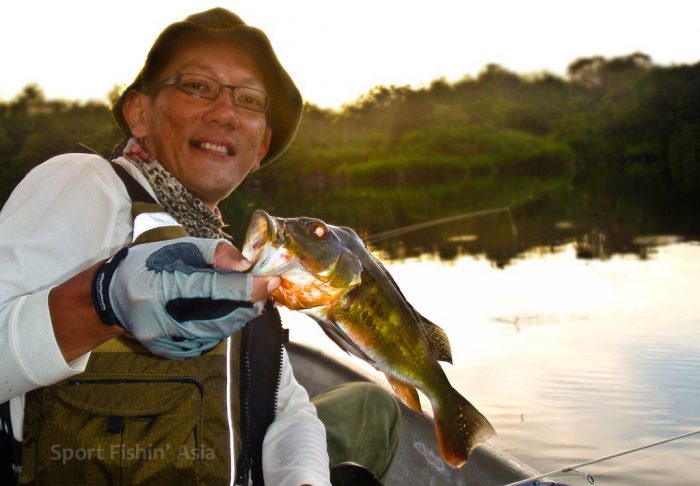 All Peacock Bass Caught Were Released to Grow Fatter and Angrier
We will certainly be back for more Peacock Basshing. This time I intend to arm myself with beefier tackle to tussle with bigger bullies. Oh wait, what is that I feel again? Oh no, the itch-to-fish is already beginning to strike…