UPDATE: In 2017, the Natural Exotic Fish Fishing Pond (NEFFP) has moved to a new location in Behrang, Perak. Click to see post about the new NEFFP location.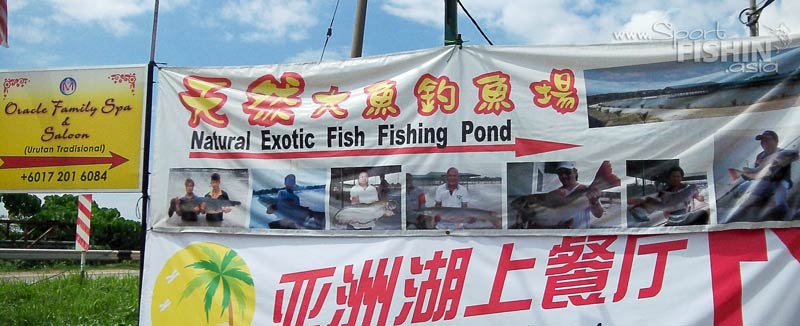 Address: Lot 13, Batu 23, Jalan Batu Arang Kampung Sungai Bakau, Rawang, Selangor.
Exotic name for a fishing pond. Complete with a spa that you passes at the entrance!
We signed-up a 3-hour session on our first visit. For the fishing, not the spa, mind you. It soon turned out to be an interesting introduction to the pond which opened for business just months before (August 2011).
Eventful
After paying the RM100 plus a RM50 deposit for a 3-hour ticket we entered the fishing area and I was surprised to see Nick Ooi of Tackle Box Adventures fly-fishing from across the pond. The moment we walked up to him he was already onto a fish. That's Nick for you, always hooking-up.
Besides the good fishing, other events unfolded starting with Nick getting his expensive fly line bitten off. You must be thinking that must have been some fish that bit his line in two, but it wasn't. The culprit is a Rottweiler! Yes, those mean breed of a dog that was bred by the Romans to fight off Lions and other big cats from feeding on their livestocks.
A little while later, Nick's friend broke his Sage rod while battling a stubborn big fish just fraction of a second before I hit the record button on my Kodak Playsport video camera. Drat!
Finally, we witnessed a bloke setting the hook so hard from across the pond that there was a loud snap. Thought it was his rod but he somehow broke his reel instead.
So a bitten-in-half-by-a-dog fly line, a broken rod and a broken reel greeted three different individuals within a span of three hours.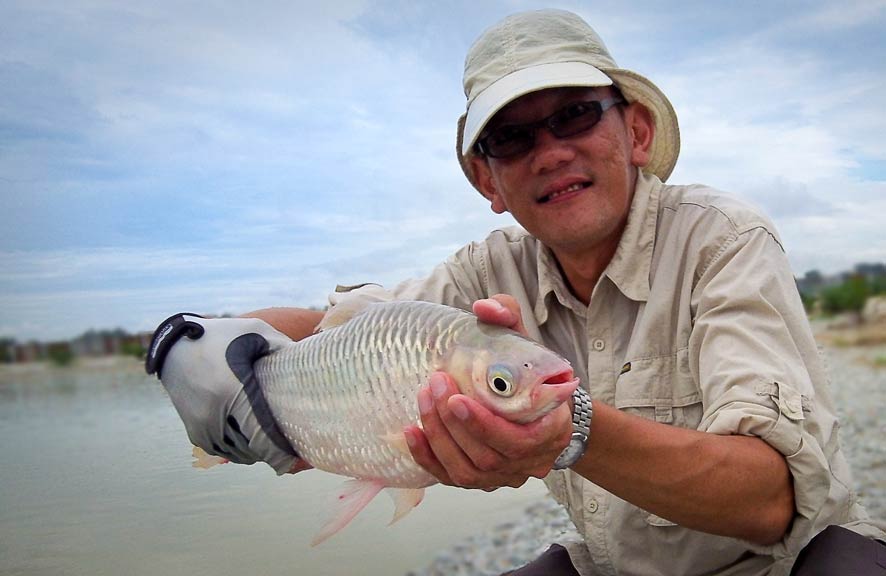 Fishing and Fishes
Natural Exotic Fish Fishing Pond (NEFFP) is made up of many ponds. At the point of writing this article, only one pond is open for fishing. This pond is stocked with "exotic" species such as the Giant Mekong Catfish, Chao Phraya Catfish, Amazon Redtail Catfish, Asian Redtail Catfish, Arapaima, Tapah (Wallago attu), Temoleh (Probarbus jullieni), Giant Snakehead, Striped Snakehead, and many more.
Almost all methods of fishing are permissible at this pond. Baiting, live-bait, lure, fly-fishing all produces fish.
Although the rule says only single de-barbed hooks are allowed, I still notice many anglers fishing with treble hooks on their lures and many more ignore the need to de-barb their hooks.
Sadly, most anglers still have a long way to go when it comes to caring for their catch and making an effort to release their catch in the best possible condition to encourage survival.
A healthy population of fish will only benefit the anglers. That's you and me. Meaning more catches and more fun.
I observed a half-naked solo angler who calls for assistance each time he needs to rig a live bait onto his hook and leaves his catch on the dry floor while he waits for someone to come un-hook his catch. The fish can be out of water for a good one to two minutes. Mr Macho clearly needs to learn that all that is part and parcel of fishing.
For those who lack confidence fishing de-barbed hooks I would like to say it makes very little difference. I fish this way most of the time even in the wild. Fishing with barbless or hooks with its barb flattened is better for the fish as there is less damage, makes unhooking really quick and easy. It is also safer for the angler and those around. It may even make you a better angler as you have to learn to keep a taut line throughtout the fight.
New Pond
There are a couple of other smaller ponds at the compound but these are for stocks and breeding.
Initially we thought January 2012 will see a new pond dedicated only to artificial bait fishing (lure and fly-fishing) opening. We saw lots of big splashes and rises at this pond and can't wait to give it a shot. As it turns out the new pond which opens on Christmas Day 2011 is stocked mostly with Giant Snakeheads (Toman) and Striped Snakeheads (Haruan). It is named Jurassic Game Fishing Pond (Rawang). Don't ask.
Walking on water
There is a crazy supply of Haruan (Striped Snakehead) in the NEFFP pond while we were there. They mostly stayed at the edges of certain sections presumably to avoid ending-up as food for the larger species in the deeper parts.
The Haruan numbers are so thick that the water is practically black and assuming you can move fast enough, you can just walk over them (just joking).
You can watch a video of the pond and the snakeheads in this post.
By far the most caught fish by everyone I've spoken to that fished here is the Asian Redtail Catfish. This fish fights hard when hooked, so that's a good thing. Their sizes range between 3 kg to about 10 kg (about 6 to 22 lb).

A Pacu with nice colouring
Facilities
The name of the place may be "Natural Exotic Fish…" but there is not much that is natural that meets the eyes. Expect lots of man made structures, concrete and rocks. It is still work in progress so let's hope it will get better in the landscaping department.
At the middle of the fishing pond stands a restaurant referred to as the food court. You can see it in the video. The concrete stilts that it sits on is also where big fish will swim towards during the fight posing a challenge to anglers. However, you only have to worry about this happening if you are lucky enough to hook onto a really big fish.
The food court may look like the perfect place to fish from but fishing is prohibited here for obvious reasons.
The pond owners can do with building more toilet facilities around the place as currently there is only two available at one location within the fishing area.
There are various fishing packages to suit different anglers. I find the three hour package sufficient for us. There is a free additional one-hour promotion from now till February 2012. So far I've averaged two to three hook-ups on each hour. Landing the fish is another matter. I've only bother using flies thus far with my buddies going in with soft and hard bodied lures.
Do not forget to utilise the the drink coupon attached to the entry ticket. Might as well not let it go to waste.

More fly-caught Asian Redtail Catfish. They do get quite big and puts up a great fight.
Conclusion
This type of big exotic-fish, pay-to-fish ponds are common in Thailand. Past attempts have been made to replicate the same in Malaysia over the past decade without much success. Where in my humble opinion pond owners struggled to get anywhere because they failed to stay focused.
There have been a flurry of such concept ponds appearing of late in Malaysia and the Natural Exotic Fish Fishing Pond is one of them that is showing they are headed in the right direction albeit with more work to do. Stay focused, boys!
A few other operators too have exciting plans and it's good to know they all have a "twist" to them to spice things up. I wish them all success and hopefully spur the sport fishing industry further.
Remember to share your thought in the comments area.
Catch you later.