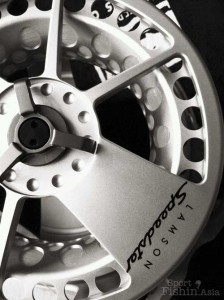 And looking forward to big things to come. By big things I mean big fish, naturally. The new Lamson Speedster reel completes the 10 weight setup that I have been putting together.
The other gear that makes up this setup is the Ross Flystik and Rio Tropical Outbound Short Saltwater WF10F/I 425 gr.
The ultralight Speedster with its narrow but massive arbor is Lamson's fastest reel to date. The inset handle will also help quicken line retrieve rate. Perfect for when the big ones come charging back.
The reel is now spooled with 300 meters of 13kg (30 pound) backing. Add the 30 meters (100 ft) and 9 ft leader, I hope to never see the bottom of the aluminum spool!
Can't wait to test it out.