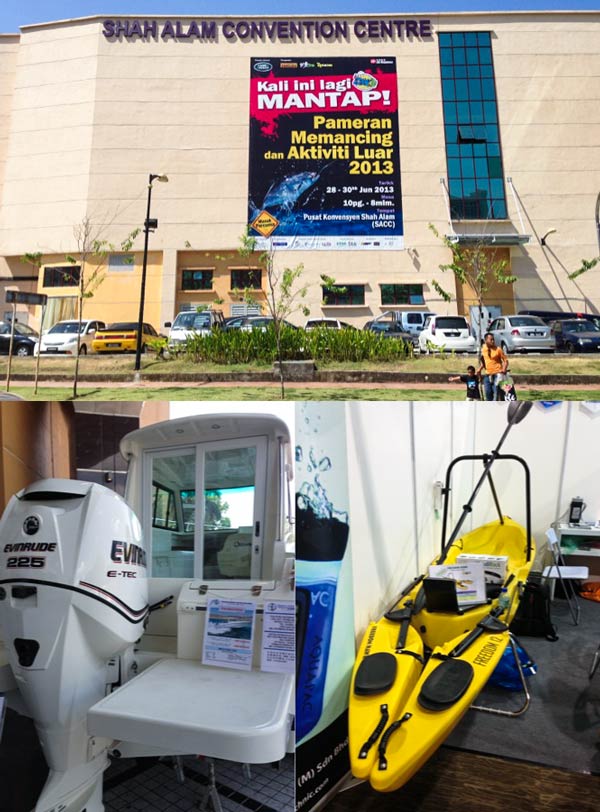 Better venue than the last one. Attractively priced stand-up kayak.
Good turnout
11am Friday – day 1 and there appears to be a good crowd. Perhaps the local fishing community have been left starving for an event like this.
First impression is there are more tackle and gear on sale with some bargains. Fulfilling a desire to anglers that was sorely missing during the last event. Also present are some exhibitors selling complete fishing sets from china at very attractive prices.
Hidden exhibitors
There is an overflow of booths as a row of them is out from the main hall so make sure you do not miss those. You will see them if you happen to walk in from the side entrance. If you get in from the main entrance, walk to the left around the corner to check them out. Pity them guys, hopefully their booth rentals are at a bargain price!
There are less boats on display this time though we have some landies (Land Rover) to admire. There is also more eye-candies (promo girls) which should please most visitors.
Win some – lose some
There is no pleasing everyone that's for sure. Some of you will want to find something here that is not well… there. I hear of people complaining about finding a parking nearby and that the building across the road is too far to walk from. And that is coming from anglers! The fact of the matter is this show is better than the last and just goes to show that the event organizers have listened to the grouses and worked hard to bring on a better show.
Air Kuning dam
For those with a bit of time, you can take the opportunity to go fish at Empangan Air Kuning (EAK) which is not far from the SACC.
There are quiet a bit of things to list down here in detail so we'll let some photos do the walking. Better still go look for yourself if you can.
Remember to also check out the activities that have been lined-up throughout the show especially over Saturday and Sunday. There's a timetable on a giant board just inside the main entrance if you want to find out more.
Don't miss the video filmed at the Abu Garcia booth with Ming J Liu, talking a bit about the new Abu Garcia MGXtreme here.
Click to enlarge pictures.

The Megabass booth should attract some fans

Retail booths

KAGUM booth. Go support these good people and buy some nice tees.


Abu Garcia have lots of nice reels and new rods for you to get your hands on.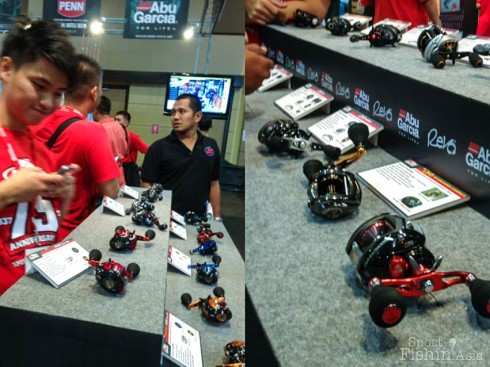 Interesting that some JDM overhead reels now comes with drag clicker offering that spinning reel thrill when a big fish takes line. Nice.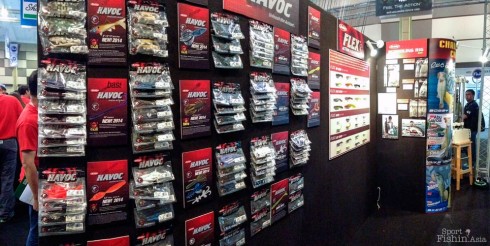 Eyed some interesting soft plastics on this wall.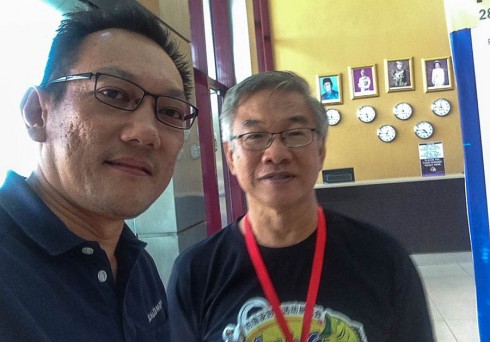 Said hello to Fong, chief editor of Rod & Line magazine, organiser of the event.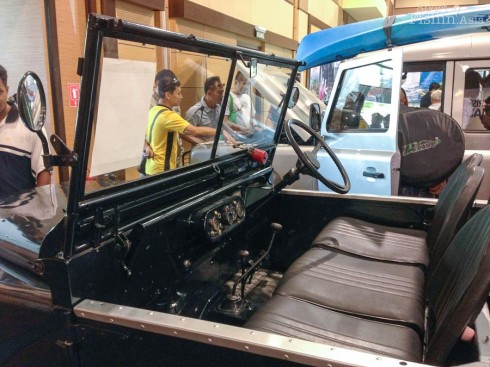 Old and new landies. Made me miss my 2-door Range Rover Classic. Though I'm sure my wife do not share the same sentiments.