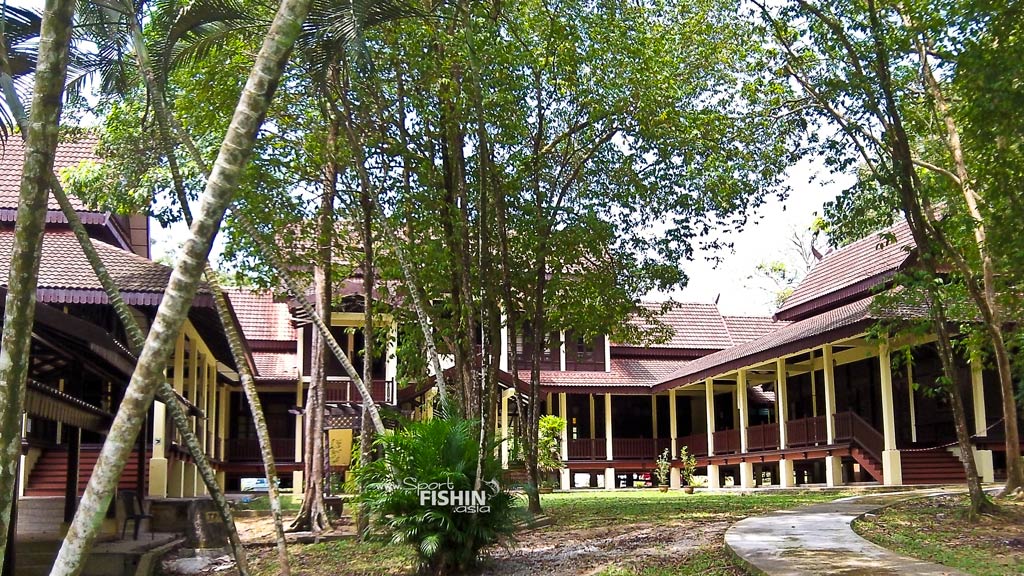 Above photo is the main building and venue of the Malaysia International Fly-Fishing Festival 2012 (IFFF). It is all in a very traditional Malaysian setting with wood crafted buildings in the midst of a rainforest jungle.
For more photos, please click here.
With just days to go for the IFFF the participants, visitors, guests and organisers are all pumped-up!
The days preceding the event will also see many candidates going for their Certified Casting Instructor (CCI), Master Casting Instructor (MCI) and other tests. We wish them best of luck.
Below are some updates and attractions during the IFFF;
Famous Flies on Auction
There will be many incredibly nice and some very rare flies that will be auctioned off. They are all tied by the who's who of the fly tying world. The collections will come nicely framed so all you have to do put them on display.
Some of the Fly-casting Demos and Workshops
Light weight Switch rod (3 and 4wt) casting by Bintoro
Single handed distance casting, not just for show! by Paul Arden
Specialty casting, Mulson, steeple, snap lift switch casting
History of FFF especially in Australia by Matt Howell
Taming the winds, casting in Adverse winds
Teaching the double hauls
Fly fishing in New Zealand
How to be accurate in your casting
How and why of slack line presentation casting
Yusaku MCI Japan will show tying saltwater flies indoor
Exhibitors and New Products
Exhibitor and sponsor, the Avalon Cuban Fishing Center and its owner, Mr Filippo will be giving a presentation and slide show on Fly fishing for the Grand Slam – Permit, Bonefish and Tarpon in Cuba.
YAMAGA blanks will show almost its entire range of products in this exhibition and also some special products from Japan.. Livre handle, Gancraft new rod, Craftbait stick bait.
Paul Arden, FFF MCI and the big man behind Sexyloops, launching his Sexyloops fly rods in the show. Paul is also sponsoring a wt6 sexyloops rod (the 1st in the world) to the winner of the Accuracy casting competition!
KLFS (KL fly shop) is also setting up a booth in the show… come see all the awesome gears and rods by KLFS… bring cash!
Tacklebox Adventures, collaboration partner and sponsor is setting up a booth in the show. Bring more cash! There might even be some surprises. Tacklebox Adventures is also sponsoring all the fly tying materials during the show.
Pure Fishing Malaysia is also joining us in the show, they will be setting up a booth and displaying some of their latest fishing gears. You know the drill, bring cash!
Fly tying Competition
A fly tying competition will be held during the event… everyone is invited. Each participant is allowed to participate 5 times, entry fee is only RM2 per attempt.
Each time you are given 5 minutes to tie a fly in a 'semi private' room, with the selected fly tying materials sponsored by Tacklebox Adventures and Daiichi fly hooks sponsored by Angler Sport Group. Each participant will be given a (one) free Daiichi samples hook package (worth more than RM10).
Hans Van Klinken and Marc Petitjean will be the judges who decide which fly is the champion. The 1st prize is a TMC Vise sponsored by Psage Merdana worth RM2,260.00
And a whole lot more!
Those who would like to just drop-in unannounced may also do so. Just make your way to Taman Botani Negara's ticketing counter and look for a IFFF official. Get your ticket and you will be shown how to get to the event venue.