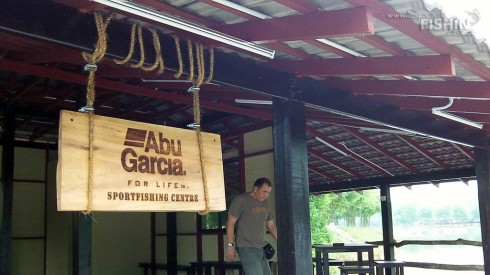 Nice rustic signage to welcome you to the Abu Garcia Sportfishing centre
The Abu Garcia Sportfishing Centre is finally ready. The once-a-month Abu Garcia Bait Casting Clinic organized by Pure Fishing Malaysia now have a permanent venue, too.
The building actually reminds me of a Japanese tea house of sorts complete with bamboo trees and water features.
Much of it is waterfront property as it faces one of the many scenic Fish Valley ponds where the biggies like the Giant Mekong Catfish are to be caught. A decently large open area fronting the building is meant for the casting clinic and also venue for future events.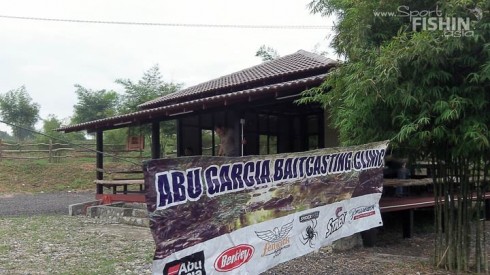 I sat in the bait casting clinic conducted by Phil Foo of Pure Fishing and realized that it is good not only for beginners but for anyone who wishes to learn more about this style of fishing and the gear involved.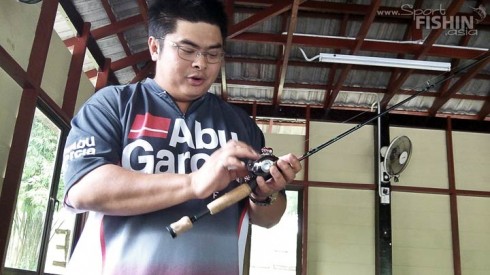 Phil of Pure Fishing Malaysia explaining the working of a bait casting setup
The Learning Never Stops
The clinic is free and participants may come either with their own tackle or use the sets provided. I'd suggest using those supplied even if you have your own just to compare the difference in feel and balance. This will perhaps give you even better understanding of bait casting gear selection.
The clinic begins with an introduction of the various gears involved and the features found in bait cast reels and how to use them.
Next is the theory of how bait casting works and is different from spinning gear.
Participants will then be taught the basics such as adjusting the various brakes and feathering the spool to prevent overruns.
Beginners will also be taught the correct way to cast for the first time and minimizing the chance of getting birds nest in the process.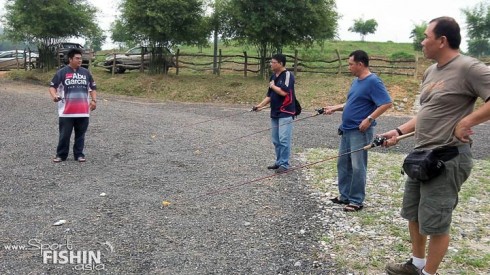 Swinging the rod tip to feel it load-up
Later, casting techniques will be taught such as backhanded cast, pitching and so on.
A casting plug is used throughout the session which starts at 9am and ends at 12pm every first Saturday of the month.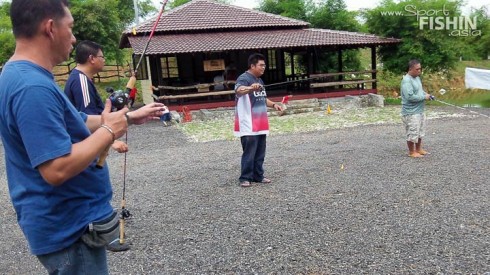 Phil demonstrating some casting techniques such as the backhand cast
Fish Valley and the Largemouth Bass
Fish Valley is located in Semenyih, Selangor and among the largest and best kept fishery in Malaysia.
During this visit we managed to catch-up with owner Mr Lee who shared some of his immediate plans with us for Fish Valley. Chief among these that got me excited was the batch of Largemouth Bass that he's waiting to grow to decent sizes before he allow them to be fished.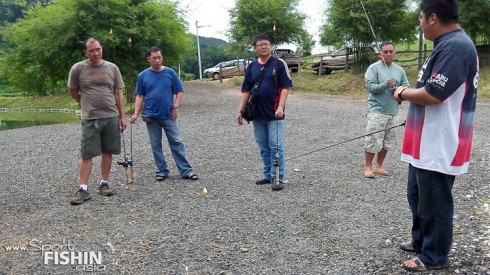 Battle of the Bulge, only anglers with big tummies are allowed to join! No, seriously… the Abu Garcia bait casting clinic welcomes both beginners and experienced anglers.
They appear to have run into a glitch as the Largemouth Bass seemed to have hit the "pause" button at their current stage of growth. No one is quite sure what is going on and will have to wait it out to see if the fishes resumes growing. How frustrating.
There are also plans for catch and release – lure or fly fishing only ponds to be launched soon. 20,000 Pacus are also waiting to be caught! Exciting days ahead, indeed.
I do hope the Largemouths will get big and fat fast so that I can start catching them. Catch you later!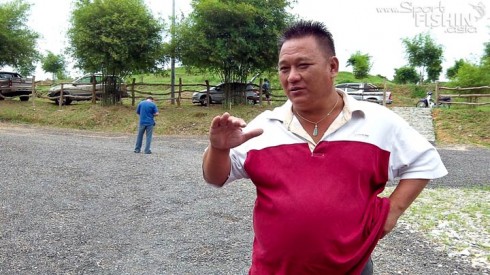 Mr Lee (owner of Fish Valley) sharing some of his plans with us. Some very exciting plans and we can't wait to fish there!
New Gears. The Revo MGX. The NanoFil line and 2012 Berkley AMP rod.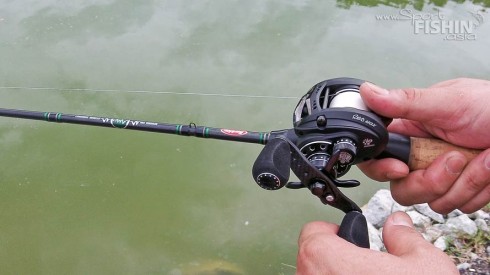 New reel, new line and new rod. The new Revo MGX, not braid not mono Berkley NanoFil and 2012 AMP bait casting rod.
Have you gotten your Revo MGX yet? The first thing that will probably hit you is the weight. Or the lack of it. This reel is so light and smooth you can cast non-stop for days with it! And it is really easy to cast with too. Awesome reel to consider as part of your arsenal.
The new NanoFil line is actually designed for spinning reel but we had fun with it on the Revo MGX nonetheless. Let me tell you, this line is smooth as silk! It just goes and goes! If you use it on a bait cast reel just make sure you have a good thumb.

Another look at the upcoming Berkley AMP rod – with a Pflueger Patriarch baitcast reel sitting on it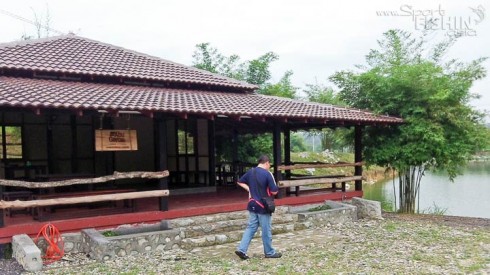 (Above and below) More views of the Abu Garcia Sportfishing Centre. Do drop-in to say hello!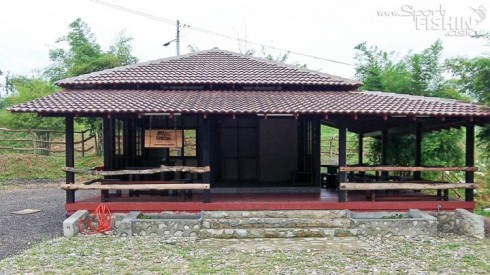 UPDATE 5 January 2012: The Abu Garcia bait casting clinic at Fish Valley will be conducted on every second Saturday of the month commencing 11 February 2012 (instead of every first Saturday of the month).