Identifying fish can be tricky. It appears I have identified the Orange-Spotted Trevally as the Island Trevally in some of my earlier video postings.
I would not have realise it if I did not dig-out some reference books and took a closer look. Make that a very close look.
Orange-Spotted Trevally (Carangoides bajad) also known as the Gold-Spotted Trevally, is a species of inshore marine fish in the jack family, Carangidae.
Local name: Demudok

Photo: Wikipedia
Characteristic
Orange-yellow spots on its side, count of fin rays and scutes are needed to distinguish it from related species with similar colouring.
Orange-Spotted Trevally are a powerful predator, takes a variety of small fish, nekton and crutaceans.
Reaches maturity at around 25 cm. Maximum recorded length 55 cm. Average size caught 20 – 30 cm.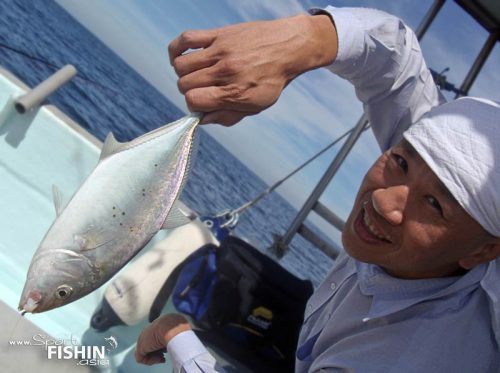 Palate Rating **1/2 (Out of 5)
Though a good food fish it is seldom seen in the local markets. Mostly salted dried along with other Carangids.
I'd take one or two fish for the table and release the rest as they're great fun to catch! As are all Trevally.
Distribution
More reading materials.
For more photos of the Orange-Spotted Trevally in various colours, see Fishbase.
And below is a photo of the Island Trevally (Carangoides orthogrammus) which I mistakenly identified the Orange-Spotted Trevally for.