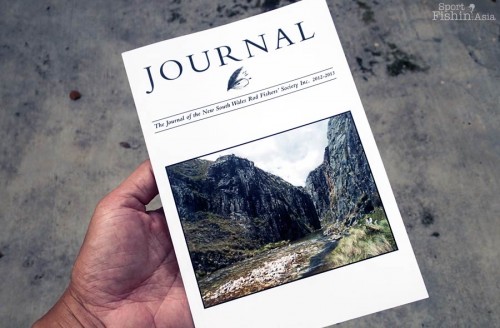 I just came to realise this was never posted though it was intended to be, on the SFA website and Bob is already air-mailing to me the latest edition.
Founded more than 100 years ago in 1904, the New South Wales Rod Fishers' Society Inc. is the oldest fly fishing club in Australia and what a great honour to be mentioned in it.
Credit must be given to Bob who has turned from a client to a friend coming all the way from Sydney to fish with us here in Malaysia over the past three years. Thank you so much, Bob.
From what I gathered chatting with Bob, the NSW Rodfishers' Society is a fairly active club with 200 or so members as I write this. The club frequently organises activities such as fly tying sessions, talks, casting and other workshops, dinners, trips and more for their members. That is great for fly fishing in Australia and I hope to be able to take up on Bob's invitation to visit them in the not too distant future.
Headlined 'Malaysia's Exotic Fishes' – Bob did an array of fishing while in Malaysia catching fish from the giant snakehead to peacock bass to sailfish using an assortment of gear.
Looking forward to the latest issue of the journal to arrive.