At least here in Kuala Rompin we know the sailfish's main quarry this time of the year are the tiny little anchovies.
And millions of anchovies have arrived in the waters of Kuala Rompin, albeit a little late this season.
These delicious little fish keeps the sailfish population healthy and coming back for more. At the peak of the season you can see with your own eyes how packs of sailfish gang-up and gorge themselves silly with mouthful of anchovies.
Although no studies have been made, we suspect the sailfish stuff themselves before the arrival of the monsoon and like suspected, spawn somewhere off Kuala Rompin. Perhaps some moving on in their migratory path to places like the north and west coast of Australia.
Here are some screen grabs of videos I managed to shoot over the past week (Watch out for the video later).

Millions of anchovies swarm around our boat.

The sailfish herd the schools of anchovies into tightly packed bait balls and leisurely pick them off.

Who's chasing who now?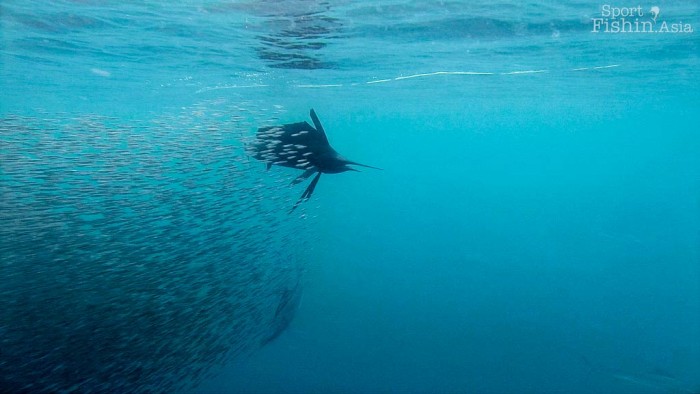 There are at least four sailfish in the image above.
Get in on the action of catching the sailfish either on bait, lure or fly, contact us for more information.