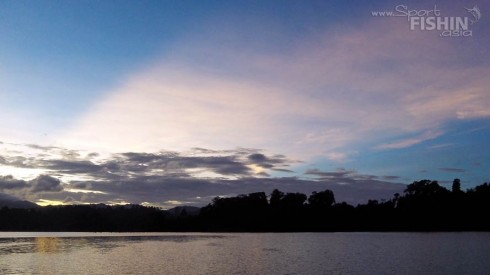 Breathtaking sceneries greet you everywhere you look in Temenggor Dam
What is a Houseboat?
A boathouse is what it says, a house-like dwelling built onto a boat-like structure that floats, duh! Houseboats are popular throughout the world where deep jungle river exploration are called for. If you've watch that movie where a group of people ended up as food for overgrown snakes then you're pretty close to picturing what a boathouse is.
At last count there are about five houseboats operating at the Royal Belum National Forest of Temenggor. While they come in different shapes and sizes they basically have the same amenities.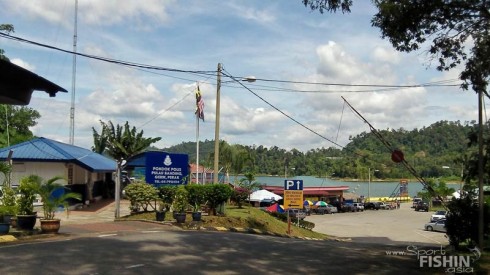 The car park and boat docking area on Pulau Banding
What to Expect?
The houseboats at Temenggor are berthed at the docks of Pulau Banding (Banding island) where they wait for their customers and also to load supplies. Pulau Banding is an island dividing the vast Temenggor Lake with the northern section of the lake making-up the ranger and army protected forest reserves.
Two to three week prior application for entry permit is required to enter the Royal Belum National Park.
This is not a five star accommodation but you will be sleeping under a million stars when the sky is clear.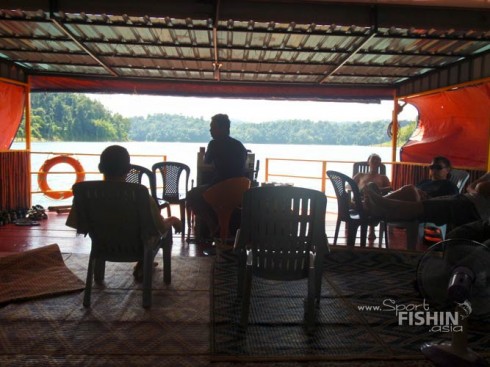 View you get looking out the "windscreen" area. The driver sits in the middle.
Basic, functional accommodation apt for that adventure trip
The houseboats are basic but comfortable, when compared to roughing it out in the open. For this article we will use the boathouse operated by Gopa, arguably among the best available out here, as the example.
The houseboat is made out of three sections with two baths right in the center. Yes, two baths. No, that is still inadequate, when you need to go!
Sandwiching the baths are two sleeping quarters on each sides. The four rooms are just big enough for two double decker beds that sleeps four persons, max.
Tip, watch your head when getting up after a sleep! I'd suggest keeping it at two or three persons if you prefer comfort.
An eight person trip (up to perhaps a maximum of ten anglers) is good. Add the boatmen/guides and cook, etc and you can find between thirteen to sixteen persons on board.
The metal frames of the bed squeaks. Light sleepers may want to bring ear plugs. That will spoil the sounds from the forest though. And you should enjoy the rainforest orchestra.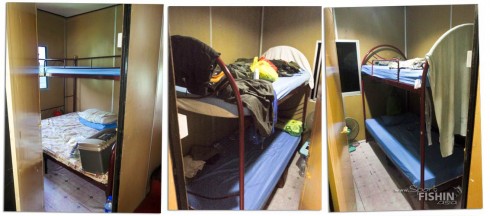 Rooms are cramped and basic
So with the baths and sleeping quarters making-up the middle section of the houseboat that leaves us with the front and rear or for you boat-loving people reading this, the bow and stern sections.
The front consist of an open area for you to enjoy the views and is also known as the hang-out place. Most tales of the ones that got away takes place here.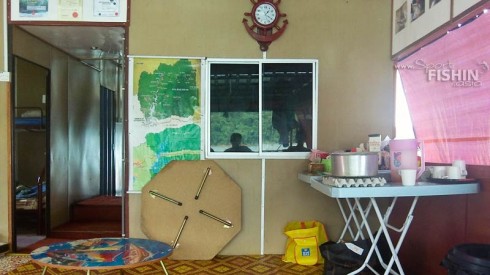 This area also doubles as the dining area during meal time. In between fishing, eating and sleeping (life is good like this) – you may also watch movies or catch satellite TV on the AV system.
For our recent trip from 28 November to 1 December we watched a lot of animal porn on the natgeo channel and also on one evening Rise of the Planet of the Apes. How apt for the environment we were at, hope the primates watching with us from the trees did not get any funny ideas from the movie. You will also not miss your live football matches while in the jungle (ball or fish, you get to decide).
The rear end of the houseboat is where all the cooking action take place and also where the crew sleeps.
Expect other houseboat to be a little different both in size and design. Some are even double storey in built.
What to Bring?
Besides not forgetting any of your fishing gear (you know this is no joke) you will need your own toiletries.
The WCs are sit down types with flush so you don't have to stare down at the lake water while doing your business like how it used to be (complete with fish staring up your ass and feeding off your poop) and still is with some other places.
No hot shower and the clean freshwater from the tank will be refreshingly cold.
Temperature all round is noticeably lower once in the heart of Temenggor, especially at night – there are times when long pants and a sweater may even come in handy for some.
We spent one evening parked in front of a waterfall. How cool is that?
If you can't stand creepy crawlies, too bad. You are in the middle of one of the oldest rainforest on the planet. What do you expect, only pretty butterflies?
Some night (depending on the weather), bugs of all shapes, sizes and smell are attracted to lights. It is not as bad as camping in the jungle itself so don't worry too much about this. Mosquito is normally not an issue.
Food and Water
The food served at this houseboat is decent though some dishes can sometime be too sweet or too salty. I did not find the spread boring over the couple of days on board.
There is usually fish on the menu. We also brought back some freshly caught Sebarau to be cooked in various styles. There was also wild catfish (ikan baung) for two meals which would be considerably costly if the same quality fish is to be ordered back in the city restaurant.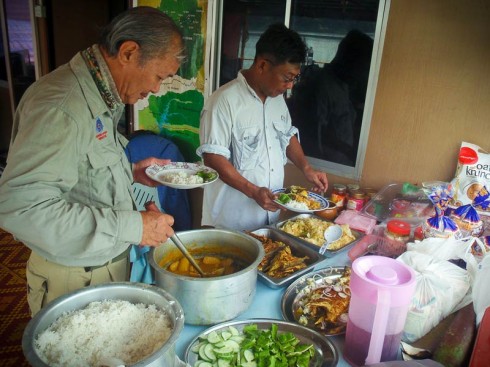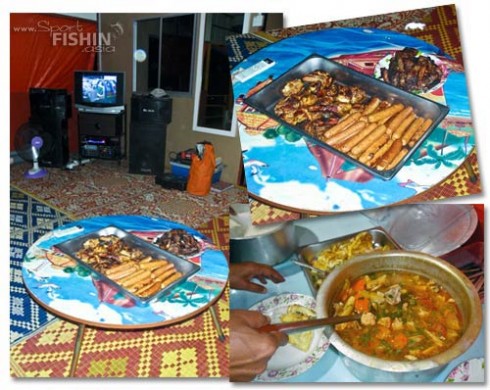 A barbeque dinner can also be requested for, something that we did.
Syrup, boiled water and instant coffee/tea can be had during meals. Cartons of bottled energy drinks such as 100 Plus are also available but we also brought our own varieties plus snacks.

aaaahhhh… this is living life!

Lotsa energy drinks!

One of the many experienced boatman/guide on the drivers seat

Sunrise means time to eat and fish

The fibre boats for fishing in the rivers are quick enough and roomy enough for two to three anglers plus a boatman.
Fishing from the Houseboat
While the serious fishing is done from the smaller fiberglass sampans, you may also fish from the houseboat for various species of fish.
Bait fishing or live-bait fishing is typically done during the evening or night. You will need to order the baits in advance, however.
The houseboat may be parked at one or more locations over the trip duration. Did I mention we spent one parked facing a waterfall? Talk about blissful. On another evening a wild Elephant also came visiting us near where we were parked.
I hope you find the above information useful if you plan to visit Royal Belum, Temenggor. You know what? You should! It is such a beautiful place.

Watch out for a video that I am putting together for you to get even more insight into the boathouse of Temenggor.
How Much Does It Cost
The houseboat that you see here typically fits up to 12 persons, max. Whereby 8 to 10 persons will be the comfortable numbers.
A 3 days and 2 nights charter will generally be priced from between RM10,000 MYR to RM15,000 MYR depending on requirements.
To enquire or book the houseboat, write to us by using this form.