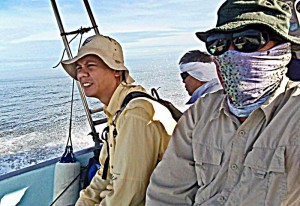 This news article is a timely reminder to us. As anglers, we spend a lot of time in the outdoors under the intense rays of the sun. We also face the reflected rays bouncing off the water's surface straight into our lovely big eyes.
Eye protection is very important what more with the ever increasing size of the hole in the ozone layer that blocks out harmful UV rays. When you are still strong and healthy you may not be bothered but why wait till something is wrong?
Read the article below and listen to what the people who knows eyeballs have to say. Before that, here are a couple more incentives.
1. Eyewear gives the added protection against flying projectiles such as lures, jigs, hooks, you get the idea.
2. Polarized sunglasses lets you see through water helping you to spot more fish and ultimately be a more successful angler!
3. Look cool while you fish?!
Docs: Wear shades for protection
By ISABELLE LAI
PETALING JAYA: The blazing sun these days is a good excuse to be like CSI Miami's Horatio Caine as eye specialists have advocated the wearing of ultra-violet (UV) protected sunglasses.
These experts say UV light is the component of sunlight most responsible for eye damage and the sunglasses could act as a shield against damaging UV rays.
Excessive exposure, especially from light reflected from sand, snow or pavement, can produce a burn on the surface of the eye.
Tun Hussein Onn National Eye Hospital ophthalmologist Dr Pall Singh said there was evidence that UV light could hasten cataract formation or cause retina damage over a long period of time.
"It is advisable for people to have correct UV protection. Buy sunglasses with a proper UV filter from an optometry shop, not your pasar malam," he said when contacted.
Dr Pall said the retina damage caused by UV light could result in macular degeneration, an eye disease that causes blurred vision or a blind spot in the centre of a person's vision.
He said the hazy conditions of late would also make people more susceptible to experiencing dry eyes.
Another consultant ophthalmologist at the hospital Dr George Thomas said UV light exposure could cause pterygium (pronounced ter-ig-ee-um).
According to the Maryland Uni versity Medical Centre, pterygium is a non-cancerous growth of the clear, thin tissue that lies over the white part of the eye.
"Your eyes will be redder than usual with a foreign body sensation. The growth is on the eyeball itself and can cause temporary blindness if left untreated," he said.
Dr George said this eye disease was common in tropical climates near the equator like Malaysia, especially for those who spent long hours outdoors like farmers and fishermen.
He cautioned that people must wear UV-protected sunglasses to take care of their eyes in bright sunlight.
"The eyes are very vulnerable. They're like an extension of the brain and very easily damaged," he said, urging people not to delay treatment if they needed it.
He said those experiencing pain and dryness in their eyes should use lubricant eye drops and visit their eye doctor if symptoms persisted after three weeks.
Source: thestar.com.my 2011/5/14
What protection do you use?