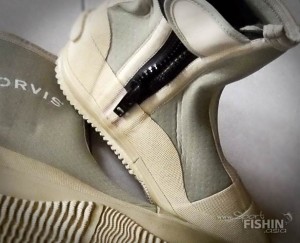 When you wade-fish on the flats, one of the most important thing must be proper footwear.
I for one, has had the unpleasant and not to mention painful experience of receiving a bad cut on my big toe while going barefoot in the waters, can tell you. The incident happened a very long time ago but something like that gets etched in your memory forever and you cringe thinking about it like it just happened yesterday!
I just received these Orvis Premium Christmas Island Wading Boots which will be put to the test real soon during a 7-day Maldives fishing trip.
So far I like the Desert-storm like colours which certainly looks better than what they look like on the Orvis site.
They are easier to slip-on and off than I had anticipated and first impression is they are comfortable.
There are a myriad of wading boots out there all clamoring for your attention, your hard-earned dough, and of course, your feet. How do you even choose and more importantly how do you even know if all those claims you read are any good?
I've heard good things about the Orvis Christmas Island Wading Boots from some fishing buddies, including Nick of Tacklebox Adventures. They've tried them out on many flats fishing trips so my feet should be in good shoes!
What Are The Things to Consider in Choosing a Pair of Wading Boots?
Comfort. Ultimately. As you will be spending the whole day in them and for multiple days.
Lightweight. You want everything on you to be light if you are going to be walking-wading-fishing that much.
Keeping the sand out. If the fine sand keeps getting into your shoes you do not want to be wearing those shoes. The sand on Maldivian islands are real fine!
Protection. If you do not wear shoes or the shoes you wear do not offer you protection from sharp corals or even a poisonous barb of a stingray, you are just being silly! An injury may not only spell the end of your trip but it may prematurely end the trip for everyone.
I am also looking at wearing these boots for other fishing outings such as for snakeheads and such.
As usual, anything that lands on my hands errr… feet, will get used and abused. Be sure to check back for a full review of the Orvis Christmas Island Wading Boots.
So what footwear do you wear when you get your feet wet?