Penn has been churning out a lot of great products at very competitive prices. Including this new jigging rod – the Penn Prevail Jigger.
Sure, many of these products are made in China. How else would the products be that competitive priced? Some may find that fact much to cheer about but if the products are good, and decently made, it is the consumers (that's you and me) that benefit from it.
Having used many Penn rods and reels day in and day out for big fish in saltwater environments we can only be impressed with the value these products bring at the price they're sold to anglers all over.
We are not talking about use once and throw-away fishing tackle here. These gears last and can take some punishment.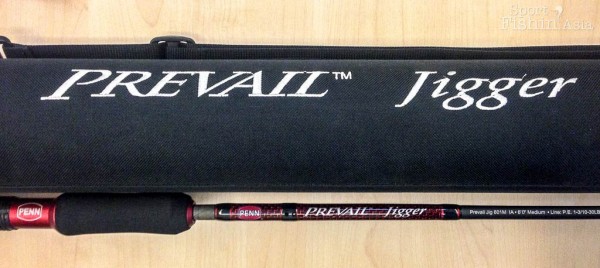 The new Penn Prevail Jigger is another promising looking rod. You'll look at it and say "What? All these for around RM180?" (This rod is priced around US$60). Complete with rod tube and sock.
Rod specifications:
• 6 foot
• 2-piece (but joined)
• Medium action
• PE1-3
• Jigs to 100g (3.5oz)
Not to be confused with the Penn Prevail surf rod, the Prevail Jigger is developed for the Asia Pacific market and only comes in one specification.
Watch this space as we put the Prevail Jigger to the test and see how it performs.