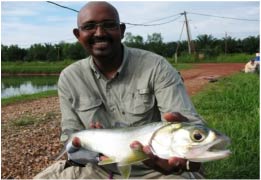 As part of the lead-up to the International Fly-Fishing Festival 2012, we will feature celebrity guests that will feature during the 2-day event.
Naveen Kumar have been fly fishing and tying flies for past four years.
In the beginning he tied only dry flies and nymphs for small rivers. After a while he began tying streamer and deerhair flies for the larger rivers and ponds. His introduction to the Classic Salmon Fly was in 2011 and it turned his view in fly tying world.
Naveen have always been interested in tying unusual and difficult flies and when he saw the "fully dressed" salmon flies in the internet, he was fascinated with the complexity and the splendor of these real "works of art".
A large thank you goes out to his mentor Charlie Escobedo who inspired him with contemporary mix fusion salmon flies.