Model: Casio Sports Gear W-S210H-1A Solar Tide Moon Men's Watch
For someone who spend a lot of time fishing the saltwater, it's handy to know the tide movement.
What better way than to have it on your wrist? Now I don't have to always refer to the tide chart or walk up to the cockpit console in the boat to get the tide information.
First Impression
It's cheap. US$30 cheap. Okay, you get what you pay for and that's fine. I'm not expecting to make any fashion statement here.
All I want is a functional and practical watch that tells me the tide and moon phase, besides the time and date.
Features and operations
One feature that's a real plus is this Casio is solar powered. No worrying about wearing a watch that (suddenly) doesn't work on your wrist.
It also has Power Savings mode. When this is turned on, it goes to sleep when you keep it in the room or away from sunlight. The watch face becomes blank. Put it on and as soon as it detects sunlight it comes back on. No need to even press any button or dial.
It has other functions that I'm really not going to bother much with. Like the world time (time in another city which you can preset). And the usual stopwatch and timer.
My iPhone does a better job when it comes to world time, timer and alarms.
This is actually the first time I'm using a tide and moon phase watch so I'm curious about two things.
One is the accuracy and the other is how easy it is to set up.
The moon phase is based on the nearest city based on the cities available preset in the watch.
The way the tide is set is you go to the setup and set the time for the highest tide. The watch will then match that. What that means is do not expect high accuracy for the tide. I understand the current Casio watches does not offer the latitude longitude settings anymore, which would be far more accurate for a given location but could perhaps be more troublesome to set up. From what I gather, some users are not happy with that change apparently.
Built Quality
I think it looks more than 30 bucks. This won't win any aesthetics contest so that's not a reason to choose this watch.
What may make you buy this watch is you won't bother about the harsh treatment and environment that you are going to subject it to.
Final Words
If you want precise tide reading and moon phase accuracy, this wristwatch is not for you.
If you want a good looking watch that you will be proud to show off, this may not be the watch you're looking for either.
On the other hand, if all you need is a rough general idea what phase is the tide and moon at, and quickly, this will work for you.
Now the only question I have is how tough it really is and how long will this 30 dollar watch last in the real fishing world environment.
Only time will tell… haha!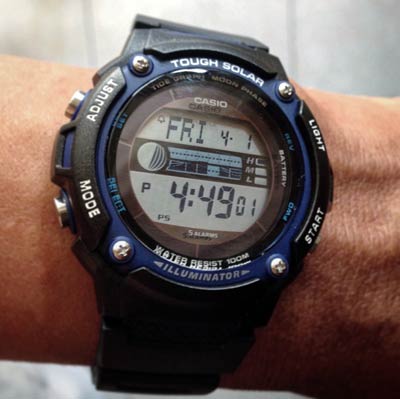 What I Like
Tide graph
Moon phase
Solar powered
Easy to use
What I Don't Like
Could be a little bigger (I've big hands)
There're a couple of other minor pet peeves but it's not fair to complain given the price point.
Do you wear a tide moon watch? Share with readers your experience and thoughts in the comment box.