I've had the Starex (known as the Hyundai iMax in Australia and H1 in some markets) for 14 months now. It is a great people mover and near perfect for my needs – that is bringing anglers and fishing gear from one point to another.
The Starex is build ground up as a commercial vehicle to carry heavy loads.
If there's one thing I don't like about the Starex it is the hard ride.
It's a Hard Ride
If there's one thing that I don't like about the Starex, it is how hard the ride felt. From day one, I've felt the tyres to be bumpy and hard. Every time I comment about this to others, the answer I hear often is "it's like that".
I thought maybe it's the original Nexen tyres that came with the car that's just hard.
How hard is the ride? If you driving on a smooth road with the correct tyre pressure everything is nice and fairly quiet until you hit a pothole, even a small one will feel like your tyres are overinflated! Even patched up roads and painted-strips on highways will feel really hard. Going over speed humps is also best taken very slowly.
I played around with different tyre pressures. Even not adhering to the manufacturer's pressure recommendation with some reservations due to tyre wear and safety concerns (I often have heavy loads). Lowering the tyre pressure didn't really helped much. The ride still felt hard.
I sometimes think maybe it's the suspension setup or design, but kind of doubt that.
So I thought when it's time to get the tyres changed, I'll changed to a different make and brand of tyre. Hopefully that'll give a better ride.
That day came when one of the tyre that's been patched for a puncture has a recurring slow leak from the same spot.
Best thing to do is to change two of the tyres. The other two are still good for at least another couple of months of driving so I'll leave them on for now and save a few bucks.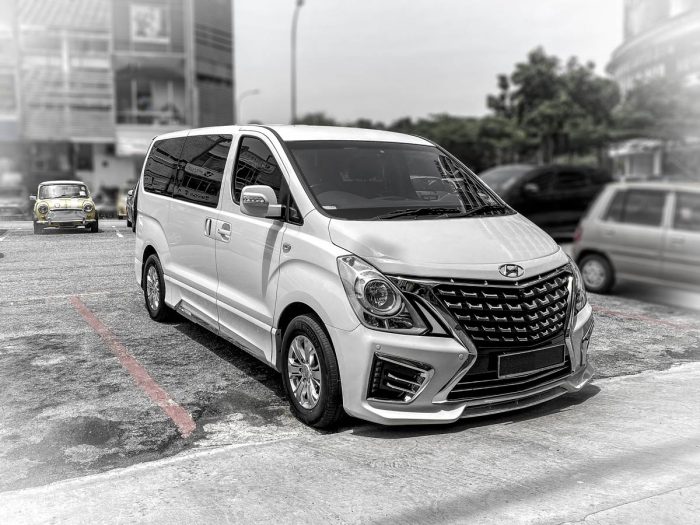 Change Size?
I asked the tyre shop manager what options do I have and imagine my surprise surprise when he suggested to go with larger sized tyres instead of using the same size.
The original tyre size is 215/70/16. His recommended size is 235/60/16. A fair increase in width. Height will roughly be similar. At least I won't need new rims.
My reaction was why? Wouldn't that increase fuel consumption and cost more?
His answer was the larger size will give a much smoother and more comfortable ride. The original spec tyres are also commercial grade tyres meant for vans and trucks hence their hardness. The Starex is after all a rather heavy vehicle weighing in at 3-ton unloaded.
Fuel consumption will not be much of an issue as the Starex is a diesel burner.
The price? A wider Bridgestone model is similarly priced as the original size. While a better set of Michelin will cost around 20% more.
Original size 215/70/16
Hankook RM390 (USD93)
Toyo RM440 (USD105)
Wider 235/60/16
Bridgestone RM410 (USD98)
Michelin Primacy 4 RM475 (USD114)
Not much price difference. That's good. I reckon less jarring rides could also mean less wear in the vehicle in the long run.
I decided to go with the Michelin as I've been a long time user of their tyres and just have confidence with them.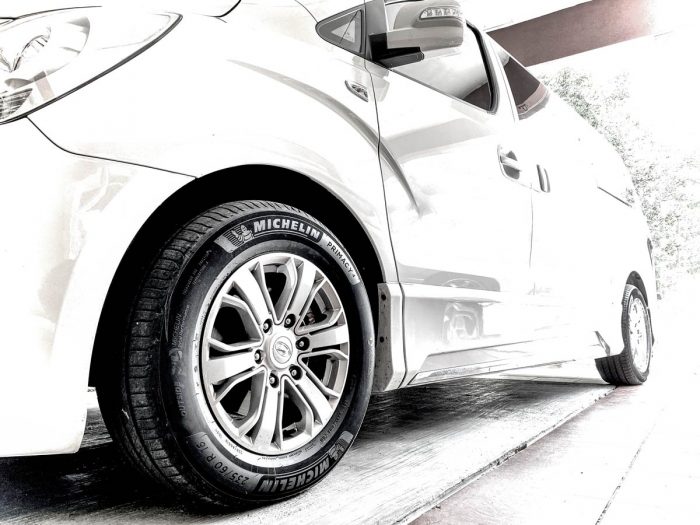 Initial Impression
With wider rubber the Starex now looks cooler! I've always felt the car has very skinny legs for a vehicle this big. The tyres are now about perfectly flushed with the mudguards, perhaps a tad out maybe 1cm, or less.
First Drive
I've always subscribed to the believe that manufacturer specced tyre sizes are always the best compromise between ride, handling, consumption, etc. So if you go a different size, there will be a compromise somewhere.
First impression is steering feel is a tad heavier but very negligible and I'll probably forget about that in no time.
The tyre shop inflated the new tyres at 35psi which I felt was a bit low but decided to drive with it and see how they felt. 35psi even looked under inflated but it gave a very cushioned ride. After a day I inflated them to 40psi to see how they felt. This pressure feels better for a heavy load with more passengers. Still softer than the previous tyres.
First 1000km
At speed, the tyre noise level is noticeably higher. Not irritatingly noisy but they are louder with more rubber making contact with the road surface now.
I drove through a very winding, up and down hill stretch of road of about 100km. The grip level has definitely improved, as would be expected. But I don't think it makes a lot of difference for me as I don't drive fast anyways and certainly rarely drive on winding roads often.
Speedo reading remains as before, according to the GPS navigations apps that I regularly use.
I feel there is a slight compromise here when it comes to acceleration with these wide tyres.
Conclusion?
Maybe 225/65/16 size will be a good compromise? I can't be sure but may go this route when the next time to change tyres come. Or perhaps if there are just softer ride tyres in the original spec size of 215/70/16?
Check back for an update as I put the new rubbers through its pace and see if this is the right tyre choice.
Update: After two long drives
Since changing to the new tyres I've made a 600km drive to the east coast and a 200km drive to the hilltop resort of Genting Highlands in the Starex.
Here are some of my discoveries. The tyre noise level seem to be less than my first drive impression. Is this a case of "got used to the noise"? Or is it because the new tyres have settled in? Hard to say but either way I'm happy it's not bothering me no more.
One of the things I was initially slightly concerned about was an increase in fuel consumption. Surprise surprise, it appears during my long drives fuel consumption may have actually improved. I need to drive more to confirm this but if correct, this could be the result of the reduced rolling resistance of the Michelin Primacy 4 tyres?!
On the steep uphill downhill and winding roads of Genting Highlands the drive was good, even with a full load the car went up without hesitation and the tyre grip was great going downhill.
Overall, I'm happy with the change and have no regrets as the ride comfort have definitely improved very noticeably.